The following article, written by the special guest educator, Glenn Rawson, was published on 13 September 2016 on the Fun for Less Tours.com website.
Monday, August 6, 1838, Gallatin, Missouri. When the fighting stopped between the Mormons and the non-Mormons John Lowe Butler gathered his brethren about him and faced the mob declaring that they would fight as long as the blood ran warm in their veins. But, bloodied and bruised, both sides had had enough and parted ways. John went to where he had left his wagon and team, but they were gone. So he mounted a horse and rode home with Samuel Harrison Smith, where he spent the night, presumably fulfilling his duties as a militia captain.
The next morning, he rode home to the Marrowbone settlement where his wife had been anxiously waiting. John determined to ride to Far West and inform the Prophet Joseph Smith about what had happened. Exaggerated reports of the brawl had spread throughout the county and many tempers were fanned into flames. After hearing what had happened, Joseph then asked John if he had moved his family to safety. "I told him, no," John said. "Then, said he, go and move them directly and do not sleep another night there. But said I, I don't like to be a coward." To which Joseph said, "Go and do as I tell you."
John turned around immediately and rode the 14 miles back home, arriving about 2 hours after dark. He informed his wife what Joseph had said. They loaded up their household goods and moved to the Taylor's home about a mile and a half away, arriving just at dawn.
They would later learn that no sooner had they departed than a close neighbor saw a mob of about 30 men ride up and surround the Butler cabin. Fearing the worst, he rode off in a fright toward the Taylor home. When he arrived and saw the Butlers, he exclaimed, "Oh, I am so glad that you are here for there are about thirty men around your house to kill you all."
John Butler would later write, "I then saw the hand of the Lord guiding Brother Joseph Smith to direct me to move my family away. If he had not, why in all probability we should all have been murdered, and I felt to thank God with all my heart and soul."
We thank, O God, for a prophet who still sees the way to safety!
Artwork: Kelly Donovon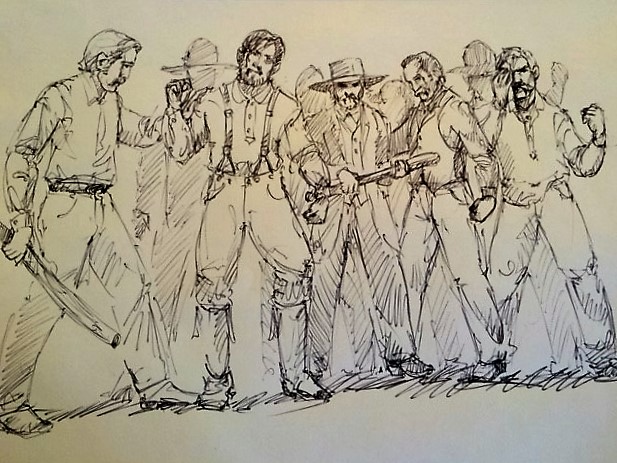 About Guest Author

Twitter •