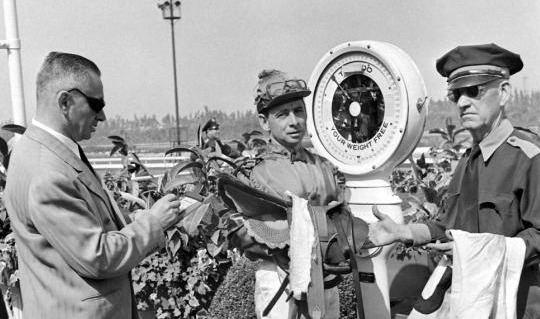 This article originally appeared in the 5 May 2016 online edition of LDSLiving.com.
The Triple Crown is the single greatest achievement in the horse racing world. A Triple Crown-winning horse captures the 1st prize at the three biggest races in America—the Kentucky Derby, the Preakness Stakes, and the Belmont Stakes.
In just a few days, on May 7th, the 142nd Kentucky Derby will take place. Often referred to as "the most exciting two minutes in sports," the Derby is the first step for 20 Thoroughbreds and their jockeys on the road to the Triple Crown. Only 12 horses have achieved this, and only one since 1978. It's an exceptionally rare accomplishment, but in 1943, a Latter-day Saint jockey named Johnny Longden did it with a phenomenal horse named Count Fleet.
There was a time when Johnny Longden was "synonymous with Thoroughbred racing itself," as a 1966 Sports Illustrated article put it. A mere 4'11", Longden was renowned for his ability to start fast and finish faster. He was wildly successful with many horses, but none more so than Count Fleet. Near the end of his life, Longden told the New York Times that "to win the Triple Crown . . . you've got to have a special horse. You need speed and stamina and character, and the will to win."
Count Fleet started his career as a 2-year-old, losing his first several races. But by the time he turned 3 though, Count Fleet would never lose again. His dominance was felt all over North America, and his partnership with Longden became legendary. Though he was recovering from an injury, Count Fleet handily won all three of the Triple Crown races—the Kentucky Derby by 3 lengths, the Preakness Stakes by 8 lengths, and the Belmont by an astonishing 25 lengths—second in history only to Secretariat's 1973 campaign.
In 21 races with Count Fleet, Longden won 16 times and never once finished "out of the money," or out of the top three. "He was the best horse I ever rode," said Longden. "The best horse I ever saw. He could win at any distance, on any kind of track."
It seemed the same could be said of Longden himself. When he won his 4,871st race in 1956, he became the winningest jockey in the world. He later ended up becoming the first jockey in history to win 6,000 races. His career spanned nearly four decades—he won his first race at the age of 20, and his last at the age of 59. He was inducted into the Hall of Fame in 1958.
Horse racing is a dangerous, often deadly sport. George Woolf, the Latter-day Saint jockey famous for riding the horse Seabiscuit in 1938, was killed at the age of 35 after falling from his saddle during a race. Interestingly enough, even before his racing career, Longden barely missed a scheduled voyage from England to New York City on the RMS Titanic in April of 1912. Yet, this narrow escape from danger did not stop him from risking life and limb on the track for 40 years.
Longden, however, lived until the ripe old age of 96. Before his passing in 2003, he lived peacefully with his wife, Sarah, in Southern California, near many of the tracks he used to ride.
About Guest Author

Twitter •