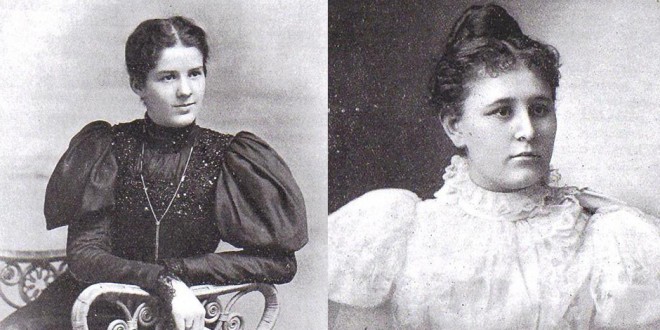 Thanks to LDS Women of God and LDS.org for researching these women!
This article is from LDSDaily.com This is an excerpt.
On April 21, 1898, Lucy Jane "Jennie" Brimhall and Amanda Inez Knight (pictured above) arrived in Liverpool England to start their missions for the Mormon Church. While this may not seem like something spectacular today, it was at the time. In fact, Inez and Jennie were the first single women formally set apart as full-time, proselyting missionaries. Childhood friends, the two served as companions in England. Their story, though centuries old, will resonate with modern day sisters and continue to inspire future generations.
Growing Up Friends
Jennie and Inez both grew up in Utah territory and were brought together by the love their families had for education. Jennie was born in Spanish Fork and was the daughter of George Brimhall, who would eventually serve as the President of Brigham Young University from 1904 to 1921. Inez's father, Jesse Knight, had a great desire for his children to be educated through the Church's school. He moved them from the Payson area where Inez was born so they could enroll.
In the spring of 1898, at the ages of 23 and 22, the friends were planning an excursion to Europe. Little did they know what was to come.
About Guest Author

Twitter •