George A. Smith, a cousin to Mormon prophet Joseph Smith, was born on June 26, 1817, in Potsdam, New York. He was an active member of the Congregational Church until he was fifteen years old.
His childhood was not pleasant. He was tall and gangly, focused on his studies, and the victim of bullies until he took matters into his own hands and proved he could fight better than his tormentors.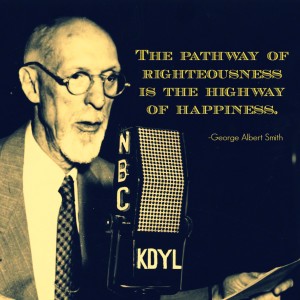 Mormon Conversion
In 1830, Joseph Smith, Sr. and his son Don Carlos visited George's family. They left behind a copy of the Book of Mormon, which George and his mother read. George did not believe in the book, having important questions about it, but he did defend it to neighbors who mocked it. When Joseph Smith, Sr. returned, George asked his questions, and Joseph Smith, Sr. satisfied George's concerns. George then gained a testimony of the book and began to teach that it was authentic.
He wasn't quite sure how to proceed at that point. He attended Congregational revivals, but chose not to be baptized, leading him to be labeled a reprobate by the minister. In 1832, he traveled to New York and became a member of The Church of Jesus Christ of Latter-day Saints, sometimes inadvertently called the Mormon Church. Mormon is an appropriate nickname for members, but not for the Church itself.
The following year, he and his parents moved to Kirtland, Ohio, where the Mormons were living at that time. He had the opportunity to be introduced to Joseph Smith, who was the first Mormon prophet as well as George's cousin. In June, work on the Mormon temple began and George hauled the very first load of stone for it.
Mormon Leader
In 1834, George traveled with Zion's Camp, a group of volunteers who walked more than 2,000 miles to try to stop mob violence in Missouri aimed at Mormons. From this group came most of Mormonism's future early leaders, showing it had been an outstanding training ground for leadership and sacrifice.
In 1835, George became the junior member of the Quorum of the Seventy, who had responsibility for missionary work. He left on a mission to Ohio, Pennsylvania, and New York with his cousin, Lyman Smith. Over the next several years, he would continue to travel east as a missionary.
In 1838, he moved to Daviess County, Missouri, where he became a high counselor in the stake leadership. A stake is similar to a diocese and the high council is a group of twelve who assist the presidency of the stake. Late in the year, George moved to Illinois.
In 1839, he traveled to Far West, Missouri, where he became an apostle in the tradition of Biblical apostles, although he was only 21 years old at the time, replacing one of several excommunicated leaders. He then left on a mission to England. A number of leaders left at the same time and many of them faced challenges getting started. He and those with him upset their wagon in soft ground. Brigham Young was extremely ill, as were several others. However, they managed to set out on their journeys.
After returning from England in 1841, he married Bathsheba W. Bigler. He continued to travel on missions, and was attending conferences and preaching in Illinois, Indiana, and Michigan in 1844. While on this journey, he learned Joseph Smith had been murdered by a mob. He returned to Nauvoo, as did other church leaders, in order to work on reorganization needs.
By the next year, it was clear the Mormons would have to leave Nauvoo, Illinois, for their own safety. George helped to make the preparations for the move. He departed with the first group of refugees, in the company that included Brigham Young, the new Mormon prophet. They crossed the Mississippi River and set up a temporary camp where later travelers could rest and prepare for the remainder of the journey.
Mormons Move to Utah
The day after his arrival in the Salt Lake Valley, George spoke at the worship service. He and his family began farming in Kanesville. However, in 1849, he was put in charge of helping the continuing flow of immigrants get from Council Bluffs to the Salt Lake Valley. He and his family traveled to Council Bluffs, and he helped to organize them into manageable groups and send them on their way. When the last group left, he and his family joined them. They traveled from July to October on a very difficult trip.
On his return, he was elected to the senate of the Provisional State of Deseret. Then a group of Mormons was asked to colonize a new area. George settled his family near Payson, Utah. He was appointed Chief Justice with the authority to organize the new settlement. He also became a school teacher.
In 1852, George moved to Utah County, where he was called to oversee Church affairs for the entire area. Two years later he was called as a member of the First Presidency, serving as a counselor to the prophet. In 1872, he traveled to Europe and Asia to do missionary work. He also rededicated Jerusalem for the return of the Jews. He dedicated much of his time back in Utah building the St. George Temple. The city of St. George, Utah, was named for him.
He died in 1875 in his home.
This article is adapted from Every Person in the Doctrine and Covenants by Lynn F. Price, Cedar Fort, 2007
About Terrie Lynn Bittner
The late Terrie Lynn Bittner—beloved wife, mother, grandmother, and friend—was the author of two homeschooling books and numerous articles, including several that appeared in Latter-day Saint magazines. She became a member of the Church at the age of 17 and began sharing her faith online in 1992.