Mormons—or members of The Church of Jesus Christ of Latter-day Saints, sometimes inadvertently called the Mormon Church—believe in preserving the history of the Church as well as the history of the members. The Church's history includes endeavors in private currency from bank notes to gold coins that span from Kirtland, Ohio, to the UtahTerritory and the state of Utah.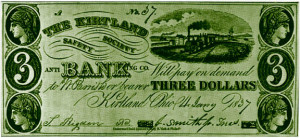 Recently a sale described as the best selection of Mormon bank notes to come on the market "in the last decade or so" went to auction. Some of the pieces had never been seen or offered before. [1] Douglas Nyholm, a professional Numismatist who specializes in Mormon currency, brought the compilation to the Northern Utah Coin Show before it headed for auction. The collection of Mormon currency—valued at $500,000—was "an impressive display of Mormon history" and came from four collectors from across the western United States. [2]
A rare Mormon Territorial gold $5 coin in AU-58 (Very Choice About Uncirculated condition) sold for $58,285 at the auction. Also, 27 pieces from the Kirtland Safety Society Bank (the Mormons' first banking endeavor) in Kirtland, Ohio, sold for between $1,880 and $3,642 apiece. A bank note cataloged as "the Holy Grail" for Kirtland collectors—an "Anti-Banking and Countersigned" $1 note that is "one of only 5 reported"—sold for $41,125. "The cataloger explained that there are 19 different specimens in a complete set of Kirtland notes, with the rarest not only having the Anti-Banking modification but also being countersigned." The note was signed by Joseph Smith, the prophet and president of The Church of Jesus Christ of Latter-day Saints at the time; Brigham Young, a Church leader and the prophet who succeeded Joseph Smith; and other Church members. [1]
In Kirtland, Ohio, the prophet Joseph Smith and other Church leaders pursued the idea of establishing a bank. They secured plates for printing currency but their petition for a bank charter was denied by the state. So they created a private-joint-stock company called the Kirtland Safety Society Anti-Banking Company. [3]
In the collection are still-spendable United States $50 bills signed by President Heber J. Grant, who served as prophet of The Church of Jesus Christ from 1918-1945. Nyholm said, "You could walk into 7-Eleven right now and spend this. Obviously, you wouldn't want to do that because it's worth a lot more than $50, but you can still spend this bill today." [2]
"The collection also featured paper money forged by Mark Hofmann in the 1980s. Hofmann, one of history's most accomplished forgers, created many documents purportedly related to the history of The Church of Jesus Christ of Latter-day Saints' movement and sold several of them to the Church."  [2]