Pieter Vlam was born on July 8, 1894, to Arien and Aaltje Klant Vlam in the Netherlands. When he was 16 years old, he and his mother and brothers joined The Church of Jesus Christ of Latter-day Saints (which church is often misnamed the Mormon Church). A year after his baptism, Pieter joined the Royal Dutch Navy, where he spent his career. He married Hanna Melaine Gysler on August 24, 1929, in Zurich, Switzerland. Hanna was also a member of the "Mormon Church."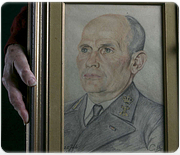 In 1933, Hanna joined her husband for his tour of duty in Indonesia with their three-year-old daughter, Grace, and their new son, Heber. They stayed in Indonesia until his tour ended in 1938. While the children had been very happy in Indonesia, Pieter was severely persecuted in his career for his religious beliefs, and his superior officer made it impossible for Pieter to extend his stay in Indonesia, so they returned to the Netherlands.
Pieter and Hanna's plan was always to move to the United States, as soon as it became possible, but this option did not arise for several years. On their way back to the Netherlands, however, the Vlam family was able to stop in Salt Lake City, Utah, and they were sealed together as an eternal family in the Salt Lake Mormon Temple. At this time, the Vlams had another child, Vera. On June 9, 1938, they were sealed together before returning to the Netherlands. In 1939, they had their last child, Alvin.
As World War II approached and the Nazi threat intensified, The Church of Jesus Christ of Latter-day Saints recalled their missionaries from Europe. Vlam was still an officer in the Royal Dutch navy, and he was also called by Elder Joseph Fielding Smith to serve in the Dutch Mission presidency. These men became responsible for the church in their area during the war. In 1940, the Nazis invaded the Netherlands, and Vlam had to move to Voorburg, near The Hague, to find a new job to support his family. Most of Pieter's neighbors in the area were also former military personnel, but they were standoffish towards their Mormon neighbor. However, after Vera was killed in a tragic train accident at the age of 4, the neighbors' hearts were softened and they were more open with the Vlam family. The family was struck by the loss of Vera, but they were comforted by the blessings they had received in the temple to be an eternal family.
In May 1942, the former Dutch military were all taken prisoners, including Pieter. Grace was eleven at the time and heard the news at school. She rushed home to find her father gone. She was devastated, but remembers the Spirit telling her audibly that she would see her father again. Pieter was taken to the Nuremberg-Langwasser prison camp. He wrote home asking for a copy of the Book of Mormon and the Doctrine and Covenants. In his letter, his faith was apparent as he said to his wife: "God will bring us together again. . . . We trust in him. Live the gospel with the children. . . . Be courageous and continue a normal life."
Three months after arriving at Nuremberg-Langwasser, Pieter was transferred to Stanislau, Poland (now Ivano Frankivsk, Ukraine), to Stalag 371, a prison camp in an 18th-century monastery now surrounded by barbed-wire fences. Faced with such a bleak outlook, many of the inmates (some of whom were Pieter's fellow officers) began asking serious questions about life. Some turned to Pieter for answers.
Because meetings were forbidden in Stalag 371, Pieter would take a couple people with him and walk in circles for miles around the camp, discussing the gospel with them. He taught nearly 1,000 men about the Restoration and the fulness of the gospel of Jesus Christ. Pieter shared joy instead of misery, and many people joined the church.
The men who believed Pieter wanted to meet together, but at first had to do so in secret. They would gather, one by one, in an isolated room in the old monastery. The first to arrive swept the floor, the second covered the window. They would not sing, because it would draw too much attention, but they read and talked. They pondered the Sacrament prayers, but did not perform the ordinance of the Sacrament. They had not yet been baptized, and the Sacrament is a renewal of baptismal covenants.
A Dutch Reformed Church chaplain volunteered in Stalag 371 and became aware of Pieter's efforts. He met with each person attending Vlam's meeting and distributed anti-Mormon literature, telling them Vlam was misguided and deceived. While this had the desired effect on some, for others it enforced their belief in Vlam's teachings because they compared the anti-Mormon literature with what they had been taught and recognized the obvious discrepancies.
After a while, the group was able to meet in the open. They fasted once a month and gave their food to weak or ill prisoners. Though things were difficult, Pieter warned the men who met with him that the true test of their faith would come outside the prison walls when old family, friends, and new enemies would challenge them and disown them for their beliefs. He certainly knew that from personal experience.
Pieter continued to be blessed. His former employer continued to pay his salary to Pieter's family, even though he was not working. Still, his family had to travel to the country to make the money stretch far enough to survive on.
In January 1944, Stalag 371 was evacuated and the prisoners were moved to a camp in Neubrandenburg, north of Berlin. Finally the war ended, and on June 5, 1945, 14-year-old Grace was able to welcome her father home.
In 1949, Pieter was able to move his whole family to the United States, as he had longed to do for years. They lived in Salt Lake City. Pieter passed away on October 31, 1957, and Hanna passed away on June 17, 1982. Many men who believed Pieter's words were baptized after the war ended and remained faithful members.
Pieter was truly an example of staying true to one's faith and sharing the peace it brought him with others.