By Doris
Captain Jens Martin Christensen was a faithful convert to The Church of Jesus Christ of Latter-day Saints (which church is frequently misnamed the Mormon Church). Jens was born on April 29, 1843, in Hammerholt, Denmark, the seventh of eight children, to Christen Oveson and Kirsten Marie Andersen. When Jens grew up, he proudly wore his red military uniform jacket, black trousers, and large black fur hat as a member of the Danish queen's guards. Jens was known for keeping his boots polished and looking smart.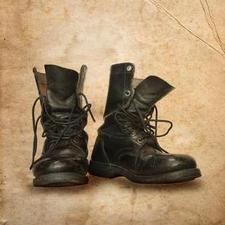 When Jens heard the gospel preached in Denmark in 1866, he gained a personal testimony of its truthfulness and was baptized on February 4 of that year by Elder S. Petersen. Not long thereafter, Jens boarded a three-mast ship called the Kenilworth and sailed to New York from Germany. He brought his fiancée, Maren Johanne Rasmussen with him, having snuck her out of her home against the wishes of her parents. Her mother had locked her in her bedroom, but Jens tied bed sheets together to help her escape. They then took a train to Hamburg, Germany, where they sailed from.
After arriving in New York, Jens and Maren travelled up through the Great Lakes and came down the Missouri River by rail, trying to avoid the inflated prices of the direct rail tickets. They travelled further to North Platte, Nebraska, where other Saints arrived to walk the rest of the way across the plains to Utah. The tradition of Jens' descendants is that Jens kept his boots shiny all the way to Utah.
Maren became very sick with cholera. Jens was a volunteer to help the many sick pioneers, and he would carry Maren around with him, sometimes holding an umbrella over her to protect her from the sun. Maren survived the trek to the Salt Lake Valley, and she eventually recovered fully. They were married on October 22, 1866, and moved to Fairview, Utah, where they built their first home. They were sealed a few months later, on May 8, 1867 in the Endowment House in Salt Lake City (the Salt Lake Temple was not yet complete). Their faith was tried when church authorities asked them in 1878 to relocate to the Manasseh-Ephraim area of Colorado, 500 miles away. Then, after moving, Jens was called on a mission to Denmark. He sought reconciliation with his in-laws, but they refused to acknowledge they had a daughter.
After returning home from his mission in April 1887, Christensen's health began to fail. He and his family moved to Murray, Utah, where he stayed until he passed away on July 8, 1908, at the age of 65. Jens' descendants look to their ancestor for faith and determination to remain clean and pure, even in the face of adversity.
If you wish to read the full account of Jens Christensen, it is told in Erastus Snow Christensen, 1874–1943, A Family History, by Steve Mecham and Verda Christensen Murphy, accessible at The Church of Jesus Christ of Latter-day Saints Family History Library on Film No. 142703, Item 2.
About Keith L. Brown
Keith L. Brown is a convert to The Church of Jesus Christ of Latter-day Saints, having been born and raised Baptist. He was studying to be a Baptist minister at the time of his conversion to the LDS faith. He was baptized on 10 March 1998 in Reykjavik, Iceland while serving on active duty in the United States Navy in Keflavic, Iceland. He currently serves as the First Assistant to the High Priest Group for the Annapolis, Maryland Ward. He is a 30-year honorably retired United States Navy Veteran.