By Doris
In 1910, the Mexican Revolution began as an uprising led by Francisco Madero against longtime autocrat Porfirio Díaz. This struggle evolved into a multi-sided civil war which lasted until about 1920, though sporadic fighting still broke out after that. In 1912, many members of The Church of Jesus Christ of Latter-day Saints (which church is often misnamed the "Mormon Church") fled Mexico for their safety because they had no desire to be part of the civil war.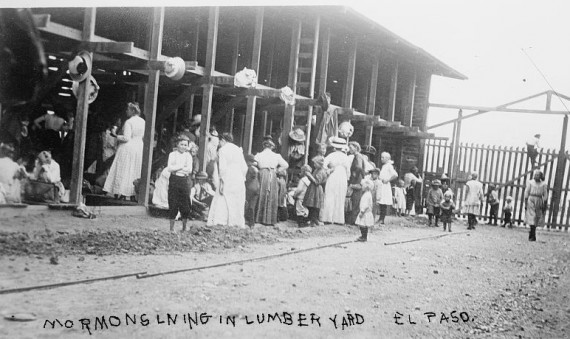 In what has become known as the Mormon Exodus from Mexico, about 4,500 Latter-day Saints ("Mormons") fled their homes in several colonies in northern Chihuahua and Sonora. These refugees fled to El Paso, Texas. Some of them stayed in El Paso, some moved to other parts of the United States, and some moved back to Mexico after the war ended.
This group of Latter-day Saints had originally fled intense religious persecution in the United States in the mid 1880s. In the early days of The Church of Jesus Christ of Latter-day Saints, select people were asked to live the law of plural marriage, in which a man married more than one wife. (Read more on Mormon polygamy.) The Saints felt this was a law given by God, but the citizens of the United States were violently opposed to the practice and made sure it was outlawed. Though The Church of Jesus Christ of Latter-day Saints later ceased the practice (also under a direct commandment from God) and came to an agreement with the government regarding those who had already entered plural marriages, a large number of those who had already fled persecution stayed in Mexico with their families.
The first Latter-day Saint ("Mormon") settlements in Mexico were established in 1885 in the state of Chihuahua at Colonia Diaz and Colonia Juarez. In 1887, two more colonies were built in Cave Valley and Pacheco. A colony in Dublan followed in 1888, and during the 1890s, two more colonies were established in Garcia and Chuichupa.
Settlers in these "Mormon" colonies came from all over: New England, the Atlantic States, the Midwest and South, Scandinavia, the British Isles, and other countries of Western Europe. Their lives began quite humbly. Most families had only a wagon of personal belongings they could haul with them. However, as a community, they came together to dig wells, build dams, survey and build irrigation canals, erect churches and schools, and establish businesses such as tanneries, stores, grist mills, and lumber mills.
As expected, religion was central to these settlers' lives. Each colony was led by a bishop who served as the presiding ecclesiastical authority in charge of both religious and social activities.
The Latter-day Saints in these Mexican colonies lived peaceful, quiet lives, until the outbreak of the Mexican Revolution. They tried to remain neutral, but soldiers from both sides of the civil war would show up expecting the "Mormons" to feed them and give them whatever supplies were needed.
In 1912, followers of General Pascual Orozco had made life nearly unbearable for those who lived in the Mormon colonies in Mexico by placing exorbitant demands on them and even murdering them on occasion. In July of that year, one of Orozco's subordinates demanded the Latter-day Saints' guns and ammunition, but refused to promise them protection. It was then that the colonies' leaders decided to send women and children to El Paso for their protection. Refugees travelled to train stations and took the train to Union Depot in El Paso, Texas. The first group arrived on July 28, 1912.
The community of El Paso welcomed the refugees with open arms. About 2,500 of the refugees who first took a train to El Paso stayed in temporary housing in a local lumberyard which had been made into a tent city. Only about 10 percent of these refugees stayed in El Paso, where they established the first Mormon congregation (ward) in Texas in 1918. They also built the first LDS chapel in Texas in 1931, which has been recognized and protected by the Texas Historical Commission. Most of the Latter-day Saints moved to other areas of the United States, but some returned to Mexico after the fighting, where two of the original colonies still survive.
Several significant Latter-day Saints have ties to the Mormon Exodus from Mexico. Anthony W. Ivins later served in the First Presidency of The Church of Jesus Christ of Latter-day Saints. Henry Eyring (11 years old at the time of the exodus), who became a renowned physical chemist, was among the refugees, as was George W. Romney (5 years old at the time), future American Motors Corporation CEO, Michigan governor, and father of Mitt Romney.
On July 28, 2012, a centennial celebration recognized the charity which the citizens of El Paso offered the Mormon refugees.
"This is a remarkable story, one that deserves retelling," said Steven Olsen, senior curator for The Church of Jesus Christ of Latter-day Saints in Salt Lake City, Utah, one of many Mormon Church officials who expressed gratitude to descendants of Fort Bliss and El Paso residents who participated in "a historic and not forgotten act of charity."
The centennial hosted a series of events including an exhibit at the El Paso Museum of History and the screening of a new documentary, "Finding Refuge in El Paso."
"For me, this exhibit tells the story of three different communities coming together to address a crisis," Olsen said. "The military community, the residential community and the refugee community were all very different in terms of their background and value structure, but each one of them figured out how they could contribute to the solution."
"We don't mind extending to others the same kind of charity and help that we received coming to El Paso," Olsen said. "Charity is the essence of humanity. That gets at the heart of what it means to be a human being, serving and extending charity to those in need."
Today, El Paso has an estimated 9,000 Mormons, and Mexico has an estimated 1 million Latter-day Saints.
Fred Woods, a professor of religious education at Brigham Young University, and producer of "Finding Refuge in El Paso," said, "To me, this is not just a Mormon story. It's a story about humanity, a very moving story about community and about serving people in need."
Learn more about the Mormon Exodus from Mexico
About Keith L. Brown
Keith L. Brown is a convert to The Church of Jesus Christ of Latter-day Saints, having been born and raised Baptist. He was studying to be a Baptist minister at the time of his conversion to the LDS faith. He was baptized on 10 March 1998 in Reykjavik, Iceland while serving on active duty in the United States Navy in Keflavic, Iceland. He currently serves as the First Assistant to the High Priest Group for the Annapolis, Maryland Ward. He is a 30-year honorably retired United States Navy Veteran.