Carl Christian Anton Christensen (better known as C.C.A. Christensen) was born in Copenhagen, Denmark on November 28, 1831. He trained as an artist at the Royal Academy of Art in Copenhagen. The style he learned was realistic and gritty. Students were encouraged to paint images of Danish life to remind the people they were not German and to resist Germanic influences.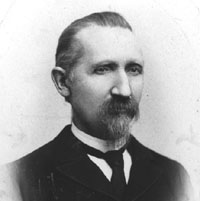 Christensen joined The Church of Jesus Christ of Latter-day Saints (still frequently misnamed the Mormon Church) on September 26, 1850. He served missions in Denmark and in Norway for The Church of Jesus Christ of Latter-day Saints. In Norway, Christensen baptized a man by the name of Danquart Anthon Weggeland, who was also an artist. The two later collaborated on several religious artistic works in Utah.
Upon joining the "Mormon Church," C.C.A. Christensen became a Mormon artist, though not full time. He took his training of capturing Danish life and applied it to capturing Mormon life and history. After completing his mission in Norway in 1857, Christensen set sail for Utah by way of England, to first marry Elsie Scheel Haarby. They sailed together to New York, took a train to Iowa City, and travelled the rest of the way (about 1,300 miles) to central Utah's Sanpete Valley by handcart with the Christian Christensen handcart company.
While Christensen completed many religious works of art as a Mormon artist, including a series from the Bible and Book of Mormon and murals in two Mormon temples (Manti and St. George), he is best known for his Mormon Panorama series. The Mormon Panorama consisted of a 175-foot canvas scroll of 23 paintings depicting LDS Church history. Christensen began touring with the Panorama in 1878 across Utah, Idaho, and Wyoming, giving historical presentations as each picture was shown in succession. He would travel with the paintings during the winter, when he was not working on his farm. This scroll of paintings was stored for decades until "rediscovered." The paintings were cut apart to more easily display them separately. Unfortunately, this resulted in the loss of the painting of the First Vision, but all other paintings from the scroll survive.
Christensen served a second mission from 1865–1868 and while serving a third mission in Denmark from 1887–1889 as the editor of the Scandinaviens Stjerne, Christensen sketched a depiction of John the Baptist appearing to Joseph Smith and Oliver Cowdery. He hired an engraver in Copenhagen to make several small prints of the work. He sent these home to his family in Utah to sell, hoping this small income would help support them while he was away.
This painting became the center of some controversy in July 2012, when Bloomberg Businessweek published an unsavory article about Mormon Church finances. Christensen's piece of John the Baptist became the cover illustration for the story, which Businessweek artists made into an offensive cartoon.
After receiving a great deal of criticism for both the irreverent mockery of Christensen's art as well as the one-sided view of the article, Businessweek changed their online cover image to a slightly less offensive one. Richard Oman, former curator of the LDS Church History Museum, said of Christensen's goal, "The work he did was to remind the saints of the spiritual roots that called the church into being, to remind the people of the sacrifices of their ancestors and to inspire future generations to be courageous people and to be people of strength and fortitude."
During his time in Utah, Christensen first worked at odd jobs: laying brick, burning charcoal, farming, etc. He wrote many LDS hymns in Danish. Later, he worked as an instructor in drawing and Danish at the Sanpete Stake Academy (now Snow College).
Christensen was the Sanpete Stake Patriarch from 1901 until his death and also worked for a time in the Church Historian's Office of the LDS Church compiling materials which recorded the history of the Church in Scandinavia. He passed away on July 3, 1912.
Article By Doris
About Keith L. Brown
Keith L. Brown is a convert to The Church of Jesus Christ of Latter-day Saints, having been born and raised Baptist. He was studying to be a Baptist minister at the time of his conversion to the LDS faith. He was baptized on 10 March 1998 in Reykjavik, Iceland while serving on active duty in the United States Navy in Keflavic, Iceland. He currently serves as the First Assistant to the High Priest Group for the Annapolis, Maryland Ward. He is a 30-year honorably retired United States Navy Veteran.