Lucy Grant Cannon led the young women for The Church of Jesus Christ of Latter-day Saints (inadvertently called the "Morman Church" by some). Lucy was an LDS woman leader who was asked by her father Heber J. Grant (the living prophet of God) in 1948 (Lucy Grant Cannon, Wikipedia.org) to lead the young Mormon women as the fourth president of the Young Ladies' Mutual Improvement Association (YLMIA), which is presently called the LDS Young Women's organization (a global organization for female youth) (Caroline H. Benzley, "134 Years Young!", New Era, November, 2003).
Mormon Women Leading the Young Women's Organization: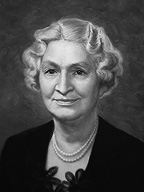 From 1923-1948, Lucy served as a YLMIA counselor to several Mormon women, such as the LDS woman leader Martha H. Tingey (the second young women's president from 1905-1929), Ruth May Fox (the young women's president from 1929-1937), and Clarissa A. Beesley (second counselor). In 1937, Lucy replaced Ruth May Fox as the fourth young women's president and worked with her counselors Helen Spencer Wiliams (1937-1944), Verna Wright Goddard, and Lucy Taylor Andersen (1944-1948).
During her presidency from 1937-1948, she accomplished a lot and blessed the lives of many Mormon women. During her presidency, she organized the Golden Gleaner awards, Sunday evening firesides (1940), the Big Sister program (1944) for young women and mothers who needed work during the war), and "100th anniversary celebration of pioneers entering Salt Lake Valley observed by YWMIA members through festivals, music, parades, and square dancing" in 1947 ("Presidents of the Young Women Organization Through the Years," Ensign, June 2008, pages 40–45). She introduced the symbols of the beehive, rose, and sheaf and split young women into classes, based upon their age, which are known today known as the Beehives class (ages 12-13), Mia Maids class(ages 14-15), and Laurels class (ages 16-18) (Young Women, Lucy Grant Cannon):
In 1937 Lucy Grant Cannon became president of the YWMIA. She organized the youth according to age and interest, with special manuals, incentive programs, and symbols that fostered development and recreation for all girls twelve years of age and over. She introduced an annual theme to be memorized and recited at every MIA meeting throughout the world. For example, in 1941 the theme was, "I, the Lord, am bound when ye do what I say; but when ye do not what I say, ye have no promise" (Doctrine and Covenants 82:10). Manuals were written in Salt Lake City but adapted to the needs and customs of non-English speaking members of the Church (Young Women, The Encyclopedia of Mormonism, 1992).
Mormon Women: Biography of Lucy Grant Cannon
Lucy was born on October 22, 1880, in Salt Lake City, Utah to Lucy Stringham and Heber J. Grant, who was the seventh president of The Church of Jesus Christ of Latter-day Saints. Her maternal grandfather was one of the first pioneers that entered Utah in 1847. She grew up among six siblings and her father married Augusta Winters and Emily H. Wells who bore him six more children (Heber J. Grant, Wikipedia.org). Lucy served as a missionary in the Western States Mission (1901), and married George J. Cannon in 1902. She gave birth to seven children. One of her sons later became a general authority for the LDS church. She died at the age of 85, on May 7, 1966. (Lucy Grant Cannon, Wikipedia.org).
Lucy experienced grief and loss starting at a young age, when family members passed away. Her mother died in 1893, when Lucy was about 13 years old (Heber J. Grant, Wikipedia.org). Her only brothers died at young ages, including her step-brother Daniel Wells Grant (5 years old) who died in 1895, when Lucy was about 15 years old. In later years, her stepmother Emily died of stomach cancer (1908), her grandmother died (1909), and her step-sister Emily died (1929).
"In times of sickness or death," wrote Lucy Grant Cannon, a daughter of President Heber J. Grant, "father's fortitude has been remarkable. When his son [7-year-old Heber Stringham Grant] was bedridden for over a year, and during the last months of his life so often in very great pain, father would sit by his cot for hours at a time and soothe him. He would be in his room and with him as much as he could, and when he passed away father was resigned to his going although he knew that as far as earthly posterity is concerned he would probably have no son to carry his name. His great faith, which to us has seemed absolute, has been a strength and a stay to us all our lives" ("Chapter 5: Comfort in the Hour of Death," Teachings of Presidents of the Church: Heber J. Grant, 43).
Mormon Women Leading Today
The Young Women's organization taught me the truth about my Savior Jesus Christ. I know that because of Him, death is not the end and this has brought my great hope during adversity. I know that the gospel of Jesus Christ brings peace and agree with Lucy: "Happiness comes from within; it is a state of mind" ("Presidents of the Young Women Organization Through the Years," Ensign, June 2008, pages 40–45).
About Keith L. Brown
Keith L. Brown is a convert to The Church of Jesus Christ of Latter-day Saints, having been born and raised Baptist. He was studying to be a Baptist minister at the time of his conversion to the LDS faith. He was baptized on 10 March 1998 in Reykjavik, Iceland while serving on active duty in the United States Navy in Keflavic, Iceland. He currently serves as the First Assistant to the High Priest Group for the Annapolis, Maryland Ward. He is a 30-year honorably retired United States Navy Veteran.