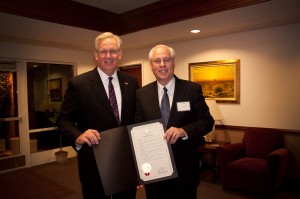 On Friday, April 6, 2012, Missouri Governor Jay Nixon and Kansas Governor Sam Brownback each presented official proclamations to Elder William R. Walker, local leader of The Church of Jesus Christ of Latter-day Saints (Mormon Church). The governors presented these proclamations after touring the newly completed Kansas City Missouri Temple in Kansas City.
Governor Nixon said when presenting the proclamation, "On behalf of the six million people of the state of Missouri, I'd like to express our appreciation at your church's commitment to building a place of such physical and inspirational significance. We are pleased and honored that you have done so. It's a truly historic moment."
Governor Brownback stated in a proclamation: "I … warmly commend the members of The Church of Jesus Christ of Latter-day Saints for the construction of this magnificent temple, for their dedication to religious liberty, for their deep spiritual conviction, all of which provide a valuable contribution to the people and families of the great state of Kansas."
The sentiments from both governors were especially meaningful for Latter-day Saints (Mormons) who have had a tumultuous history in both states. The first six Mormon missionaries arrived in Missouri in 1830, and Latter-day Saints almost immediately began gathering in Independence and Jackson County, eventually spreading to Caldwell and Daviess Counties. However, by 1838, tensions had run so high that it was no longer prudent for the Saints to stay, and the majority of members left during that year, crossing the Mississippi River into Illinois, where they eventually settled in Nauvoo before ultimately leaving for the Utah Territory. The Church of Jesus Christ of Latter-day Saints did not again officially establish a presence in Kansas and Missouri until about 1900. Today, however, membership in the area has grown to about 25,000 members.
In Kansas's proclamation, the governor specifically recognized the magnanimity of the early Saints who, "despite religious intolerance of the day," provided "over 500 men, and a select group of women, from the Church of Jesus Christ of Latter-day Saints known as the Mormon Battalion . . . [in responce to] the request to help defend the United States of America in the Mexican-American War; , the Mormon Battalion met in Leavenworth, Kansas, and were outfitted for their over 2000 mile march through Kansas and ultimately to San Diego, California." After being driven out of their homes and from the state, the Saints were then told they must provide 500 men to defend "their" country, which had treated them so harshly. They responded immediately, and were blessed for their obedience.
Recognition of such behavior, apologies for past injustices, and the determination to have peaceful, mutually beneficial relationships in the present and future has gone a long way to healing from history.
Elder Walker expressed gratitude on behalf of the Church for Governor Nixon's recognition, "We are deeply grateful that the governor of Missouri came to visit our beautiful new temple. Governor Nixon was very warm and gracious, and his expressions of good will and commendation were certainly appreciated. In this place where there is so much history for Latter-day Saints, it was a truly historic occasion—for the governor of Missouri to come visit our temple and extend the hand of fellowship was very meaningful to us."
Additional Resources:
Read the full article at LDS Newsroom