Those who travel to downtown Las Vegas are not generally looking for historical forts, and thus probably pass by the Old Las Vegas Mormon Fort without even noticing it. Located at 500 East Washington Avenue (just off Las Vegas Boulevard), Old Las Vegas Mormon Fort State Park offers visitors the chance to see what life was like in the valley before the gambling and casinos.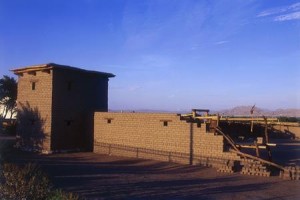 This historical fort was the first non-native structure built in the Las Vegas area. It was built by missionaries of The Church of Jesus Christ of Latter-day Saints (often called the Mormon Church) who were sent by President Brigham Young to settle the valley in 1855. The area was known for its meadows and springs in the middle of the vast desert. They built a 150-square-foot adobe fort next to Las Vegas Creek in an area rich with cottonwoods and willows.
The 30 original missionary-settlers worked with the Southern Paiutes sharing their religion as well as new farming techniques. The settlers also explored the area looking for mining opportunities. However, after just two years, the LDS missionaries abandoned the fort, moving to other settlements in the Great Basin area. Some miners stayed on longer at the fort looking for silver on Mount Potosi in 1861.
The fort's history did not end there, however. It is not unlikely that Union soldiers were stationed there during the Civil War. A few years later, William Knapp, one of the original settlers, returned to live at the fort and opened a store for miners and travelers. In 1865, Octavius Decatur Gass built Los Vegas Rancho on the site and continued in that trade. in 1881, Archibald and Helen J. Stewart took over the property and ran it as a ranch. Helen is known as "The First Lady of Las Vegas" and raised her five children on the ranch after Archibald was killed in a gunfight in 1884. She eventually sold the property and its water rights to the San Pedro, Los Angeles & Salt Lake Railroad in 1902.
The fort served the growing town as a post office at one point and a dairy ranch at another. It provided places for tourists to stay. The U.S. Bureau of Reclamation leased it from 1929–1931 as office space and laboratory testing facilities during the construction of the Hoover Dam.
Though not much remains of the original 14'x2′ walls, a portion of the wall is on display and is heralded as the oldest-known building remains in Nevada (at least non-native structures). In addition, many parts of the building have been rebuilt to show visitors what life was like on the early ranch, complete with antiques from the era.