In his short time as president, Harold B. Lee accomplished a great deal. He had worked on many projects when he was a counselor in the First Presidency which he continued work on as president. Not the least of these projects was the creation of the Department of Internal Communications. This department streamlined the process for producing and distributing Church instructional materials church-wide. When the new department was announced in 1972, Elder Fyans described its goal: "To provide for the members and organizations of the Church approved material and literature of high quality and sufficient quantity on time and at the most reasonable cost" (The Expanding Church: Three Decades of Remarkable Growth Among the Latter-day Saints 1970–1999). This department succeeded, the following year, in creating a curriculum format so that each member of the Church would receive instruction in all areas of the gospel. The Department of Internal Communications also published a Gospel Principles manual, written at a general reading level, which was for new members of the Church in all countries to  learn the basic principles of the gospel. In addition, the standard works were put on cassette tapes, in myriad languages, which were distributed to many countries. The Church wanted to reach all its members, no matter their situation.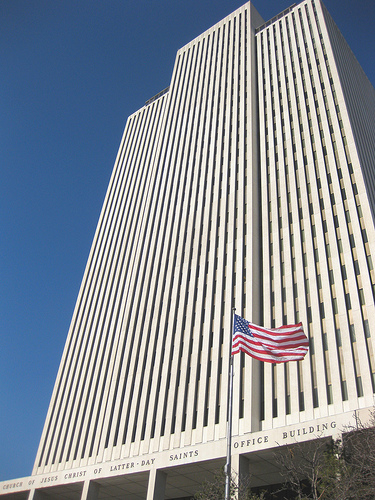 Another significant contribution from President Lee's administration was the formation of groups for the youth and the young single adults of the Church. These groups were headed by priesthood leaders and offered the participants chances to interact with other Church members their own ages in appropriate social settings.
In the Church's continuous efforts to bring the blessings of the temple to all Church members, President Lee was inspired to propose a plan which would cut the cost of temples and allow the Church to build more. The temples which had been built up to this point were all beautiful, but they were also quite large. President Lee suggested designing smaller temples, which would allow more of them to be built in a shorter time period. Though no temples were built during President Lee's short administration, his vision was understood as revelation and was implemented by President Spencer W. Kimball
President Smith also saw the completion of the Church Office Building and the rennovation of the Church Administration Building. The completion of the Church Office Building allowed thirty-six different departments to consolidate from sixteen buildings into one. With all the modern conveniences available, the completion of the Church Office Building was a huge step in the efficient running of the Church.
Because presidents of the Church are called to serve in that capacity for life, the length of administrations varies greatly. Though President Lee only served as president of the Church for eighteen months, he had a profound effect on the members of the Church. His vision for smaller temples, especially, continues to influence members worldwide today, as more small temples are announced every year.