B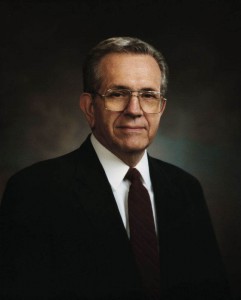 oyd Kenneth Packer was President of the Quorum of the Twelve Apostles of The Church of Jesus Christ of Latter-day Saints (which church is frequently misnamed the Mormon Church).
CHILDHOOD
Boyd Kenneth Packer was born September 10, 1924, in Brigham City, Utah. His parents, Ira and Emma Jensen Packer, were the parents of eleven children, with Boyd being the fifth son and tenth child. With a legacy of Mormon pioneers who settled in Utah, he, like his ancestors, exhibited the character traits of of strength, courage, and determination to live the gospel of Jesus Christ throughout his life.

The Packer children all grew up in a home where the gospel of Jesus Christ was taught and lived. The example set by Boyd's parents had a profound effect on his life, along with the lessons taught early in life to each of the Packer children. When teaching opportunities presented themselves, Boyd's mother took advantage of them. One such occasion occurred when the Packer house almost burned down. She had stayed home because she had the impression not to go to town with her family. It was the perfect opportunity to teach her children how important it was to follow the promptings of the Spirit.
With the encouragement of his mother to read and study the world around him, Boyd grew to love the outdoors. Often Boyd's mother would lay out newsprint on the floor for him to draw the scenes he would see in nature. While Boyd loved everything outside, he soon developed a particular love for birds. This fondness for birds has remained with Boyd throughout his entire life. As the years progressed, Boyd developed his talent and was able to create beautifully detailed carvings of birds. When one sees these meticulous carvings, one feels the "sensitivity to the creatures, but also the reverence for the artistry of the Creator."
Boyd's father was a skilled and industrious mechanic. The Packer family struggled for many years while Boyd's father spent time building the business in his garage, and later a motor company. Boyd remembers, "Sometimes in my growing years I thought we were poor. I later learned that that was not true. We just didn't have any money. We were always rich in the things most significant in our lives."
As a young boy, Boyd became quite ill, and the doctors believed he had pneumonia. However, after he was well again, he discovered that he was unable to walk. It was not until he became an adult that he learned he had in fact contracted polio.
MISSION/MILITARY
Upon completion of high school, Boyd worked for a time on the construction of the army hospital in Brigham City. When he had reached the age to serve a full time mission for the Mormon Church, World War II had begun.
Instead of serving a full-time Mormon mission, Boyd enlisted in the Army Air Force in 1943. By the age of twenty, he had graduated as a pilot and then went on for training as a fighter pilot. Upon completion of training, he was ordered to the Pacific Theater. When the war ended, Boyd was stationed in Japan and remained there for almost a year.
His experiences in Japan gave him many opportunities to study the Book of Mormon (a companion book of scripture to the Bible) and to be a missionary. Opportunities to share the gospel of peace with the Japanese people became numerous. While in Japan, Boyd also had other opportunities to ponder his future. It was on one of those occasions that Boyd decided to be a teacher.
EDUCATION
Returning home from the military in 1946, Boyd enrolled at Weber State College in Ogden, Utah. He received his associate's degree in 1948 and his bachelor's degree from Utah State University in 1949. In 1953, Boyd received his master's degree from Utah State and, in 1962, a doctorate of education degree from Brigham Young University.
MARRIAGE/FAMILY
It was while he was attending Weber State that he met Donna Edith Smith, also from Brigham City, Utah. Boyd was asked to give a talk in a ward that he did not usually attend. In that ward, Donna Smith was listening quite intently to Boyd speak. Donna thought, "Now, this is the type of man I would wish to marry." On July 27, 1947, in the Logan Temple, Boyd and Donna were sealed for time and all eternity.
When asked years later how he handled a growing family and all the responsibilities that come with it, Boyd answered, in  a quite matter-of-fact way, "All of that can be explained in two words: my wife. She's perfect!" Over the years, Donna was  a profound influence in her husband's life. Her willingness to have everything centered on the family and her encouragement toward her husband to serve in the Church, in the community, and the education field have warranted much love and respect from Boyd and her children.
Over the years, the Packers were blessed with ten children: Allan, Kenneth, David, Laurel, Russell, Spencer, Gayle, Kathleen, Lawrence, and Eldon.
His family was his number one priority over the years. When he was home physically, he was home mentally, and nothing else took precedence. As his son Allan noted, "He is our patriarch. He's still a father, and that's his number one priority."
The Packer home was filled with numerous opportunities to meet each child's needs and to help them develop their own talents and pursue their own educational desires.
COMMUNITY SERVICE
Being involved with community service was a necessary part of Boyd's life. He served a four-year term as city councilman for Brigham City. Many lessons were learned during his experiences in local government. He cautioned many times, "experiences in local government taught [me], that many people are willing to pass judgment on the actions of those leading an organization without access to the knowledge that shaped their decisions." Throughout his life, he often warned others against that error, whether in church, government, or the community.
CAREER /CHURCH SERVICE
During the period when Boyd was pursuing his education, starting a family, and beginning a career, there were also numerous callings to serve in the Mormon Church. Callings as a teacher, assistant stake clerk, and high councilor took an enormous amount of time. Knowing that service in the Church is vital to the eternal progression of an individual, Boyd accepted all callings that came his way with dedication and commitment to do his very best.
Trained and educated to be a teacher, Boyd Packer had numerous opportunities to use the skills he had developed. Not only did he have the education with which to teach, but he also had the ability to draw his students in through the Spirit of the Lord and to teach the gospel of Jesus Christ. His service as supervisor of seminaries and institutes of religion for the Mormon Church gave him ample opportunity to personally visit and see those students and teachers in action and to help each improve as a student and as an educator.
In 1949, Boyd began teaching seminary. The old army hospital in Brigham City that he had helped build years earlier was turned into a federally run school for Indian students. From 1949 to 1955, Boyd served as the coordinator of Indian Affairs for the school with the Mormon Church Educational System.
Later in Boyd's life, he was asked to work with the Church's Publication Committee, which allowed him to assist in the production of numerous editions of the scriptures: The Holy Bible, Pearl of Great Price, Doctrine and Covenants, and the Book of Mormon.
In 1961, Boyd would be called to be an assistant to the Quorum of the Twelve Apostles as the youngest of all the General Authorities. In 1965, Elder Packer was given additional responsibilities as the Mission President for the New England States mission, where he served until 1968.
In 1970, Elder Packer was called to be a member of the Quorum of the Twelve Apostles, and in 1995 he was called to be the acting President of the Twelve Apostles. President Faust, counselor to late President Gordon B. Hinckley, remarked: "Elder Packer is very much a teacher. While all of the Twelve are teachers, he's a teacher in the Twelve." Elder Packer was known for his love of the Book of Mormon and the impact it had on his life. All his teachings were centered on the scriptures. He admonishes: "Stand steady. Keep your faith. I bear witness that the gospel of Jesus Christ is true. God lives and directs His work. The [Mormon] Church is on the right course. It is on schedule. And I bear witness that it is righteously led by a prophet of God."
Over the years, Elder Packer wrote numerous books, including Teach Ye Diligently, The Holy Temple, and Our Father's Plan.

About Anita Stansfield
Anita Stansfield began writing at the age of sixteen, and her first novel was published sixteen years later. For more than fifteen years she has been the number-one best-selling author of women's fiction in the LDS market. Her novels range from historical to contemporary and cover a wide gamut of social and emotional issues that explore the human experience through memorable characters and unpredictable plots. She has received many awards, including a special award for pioneering new ground in LDS fiction, the Lifetime Achievement Award from the Whitney Academy for LDS Literature, and also a Lifetime Achievement Award from her publisher, Covenant Communications. She has fifty-six published books. Anita is the mother of five, and has three grandchildren.