by Delisa Hargrove
The Church of Jesus Christ of Latter-day Saints, often inadvertently called the Mormon Church, recently packed its Church History website, www.history.lds.org, with even more features and information.
Matthew McBride, the Church History Department's web content manager, told LDS Church News
In the age of the Internet, e from a variety of sources, some of which are very trustworthy and some of which are not. We'd like to be very proactive about being a consistent, faithful voice in the conversation about Church history on the web.
Latter-day Saint, (or "Mormon") history is fascinating! Mormonism's history is the story of the Lord restoring His Church again upon the earth and is intertwined with amazing stories of ordinary individuals who experienced angelic visitations, miracles, revelations, and persecutions. Read more
William Greenwood (1819-1899) joined The Church of Jesus Christ of Latter-day Saints, often inadvertently called the Mormon Church,  in 1840 in England. His parents and all of his siblings joined the Church and immigrated to Warsaw, Illinois, where his parents and five other family members died of ague. William's granddaughter Louela White Storrs compiled this account of her grandfather's life.
William Greenwood was born March 4, 1819 in Heptonstall, Yorkshire, England, to William Greenwood I and Sarah Utley.
William I and Sarah Utley Greenwood
The elder William was a blacksmith by trade, but at an early age he got a spark in one of his eyes.  In trying to doctor it, he lost the sight of both eyes, so he never saw most of his thirteen children.  He and his wife Sarah, all of his children, and some of his brothers and sisters, joined the Latter-day Saint Church in England in 1840-41, and they emigrated to America.  Although William I was blind, he became quite handy at doing things with his hands such as making various articles of furniture, really specializing in good bedsteads. Read more
Scriptures tell us that one day as the Savior was walking by the sea of Galilee He saw two brothers, fishermen by trade, casting their net into the sea. One was called Peter, and the other was Andrew. The Savior beckoned to them to be His followers, promising them that He would make them "fishers of men." We are told that without hesitation, they left their nets and followed Him (see Matthew 4:18 – 20). As He went a little further, He saw two other brothers, James and John, in a ship mending their nets with Zebedee their father. And He beckoned them as well to come follow Him, and we learn that they immediately left their father and their nets and followed Him (see Matthew 4: 21, 22). Perhaps unbeknownst to these humble fishermen, by being obedient and answering the call to follow the Savior, they had begun their missionary training under the tutelage of the Master Missionary – the Lord Jesus Christ.
Missionary Work – Taking the Gospel to the World
At the close of His earthly ministry, before ascending to the Father, the Lord commanded His disciples:
Go ye into all the world, and preach the gospel to every creature. He that believeth and is baptized shall be saved; but he that believeth not shall be damned. And these signs shall follow them that believe; In my name shall they cast out devils; they shall speak with new tongues; they shall take up serpents; and if they drink any deadly thing, it shall not hurt them; they shall lay hands on the sick, and they shall recover (Mark 15:15-18).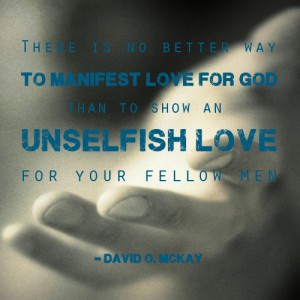 David O. McKay, the 9th President and Prophet of The Church of Jesus Christ of Latter-day Saints (inadvertently referred to as the Mormon Church by the media and others), taught, "True Christianity is love in action. There is no better way to manifest love for God than to show an unselfish love for your fellow men. This is the spirit of missionary work" (David O. McKay, Gospel Ideals [1954], 129.)
Concerning the importance of missionary work, Elder Jeffrey R. Holland of the Quorum of the Twelve Apostles (the second highest governing body of The Church of Jesus Christ) taught: Read more
Ann Hartley Greenwood (1821-1897) joined The Church of Jesus Christ of Latter-day Saints in 1840 in England. Her family immigrated to Illinois to join Latter-day Saints. Living conditions were so bleak that Ann convinced her husband William to return to England. Later, they returned to Illinois and eventually crossed the plains with the Saints and were called to settle a desolate land.  Ann's granddaughter Louela White Storrs compiled this account of her grandmother's life.
Ann Hartley was born into the home of Bernard Hartley and Mary Beck, July 26, 1821, at Addingham, Yorkshire, England.  She had two sisters, Margaret and Martha, and three brothers, Barnard who died young, Joseph, and another Barnard.  Of her mother, Ann said, "She was a very good looking woman, having white pearly teeth and a rosy complexion.  She was a very good manager with quite a business sense."

Her father was a clothing manufacturer near Burnley.  It was customary at that time for little children to be carried to work at looms in the factories at a very early age.  Ann related that she was carried on her father's shoulders as soon as she was old enough to start work.  A never-to-be forgotten memory for her were the moaning cries of these little children being thus carried to work in the early morning hours. Ann grew up thus being kept busy with factory life until she became very adept at the looms, being able to handle three with the help of one little girl by the time that she was married. Read more
Excerpts taken from Susannah Washburn Bowles' biography of her mother Tamer Washburn (1805-1886). Tamer joined The Church of Jesus Christ of Latter-day Saints, often inadvertently called the "Mormon Church," in 1838 and continued faithful to the Church until the time of her death in 1886.
Tamer Washburn was a daughter of Jesse and Susannah Tompkins Washburn. She was born July 4th, 1805, at Mt Pleasant, Westchester County, New York. When she was 19 years old, Tamer married Abraham Washburn (whose grandfather was her father's brother) on March 16, 1824, at Mt. Pleasant, New York. In their early married life, they moved to Sing Sing, where Abraham went into the shoe-making and tanning business.
Mormon Missionaries
When Parley P. Pratt came to New York with the gospel message, Abraham Washburn was converted immediately; the message was so plain and beautiful that he believed everybody could readily be converted. Abraham took Brother Pratt home with him to explain the wonderful message to his wife. Brother Pratt told her that the Lord and His Son had visited, in person, the boy Joseph Smith, and later sent heavenly messengers who had restored the Priesthood, both Aaronic and Melchizedek, and that the Lord was giving the boy Prophet continued revelations, revealing the gospel of Jesus Christ in its fulness. He said that the Angel Moroni had delivered the history of the ancient inhabitants of this continent, written on gold plates, to the Prophet, and he had by the power of God, translated them, and that the book was now published and was called The Book of Mormon. Read more
Excerpts taken from Tamma Durfee Miner White's reflections of her father Edmond Durfee (1788-1845). Edmond joined The Church of Jesus Christ of Latter-day Saints, often inadvertently called the "Mormon Church," in 1831. He was shot by an angry anti-Mormon mob at the Isaac Morley settlement at Green Plains, Hancock, Illinois in 1845.
My father's name was Edmund Durfee, he was born in Rhode Island on the 3rd October 1788 of Dutch decent [SIC]. My mother's name was Magdalena "Lana" Pickle and she was born 6 June 1788. Her father and mother were from Holland. I was born 6 March 1813 in Lennox, Madison County, New York and lived there until I was about nine years old when we moved to Amboy, Oswego County. Father bought some land, built him a house, made a small farm, and worked at his trade that was mostly carpenter and millwright. We lived there until the first of June 1830, father bought more land. There were lots of maple trees. Then father wanted to go West so he sold his sugar bush and farm and started for the south of Ohio. We went through Camden Village to the canal, went on the canal to Buffalo, we went to Briggles (Ruggles) in Huron County. Read more
Samuel H. Smith was born on March 13 or 14, 1808, in Tunbridge, Vermont. His parents were Joseph Smith, Sr., and Lucy Mack Smith. Samuel was the younger brother of the Mormon prophet, Joseph Smith. Mormon is a nickname sometimes used to describe members of The Church of Jesus Christ of Latter-day Saints.
Samuel's family was not wealthy and they worked very hard at a variety of tasks in order to stay alive. They were primarily farmers but also sold products of their own making to supplement their farm income. As a young boy, Samuel became a Presbyterian with his mother and siblings Hyrum and Sophronia.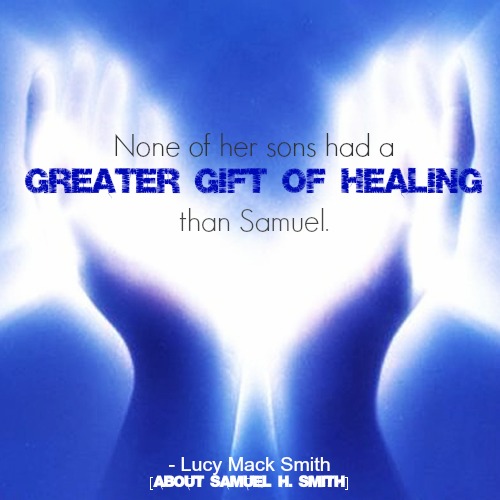 When his older brother, Joseph Smith, received a revelation and then was called to help bring a restoration of the gospel, Samuel did not automatically accept what his brother taught. In time, he used the same method Joseph had used to find out what church was true. He went into the woods and asked God in prayer. There he received a personal revelation of the truthfulness of the gospel of Jesus Christ that his brother taught. He served as a scribe for a brief time for his brother, who was translating the Book of Mormon.
When his brother Joseph organized The Church of Jesus Christ of Latter-day Saints, Samuel was one of the six legally required representatives to attend the first meeting. He was the third person to be baptized. He had the privilege of being one of the eight official witnesses of the Book of Mormon, who were allowed to see and touch the plates on which the book had been written. His testimony, combined with that of the other witnesses, can be read online. Read more