On 4 October 1855, after sailing twenty-six days in the Pacific Ocean, a vessel with 39 passengers and 17 crew aboard, ran into a submerged reef about 200 miles off the coast of Tahiti ultimately destroying the ship. Of the 39 passengers on board, 28 were Latter-day Saints, converts from Australia, on their way to Zion in Utah. The accident would claim the lives of five of those precious Saints – two women and three children.
The Voyage of the Julia Ann
Between 1840 and 1890, approximately 90,000 Latter-day Saints traveled east to west from Europe to America via a total of 543 oceanic voyages. Although shipwrecks were a common occurrence in the nineteenth century, none of the Atlantic ships carrying Latter-day Saint converts were reported among those that went down. However, little is known about the vessels that brought converts from the west to the east across the Pacific. The story of the Julia Ann, the only vessel known with Mormon passengers where lives were lost due to a shipwreck, is one such case.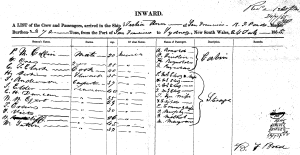 The Julia Ann left Sydney Australia on 7 September 1855, under the command of 32-year-old Captain Benjamin F. Pond, the co-owner of the vessel. The Saints sang "The gallant ship is under weigh," a hymn written by the famous LDS poet and hymn writer W. W. Phelps, as the ship left port. Captain Pond being impressed with the passage of Australian Latter-day Saints to America the previous year was eager to be of service once again. The LDS Australian periodical, Zion's Watchman, reported that Pond and others had certified "that they never saw business more correctly and expeditiously transacted, than was the business pertaining to the shipment of that company, and they also stated that they never saw a company that were so easy to be governed, by the voice of one man as that company of Saints were, who, they remarked, were always ready to hear and obey my counsel."
According to the Meridian Magazine article titled "The Pioneer Story You've Never Heard: The Wreck and Rescue of the Julia Ann" by Fred E. Woods, Captain Pond recalled that the first two weeks of the voyage were "exceedingly unpleasant" with "head winds accompanied with much rain." However, upon entering the southeast trades, "everything brightened, promising a speedy and pleasant voyage." That brief period of tranquility, however, proved to be the calm before the storm.
According to the Meridian Magazine article, John McCarthy, one of the crew members, recalls that on 4 October 1855, "as the ship was sailing at 11 ½ knots per hour, the sea became broken up and the boat with a tremendous crash, dashed head on to a coral reef. She immediately swung round with her broadside to the reef, and the sea made a complete breach over her at every swell."
Shipwrecked
The Meridian Magazine article continues with the recounting of the incident by one of the passengers, Andrew Anderson, the second missionary to Australia in the early 1840s:
About half-past eight o'clock she struck on a reef. . . . This was an awful event in our lives. There was four of our children asleep and in bed; there was very few in the steerage, chiefly on the steerage house, poop, &c. I had been asked two or three times why I was not out,—was I well enough? Yes, well enough thank you, but lazy or something else, (it seems a foreboding of what took place,) there was Sister Harris, Sister Logie, my wife and myself in the steerage house at the moment the Julia Ann struck, my wife ran to me and said what shall we do, I said I do not think there is much the matter, compose yourself. Mr. Owens, 2nd mate, came in and told us to compose ourselves and remain as we were. . . .

Word came out from someone for the passengers to go to the cabin, and by the time I got the four children out of bed, the water was knocking about the boxes, I got my leg very much bruised with a large box, with difficulty we gained the cabin, and about ten minutes after we left, house, galley, and box was all over board, preparations were made to go on the rocks to ascertain whether we could get any footing, as there was no land in sight, the ship was breaking up fast.
Getting Everyone to Safety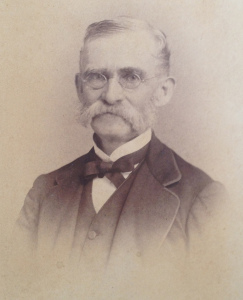 According to the Meridian Magazine article, as the ship was rapidly breaking apart, Captain Pond "called for a volunteer to attempt to reach the reef by swimming with a small line. One of the sailors instantly stripped; the log line was attached to his body, and he succeeded in swimming to the reef. . . . By this means a larger line was hauled to the reef, and made fast to the rocks." Many of the passengers were able to escape from the damaged ship to the reef by hanging on to the rope, but two women and three children drowned in the process.
The article continues with Peter Penfold's account of the 5 Latter-day Saint passengers who were drowned during the escape:
Sister [Martha] Humphries, and sister [Eliza] Harris and infant, were drowned in the cabin. Little Mary Humphries and Marian Anderson were washed off the poop and drowned. . . . After I had helped to get them all out of the cabin, I came up and found the vessel all broken into fragments, except the cabin, and into that the water was rushing at a furious rate, sweeping out all the partitions.
Throughout the entire ordeal Captain Pond's concern was for the safety of the passengers and crew. The article recounts a noble act by Captain Pond during the episode:
While the crew were engaged in getting the passengers ashore, Mr. Owens, the second mate, was going to carry a bag containing eight thousand dollars belonging to the Captain, ashore. The Captain ordered him to leave the money and carry a girl ashore; . . . the child was saved, but the money lost.
Castaways in Hope of Rescue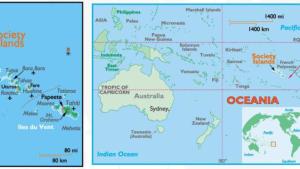 The nearest land was 10 miles away. The survivors were able to patch up a row boat and assemble a raft from spars and drift wood. Led by Captain Coffin, the women and children were placed into the boat, and the men remained on the reef for a second night.
The next morning provisions and clothing were placed on rafts, and the men swam and waded beside them along the reef. All the while they were being pursued by a school of sharks and often had to seek safety by climbing upon the rafts. They were finally able to reach the island after two days without any food or water where they were greeted by children who took them to a water supply which came from holes dug beneath the coral sand. Three days later, Pond led an exploring party to look for more provisions to sustain the castaways. They would spend two months on a series of islands with shell fish, turtle, sharks, cocoa nuts, and brackish water for their sustenance. They also planted a garden to grow pumpkins, peas, and beans.
In spite of their hardships, the Saints still held worship services on a regular basis.
After eight weeks of being stranded on the Scilly Islands, Pond and 9 brave men launched out in a boat which they had repaired to find help. Their destination was the Society Islands which were 200 miles away.
A Missionary's Dream and the Providence of God
In his autobiography which was published four decades later, Pond recounted the prophetic dreams of a Mormon Elder which were instrumental in guiding the 10 man crew in the direction they were to go to seek safety. The dreams are included in the Meridian Magazine article:
My passengers were mostly Mormons, bound to Salt Lake City, densely ignorant and very superstitious and were bitterly opposed to my first proposition of trying to reach the Navigator Islands. They argued, the distance to be so great, some fifteen hundred miles, that if we succeeded in reaching them they would starve to death before we could hope to send them relief. They could not, or would not understand why we might not steer in face of head wind and sea to the Society Islands which were so much nearer. We, however, as nautical men, determined to act on our own judgment in that matter, and steadily continued our preparations until our plans were blocked in a most unexpected manner.

One of their Elders had a dream or vision. He saw the boat successfully launched upon her long voyage, and for a day or two making satisfactory progress. Another leaf in the vision, and the boat is seen floating bottom up, and the drowned bodies of her crew floating around her. This tale, so wrought upon the superstitions that not a man would volunteer to go with me, and I was reluctantly compelled to change my plan.

After some days the same Mormon Elder came to me having had another vision. I asked him if it was a good one. Yes, a very good one. He saw the boat depart with a crew of ten men, bound to the eastward; after three days of rowing, they reached a friendly island where a vessel was obtained and all hands safely brought to Tahiti.
The castaways on Scilly Island were rescued on 3 December 1855. The Meridian Magazine article continues with the account of John S. Eldredge who expressed his profound gratitude:
We were delivered from our exiled and desolate situation by the untiring perseverance of Captain B. F. Pond, master of the barque Julia Ann, connected with the charitable good feeling of Captain Latham, master of the schooner Emma Packer, that came to our relief. We were taken off the Scilly Isles, where we were wrecked, on the 3d of December, making it two months that we were left in this lonely situation on an uninhabited island. I need not attempt to describe our feelings of gratitude and praise which we felt to give the God of Israel for His goodness and mercy in thus working a deliverance for us; for I have not language to express my own feelings, much less the feelings of those around me, suffice it to say, I am thankful to know that His mercy endureth forever.
by Delisa Hargrove
The Church of Jesus Christ of Latter-day Saints, often inadvertently called the Mormon Church, recently packed its Church History website, www.history.lds.org, with even more features and information.
Matthew McBride, the Church History Department's web content manager, told LDS Church News
In the age of the Internet, e from a variety of sources, some of which are very trustworthy and some of which are not. We'd like to be very proactive about being a consistent, faithful voice in the conversation about Church history on the web.
Latter-day Saint, (or "Mormon") history is fascinating! Mormonism's history is the story of the Lord restoring His Church again upon the earth and is intertwined with amazing stories of ordinary individuals who experienced angelic visitations, miracles, revelations, and persecutions. Read more
William Greenwood (1819-1899) joined The Church of Jesus Christ of Latter-day Saints, often inadvertently called the Mormon Church,  in 1840 in England. His parents and all of his siblings joined the Church and immigrated to Warsaw, Illinois, where his parents and five other family members died of ague. William's granddaughter Louela White Storrs compiled this account of her grandfather's life.
William Greenwood was born March 4, 1819 in Heptonstall, Yorkshire, England, to William Greenwood I and Sarah Utley.
William I and Sarah Utley Greenwood
The elder William was a blacksmith by trade, but at an early age he got a spark in one of his eyes.  In trying to doctor it, he lost the sight of both eyes, so he never saw most of his thirteen children.  He and his wife Sarah, all of his children, and some of his brothers and sisters, joined the Latter-day Saint Church in England in 1840-41, and they emigrated to America.  Although William I was blind, he became quite handy at doing things with his hands such as making various articles of furniture, really specializing in good bedsteads. Read more
Scriptures tell us that one day as the Savior was walking by the sea of Galilee He saw two brothers, fishermen by trade, casting their net into the sea. One was called Peter, and the other was Andrew. The Savior beckoned to them to be His followers, promising them that He would make them "fishers of men." We are told that without hesitation, they left their nets and followed Him (see Matthew 4:18 – 20). As He went a little further, He saw two other brothers, James and John, in a ship mending their nets with Zebedee their father. And He beckoned them as well to come follow Him, and we learn that they immediately left their father and their nets and followed Him (see Matthew 4: 21, 22). Perhaps unbeknownst to these humble fishermen, by being obedient and answering the call to follow the Savior, they had begun their missionary training under the tutelage of the Master Missionary – the Lord Jesus Christ.
Missionary Work – Taking the Gospel to the World
At the close of His earthly ministry, before ascending to the Father, the Lord commanded His disciples:
Go ye into all the world, and preach the gospel to every creature. He that believeth and is baptized shall be saved; but he that believeth not shall be damned. And these signs shall follow them that believe; In my name shall they cast out devils; they shall speak with new tongues; they shall take up serpents; and if they drink any deadly thing, it shall not hurt them; they shall lay hands on the sick, and they shall recover (Mark 15:15-18).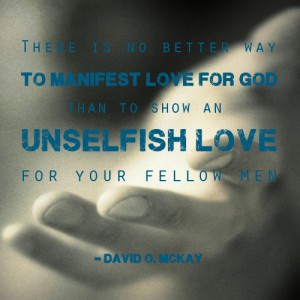 David O. McKay, the 9th President and Prophet of The Church of Jesus Christ of Latter-day Saints (inadvertently referred to as the Mormon Church by the media and others), taught, "True Christianity is love in action. There is no better way to manifest love for God than to show an unselfish love for your fellow men. This is the spirit of missionary work" (David O. McKay, Gospel Ideals [1954], 129.)
Concerning the importance of missionary work, Elder Jeffrey R. Holland of the Quorum of the Twelve Apostles (the second highest governing body of The Church of Jesus Christ) taught: Read more
Ann Hartley Greenwood (1821-1897) joined The Church of Jesus Christ of Latter-day Saints in 1840 in England. Her family immigrated to Illinois to join Latter-day Saints. Living conditions were so bleak that Ann convinced her husband William to return to England. Later, they returned to Illinois and eventually crossed the plains with the Saints and were called to settle a desolate land.  Ann's granddaughter Louela White Storrs compiled this account of her grandmother's life.
Ann Hartley was born into the home of Bernard Hartley and Mary Beck, July 26, 1821, at Addingham, Yorkshire, England.  She had two sisters, Margaret and Martha, and three brothers, Barnard who died young, Joseph, and another Barnard.  Of her mother, Ann said, "She was a very good looking woman, having white pearly teeth and a rosy complexion.  She was a very good manager with quite a business sense."

Her father was a clothing manufacturer near Burnley.  It was customary at that time for little children to be carried to work at looms in the factories at a very early age.  Ann related that she was carried on her father's shoulders as soon as she was old enough to start work.  A never-to-be forgotten memory for her were the moaning cries of these little children being thus carried to work in the early morning hours. Ann grew up thus being kept busy with factory life until she became very adept at the looms, being able to handle three with the help of one little girl by the time that she was married. Read more
Excerpts taken from Susannah Washburn Bowles' biography of her mother Tamer Washburn (1805-1886). Tamer joined The Church of Jesus Christ of Latter-day Saints, often inadvertently called the "Mormon Church," in 1838 and continued faithful to the Church until the time of her death in 1886.
Tamer Washburn was a daughter of Jesse and Susannah Tompkins Washburn. She was born July 4th, 1805, at Mt Pleasant, Westchester County, New York. When she was 19 years old, Tamer married Abraham Washburn (whose grandfather was her father's brother) on March 16, 1824, at Mt. Pleasant, New York. In their early married life, they moved to Sing Sing, where Abraham went into the shoe-making and tanning business.
Mormon Missionaries
When Parley P. Pratt came to New York with the gospel message, Abraham Washburn was converted immediately; the message was so plain and beautiful that he believed everybody could readily be converted. Abraham took Brother Pratt home with him to explain the wonderful message to his wife. Brother Pratt told her that the Lord and His Son had visited, in person, the boy Joseph Smith, and later sent heavenly messengers who had restored the Priesthood, both Aaronic and Melchizedek, and that the Lord was giving the boy Prophet continued revelations, revealing the gospel of Jesus Christ in its fulness. He said that the Angel Moroni had delivered the history of the ancient inhabitants of this continent, written on gold plates, to the Prophet, and he had by the power of God, translated them, and that the book was now published and was called The Book of Mormon. Read more
Excerpts taken from Tamma Durfee Miner White's reflections of her father Edmond Durfee (1788-1845). Edmond joined The Church of Jesus Christ of Latter-day Saints, often inadvertently called the "Mormon Church," in 1831. He was shot by an angry anti-Mormon mob at the Isaac Morley settlement at Green Plains, Hancock, Illinois in 1845.
My father's name was Edmund Durfee, he was born in Rhode Island on the 3rd October 1788 of Dutch decent [SIC]. My mother's name was Magdalena "Lana" Pickle and she was born 6 June 1788. Her father and mother were from Holland. I was born 6 March 1813 in Lennox, Madison County, New York and lived there until I was about nine years old when we moved to Amboy, Oswego County. Father bought some land, built him a house, made a small farm, and worked at his trade that was mostly carpenter and millwright. We lived there until the first of June 1830, father bought more land. There were lots of maple trees. Then father wanted to go West so he sold his sugar bush and farm and started for the south of Ohio. We went through Camden Village to the canal, went on the canal to Buffalo, we went to Briggles (Ruggles) in Huron County. Read more
Samuel H. Smith was born on March 13 or 14, 1808, in Tunbridge, Vermont. His parents were Joseph Smith, Sr., and Lucy Mack Smith. Samuel was the younger brother of the Mormon prophet, Joseph Smith. Mormon is a nickname sometimes used to describe members of The Church of Jesus Christ of Latter-day Saints.
Samuel's family was not wealthy and they worked very hard at a variety of tasks in order to stay alive. They were primarily farmers but also sold products of their own making to supplement their farm income. As a young boy, Samuel became a Presbyterian with his mother and siblings Hyrum and Sophronia.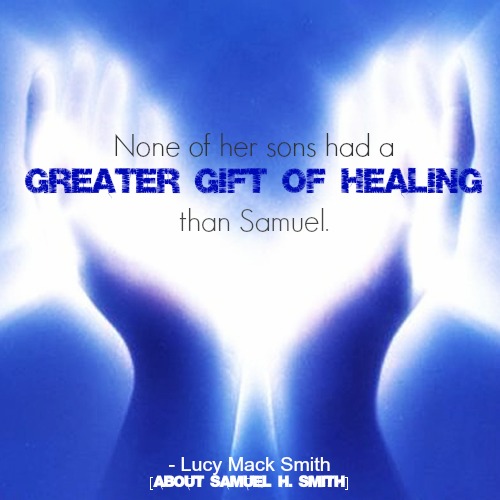 When his older brother, Joseph Smith, received a revelation and then was called to help bring a restoration of the gospel, Samuel did not automatically accept what his brother taught. In time, he used the same method Joseph had used to find out what church was true. He went into the woods and asked God in prayer. There he received a personal revelation of the truthfulness of the gospel of Jesus Christ that his brother taught. He served as a scribe for a brief time for his brother, who was translating the Book of Mormon.
When his brother Joseph organized The Church of Jesus Christ of Latter-day Saints, Samuel was one of the six legally required representatives to attend the first meeting. He was the third person to be baptized. He had the privilege of being one of the eight official witnesses of the Book of Mormon, who were allowed to see and touch the plates on which the book had been written. His testimony, combined with that of the other witnesses, can be read online. Read more