Parley P. Pratt was an early Mormon apostle and author. He was born April 12, 1807 to Jared Pratt and Charity Dickenson in Burlington, New York. Pratt was a descendent of Pilgrims on the Pratt side of the family. He had limited education because his family moved often, but he read extensively and was very well self-educated.

He became a Baptist when he was eighteen, although not fully satisfied as to their truthfulness. He heard Sydney Rigdon speak soon after his marriage. Rigdon later became a Mormon apostle, but at that time he was a preacher for a group called the Disciples or Campbellites. Pratt was thrilled to hear someone actually teaching New Testament gospel, but still worried about the issue of authority. He saw in his own studies that the apostles had been given the authority to continue teaching after Jesus Christ died, and he felt there ought to be apostles with authority today. Despite his concerns, Pratt joined that movement and became a preacher.
Parley P. Pratt Conversion to Mormonism
In 1830 he was preaching in Ohio near Cleveland when he returned home to New York for a visit. There he heard about the Book of Mormon through a Baptist minister. He read part of it and was strongly moved.
"I read all day; eating was a burden, I had no desire for food; sleep was a burden when the night came, for I preferred reading to sleep….I knew and comprehended that the book was true. … My joy was now full."
He decided to travel to Manchester to meet Joseph Smith. There, he found Joseph's brother, Hyrum Smith, who gave him a Book of Mormon. Parley read it and in August, he went to Fayette with Hyrum to be baptized. He became an elder (priesthood holder) following his baptism and then returned home to teach his family about Mormonism. His brother Orson Pratt became a member of the Church. Read more
Emma Smith was the wife of the first Mormon prophet, Joseph Smith. Throughout the years, she has remained a complex topic for both Mormons and non-Mormons. Many people have focused almost entirely on the decisions she made in the last years of Joseph Smith's life and after his death, and sometimes those events trouble Mormons and please non-Mormons. To understand her, we have to place her in her own setting and time, not in our own. We have to look at her entire life, not just one portion of it.
Emma Smith was born in 1804 in Pennsylvania and had unusual opportunities for a girl in her time. She was well-educated and taught school. She even owned cows and other items, possibly given as payment from students. Her family had a fair amount of money. Imagine, then, her family's concern when she developed a fondness for Joseph Smith, who was from a poor farm family and had almost no formal education—just that which his father had given him at home with a small amount of traditional schooling. He had no steady occupation and was involved intensely with religion. He was not, however, a member of her family's faith and in fact, had received a vision at age fourteen telling him not to join any existing church because none were completely right.
Emma saw in him what her family missed. She, like others who knew him well, saw an innate intelligence, a willingness to work very hard, and great integrity. Those who hired him found him to be the best employee they'd ever hired. He attended school as they courted, trying to live up to her. Despite her parents' disapproval, she eventually eloped. They lived with his family and then with hers for a time.
She worked hard to support his mission. When the time came for Joseph Smith to retrieve the golden plates hidden in ancient times by an angel—a book today called the Book of Mormon—she went with him, praying at the wagon while he went to open the box. She joined in his efforts to protect them from thieves and acted on occasion as his scribe. He was not sufficiently educated to write the translation of the plates, so while he translated through the Holy Ghost, she wrote his words. Other scribes would do the majority of the translation, but she filled in as needed.
She had sufficient faith to avoid looking at the plates even when they were in her bedroom or kitchen, although she frequently felt them and moved them out of her way as she worked. Later witnesses would be permitted to view the plates, but God asked Emma to accept them on faith, a testimony that God recognized her as a woman of great faith.
Emma Smith would make tremendous sacrifices for the gospel of Jesus Christ, for her husband, and for the church. She was not perfect and made choices that seem hard for us to understand today. There can be no question, though, that she made sacrifices far beyond what most Mormons would be asked to make, and that she experienced more than her fair share of suffering.
She would lose many of her children. Her first three died so quickly they were not even named. After losing twins, she adopted a set of twins, but one died after being exposed to the cold when a mob invaded their home while the children were ill. One child died at the age of fourteen months and another died less than a year later.
She would leave her parents in 1830, never to see them again as she and her family were forced to move from place to place to avoid persecution and violence. Her husband was arrested, essentially for being Mormon, leaving her alone to care for her children. She wrote to him that only God knew how hard it was for her to flee her home with her children, abandoning all her possessions and leaving her husband to endure whatever was to come.
Time and again, she was uprooted, often without warning and frequently without time to pack her belongings. She endured the jeering and insults of mobs. The comfortable and peaceful life she had led as a girl had done little to prepare her for this new life, but she faced it with faith. She comforted other women, instructed them, and helped them to build their own faith. She frequently found herself living in the homes of others and just as frequently took complete strangers into her own home. When a group of black Mormons arrived after a very difficult and painful journey fraught with danger and racial prejudice, their feet bleeding because they no longer had shoes, she sat them at her own dinner table and took them all into her home as guests until they could find work. When one was unable to find employment, she hired Jane Manning herself.
She led the Relief Society, an auxiliary for the women of the church that was organized to educate the women and to allow them to serve others. She compiled the first hymnbook.
She handled nearly every trial with grace. She was often anxious and sad, but she coped. Eventually, however, she encountered a trial that became more than she thought she could handle. It is possible that polygamy would have come more easily if it had not been added to an already extraordinary number of other trials and if she had not been the first wife to face it in the Church. She had no example to follow and no real support group, as later women would have.
Initially, when Joseph admitted to her that he had received a revelation about polygamy and was told he absolutely must carry it out, she accepted it. Later, when Brigham Young was the prophet, the practice would be refined so that the first wife had to approve each subsequent wife, but as we also see in the Bible, refinements of new practices often come over time as prophets continue to pray for guidance. Emma did, from time to time, offer approval of specific marriages. At other times, she found she could not handle the choices she had made, much as Sarah in the Old Testament first encouraged her husband to marry her handmaiden and then discovered it was more than she was prepared to handle.
According to historian Richard Bushman, Joseph saw polygamy simply as a way to join families together for eternity. Mormons believe family life continues after death. When eternal marriage was first introduced, many families carried out "sealings" with friends and those they wanted to be eternally associated with, not entirely understanding what the revelation meant. Many wished to be associated with the prophet for the eternal blessings they felt this would bring. He did not court the women or put his proposals in romantic terms. In fact, he generally took another man with him or even asked a father or brother to approach the woman. He instructed them to have the women pray about the request.
Modern DNA has ruled out all children Fran Brodie had proposed were his through other marriages. Since he did father many children with Emma, parenthood was possible, but there is, at this time, no biological proof of traditional marriage relationships and the only accounts came from others, not the women or Joseph. For him, it appears the marriages were fairly impersonal and meant to fulfill the requirement given him by an angel and to join certain families together in the eternities.
Whatever the situation, Emma eventually found herself unable to cope with polygamy. Bushman reports that Emma and Joseph had many intense discussions about his polygamy and their relationship was periodically strained.
All the same, she continued to have a testimony of his role as a prophet and she carried out her duties faithfully. She became the first woman to receive the temple endowment involving the making of sacred covenants with the Savior. She then became a temple worker, helping others with their first temple experiences. During this time, their relationship improved and Joseph may have agreed to stop taking on additional wives.
Although their marriage was often troubled following the introduction of polygamy, Emma continued to care for Joseph. When he was murdered, she bent over him and expressed her sorrow that they had taken him from her. She had a lock of his hair cut and given to her. She wore it in a locket the rest of her life, even after she remarried.
She was left alone with her five children, including her adopted daughter and four sons. Her financial state was precarious because there had not been a clear line between the family money and the church money, with Joseph often going into debt to help support the church. She made an understandable effort to keep some of the property and this put her at odds with Brigham Young, since it was unclear which of those properties belonged to the church and which to her. Some church members inappropriately rejected her because of her rejection of polygamy and her outspokenness on the subject. The Church was already in a period of great stress and grief as people struggled to decide who the next prophet would be and they faced the realization that they were again in great danger with an uncertain future. This most likely caused people to behave differently than they might have in gentler circumstances. With discomfort on both sides, she soon found herself outside the mainstream of the church.
When the Mormons left for Utah, she elected to remain behind. She moved away from Nauvoo for a while to avoid danger, but eventually returned to her former home. She was able to utilize the properties she owned to support her family, but with difficulty, particularly since she was left to cover Joseph's many debts. She later married Major Lewis Bidamon, who had supported the Mormons during the trials, but was not a member. He had one illegitimate child and after marrying Emma had another, which she raised, making her a most extraordinary woman. They had a reasonably good relationship despite these challenges.
When her son became an adult and headed up the Reorganized Church, as it was then known, she joined. However, she was never really an active member of that church, nor did she become active in any other church. She admitted that she had been reluctant to give her children any formal religious life—just personal reading of the Bible and Book of Mormon—because she was afraid of a return to the many trials she had faced. She helped to care for Joseph's mother and her mother-in-law noted that few women had endured as many trials as she had with so much grace.
Emma's life was a complex one. Her refined childhood and girlhood was not designed to give her the skills she needed in adulthood, and yet she managed nearly everything thrown at her. She held on to her faith in God, in the gospel, and in Joseph Smith as a prophet throughout it all. She was not perfect, but what is amazing is that she was as perfect as she was given the powerful trials and persecutions she experienced. Her heartaches were very real and would have been a challenge to any woman, particularly without the lens of understanding time brings. They were enough to wear out any woman and if she, in the end, was tired of fighting her way through life, that can be understood.
Modern Mormons are beginning to come to terms with Emma as the elect lady God declared her to be in a revelation, but a very real and human one at the same time who fought for God as long as she had to before choosing the calmer life she longed for. She stood by her husband even when they faced strains in their marriage. After his death she resisted encouragement to deny his role as a prophet. Since she left no journal, we don't really know what the entire truth about Emma Smith is…but we do know she was remarkable.
Sources:
Turley, Richard E., and Brittany A. Chapman. "A Comfort unto My Servant, Joseph." Women of faith in the latter days. Salt Lake City, Utah: Deseret Book Company, 2011. 343-362. Print.
Bushman, Richard L., and Jed Woodworth. Joseph Smith: Rough Stone Rolling. New York: Alfred A. Knopf, 2005. Print.
Orson Pratt was born on September 19, 1811 in Hartford, New York to Jared Pratt and Charity Dickenson. He lived in New Lebanon, Columbia City, New York from 1814- 1822. While there, he attended school in the winter, studying arithmetic and bookkeeping. During the summers, he farmed. In his free time, he studied the Bible.
While attending a boarding school from 1829 to 1830, he took classes in geography, grammar and surveying. In 1830, he first learned about The Church of Jesus Christ of Latter-day Saints, whose members are sometimes nicknamed Mormons.
His brother Parley P. Pratt became a Mormon and, while Orson was living in Canaan, New York, Parley and another man arrived on a mission trip. They taught the gospel to Orson, who believed their teachings. He agreed to be baptized and this was done on his nineteenth birthday in 1830.
He decided to travel to Fayette, New York to meet Joseph Smith personally, a journey of 200 miles. Joseph received a revelation concerning Orson, which is recorded in the Doctrine and Covenants, section 34. He became an elder (a level of lay priesthood) one month later and left to serve his first voluntary, unpaid mission. He felt insecure about this first mission call, believing his testimony was not yet strong enough, but he accepted God's choice and served. He believed this led to the powerful testimony he received in time. Over the next few years, he would travel extensively as a missionary, serving in Missouri, various eastern states, and then to Kirtland, Ohio, where he boarded at Joseph Smith's home and attended the School of the Prophets, an adult education program run by the Church.
The Quorum of the Twelve Apostles was organized in 1835 and he was called to the quorum. Although today apostles are ranked by time in service, since all of the first twelve were called at the same time, they were organized by age. This placed him tenth in seniority.
The following year he began teaching school and also took up the study of Hebrew with many other Mormons, including Joseph Smith. He then served a mission in Canada and when he returned home he married Sarah M. Bates. He had baptized her a year before their marriage. Following his marriage, he embarked on a study of algebra, demonstrating a life-long habit of continuing education.
A year or so following his marriage, Orson Pratt moved to New York. However, despite the fact that the Mormons had fled Far West due to intense persecution, he returned there in 1839. A prophecy had been given that apostles would leave from the cornerstone of the temple there for foreign missions, and he desired to fulfill the prophecy. In July, he helped arrange his brother Parley's release from prison, where he was being held for being Mormon.
He departed for a mission to England and Scotland in 1840 and there wrote the first of many pamphlets teaching the gospel. This pamphlet marked the first time Joseph Smith's first vision at age fourteen was put into print. It also contained other details about the way the Book of Mormon was obtained that had not yet been recorded.
When he returned home, he began to have doubts about Joseph Smith. He requested his name be removed from the church until he could decide whether or not he still had a testimony. During this time an apostate member sent a letter to Sydney Ridgon and asked that it be shown to Orson Pratt. It involved communications with someone who was involved in a false arrest of Joseph Smith. Orson took the letter to Joseph Smith himself, wanting to let him know he was not involved in any way with this plot. Five months later, his testimony was restored and Joseph Smith accepted his request for reinstatement, both as a church member and an apostle.
Orson Pratt traveled to Washington DC to present a petition requesting protection of citizens of any faith traveling to California and Oregon. He then remained in the east, preaching, and was there when word reached him that Joseph Smith had been murdered.
He returned to Nauvoo upon receiving the message. When the Mormon were expelled from Nauvoo, he joined them in the trek to Utah. He and Wilford Woodruff were asked, through inspiration, to organize one of the companies that would make the journey, which they did. Pratt was, by this time, noted as a scientist. He made certain that each day of the journey someone recorded the temperature and altitude.
Orson Pratt was in the first group to reach the Salt Lake Valley, four days ahead of Brigham Young, who now led the church.
In 1848 he traveled to England as a missionary. He wrote at least fifteen new pamphlets while there and also edited a successful newspaper that helped to teach about Mormonism.
Orson Pratt gave a series of lectures on astronomy in Utah which attracted large audiences. They were later transcribed and published in the local newspaper. Pratt also entered politics and served in the legislative assembly, being elected Speaker of the House seven times.
From 1853 to 1881 he continued to serve missions outside the country and to write new pamphlets. He became the historian and recorder for the church.
He undertook two unusual assignments as he translated the Book of Mormon into the phonetic "Deseret Alphabet" and later into the Pittman Phonetic alphabet. He also stereotyped the Book of Mormon and Doctrine and Covenants, two books of Mormon scriptures used with the Bible. He divided them into verses with footnotes and references for easier study and classroom use.
Pratt helped to prepare the 1849 edition of the Book of Mormon, but his work as editor of the 1879 edition is considered his greatest work. The changes to that edition were extensive, including smaller chapters, division of longer books into shorter ones, numbering the footnotes, and adding study notes. (See Orson Pratt: Early Advocate of the Book of Mormon
Orson Pratt died in 1881, the last of the original apostles. He died with a  reputation for being a great mathematician.
William Wines Phelps was born February 17, 1792 in Hanover, New Jersey to Enon Phelps and Mehitable Goldsmith. He is best known as the writer of many still-popular Mormon hymns.
William W. Phelps was a contender for lieutenant governor of New York and the editor of a partisan newspaper when the church was organized. Three days after its organization, he purchased a copy of the Book of Mormon and read it. He wrote in a letter that after reading it, he spent ten hours talking to Sydney Rigdon about it. He traveled to Kirtland, Ohio, where the Mormons were gathered, and let it be known he was there to serve the Lord. He was baptized and was told through a revelation that he was to become an elder in the Mormon priesthood and then to assist Oliver Cowdery in helping to select, write, and print textbooks to be used in the Church's schools.
On June 19, he left with several other elders to serve a mission in Missouri. While there, he had an opportunity to give a public sermon and was also called by revelation to be a printer for the Church. Soon after he and other began returning home, he had a vision in which he saw the destroyer riding on the waters. The next day, Joseph Smith also had a revelation that there was danger for them in traveling on the water. He instructed most of the elders to avoid traveling by water and to slow down enough to convert those they passed on the shores. William, however, as well as Sydney Gilbert, were told to travel rapidly. He attended the temple lot dedication in Independence, Missouri.
In November he and several others were appointed guardian of revelations to be published in Missouri. In 1832, he and two other men were put over schools in the area. He also put together a plan for a monthly newspaper to be called, The Evening and Morning Star. The first issue was released in June.
William W. Phelps and two other men were given the responsibility for preparing a manuscript called, "The Book of Commandments" to be published and then to have it printed as soon as they could. In 1833, a mob broke into Phelps' home, which also housed the Church's printing press, and began tearing it down, which they partially succeeded in doing. He was out of town, but his wife and children had to escape. Many important papers were destroyed and lost in this vicious attack. Three days later they returned to carry out another attack. On July 23, they charged the streets of Independence on a mission of destruction. During the course of these attacks, they destroyed the printing press, but stacked the papers outside, intending to burn them later. Among the papers being printed was the Book of Commandments, containing many sacred commandments that had guided the foundations of the Church. Mary Elizabeth Rollins and her sister, Caroline, ages 13 and 15, were hiding and realized what the papers were. They boldly darted out and rescued the papers. Members of the mob shouted at them to stop, but they ran into a cornfield, spread the papers on the ground, and then laid down on them until the mob, which had pursued them into the field, gave up and left.
The Saints agreed to leave in order to protect the members, but William W. Phelps and two other men took a petition to Governor Daniel Dunklin outlining the Constitutional abuses that had occurred in the state. During this time, Phelps wrote a hymn called, "Now Let Us Rejoice." It is still used in Mormon services today.
In April of 1834, Phelps and others signed a petition to the United States government asking for protection against Missouri mobs. In July, Phelps was chosen to be a counselor to David Whitmer in the newly organized Stake presidency. (A stake is similar to a diocese.)
The following year, he and his son Waterman moved into Joseph Smith's home and helped to prepare a new book of scripture called, "The Book of Doctrine and Covenants." Today it is simply known as the Doctrine and Covenants and contains revelations from modern times. It was an outgrowth of the Book of Commandments project. He and another man arranged the voting order to decide on the book's acceptance. During this time, he also promised five hundred dollars towards the building of a new temple and served as a scribe to Joseph Smith.
In September, Joseph Smith's wife was called to create the first official hymnbook. She selected the hymns and Phelps helped to revise them as needed. He also arranged for the printing.
In 1837, he was called as the postmaster and held this position for more than a year.
In 1838, he and the other members of the stake presidency were chastised by the local members. Phelps was cited for ignoring specific revelations given to him and for misappropriation of funds that had been borrowed for Church use. Because the men were contemptuous rather than repentant, they were called before the High Council and Phelps and one other were excommunicated.
In 1838, one of the most extraordinary events in American history occurred. Governor Boggs issued an extermination order on the Mormons. In August, although it had been issued, the Mormons had not yet learned about it. A mob militia was sent to carry out the extermination. General Atchison tried to convince Boggs to come and see for himself, since they realized the Mormons were not responsible for the problems occurring. However, he refused, preferring to trust the gossip that reached him. "The Mormons must be treated as enemies and must be exterminated or driven from the state" (History of the Church, 3:175). Atchison, who had worked to protect the Mormons, was dismissed from his post and replaced with John B. Clark, although a delay in his arrival placed General Samuel D. Lucas, a known anti-Mormon, in temporary command. By the end of October, he had gathered more than 2000 men to surround the Mormons and carry out the extermination.
A small group of Mormons who had elected not to leave when Joseph Smith instructed them to were the victims of a massacre at Haun's Mill. The mob murdered a ten-year-old boy by placing a gun at his skull and shooting him, explaining they did so in order to keep him from growing up into a Mormon.  At least seventeen adults and children were murdered by the mob and many others injured.
Violence continued but neither side was anxious for a full war to begin. When Lucas offered a truce, the Mormon militia leader, Colonel Hinkle, Phelps (still excommunicated) and a few other former Mormons met with him and secretly agreed to the terms: specific leaders would surrender and be taken to be "tried" and punished. Mormon property would be confiscated, and the Mormons would agree to leave Missouri. Hinkle then went to Joseph Smith and the other named leaders and lied, saying Lucas wanted to meet with them to work out a peace treaty. He then turned them over to the opposition as prisoners.
A secret and illegal "trial" was held in the middle of the night. Phelps and other former Mormons testified against them and those coming to testify for them were simply arrested before they could do so.  The court ordered execution of the Mormon prisoners. However, General Alexander Doniphan refused to carry it out, saying, ""It is cold-blooded murder. I will not obey your order. My brigade shall march for Liberty tomorrow morning, at 8 o'clock; and if you execute these men, I will hold you responsible before an earthly tribunal, so help me God." Lucas backed down. Phelps signed a letter in support of church enemies.
In 1840, Phelps was now horrified by his role in the violent events that followed and began to repent. He wrote to Joseph Smith asking forgiveness and requesting reinstatement in the Church. Joseph, who had spent a great deal in time in prison because of Phelps' false testimony, had every reason to refuse, but he did not. He read the letter to the membership and Phelps' repentance was accepted. Joseph, in a letter, welcomed him back as a friend.
Phelps stayed strong in the church the rest of his life. He wrote many of the hymns used by Mormons today and spoke at Joseph Smith's funeral. For that event, he wrote a now popular song honoring the prophet Joseph Smith. When people disagreed over who should lead the church, he correctly followed Brigham Young and joined the Mormons as they moved to Utah. He served in a number of important roles in Utah, included government positions.
William W. Phelps died March 7, 1872.
Sources:
Every Person in the Doctrine and Covenants by Lynn F. Price, Cedar Fort, 2007
Church History in the Fulness of Times Teacher Manual, (2001), 32–33, "Missouri Persecutions and Expulsion"
When you read the Doctrine and Covenants along with at least part of the historical background of each revelation contained therein, the words take on a much more personal meaning. I've read the words of the Doctrine and Covenants before, but I have never truly studied the whole book, and as I do so, I am strengthening my personal witness of the Prophet Joseph Smith and his relationship to the Lord.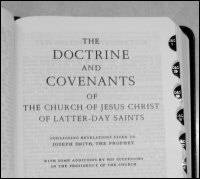 Section 5 of the Doctrine and Covenants was revealed to Joseph about eight months after Section 3 was received. Martin Harris, a man 22 years Joseph Smith's senior, had done a great deal to help Joseph in his work of translating the work which was eventually published as the Book of Mormon. However, he pushed Joseph to let him borrow the 116-page manuscript of the work they had translated so far and lost it. Section 3 covers the Lord's feelings about the matter. Section 5 is addressed to Martin Harris, but it is important for the reader to have the background of the lost manuscript.
Joseph Smith had been given by the Lord an ancient record contained upon plates of brass. He was in the process of translating this record, but he had been given very strict instructions to never let anyone see the plates, unless he was first instructed to by the Lord. Thus, Martin Harris had never seen the actual plates. He had a great desire to see them, however, and asked Joseph to seek permission to show him the plates. After the experience of the lost manuscript pages and the severe chastisement Joseph received from the Lord, Joseph was not at all inclined to disobey again.
It is interesting, however, to ponder upon how lonely Joseph must have felt in his responsibility (at this point) to be the only witness to the plates. The vast majority of the world mocked him and called him a liar. In verse 7 of Section 5, the Lord shares one reason why the plates were not to be shown to the world:
Behold, if they [those who wanted to see the plates] will not believe my words, they would not believe you, my servant Joseph, if it were possible that you should show them all these things which I have committed unto you.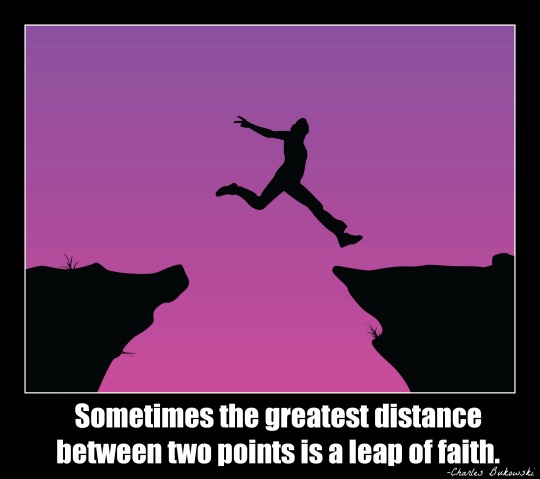 Here the Lord discusses the principle of faith. He says in the scriptures that faith must precede the miracle. No sign is enough to convince the disbelieving that the gospel is true. No scholarly or historical evidence is enough to convince critics that the Book of Mormon is true. This is very intentional on the Lord's part. It must be faith on the part of the individual exercised to gain a personal witness from the Holy Ghost that these things are true. That is a witness that cannot be proven, nor can it be denied by those who receive it.
The Lord goes on to promise Joseph that he will not be alone in bearing his burden forever. Verses 11–13 say:
And in addition to your testimony, the testimony of three of my servants, whom I shall call and ordain, unto whom I will show these things, and they shall go forth with my words that are given through you. Yea, they shall know of a surety that these things are true, for from heaven will I declare it unto them. I will give them power that they may behold and view these things [the plates] as they are.
In addition, all those who believe the words of these witnesses, as well as all of the words of the Lord, shall be visited with the manifestation of the Spirit (D&C 5:16). Joseph is chastised again by the Lord, in verse 21, to repent and to stop listening to the "persuasions of men." However, despite Martin's failure to fully learn his lesson after losing the 116 pages, the Lord tells Joseph that if Martin humbles himself in mighty prayer and remains faithful, then he may be granted his desire.
Martin did, in fact, repent. He became one of the three witnesses to the Book of Mormon the Lord spoke of in Section 5, and he did testify of the reality of the plates and their heavenly source.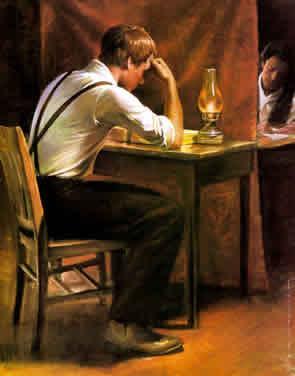 What is very personal to me is that, also contained in Section 5 are very specific instructions to Joseph Smith on how much longer he should translate. After giving Joseph instructions about what to tell Martin Harris and, in effect, telling Joseph that now the ball would be in Martin's court and that he shouldn't worry about it anymore, the Lord tells Joseph to translate only a few more pages and then to take a break.
Translation was very exhausting work, and I'm sure Joseph welcomed a break, but the Lord does not give that as His reason. He knew there were many people trying to destroy Joseph and trying to get their hands on the plates. The Lord knew their plans. He forbade Joseph to continue the work in order to protect him. Section 5 ends with the Lord saying:
Yea, for this cause I have said: Stop, and stand still until I command thee, and I will provide means whereby thou mayest accomplish the thing which I have commanded thee. And if thou art faithful in keeping my commandments, thou shalt be lifted up at the last day.
These types of instruction witness to me of Joseph's humility and integrity. What imposter would have fabricated so many revelations from God berating and chastising himself? In addition, who would have fabricated details which seem so mundane?
We are so blessed to have the Doctrine and Covenants. This book of scripture contains modern revelations which answer so many questions about the gospel. These truths were lost; they are now restored. Read these words and obtain your own spiritual witness that they are true.
This article was written by Doris White, a member of The Church of Jesus Christ of Latter-day Saints.
Additional Resources:
Joseph Smith: Prophet of the Restoration
Request a free copy of The Book of Mormon (Another Testament of Jesus Christ)
The Lord Jesus Christ in Mormonism
Mark L. McConkie, a professor at the University of Colorado, has recently published a book entitled Remembering Joseph: Personal Recollections of Those Who Knew the Prophet Joseph Smith. Below is an excerpt from this book, a recollection of Mary Adams, regarding a specific incidence of Joseph's kindness while he upheld his position of authority in the town over which he was mayor.
While he [Joseph Smith] was acting as mayor of the city, a colored man called Anthony was arrested for selling liquor on Sunday, contrary to law. He pleaded that the reason he had done so was that he might raise the money to purchase the freedom of a dear child held as a slave in a southern state. He had been able to purchase the liberty of himself and wife and now wished to bring his little child to their new home. Joseph said, "I am sorry, Anthony, but the law must be observed, and we will have to impose a fine."

The next day Brother Joseph presented Anthony with a fine horse, directing him to sell it, and use the money obtained for the purchase of the child.

Sister Adams says how well she remembers the feeling of sorrow that pervaded the city, when the two brothers were lying dead in the Mansion House. She with the rest of the children, were not permitted to go in the streets owing to the crowd of people who thronged the city, coming and going by steamboat and carriages, and all with grieving hearts for the departed loved ones.

Mary Frost Adams, "Joseph Smith, the Prophet," Young Woman's Journal 17, no. 12 (December 1906): 538.
Mary Adams was touched by this kindness from Joseph Smith. I am impressed by Joseph's ability to handle the situation so well. How his heart must have been broken at the thought of a man who had escaped the wicked bonds of slavery doing all in his power to bring his family back together. Yet, Joseph's position as mayor required him to exercise the law. Since Anthony had broken the law, Joseph could not ignore the fact, even though his motive was noble. While making sure Anthony answered for the law he had broken, Joseph reached out in love and mercy to offer this man the chance to reunite his family in freedom.
While slavery remains inexcusable, as does prejudice, the fact remains that at the time Joseph did this, African Americans were not generally looked on as equals to other races. I believe that Joseph recognized the equal value of all members of the human race, without regard to gender, religion, or ethnicity, but having that attitude during the time in which he lived is even more testament to the remarkably honest and righteous man he was.
This article was written by Doris White, a member of The Church of Jesus Christ of Latter-day Saints.
Additional Resources:
Joseph Smith: Prophet of the Restoration
The Book of Mormon (Another Testament of Jesus Christ)
The Lord Jesus Christ in Mormonism
Remembering Joseph: Personal Recollections of Those Who Knew the Prophet Joseph Smith, a new publication by Mark L. McConkie, shares several personal stories of people who had the opportunity to interact with Joseph Smith. Benjamin Brown shared his experience of receiving a healing blessing from Joseph Smith when Benjamin was very sick.
My family, with myself, was also taken sick, and I laid so for two or three weeks. I was so far gone that I was quite senseless, and all thought I was dying. Doubtless I should have died, but one day Joseph Smith was passing by my door, for I had managed to procure a house, and was called in, and, as I was afterwards informed, laid his hands upon me, and commanded me to rise and walk in the name of the Lord.

The first thing I knew was that I found myself walking on the floor, perfectly well, and within ten minutes afterwards I was out of the house visiting my daughter, whom I had not seen for nearly a month. I felt so full of joy and happiness, that I was greatly surprised that everyone else was not as full of praise as myself. This was the second time that I had been healed instantly by the power of God, through his servants.

This man, Joseph Smith, was the one that the world says was an impostor, and a false prophet, and either deny that he ever performed any miracle, or, if any are too well attested to be denied, attribute them to the power of the imagination over the body. Was it the power of imagination over the body, that cured me, when I did not even hear Joseph's voice, or know that any operation on my behalf was going on, until I found myself well? The honest in heart will judge righteously.

(Benjamin Brown, Testimonies for the Truth: A Record of Manifestations of the Power of God, Miraculous and Providential, Witnessed in the Travels and Experience of Benjamin Brown, High Priest in The Church of Jesus Christ of Latter-day Saints, Pastor of the London, Reading, Kent, and Essex Conferences [Liverpool: S.W. Richards, 1853], 12.)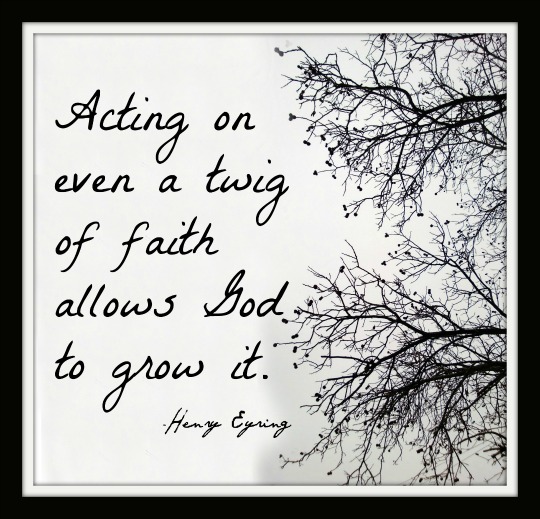 Most, if not all, members of The Church of Jesus Christ of Latter-day Saints (which church is frequently misnamed the "Mormon Church") have experienced, either directly or indirectly, the healing power of a priesthood blessing by one who has authority. Benjamin Brown's experience is certainly not unique, but that does not make it any less miraculous.
Joseph Smith was a prophet called of God in our day to restore ancient truths and ordinances which had been lost from the earth. Healing blessings through the power of the priesthood was one such restored gift of the Spirit, and Joseph Smith is not the only person to have administered to the sick, as Benjamin himself implies when referencing another time he had been healed by the power of the priesthood.
What a comfort it is to know that the priesthood power of God has been restored to the earth and that all worthy male members of the restored church can hold and exercise this power through their obedience and faithfulness.
This article was written by Doris White, a member of The Church of Jesus Christ of Latter-day Saints.
Additional Resources:
Joseph Smith: Prophet of the Restoration
A recent publication by Mark L. McConkie, Remembering Joseph: Personal Recollections of Those Who Knew the Prophet Joseph Smith, is a wonderful collection of memories and impressions of the remarkable man Joseph Smith was. Below is a personal account from William Taylor about time he spent with the Prophet.
Late in the night the Prophet had gone to my brother John's house in Nauvoo and said to him: "I want you to go with me to your father's." My brother said: "But I can't go, Brother Joseph; I am sick in bed!" The Prophet replied: "I'll come in and help you dress, and you'll find no inconvenience from going out."

So Brother John got up, dressed and started out with him, and by the time they reached our home, none of us could tell that he had been the least sick. The four stayed at our house a few days and then the Prophet sent the other three back to Nauvoo to see if anything was going wrong at that place. In a few days they returned. During their absence the Prophet and I spent most of our time during the day in the woods, near our house on the Henderson bottom, walking around, shooting squirrels sometimes, or doing anything we could to amuse ourselves. I was the Prophet's only companion in these tramps through the woods, and I have often thought it strange, that though there were many people in that part of the country we never met anyone when we were out.
It is interesting to see the faith that John had in the Prophet's words. It may have just beent he prospect of so much intimate time with Joseph that got John going, and he was certainly blessed for going along—not just because his health improved, but also because he strengthened a friendship and gained more knowledge of the gospel. William went on to say:
I do not remember exactly how long the Prophet remained at our home, but it seems to me it was about two weeks, but in this short period, owing to the nature of the circumstances surrounding us, I had more real close association with him than I would have had in a lifetime under different conditions. It is impossible for me to express my feelings in regard to this period of my life.

I have never known the same joy and satisfaction in the companionship of any other person, man or woman, that I felt with him, the man who had conversed with the Almighty. He was always the most companionable and lovable of men—cheerful and jovial! Sometimes on our return home in the evening after we had been tramping around in the woods, he would call out: "Here, mother, come David and Jonathan."

Much has been said of his geniality and personal magnetism. I was a witness of this—people, old or young, loved him and trusted him instinctively. I said to him once: "Brother Joseph, don't you get frightened when all those hounding wolves are after you?"

And he answered: "No, I am not afraid; the Lord said he would protect me, and I have full confidence in His word." I knew the danger, and whatever happened to him would happen to me, but I felt no more fear than I now feel. There was something superior to thoughts of personal safety. Life or death was a matter of indifference to me while I was the companion of the Lord's anointed!

He said to me often: "I'll never forsake you, William," and I knew he wouldn't.

(William Taylor, "Joseph Smith, the Prophet," Young Woman's Journal 17, no. 12 [December 1906]: 547–48.)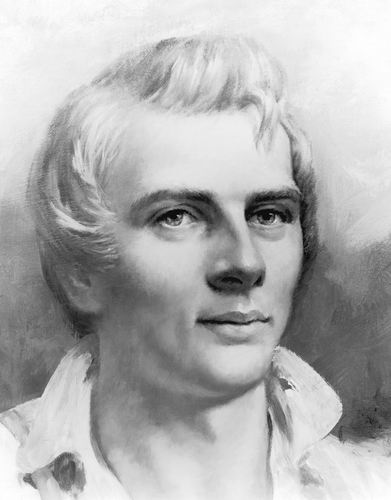 What a testimony of a good man. All who met and spent time with the Prophet testified of his love for those around him, his genial attitude, and his kind heart. Having the spirit of Christ with you as much as Joseph Smith did means that you radiate joy and light, and people are drawn to that because they long for it in their own lives as well. Joseph Smith was a true follower of Christ, and his mission was to bring the joy of the Light of Christ into as many other lives as would accept it.
Joseph had more reason than most to fear his enemies. They were relentless and sped on by the hatred of the Adversary who knew what a threat Joseph Smith posed. However, Joseph and been promised by the Lord that he would be protected, and he had complete faith in that promise, as well as all the other promises the Lord made him. This nearness to the Lord dispelled all fear. As William said, "There was something superior to thoughts of personal safety" in Joseph's company—death became a matter of indifference because not only had Joseph been promised protection until his purpose had been fulfilled, but also, death held no fear for Joseph because he kept the Lord's commandments.
We can have the same peace and joy that Joseph Smith had and which William felt emanating from Joseph. If we live our lives in accordance with the gospel of Jesus Christ, we can feel of His love for us and feel at peace even in a troubled world.
This article was written by Doris White, a member of The Church of Jesus Christ of latter-day Saints.
Additional Resources:
Joseph Smith: Prophet of the Restoration
Basic Mormon Beliefs and Real Mormons
Thomas B Marsh was, for a time, an apostle for The Church of Jesus Christ of Latter-day Saints, until his excommunication. He eventually returned to the church.
Thomas B. Marsh was born in 1799 in Massachusetts, the son of James Marsh and Mary Law. In 1820, he married Elizabeth Godkin and began a grocery business. When it failed, he moved to Boston, where he worked in a type foundry for seven years.
While in Boston, he became a Methodist for a time, but soon decided the church's teaching didn't match what he read in the Bible. He ended his membership and felt the spirit tell him that in time, the true church would be restored. He then felt impressed to travel, where he eventually found himself in Palmyra. When he arrived at a printing shop, he met Martin Harris. The first sixteen pages of the Book of Mormon had just been printed and he read them. He believed the book to be true and asked permission to take a copy of those pages home with him to Massachusetts. He gave them to his wife, Elizabeth, who also read and believed them. However, the church had not yet been organized, so he could not act on this belief. He maintained contact with future church leaders and when he learned the church had been organized, he moved with his family to Palmyra, New York, where Joseph Smith lived. He was soon baptized and given the priesthood. He was the subject of a revelation given through Joseph Smith, in which he was praised for his faith and reassured his family would be cared for. He was given a calling (volunteer assignment) to preach the gospel and serve the church. He was appointed to be a physician to those beginning to gather together as new members of the Church.
In 1831, the Mormons moved to Kirtland, Ohio in an attempt to find safety and the right to practice their religion in peace. Thomas B. March moved there with the Saints, as the Mormons called themselves. At a conference held there, he became a high priest and was soon called to serve a mission. He returned home early the next year. This was followed by a shorter mission to New York. He was then placed in charge of a small group of Mormons sent to settle on the Big Blue River in Jackson County, Missouri. They were soon driven from their homes by mobs and Thomas settled his family in Lafayette County, where he taught school. He then moved to Clay County and became a member of the high council, a local leadership organization in the Church.
In January of 1835, he returned to Kirtland, Ohio and became an apostle. Since all the apostles were called at the same time, they were ordered by age instead of seniority as they are today. This made him the president of the apostles, since he was, at age 35, the oldest apostle.
Thomas B. Marsh developed a reputation as a problem solver. He was sent as part of a committee to help resolve conflicts between Clay County and Church members in the county.  His speech to them was so powerful General Atchison was moved to tears.
In 1837, Joseph delivered a revelation to Thomas Marsh for the apostles, encouraging them to be faithful and not to be rebellious. Some rebelliousness was already arising among this group of inexperienced leaders facing intense persecution and challenges. Some did not handle the persecution well and some thought there should be none if the Church was true.
Problems arose in Far West, Missouri and some church leaders lost their place in the church. Thomas B. Marsh and David Patten were sent to lead the Mormons there until Joseph Smith could arrive to call new leaders. Then he, Patten, and Brigham Young were made the local area presidency. The other two were sent to travel while David was instructed to stay and lead the people.
In October, Thomas' faithful church service began to unravel because of a problem that began with his wife and cheese. Elizabeth and her friend, Sister Harris, earned money by selling homemade cheese. They decided they could make more money if they combined their milk and to further increase profits and keep things fair, they agreed to include the skimmings. The skimmings were richer in cream. Sister Harris included her skimmings, but Elizabeth did not. She kept a pint for herself so her personal cheese would be especially tasty. In this small community, disagreements were often settled at the community level, which was also the church level, so they asked their home teachers to decide their argument over this. They felt Elizabeth had been dishonest, and she and Thomas began extremely angry over this. The matter was then turned over to the bishop and the local church leaders to decide. They also agreed that she had made a contract with Sister Harris and had violated the contract. Still angry, the Marshes demanded the issue go even higher. The high council supported the decisions of the lower bodies, so Thomas demanded the prophet himself review the case. When the prophet agreed that Sister March had violated her business commitment, Marsh became so angry he went to a judge and swore an affidavit that the Mormons were hostile to the state. This was a desire to "get even" but it had tragic consequences. His affidavit became a factor in Governor Bogg's decision to issue an extermination order against the Mormons, a decision that led to many deaths and persecutions.
In 1839, he was excommunicated for his role in causing the deaths of other church members. Nineteen years later, he came to Brigham Young, then president of the Church, and pleaded forgiveness. He wrote a letter to Heber C. Kimball, the First Counselor to the president of the Church and said, "The Lord could get along very well without me and He … lost nothing by my falling out of the ranks; But O what have I lost?! Riches, greater riches than all this world or many planets like this could afford."  (See Thomas S. Monson, School Thy Feelings, O My Brother, General Conference, October 2009.)
He was rebaptized and moved to Utah to live. He died in 1866.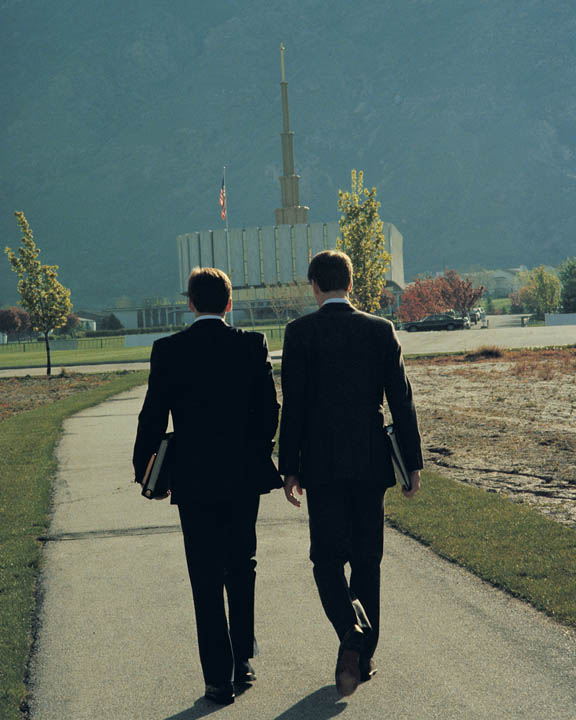 When the Provo Tabernacle, a historic building belonging to The Church of Jesus Christ of Latter-day Saints, was destroyed by fire, many were devastated by the loss of the historically significant building. However, the Mormons (a nickname for members of the Church) quickly turned the tragedy into a blessing by deciding to build Provo's second Mormon temple on the site. Archaeologists were brought in to assist with the excavation, to ensure no historical artifacts were lost. This provided an opportunity for archaeology students at nearby Brigham Young University to gain valuable field work experience.
During the excavation, a baptistry from the 1870s was uncovered. It was the oldest in the area, and at least the fifth oldest in Utah. Prior to its building, Mormons had to be baptized in rivers and lakes. The baptistery, which has a 5×9 foot font, was built around 1875 and was used until at least 1906. Archaeologists knew it existed, but were not sure where it was on the block of land. The Church history department chose to find and excavate the font, using high powered lasers that detect underground objects. This allowed them to know where to dig and to protect the font as they worked.
The original site contained a meetinghouse, first built in the 1850s and 1860s, the baptistry, and the tabernacle. The tabernacle was built in the 1890s. There was also a caretaker's cottage.
A news release from the Mormons describes the original font construction:
"The font floor has three layers of wood laid in crisscross fashion and was held together with nails and screws. As the screws were tightened, the wood was pulled together to form a floor solid enough to hold water. The excavation unearthed a water pipe used to fill the font and a drain to empty it. In early photographs of the baptistry a chimney is shown, which archeologists believe vented a stove that heated the water to make the facility usable year-round. Large quantities of painted plaster fragments were also discovered, revealing the original sky-blue color of the baptistry's interior walls."
A temple is now being built at the location. Mormon temples are not used for weekly Sabbath worship. Those regular worship services are held on Sundays and are open to the public. Temples are closed on the Sabbath. They are, after the initial open houses, dedicated and then are open only to Mormons who have been members of the Church for at least a year and are keeping the commandments of God. Teenagers fourteen and older are admitted to a small portion of the temple for special ordinances and children may enter only to be "sealed" (joined) to their parents if the parents receive an eternal marriage after having children or if children are adopted. Children born to parents already married in the temples are automatically sealed to their parents. Mormon believe families are meant to last for eternity, not just this life. Only in a Mormon temple can this ordinance take place.
Read about the discovery of the historic Mormon baptistry.