Our Purpose
The history of The Church of Jesus Christ of Latter-day Saints—casually dubbed Mormonism—is a modern epic. As a website, we desire to share that story with the world by sharing engaging, factual, and succinct accounts of the faith, dedication, and sacrifice of church members.

We seek to be an honest resource where one can find biographies of past presidents and other influential members of the Church, personal accounts of church members, sourced articles regarding historical events, and online books on church history.
In addition to providing educational content, this website seeks to provide knowledge that may be used to satisfy one's own curiosity, clear up confusion regarding certain historically-rooted subjects within the Church, strengthen personal testimonies, and promote open conversation between members and non-members alike. We invite you to not only read the information provided about the history of the Church, but to ponder upon the things which you learn.
Sincere questions and comments are always encouraged, as is guest content.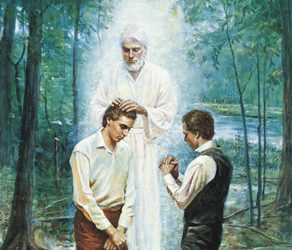 A special anniversary recently passed on May 15th—that of the restoration of the Aaronic priesthood. Although it is referred to as the "lesser" priesthood, one could argue that it marked the true end of the age of spiritual darkness that preceded the restoration of...