by Doris White
The Church of Jesus Christ of Latter-day Saints (frequently nicknamed the "Mormon Church") has recently released a new study manual for teenagers who study the Doctrine and Covenants, a book of modern scripture that records the organization of the Church and its early history.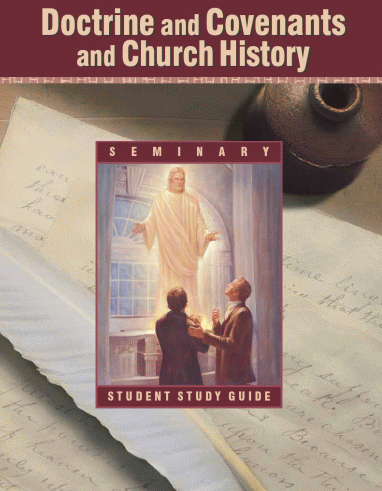 While the study of the Doctrine and Covenants for teenagers is certainly not new, the significance of this new manual is substantial. Several controversial events of Mormon history are covered in this manual. Whereas before, the focus was mainly the doctrine that is contained in the book and the history that brought about the revelation of those doctrines, the new manual also teaches the background about some potentially divisive episodes. Church leaders have obviously recognized that it is important to be very clear about these episodes and doctrines so that from a younger age members of the Church will know the truth and will not be so easily misled by enemies of The Church of Jesus Christ who present half truths or only portions of past events that, by themselves and out of context, could lead to a loss of faith.
Having an accurate understanding of circumstances, as well as an accurate portrayal of all the facts, gives the reader a fuller understanding of doctrines and events. There are some people who are very antagonistic towards The Church of Jesus Christ of Latter-day Saints. Some of them willingly distort the truth to damage others' faith. Some have honest misconceptions about the history of the Church and feel they are doing Church members a favor by telling them how it "really" is. By taking a new approach with the youth of today, church leaders are giving them the truth early so they can judge for themselves what is truth and what is not. Read more
by Doris White
Continuing misconceptions about the historical practice of polygamy in The Church of Jesus Christ of Latter-day Saints have beleaguered its members since the institution of the practice. Here we will attempt to answer some of the questions people still have about polygamy today. We will try to accurately portray the historical and religious environment surrounding The Church of Jesus Christ of Latter-day Saints (which church is frequently called the "Mormon Church" by mistake) during the period when polygamy was practiced.
Polygamy Is No Longer Practiced Today
First of all, to clear up a common misunderstanding, polygamy is not practiced today by any member of The Church of Jesus Christ of Latter-day Saints. To practice polygamy today will lead to excommunication. Gordon B. Hinckley, fifteenth president of The Church of Jesus Christ, said the following in October 1998:
by Delisa Hargrove
John White Curtis, Jr., (1859–1949) was born in Springville, Utah, to John White Curtis (1820–1902) and Matilda Miner (1840–1909). His parents married in 1855 in Springville, Utah, and had 14 children between 1858 and 1885. John White Curtis, Sr.'s, first wife was Elmira Starr (1815–1883). They married 1836 in Connecticut had 3 children between 1842 and 1846.
John White Curtis, Sr., joined The Church of Jesus Christ of Latter-day Saints (often inadvertently called the Mormon Church) in 1832.  Matilda was baptized in 1851.
Honored Mormon Pioneers
Since past history is sure to indicate the general character of future families, this history will fall short of the very vital part of my parent's lives. Nothing has been written of them until now, and I can only recall a small part of our family life. My parents were both pioneers and had to endure all the hardships of those days. Words fall short of expression of Father's nobility and manhood. He had unusual foresight, used good judgment, and was always known as a fair dealing man. Both my parents were highly esteemed and their character is worthy of study for well-directed ideals.
My mother could remember the death of the Grandfather, Edmond Durfee by a mob. How it grieved her childish heart. She told how she lay counting the stars to make herself sleep. She well remembered walking across the plains, or carrying wood miles for their evening camp. Grandmother Tamma kept a jar of dry salt-rising bread meal ready for emergency needs. When they couldn't have a fire, they had this bread to nibble on. Sometimes they soaked it in water so they might eat it. Mother often told of her white factory dressed dyed with blue. She told us of one little girl who traveled near in crossing the plains who had two pairs of shoes. When they came to thorny, rocky roads, this girl wore the best pair and let Mother wear the other until they came to better roads, then Mother trudged happily along. Mother walked across the plains when only twelve years old, and had no shoes except when the girl loaned her shoes to Mother. Read more
Extraordinary Mormon Women
Women belonging to The Church of Jesus Christ of Latter-day Saints have always done remarkable things. Emma Smith, first president of the Latter-day Saint women's organization, told the women working with her, "We are going to do something extraordinary" (Relief Society Minute Book, Nauvoo, Illinois, March 17, 1842, Church History Library, 12), and they haven't stopped doing extraordinary things since their organization on March 17, 1842.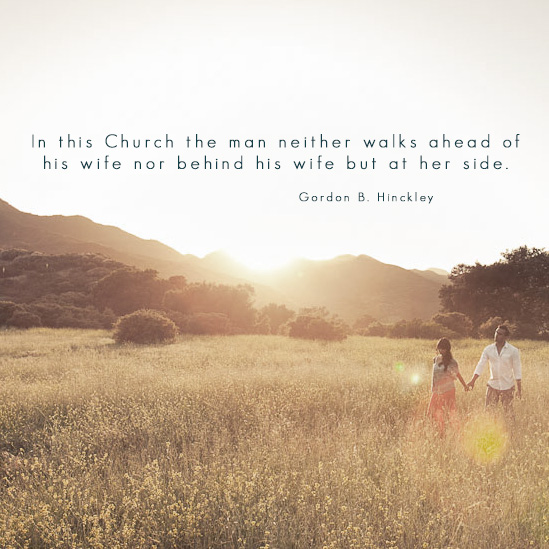 Read more
Excerpts taken from Susannah Washburn Bowles' biography of her mother Tamer Washburn (1805-1886). Tamer joined The Church of Jesus Christ of Latter-day Saints, often inadvertently called the "Mormon Church," in 1838 and continued faithful to the Church until the time of her death in 1886.
Tamer Washburn was a daughter of Jesse and Susannah Tompkins Washburn. She was born July 4th, 1805, at Mt Pleasant, Westchester County, New York. When she was 19 years old, Tamer married Abraham Washburn (whose grandfather was her father's brother) on March 16, 1824, at Mt. Pleasant, New York. In their early married life, they moved to Sing Sing, where Abraham went into the shoe-making and tanning business.
Mormon Missionaries
When Parley P. Pratt came to New York with the gospel message, Abraham Washburn was converted immediately; the message was so plain and beautiful that he believed everybody could readily be converted. Abraham took Brother Pratt home with him to explain the wonderful message to his wife. Brother Pratt told her that the Lord and His Son had visited, in person, the boy Joseph Smith, and later sent heavenly messengers who had restored the Priesthood, both Aaronic and Melchizedek, and that the Lord was giving the boy Prophet continued revelations, revealing the gospel of Jesus Christ in its fulness. He said that the Angel Moroni had delivered the history of the ancient inhabitants of this continent, written on gold plates, to the Prophet, and he had by the power of God, translated them, and that the book was now published and was called The Book of Mormon. Read more
Amy Ruth Tolley was born March 16, 1894, in Milo, Idaho, to William Fisher and Sarah Gadd Tolley. Ruth's parents joined The Church of Jesus Christ of Latter-day Saints, often inadvertently called the "Mormon Church," while living in England. They met during the trans-Atlantic crossing emigrating to Utah. William, born in 1823, was 27 years older than Sarah. Sarah Gadd became William Tolley's plural wife in 1869, a union sanctioned by church leaders and William's first wife Sarah Warren.  William and Sarah Warren Tolley had 10 children.  William and Sarah Gadd Tolley had 14 children.  Ruth, William's youngest child, was born when William was 70 years old.
We must remember the law of polygamy was given to our Prophet in the early days of our church. The records say only about 20% of the male members had more than one wife and they had to have the sanction of the church authorities before taking a plural wife. Of course there were some who abused this privilege.

Being a daughter of a polygamist, I've been asked many questions about it. This is the way I have answered some of them: We in these latter days were given all of the other keys of an ancient church, why not polygamy? It was practiced all through the old Bible days. Our church teachings are not new, but a restoration of that which once was. And here is another idea–Our Heavenly Father may have wanted a people he could call His own. All of the first Mormons were converts, not one had been born a Latter-day Saint. Polygamy was one way of getting a lot of children who would be Latter-day Saints without any other religious training. Also, many more women than men joined the church and that too must be considered in polygamy, because we are taught we cannot gain the highest degree of glory without being sealed in the Temple… Read more
Heber Chase Kimball (1801-1868) and his wife Vilate Murray Kimball (1806-1867) embraced The Church of Jesus Christ of Latter-day Saints, often inadvertently called the "Mormon Church," in 1832. Ever faithful to The Church of Jesus Christ and the Prophet Joseph Smith, Heber served eight proselyting missions throughout the United States and the United Kingdom. Vilate sustained and supported Heber in his assignments and strengthened her own testimony through her faithfulness. Heber was ordained a member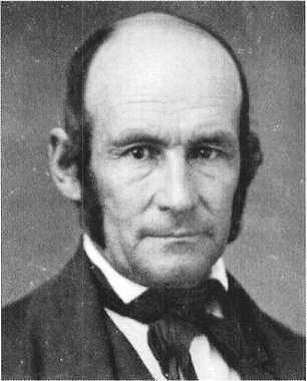 of The Quorum of Twelve Apostles on February 14, 1835. In 1842, due to his steady faithfulness as an Apostle, Heber was one of the first commanded to live the principle of plural marriage in Nauvoo, Illinois. Heber married Sarah Noon in 1842.
Heber and Vilate's daughter Helen (1828-1896) recorded their experience.
My mother often told me that she could not doubt the plural order of marriage was of God, for the Lord had revealed it to her in answer to prayer.

In Nauvoo, shortly after his return from England, my father, among others of his brethren, was taught the plural wife doctrine, and was told by Joseph the Prophet three times to go and take a certain woman as his wife; but not till he commanded him in the name of the Lord did he obey. At the same time Joseph told him not to divulge this secret, not even to my mother, for fear that she would not receive it; for his life was in constant jeopardy, not only from outside influences and enemies, who were seeking some plea to take him back to Missouri but from false brethren who had crept like snakes into his bosom and then betrayed him. Read more
Margaret Cooper was born near Clarksville, Tennessee, in 1804. She married Samuel Walker West in 1820. After accepting the Gospel message from missionaries of The Church of Jesus Christ of Latter-day Saints, often inadvertently called the Mormon Church, the Wests moved their family to Nauvoo, Illinois, and subsequently to Utah. After Samuel's death in 1873, Margaret moved to live with her children in Snowflake, Arizona, and died there, still firm in the faith, in 1882.
Consecrated Offerings
When David Patten preached in Tennessee in 1834, I believed it was the work [of God]…and…[was] baptized by David Patten. I have not hankered for the coffee grain nor the tea leaves since. My husband was soon baptized by Elder Parrish and he soon left off tobacco, coffee, and tea. We fed and clothed the Elders with a liberal hand and heart when they were with us. My husband sent money to assist in the building at Kirtland…

When Brother George A. Smith and Brother Carlos Smith [were] in the South, my husband lent them $25.00 to bear their expenses here and he gave money to Brother Wells to bear his expenses. To those that asked he gave and to those that asked he lent and by request he sent just as they asked and his ability would afford. It was in Tennessee with free good will and we have not asked reward nor desired it from our brethren. We have ever been willing to suffer with our brethren and we have been meek when we could not rejoice… Read more
Emma Smith was the wife of the first Mormon prophet, Joseph Smith. Throughout the years, she has remained a complex topic for both Mormons and non-Mormons. Many people have focused almost entirely on the decisions she made in the last years of Joseph Smith's life and after his death, and sometimes those events trouble Mormons and please non-Mormons. To understand her, we have to place her in her own setting and time, not in our own. We have to look at her entire life, not just one portion of it.
Emma Smith was born in 1804 in Pennsylvania and had unusual opportunities for a girl in her time. She was well-educated and taught school. She even owned cows and other items, possibly given as payment from students. Her family had a fair amount of money. Imagine, then, her family's concern when she developed a fondness for Joseph Smith, who was from a poor farm family and had almost no formal education—just that which his father had given him at home with a small amount of traditional schooling. He had no steady occupation and was involved intensely with religion. He was not, however, a member of her family's faith and in fact, had received a vision at age fourteen telling him not to join any existing church because none were completely right.
Emma saw in him what her family missed. She, like others who knew him well, saw an innate intelligence, a willingness to work very hard, and great integrity. Those who hired him found him to be the best employee they'd ever hired. He attended school as they courted, trying to live up to her. Despite her parents' disapproval, she eventually eloped. They lived with his family and then with hers for a time. Read more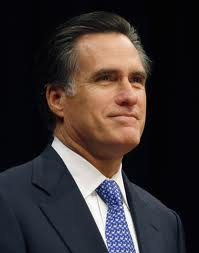 Though Mitt Romney has been getting a great deal of coverage due to his presidential campaign, a lot of the media's focus has been on his religion rather than his politics. Not much has been said, though, about the Romney family history in Arizona, which goes back a long way.
In the 1880s, Arizona became a pivotal center of religious persecution for members of The Church of Jesus Christ of Latter-day Saints (which church is frequently misnamed the Mormon Church). The LDS Church had made efforts to colonize Arizona, sending many of its members from Utah to establish colonies along several rivers in Arizona from 1876–1881.
Things began to spiral downward for the Latter-day Saints (Mormons) in 1882, when the federal Edmunds Act was passed. This made the practice of polygamy a felony and made polygamists ineligible for public office. One local election judge refused the right to vote to at least one Mormon bishop. Read more