by Delisa Hargrove
John White Curtis, Jr., (1859–1949) was born in Springville, Utah, to John White Curtis (1820–1902) and Matilda Miner (1840–1909). His parents married in 1855 in Springville, Utah, and had 14 children between 1858 and 1885. John White Curtis, Sr.'s, first wife was Elmira Starr (1815–1883). They married 1836 in Connecticut had 3 children between 1842 and 1846.
John White Curtis, Sr., joined The Church of Jesus Christ of Latter-day Saints (often inadvertently called the Mormon Church) in 1832.  Matilda was baptized in 1851.
Honored Mormon Pioneers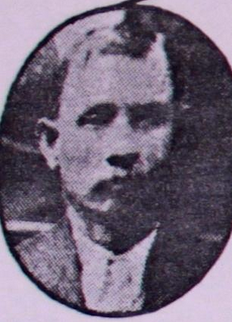 Since past history is sure to indicate the general character of future families, this history will fall short of the very vital part of my parent's lives. Nothing has been written of them until now, and I can only recall a small part of our family life. My parents were both pioneers and had to endure all the hardships of those days. Words fall short of expression of Father's nobility and manhood. He had unusual foresight, used good judgment, and was always known as a fair dealing man. Both my parents were highly esteemed and their character is worthy of study for well-directed ideals.
My mother could remember the death of the Grandfather, Edmond Durfee by a mob. How it grieved her childish heart. She told how she lay counting the stars to make herself sleep. She well remembered walking across the plains, or carrying wood miles for their evening camp. Grandmother Tamma kept a jar of dry salt-rising bread meal ready for emergency needs. When they couldn't have a fire, they had this bread to nibble on. Sometimes they soaked it in water so they might eat it. Mother often told of her white factory dressed dyed with blue. She told us of one little girl who traveled near in crossing the plains who had two pairs of shoes. When they came to thorny, rocky roads, this girl wore the best pair and let Mother wear the other until they came to better roads, then Mother trudged happily along. Mother walked across the plains when only twelve years old, and had no shoes except when the girl loaned her shoes to Mother.
My mother was born the 12th of January 1847 at Lima, Hancock County, Illinois, and was married in 1855. Her unwavering patience and sincere honesty are traits worthy of study by any person. To one who knew her casually, little note would be given, but to those who knew her innermost life, she is idolized as one among many. She devoted her all to those of her acquaintance and had a life of unusually hard toil and rough experiences.
Father had erysipelas of the bone and was very sick for two years, was never really well after this sickness, being somewhat crippled. Among experiences in these hard times, I remember helping Mother gather heads of grain in the fields that had been harvested. The hordes of grasshoppers which we always had to fight will always hold a place in my memory.
Memories of Indian Encounters
Our home life in Springville was quite adventurous because of savage Indians. They would steal our horses and cattle every chance they got. The women and children would all gather at one place at night and the men would stand guard. The squaws were bad to steal; they came often to our home and demanded food, etc., which Mother always shared.
I remember when I was very small my Father took me into the canyon with him for a load of wood. As we were leaving for home, an Indian stopped us and asked for a ride. Father let him ride but was rather uneasy, as then Indians were always treacherous. He had a rope under his blanket which he thought was well hidden, but we saw it and knew he was after something. He rode into the valley with us and disappeared. Hay was very scarce with us, so we had to turn our horses in pastures. The next morning, one of our horses was gone, and this Indian was later seen riding him.
On the 26th of June 1886, a band of these troublesome Indians stole horses from Spanish Fork and Springville pastures. They fled up Maple Canyon with our men in hot pursuit. As our men drew near they all began firing. One white man was killed and one seriously wounded. I was seven years old, and I remember they would not let me see either of the men they brought back. After this battle the Indians seem a little frightened and caused less trouble for a while. I loved the mountains, and being the oldest boy, my father usually took me along with him.
John's Parents' Polygamous Marriage
Times were very hard and my parents were poor, so we did any kind of work to get provisions and clothes. Father and his brother Ezra cared for the Utah County Coop sheep for two years. It took a great effort, as Father did his part with the sheep and went to Springville often enough to keep the farm going. His first Wife, Elmira Starr, stayed at home with part of the family, while my Mother went with, taking me and the baby girl. I was old enough to help some.
Both of father's wives lived in the same house. They were very congenial and worked together on all problems. They were both fond of children and Aunt Elmira treated us as her own. We loved her, the same as we did Mother. They were both spiritual people and we were taught religion from our early youth. Father's timely guidance with the firm cooperation of his wives are to be admired by all his children.
Settling Again
In 1877, when I was 18 years old, we moved to Willow Bend, now Aurora. Father took up land, and by extra hard effort raised a crop the first year. He went to the mountains and cut logs immediately, then moved his family from Springville. This first house was made by placing four poles in the ground and then making sides and a roof of willows. When winter came, we plastered the willows with mud to hold out the cold. We did our cooking on an open fire out of doors. Our furniture was limited. The chairs were made with rope, cane and leather, basket woven for seats. The beds were four posts beds, with rope for springs, and straw tick mattresses. Stools were commonly used for chairs. Later, the fireplace was a substitute for a stove, shelves were used for cupboards, and the roof was dirt covered.
Father traded one yolk of oxen to Mr. Coons in Richfield for water rights in the Rocky Ford Dam and Canal Company. I worked with father all my life until twenty-five years of age, helping him to support the family and get a start.
Extraordinary Mormon Women
Women belonging to The Church of Jesus Christ of Latter-day Saints have always done remarkable things. Emma Smith, first president of the Latter-day Saint women's organization, told the women working with her, "We are going to do something extraordinary" (Relief Society Minute Book, Nauvoo, Illinois, March 17, 1842, Church History Library, 12), and they haven't stopped doing extraordinary things since their organization on March 17, 1842.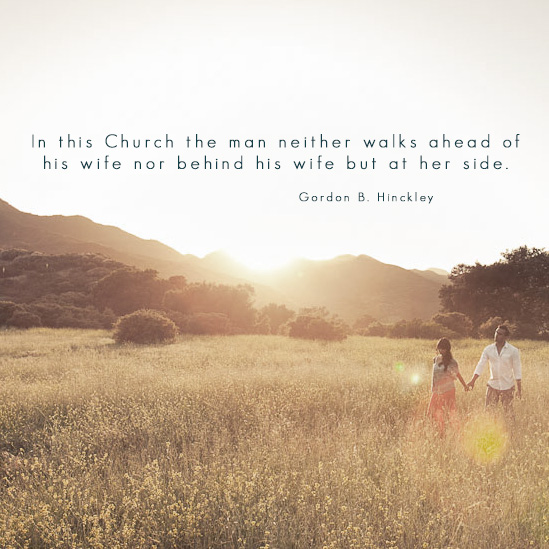 The Relief Society, which Emma Smith headed originally, is today a world-wide women's organization—one of the world's oldest and largest. Its female members strengthen families and homes and seek to provide relief to those in need, all while increasing personal faith and righteousness. Joseph Smith, first prophet of The Church of Jesus Christ, said of the Relief Society's organization, "The Church was never perfectly organized until the women were thus organized" (Quoted in Sarah M. Kimball, "Auto-biography," Woman's Exponent, Sept 1, 1883, 51). Mormon women have always been recognized and appreciated for their unique skills and potential.
The Church of Jesus Christ of Latter-day Saints (often inadvertently referred to as the "Mormon Church") was organized on April 6, 1830. Historically, women have not had as many freedoms as men have had, even in the United States, which prides itself on its liberated view of individual rights. Women's rights were long-awaited and long fought-for in being made law and in becoming more accepted in society. The Church of Jesus Christ has stood out as a champion of women since its restoration in 1830 and has been at the forefront of women's rights in all that movement's most positive goals.
Overcoming the Oppression of Women
It is hard for us to believe now, but even as late as 1830 and beyond, married women were not recognized, at least by the law, as more than mere possessions of their husbands. The English Common Law was accepted widely and stated:
By marriage, the husband and wife are one person in law; that is, the legal existence of woman is merged in that of her husband. He is her baron or lord, bound to supply her with shelter, food, clothing and medicine, and is entitled to her earnings and the use and custody of her person, which he may seize wherever he may find it (History of Woman Suffrage, Vol. 6, p.961).
Women were so bound by the law that it was very difficult for them to work to obtain personal funds. It was also very difficult for them to gain higher education and to escape from unhappy, oppressive marriages. They had few rights and freedoms if they were unmarried and seemingly even fewer if they were married. They were trapped in a society which largely viewed them as cooks and housekeepers who were able and expected to provide children as heirs and workers. For the most part, women were not seen as having the capacity for higher intellectual pursuits or for being able to contribute to society in any way outside the home.
Negative Effects of the Feminist Movement
This mindset continued well into the 20th century until the feminist movement really took hold. It wasn't until 1920 that an amendment was signed into law giving all adult women the right to vote in America, but there was still a long way to go in the fight for women's rights. For several more decades it was common practice for a woman to lose her job when she married and, if not then, certainly when she became pregnant.
Great strides have been made in the last 100 years liberating women from being viewed as possessions. However, somewhere along the way, the true end goal of being valued equally was lost, and many pioneers in the quest for women's rights began to look beyond the mark. The pendulum seems to have swung to the opposite extreme, telling women they are worthless unless they are treated exactly like men with the same contributions and expectations. This attitude is just as harmful as telling women they are worth less than men. The true spirit of feminism should be that women are just as valuable as men are in their own right. They have their own strengths and talents to offer and should be valued equally for what they bring to the table as men are for what they bring to the table.
I want to be valued for who I am and what I have to offer because I am human, I am a daughter of God, and I have worth. Telling me that because I am a woman I am worthless is just as harmful and hurtful as telling me that I must not be worth the same as a man unless I act exactly like him and am treated exactly like him. We as women need to be proud of our divine qualities. The world is in need of these qualities, but the harm of modern feminism is the idea that these qualities should be dropped by everyone because they are feminine. I am proud of being a woman and realize that many feminine qualities are just what the world needs more of today.
Mormon Feminism and Mormon Doctrine
Mormon doctrine teaches, however, that "gender is an essential characteristic of individual premortal, mortal, and eternal identity and purpose" ("The Family: A Proclamation to the World"). Society is fighting against this eternal truth.
Many people have fought for women to have the freedom to choose their own futures. Free will is also considered an eternal truth by Latter-day Saints ("Mormons"), and so women choose for themselves what they want to do with their lives. However, Mormon doctrine also teaches that men and women have complementary characteristics. Both a righteous man and a righteous woman are essential to God's plan for families.
The Church of Jesus Christ has always recognized the eternal value that women have and the vast array of talents they have to offer in building up the kingdom of God on the earth. Still, it is part of Mormon doctrine that Mormon women have the most to offer the world in raising up righteous children. This does not make women less capable in the workplace than men; it simply means there is no more valuable or meaningful work they can perform than to raise up righteous children. Many extraordinary women have managed to raise children in righteousness and to also contribute to their communities in other very meaningful ways. Men and women are seen as being of equal value, but they do not have identical abilities and strengths.
Mormon Women Doing Extraordinary Things
When the early Saints were forced to move west, they set up their own community in the desert in what was then the Utah Territory, but getting there was a long, dangerous, arduous task. Many people died; everyone who made the journey suffered. Bathsheba W. Smith, the fourth Relief Society General President, recalled what helped them through this trial:
I will not try to describe how we traveled through storms of snow, wind, and rain; how roads had to be made, bridges built, and rafts constructed; how our poor animals had to drag on day after day with scanty feed; nor how our camps suffered from poverty, sickness, and death. We were consoled … by having our public and private meetings in peace, praying and singing the songs of Zion, and rejoicing that we were leaving our persecutors far behind. We were further consoled by seeing the power of God manifested through the laying on of the hands of the elders, causing the sick to be healed, and the lame to walk. The Lord was with us and his power was made manifest daily (Autobiography of Bathsheba W. Smith, typescript, Church History Library, 13; punctuation, spelling, and capitalization standardized).
It was the faith these women had in God that got them through this trial. They supported one another; they mourned with each other when their loved ones died; they shared what little they had; and they rejoiced together when they finally arrived in the Salt Lake Valley.
When a large group of Saints were stranded on the plains in a blizzard, those who had struggled themselves to get to Salt Lake were exhorted by Brigham Young, second president of The Church of Jesus Christ, to help those who were in need. After President Young's admonition, Lucy Meserve Smith recorded that women immediately took off all the warm clothing they could spare (e.g. petticoats and stockings) and piled them in wagons that left immediately to try and help the stranded people. This sense of immediacy in helping those in need has continued in the spirit of Relief Society.
Society Benefiting from Women's Freedoms
From the earliest days in the Salt Lake Valley, Mormon women were encouraged to exercise a great deal of freedom. There was a whole city and community to build. Women were given the vote in all applicable matters. Many women gained higher education and served their communities as doctors, as teachers in universities, running hospitals, holding public office, and even publishing their own newspapers. However, before the United States would admit Utah into the Union as a state, the vote was taken away from Mormon women by the government, and they had to fight to get it back. This temporary setback did not deter women, though, and the first female Senator in the United States was Dr. Martha Hughes Cannon, a Mormon woman, who won the election by more than 3,000 votes—running against her own husband!
President Brigham Young urged many of the women of the church to become doctors. Zina D. H. Young was one who followed his counsel. She completed a course in obstetrics and helped deliver countless babies. She also encouraged other women to gain these skills. Many went east to obtain degrees and then came back, teaching what they had learned to others. One such woman, Emma Andersen Liljenquist, was given a blessing from a church leader that, "if [she] lived right [she] should always know what to do in case of any difficulties." She recorded:
That promise has been fulfilled to the very letter. Many times when one of my patients was seriously ill, I have asked my Heavenly Father for assistance, and in every case it was given to me. One in particular was a lady who had just given birth to a baby and hemorrhage set in. The husband called the doctor, but he did not realize that it was so serious. I … asked the Lord to help us. The hemorrhage ceased and I did the necessary things for her. When the doctor arrived, he said he could hardly believe what had happened, but said I had done exactly what he would have done. …

… I have brought over one thousand babies [into the world]. Once again I give thanks to my Heavenly Father for His help and the strength the Lord has given me, for without it I could not have rendered this service to my sisters or our community (Our Pioneer Heritage, comp. Kate B. Carter (1963), 6:445–46).
Many prominent women who worked in the general women's suffrage movement, including Susan B. Anthony, sought advice from Mormon women who had experience in the field.
This kind of influence continues in the world today. In 1992, the Relief Society celebrated its 150th anniversary. Local organizations were encouraged to look to their own communities for ways to serve them.
One of our Relief Society presidents went to the city council in a California city and said, "What are the things that you feel are needed in this community that we could do?" And the men said, "You mean 20,000 groups throughout this world are going to be doing this same thing?" And she said yes. And [one of the council members] said, "You'll change the world." And I think we did … for the better. That was one of the unifying things. And [there was] such a variety of service. … [Sisters] made lap rugs in South Africa for those elderly in the home. … They planted flowers around [a] clock tower in Samoa. And they did so many things with homeless shelters or providing books for children or painting homes for unwed mothers, that sort of thing. We felt that throughout the world these community service projects were a great thing, both for the sisters and for the community (Elaine L. Jack, interview by Julie B. Beck, Feb. 10, 2009, transcript, Church History Library).
Mormon Women Today
Mormon women are highly valued and respected. Mormon doctrine has always taught this principle. However, the Lord has created men and women as complementary to one another to help fulfill His purpose for all of us. We need each other to be complete and to reach a full level of joy. Men and women both have important things to offer and critical roles to fill, but they need to fill the roles the Lord has created for them.
Another observation Elder Christofferson made helps me to grasp the bigger picture of how we are meant to work together, "In blurring feminine and masculine differences, we lose the distinct, complementary gifts of women and men that together produce a greater whole."
There is a lot of discussion among the few women who don't clearly understand how God's Church works about allowing women to hold the priesthood. Many other Christian denominations have made changes in their structure to allow for this. It surprises me when I hear Mormon women who say they felt left out by not being allowed to hold the priesthood. I have never felt this way.
One key difference between priesthood in the Mormon Church and other Christian denominations is that our clergy is unpaid. All who serve in any capacity in The Church of Jesus Christ of Latter-day Saints do so as volunteers. There are many, many areas in which women serve and do so very well. However, in Mormon doctrine, it is only worthy male members of the church who hold the priesthood. Men are the patriarchs of the family, and it is really on the family that the whole structure of the Church is based. Following God's pattern,
Marriage between man and woman is essential to His eternal plan. Children are entitled to birth within the bonds of matrimony, and to be reared by a father and a mother who honor marital vows with complete fidelity.4
Thus, if we follow God's plan, every home will have a worthy priesthood holder in it. There is no need for two to lead the home. This is not part of doctrine, this is my personal feeling. What it really boils down to is that God has declared this to be His will, but it is equally important to recognize that He has provided for all His children to have access to the blessings of the priesthood.
I understand that God loves me just as much as anyone else. I also understand that His plan is set up in His own way. Even if we may not understand everything all the time, there is a purpose for how He has decreed His gospel is to be organized on this earth. I do not feel in any way deprived of blessings because I cannot hold the priesthood. No man who holds the priesthood can use it to serve himself. I am able to receive all the blessings from the priesthood which any man may receive. My personal feeling is that I have enough responsibility on my plate as it is without worrying about priesthood responsibility on top of everything else.
I also recognize and am comforted by the fact that The Church of Jesus Christ of Latter-day Saints is, in fact, the restored gospel of Jesus Christ. He is in charge. No movement in the church is going to change His eternal doctrine. The doctrine and principles of His gospel are unchanging. If He decides to make a change in practice, like allowing all worthy men to hold the priesthood,  then He will direct that change; no one can force it.
I am grateful to be a woman in The Church of Jesus Christ. I am grateful to be valued and to be shown my eternal potential. I know my Heavenly Father loves me and values me. That is enough to sustain me through others' doubts and questions.
If you want to gain a better understanding of the Mormon doctrine regarding women, the family, and God's plan for each of us, read, "The Family: A Proclamation to the World." Meet with Mormon missionaries to ask them questions and to learn more.
Additional Resource:
Excerpts taken from Susannah Washburn Bowles' biography of her mother Tamer Washburn (1805-1886). Tamer joined The Church of Jesus Christ of Latter-day Saints, often inadvertently called the "Mormon Church," in 1838 and continued faithful to the Church until the time of her death in 1886.
Tamer Washburn was a daughter of Jesse and Susannah Tompkins Washburn. She was born July 4th, 1805, at Mt Pleasant, Westchester County, New York. When she was 19 years old, Tamer married Abraham Washburn (whose grandfather was her father's brother) on March 16, 1824, at Mt. Pleasant, New York. In their early married life, they moved to Sing Sing, where Abraham went into the shoe-making and tanning business.
Mormon Missionaries
When Parley P. Pratt came to New York with the gospel message, Abraham Washburn was converted immediately; the message was so plain and beautiful that he believed everybody could readily be converted. Abraham took Brother Pratt home with him to explain the wonderful message to his wife. Brother Pratt told her that the Lord and His Son had visited, in person, the boy Joseph Smith, and later sent heavenly messengers who had restored the Priesthood, both Aaronic and Melchizedek, and that the Lord was giving the boy Prophet continued revelations, revealing the gospel of Jesus Christ in its fulness. He said that the Angel Moroni had delivered the history of the ancient inhabitants of this continent, written on gold plates, to the Prophet, and he had by the power of God, translated them, and that the book was now published and was called The Book of Mormon.

This was too much for this dear lady, who was a staunch Methodist, yet retaining many ideas of the Quaker faith in which she had been reared. She was infuriated at what she had just heard; it was impossible for God to give new revelations to man; all such things had ceased with the death of the ancient Prophets and Apostles. This man was surely an imposter teaching false doctrine. Her righteous indignation arose and she turned on Brother Pratt and poured out the venom of her wrath in no gentle tones. Her husband tried in vain to soothe her. He, however, knew that the message was true and in a short time was baptized. He tried gently, at every opportunity to convert his dear wife, but it seemed, for some time, that his efforts were useless.

One evening, while he was attending an evening meeting, Abraham received a message to come home quickly: his wife was in a terrible nervous condition on account of his being at a Mormon meeting. As he was leaving, Brother Pratt said, "Be of good cheer, Brother Washburn, for in a very short time your wife will be a member of the Church." It was but a few weeks until she asked Brother Pratt to baptize her.

She learned to love Brother Pratt and the gospel of Jesus Christ. Her home was ever after a home for the Mormon missionaries.

As time passed, both Parley and Orson Pratt made their home with the Washburns while doing Missionary work in New York. On one occasion, Orson Pratt brought his wife. She wore, as was the custom in those days, a lace cap with bows of ribbon and small artificial flowers on the side of her cap. Tamer had not yet sufficiently recovered from her Quaker notions to be able to tolerate these 'excessive' practices, so she asked Sister Pratt to please remove the trimmings from her cap while she remained her guest.  Sister Pratt complied with the request to please Sister Washburn. In after years, Tamer laughed as she related the story wondering how she could have been so narrow minded because she herself wore just such little lace caps to the end of her days and enjoyed having them handsomely decorated.

Abraham was a prosperous business man and he gave Tamer a regular allowance of 75 dollars a month. She was saving, and deposited a part of her allowance each month in the bank. Once, Orson Pratt was going to England on a mission; he arrived in New York with no money to pay his traveling expenses. Tamer gave him enough money from her savings account to pay his passage to England.
A Blessing and Promise from the Prophet Joseph Smith
After joining the body of the Church at Nauvoo, Brother Washburn was a member of the Nauvoo Legion. They were friends of the Prophet, Joseph Smith. The Prophet Joseph Smith visited with Tamer and her folks many times. On one occasion when the Smiths and others were at their home at an evening social, the Prophet arose to his feet and said, "Sister Washburn, there is a special blessing from the Lord to you, and the Lord says that you're just as sure of your Celestial crown as though you already had it on your head." The sisters assembled said to the Prophet, "This is enough to make us jealous." And then the Prophet said, "This blessing is for Mother Washburn above the rest, because she is a free giver. She could always give and never regret."  Her salvation in the Celestial Kingdom was assured on account of her liberality.
Mormon Polygamy and Victory Over Herself
They came from Winter Quarters to Salt Lake City early in 1848 with the Richards Company. Tamer drove three yoke of wild steers across the trackless desert. Shortly after their arrival in the valley, Abraham married Flora Clorinda Gleason Johnson.

Tamer was a social person, and usually very optimistic, yet she was capable of very intense feelings. Flora's daughter Lorena related, "Tamer told me how hard it was to live in plural marriage, and for a long time she was unkind to my mother although she loved mother. She prayed often for strength, and God finally gave her victory over herself. After that, plural marriage ceased to be a trial, and my mother became one of her best earthly friends."

Such is a few of the trials and only a few that she with others passed through because they believed that God lived and had a Soul and Body like unto that of Man whom He had created and because they believed that He had the right and privilege to converse with the men He had created and that He did make known His mind and will and they believed it and would not deny it and troubles were multiplied upon them.
Amy Ruth Tolley was born March 16, 1894, in Milo, Idaho, to William Fisher and Sarah Gadd Tolley. Ruth's parents joined The Church of Jesus Christ of Latter-day Saints, often inadvertently called the "Mormon Church," while living in England. They met during the trans-Atlantic crossing emigrating to Utah. William, born in 1823, was 27 years older than Sarah. Sarah Gadd became William Tolley's plural wife in 1869, a union sanctioned by church leaders and William's first wife Sarah Warren.  William and Sarah Warren Tolley had 10 children.  William and Sarah Gadd Tolley had 14 children.  Ruth, William's youngest child, was born when William was 70 years old.
We must remember the law of polygamy was given to our Prophet in the early days of our church. The records say only about 20% of the male members had more than one wife and they had to have the sanction of the church authorities before taking a plural wife. Of course there were some who abused this privilege.

Being a daughter of a polygamist, I've been asked many questions about it. This is the way I have answered some of them: We in these latter days were given all of the other keys of an ancient church, why not polygamy? It was practiced all through the old Bible days. Our church teachings are not new, but a restoration of that which once was. And here is another idea–Our Heavenly Father may have wanted a people he could call His own. All of the first Mormons were converts, not one had been born a Latter-day Saint. Polygamy was one way of getting a lot of children who would be Latter-day Saints without any other religious training. Also, many more women than men joined the church and that too must be considered in polygamy, because we are taught we cannot gain the highest degree of glory without being sealed in the Temple…

January 11, 1869, when William Fisher Tolley was 46 years old he married Sarah Gadd, a little blue-eyed, fair haired girl who had just passed her 18th birthday. They were married in the Old Endowment House in Salt Lake City. So now he had two Sarahs.

After I was grown, I visited my mother's brother, Uncle Isaac Gadd, who was then living in Provo. I asked him, "How come my mother married a man twice her age, didn't she have any other beaus?" He said, "OH, yes, plenty of young men liked her, in fact she could have married the son if she had wanted to."

The girls were taught that being a plural wife was a part of their religion and their reward in the hereafter would be much greater. I certainly hope so. I have often wondered which needed the most sympathy, the older woman who had to put up with her husband's young wife or the young wife going into the home of another woman and starting a family of her own. Father Tolley's oldest son was a year older and his oldest daughter a year younger than his new wife, and they had gone to school together. I have been told the two families got along very well together. Much better than some did. It seems the two families lived together about ten years or more.

Father was 70 years old when I was born so he would be 75 or 76 before I could remember him, but I remember he was a well built and well preserved old gentleman. His hair was still quite black and thick with just a bit of gray and his beard and mustache were white. His eyes were dark brown and still had a twinkle in them. I think he must of had quite an influence on his daughters because all ten of his daughters had dark brown eyes and most of them had black hair although both of his wives had blue eyes and light brown hair.
Heber Chase Kimball (1801-1868) and his wife Vilate Murray Kimball (1806-1867) embraced The Church of Jesus Christ of Latter-day Saints, often inadvertently called the "Mormon Church," in 1832. Ever faithful to The Church of Jesus Christ and the Prophet Joseph Smith, Heber served eight proselyting missions throughout the United States and the United Kingdom. Vilate sustained and supported Heber in his assignments and strengthened her own testimony through her faithfulness. Heber was ordained a member

of The Quorum of Twelve Apostles on February 14, 1835. In 1842, due to his steady faithfulness as an Apostle, Heber was one of the first commanded to live the principle of plural marriage in Nauvoo, Illinois. Heber married Sarah Noon in 1842.
Heber and Vilate's daughter Helen (1828-1896) recorded their experience.
My mother often told me that she could not doubt the plural order of marriage was of God, for the Lord had revealed it to her in answer to prayer.

In Nauvoo, shortly after his return from England, my father, among others of his brethren, was taught the plural wife doctrine, and was told by Joseph the Prophet three times to go and take a certain woman as his wife; but not till he commanded him in the name of the Lord did he obey. At the same time Joseph told him not to divulge this secret, not even to my mother, for fear that she would not receive it; for his life was in constant jeopardy, not only from outside influences and enemies, who were seeking some plea to take him back to Missouri but from false brethren who had crept like snakes into his bosom and then betrayed him.

My father realized the situation fully, and the love and reverence he bore for the Prophet were so great that he would sooner have laid down his life than have betrayed him. This was one of the greatest tests of his faith he had ever experienced. The thought of deceiving the kind and faithful wife of his youth, whom he loved with all his heart, and who with him had borne so patiently their separations, and all the trials and sacrifices they had been called to endure, was more than he felt able to bear.

He realized not only an addition of trouble and perplexity that such a step must bring upon him, but his sorrow and misery were increased by the thought of my mother hearing of it from some other source, which would no doubt separate them, and he shrank from the thought of such a thing, or of causing her any unhappiness. Finally he was so tried that he went to Joseph and told him how he felt-that he was fearful if he took such a step he could not stand, but would be overcome. The Prophet, full of sympathy for him, went and inquired of the Lord; His answer was, "Tell him to go and do as he has been commanded, and if I see that there is any danger of his apostatizing, I will take him to myself."

The fact that he had to be commanded three times to do this thing shows that the trial must have been extraordinary, for he was a man who from the first, had yielded implicit obedience to every requirement of the Prophet.

When first hearing the principle taught, believing that he would be called upon to enter into it, he had thought of two elderly ladies named Pitkin, great friends of my mother's, who he believed would cause her little, if any, unhappiness. But the woman he was commanded to take was an English lady named Sarah Noon, nearer my mother's age, who came over with the company of Saints in the same ship in which father and Brother Brigham returned from Europe. She had been married and was the mother of two little girls, but left her husband on account of his drunken and dissolute habits. Father was told to take her as his wife and provide for her and her children, and he did so.

My mother noticed a change in his manner and appearance, and when she inquired the cause, he tried to evade her questions. At last he promised he would tell her after a while, if she would only wait. This trouble so worked upon his mind that his anxious and haggard looks betrayed him daily and hourly, and finally his misery became so unbearable that it was impossible to control his feelings. He became sick in body, but his mental wretchedness was too great to allow of his retiring, and he would walk the floor till nearly morning, and sometimes the agony of his mind was so terrible that he would wring his hands and weep like a child, and beseech the Lord to be merciful and reveal to her this principle, for he himself could not break his vow of secrecy.

The anguish of their hearts was indescribable, and when she found it was useless to beseech him longer, she retired to her room and bowed before the Lord and poured our her soul in prayer to Him who hath said: "If any lack wisdom let him ask of God, who giveth to all men liberally and upbraideth not." My father's heart was raised at the same time in supplication. While pleading as one would plead for life, the vision of her mind was opened, and, as darkness flees before the morning sun, so did her sorrow and the groveling things of earth vanish away.

Before her, was illustrated the order of celestial marriage, in all its beauty and glory, together with the great exaltation and honor it would confer upon her in that immortal and celestial sphere, if she would accept it and stand in her place by her husband's side. She also saw the woman he had taken to wife, and contemplated with joy the vast and boundless love and union which this order would bring about, as well as the increase of her husband's kingdoms, and the power and extending throughout the eternities, worlds without end.

With a countenance beaming with joy, for she was filled with the Spirit of God, she returned to my father, saying: "Heber, what you kept from me the Lord has shown me." She told me she never saw so happy a man as father was when she described the vision and told him she was satisfied and knew it was from God.

She covenanted to stand by him and honor the principle, which covenant she faithfully kept, and though her trials were often heavy and grievous to bear, she knew that father was also being tried, and her integrity was unflinching to the end. She gave my father many wives, and they always found in my mother a faithful friend.
Account taken from Life of Heber C. Kimball, Whitney, 1888, p335-338.
Margaret Cooper was born near Clarksville, Tennessee, in 1804. She married Samuel Walker West in 1820. After accepting the Gospel message from missionaries of The Church of Jesus Christ of Latter-day Saints, often inadvertently called the Mormon Church, the Wests moved their family to Nauvoo, Illinois, and subsequently to Utah. After Samuel's death in 1873, Margaret moved to live with her children in Snowflake, Arizona, and died there, still firm in the faith, in 1882.
Consecrated Offerings
When David Patten preached in Tennessee in 1834, I believed it was the work [of God]…and…[was] baptized by David Patten. I have not hankered for the coffee grain nor the tea leaves since. My husband was soon baptized by Elder Parrish and he soon left off tobacco, coffee, and tea. We fed and clothed the Elders with a liberal hand and heart when they were with us. My husband sent money to assist in the building at Kirtland…

When Brother George A. Smith and Brother Carlos Smith [were] in the South, my husband lent them $25.00 to bear their expenses here and he gave money to Brother Wells to bear his expenses. To those that asked he gave and to those that asked he lent and by request he sent just as they asked and his ability would afford. It was in Tennessee with free good will and we have not asked reward nor desired it from our brethren. We have ever been willing to suffer with our brethren and we have been meek when we could not rejoice… Read more
Emma Smith was the wife of the first Mormon prophet, Joseph Smith. Throughout the years, she has remained a complex topic for both Mormons and non-Mormons. Many people have focused almost entirely on the decisions she made in the last years of Joseph Smith's life and after his death, and sometimes those events trouble Mormons and please non-Mormons. To understand her, we have to place her in her own setting and time, not in our own. We have to look at her entire life, not just one portion of it.
Emma Smith was born in 1804 in Pennsylvania and had unusual opportunities for a girl in her time. She was well-educated and taught school. She even owned cows and other items, possibly given as payment from students. Her family had a fair amount of money. Imagine, then, her family's concern when she developed a fondness for Joseph Smith, who was from a poor farm family and had almost no formal education—just that which his father had given him at home with a small amount of traditional schooling. He had no steady occupation and was involved intensely with religion. He was not, however, a member of her family's faith and in fact, had received a vision at age fourteen telling him not to join any existing church because none were completely right.
Emma saw in him what her family missed. She, like others who knew him well, saw an innate intelligence, a willingness to work very hard, and great integrity. Those who hired him found him to be the best employee they'd ever hired. He attended school as they courted, trying to live up to her. Despite her parents' disapproval, she eventually eloped. They lived with his family and then with hers for a time.
She worked hard to support his mission. When the time came for Joseph Smith to retrieve the golden plates hidden in ancient times by an angel—a book today called the Book of Mormon—she went with him, praying at the wagon while he went to open the box. She joined in his efforts to protect them from thieves and acted on occasion as his scribe. He was not sufficiently educated to write the translation of the plates, so while he translated through the Holy Ghost, she wrote his words. Other scribes would do the majority of the translation, but she filled in as needed.
She had sufficient faith to avoid looking at the plates even when they were in her bedroom or kitchen, although she frequently felt them and moved them out of her way as she worked. Later witnesses would be permitted to view the plates, but God asked Emma to accept them on faith, a testimony that God recognized her as a woman of great faith.
Emma Smith would make tremendous sacrifices for the gospel of Jesus Christ, for her husband, and for the church. She was not perfect and made choices that seem hard for us to understand today. There can be no question, though, that she made sacrifices far beyond what most Mormons would be asked to make, and that she experienced more than her fair share of suffering.
She would lose many of her children. Her first three died so quickly they were not even named. After losing twins, she adopted a set of twins, but one died after being exposed to the cold when a mob invaded their home while the children were ill. One child died at the age of fourteen months and another died less than a year later.
She would leave her parents in 1830, never to see them again as she and her family were forced to move from place to place to avoid persecution and violence. Her husband was arrested, essentially for being Mormon, leaving her alone to care for her children. She wrote to him that only God knew how hard it was for her to flee her home with her children, abandoning all her possessions and leaving her husband to endure whatever was to come.
Time and again, she was uprooted, often without warning and frequently without time to pack her belongings. She endured the jeering and insults of mobs. The comfortable and peaceful life she had led as a girl had done little to prepare her for this new life, but she faced it with faith. She comforted other women, instructed them, and helped them to build their own faith. She frequently found herself living in the homes of others and just as frequently took complete strangers into her own home. When a group of black Mormons arrived after a very difficult and painful journey fraught with danger and racial prejudice, their feet bleeding because they no longer had shoes, she sat them at her own dinner table and took them all into her home as guests until they could find work. When one was unable to find employment, she hired Jane Manning herself.
She led the Relief Society, an auxiliary for the women of the church that was organized to educate the women and to allow them to serve others. She compiled the first hymnbook.
She handled nearly every trial with grace. She was often anxious and sad, but she coped. Eventually, however, she encountered a trial that became more than she thought she could handle. It is possible that polygamy would have come more easily if it had not been added to an already extraordinary number of other trials and if she had not been the first wife to face it in the Church. She had no example to follow and no real support group, as later women would have.
Initially, when Joseph admitted to her that he had received a revelation about polygamy and was told he absolutely must carry it out, she accepted it. Later, when Brigham Young was the prophet, the practice would be refined so that the first wife had to approve each subsequent wife, but as we also see in the Bible, refinements of new practices often come over time as prophets continue to pray for guidance. Emma did, from time to time, offer approval of specific marriages. At other times, she found she could not handle the choices she had made, much as Sarah in the Old Testament first encouraged her husband to marry her handmaiden and then discovered it was more than she was prepared to handle.
According to historian Richard Bushman, Joseph saw polygamy simply as a way to join families together for eternity. Mormons believe family life continues after death. When eternal marriage was first introduced, many families carried out "sealings" with friends and those they wanted to be eternally associated with, not entirely understanding what the revelation meant. Many wished to be associated with the prophet for the eternal blessings they felt this would bring. He did not court the women or put his proposals in romantic terms. In fact, he generally took another man with him or even asked a father or brother to approach the woman. He instructed them to have the women pray about the request.
Modern DNA has ruled out all children Fran Brodie had proposed were his through other marriages. Since he did father many children with Emma, parenthood was possible, but there is, at this time, no biological proof of traditional marriage relationships and the only accounts came from others, not the women or Joseph. For him, it appears the marriages were fairly impersonal and meant to fulfill the requirement given him by an angel and to join certain families together in the eternities.
Whatever the situation, Emma eventually found herself unable to cope with polygamy. Bushman reports that Emma and Joseph had many intense discussions about his polygamy and their relationship was periodically strained.
All the same, she continued to have a testimony of his role as a prophet and she carried out her duties faithfully. She became the first woman to receive the temple endowment involving the making of sacred covenants with the Savior. She then became a temple worker, helping others with their first temple experiences. During this time, their relationship improved and Joseph may have agreed to stop taking on additional wives.
Although their marriage was often troubled following the introduction of polygamy, Emma continued to care for Joseph. When he was murdered, she bent over him and expressed her sorrow that they had taken him from her. She had a lock of his hair cut and given to her. She wore it in a locket the rest of her life, even after she remarried.
She was left alone with her five children, including her adopted daughter and four sons. Her financial state was precarious because there had not been a clear line between the family money and the church money, with Joseph often going into debt to help support the church. She made an understandable effort to keep some of the property and this put her at odds with Brigham Young, since it was unclear which of those properties belonged to the church and which to her. Some church members inappropriately rejected her because of her rejection of polygamy and her outspokenness on the subject. The Church was already in a period of great stress and grief as people struggled to decide who the next prophet would be and they faced the realization that they were again in great danger with an uncertain future. This most likely caused people to behave differently than they might have in gentler circumstances. With discomfort on both sides, she soon found herself outside the mainstream of the church.
When the Mormons left for Utah, she elected to remain behind. She moved away from Nauvoo for a while to avoid danger, but eventually returned to her former home. She was able to utilize the properties she owned to support her family, but with difficulty, particularly since she was left to cover Joseph's many debts. She later married Major Lewis Bidamon, who had supported the Mormons during the trials, but was not a member. He had one illegitimate child and after marrying Emma had another, which she raised, making her a most extraordinary woman. They had a reasonably good relationship despite these challenges.
When her son became an adult and headed up the Reorganized Church, as it was then known, she joined. However, she was never really an active member of that church, nor did she become active in any other church. She admitted that she had been reluctant to give her children any formal religious life—just personal reading of the Bible and Book of Mormon—because she was afraid of a return to the many trials she had faced. She helped to care for Joseph's mother and her mother-in-law noted that few women had endured as many trials as she had with so much grace.
Emma's life was a complex one. Her refined childhood and girlhood was not designed to give her the skills she needed in adulthood, and yet she managed nearly everything thrown at her. She held on to her faith in God, in the gospel, and in Joseph Smith as a prophet throughout it all. She was not perfect, but what is amazing is that she was as perfect as she was given the powerful trials and persecutions she experienced. Her heartaches were very real and would have been a challenge to any woman, particularly without the lens of understanding time brings. They were enough to wear out any woman and if she, in the end, was tired of fighting her way through life, that can be understood.
Modern Mormons are beginning to come to terms with Emma as the elect lady God declared her to be in a revelation, but a very real and human one at the same time who fought for God as long as she had to before choosing the calmer life she longed for. She stood by her husband even when they faced strains in their marriage. After his death she resisted encouragement to deny his role as a prophet. Since she left no journal, we don't really know what the entire truth about Emma Smith is…but we do know she was remarkable.
Sources:
Turley, Richard E., and Brittany A. Chapman. "A Comfort unto My Servant, Joseph." Women of faith in the latter days. Salt Lake City, Utah: Deseret Book Company, 2011. 343-362. Print.
Bushman, Richard L., and Jed Woodworth. Joseph Smith: Rough Stone Rolling. New York: Alfred A. Knopf, 2005. Print.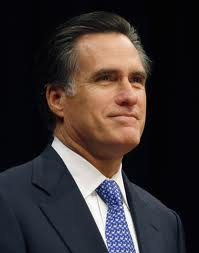 Though Mitt Romney has been getting a great deal of coverage due to his presidential campaign, a lot of the media's focus has been on his religion rather than his politics. Not much has been said, though, about the Romney family history in Arizona, which goes back a long way.
In the 1880s, Arizona became a pivotal center of religious persecution for members of The Church of Jesus Christ of Latter-day Saints (which church is frequently misnamed the Mormon Church). The LDS Church had made efforts to colonize Arizona, sending many of its members from Utah to establish colonies along several rivers in Arizona from 1876–1881.
Things began to spiral downward for the Latter-day Saints (Mormons) in 1882, when the federal Edmunds Act was passed. This made the practice of polygamy a felony and made polygamists ineligible for public office. One local election judge refused the right to vote to at least one Mormon bishop.
Mormon polygamy is a practice which is largely still misunderstood. Though the LDS Church has not condoned its practice since 1890, many people still think that Mormons practice polygamy, which is not true. Those who practice polygamy today are fundamentalists and are not members of The Church of Jesus Christ of Latter-day Saints, though many refer to themselves as Mormons.
However, in 1880, polygamy was being practiced by a small percentage of the membership of the LDS Church, and those who obeyed what they truly believed to be a direct commandment from God (and a right they felt was protected under freedom of religion in the U.S. Constitution),were severely persecuted. After the Edmunds Act was passed, more than 1,000 Mormons were imprisoned because of their faith, according to an estimate by Carmon Hardy, a professor emeritus of history at Cal State Fullerton who is an expert on Mormon history.
Though many people opposed to Latter-day Saints ("Mormons") used polygamy as an excuse to persecute the Saints because the real fear was that the large numbers of Saints would take everything over politically and economically. "They soon found themselves under attack, ostensibly because they practiced polygamy, but actually because their growing population threatened the status quo," according to "Prosecution of the Mormons in Arizona Territory in the 1880s," a 1977 article in "Arizona and the West," a quarterly journal of history put out by the University of Arizona.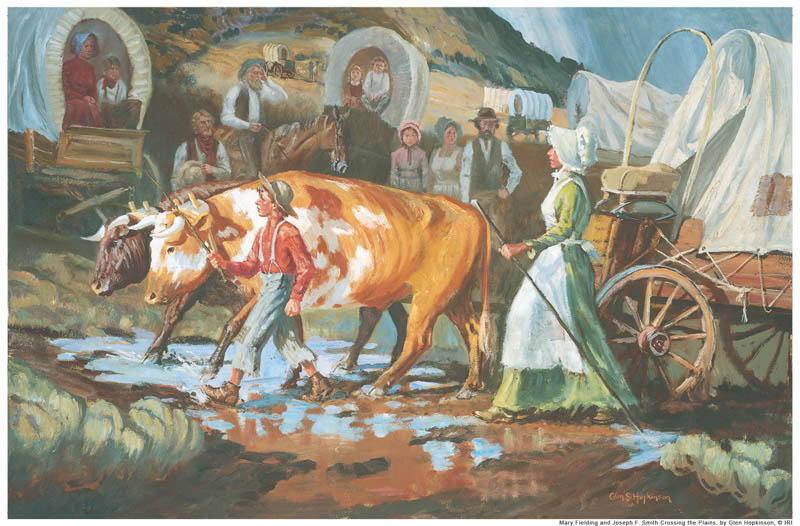 Battles over land lot jumping were common, as were disputes for control of the communities' land and water. In 1879, Ammon Meshach Tenney bought land, under the direction of the Church, to establish a Mormon colony at St. Johns, but Mexican squatters were already living there and existing white settlers tried to jump the claim. In 1882, Ammon's father, Nathan, was shot and killed while trying to keep the peace. At this time, the Saints' enemies tried to use the new, stronger polygamy law to drive the Mormons out.
During this tumultuous time, several Mormon leaders were arrested and sentenced to 3.5 years in the federal prison in Detroit, which they referred to as the "American Siberia." Their trials took place in Prescott, the territorial capital.
It was at this time that Miles Park Romney, Mitt Romney's great-grandfather was arrested for practicing polygamy. After witnessing his fellow Saints' unfair trials, Romney fled to Mexico along with hundreds of other Mormons, trying to escape religious persecution.
"The Mormons were subject to land-grabbers, cheats and deceivers, denied the right to vote, harassed by the local law enforcement, and involved in gunfights where one bullet went through Miles' home while his families were in it," said Larry Romney of Chino Valley, another great-grandson of Miles Park Romney.
In addition to the charges drawn up against practicers of polygamy, many Church leaders were accused of perjury. Though many were arrested on these charges, a grand jury would not indict them. However, after a few men were convicted on polygamy charges, some federal authorities decided to revive the perjury charges and brought them against Romney, Joseph Crosby, and David King Udall in 1885. While Romney escaped to Mexico and Crosby was acquitted, Udall was convicted. He was crushed. He said he would rather have been convicted on a polygamy charge, because the charge of perjury attacked his character. He was worried that his family was languishing without his financial support.
Ammon Tenney, Peter Christofferson, and Christopher Kempe refused to plead guilty to their charges and were convicted in December 1884 to 3.5 years in the Detroit prison. Two months later, Mormon prophet John Taylor was publicly encouraging Arizona polygamists to seek refuge in Mexico.
In addition to the persecution they were already facing, Mormon polygamists were prohibited from voting or holding public office by the territorial legislature in Prescott. Church leaders began to fight back by getting key witnesses to plead on Udall's behalf that he had not perjured himself. They then appealed to President Grover Cleveland to pardon Udall at the end of 1885.
Next, Church leaders gained support from other territorial leaders to get a presidential pardon for the three men sent to Detroit. After they had served nearly two years in prison, Cleveland signed their pardons in October 1886. This led to other polygamists being pardoned. Eventually, in 1887, the territorial legislature repealed its own anti-polygamy law.
To try and decrease tension, local Mormon leaders even encouraged the Saints to split their votes by becoming Republican. This continues today, with many political Udalls remaining Democrats while the Flakes, Romneys, and Tenneys are mostly Republicans. When The Church of Jesus Christ of Latter-day Saints officially stopped practicing polygamy in 1890, even more of the tension died down.
However, many who were persecuted didn't live to see the benefit of peace. Miles Park Romney died in Mexico in 1904 before his family returned to the U.S. during the Mexican Revolution in 1912.
Mitt's father George, a Michigan governor who also ran for president, was born in Mexico in 1907. Mitt Romney descends from Miles Romney's first of five wives.
It is because of stressful histories like these that many misconceptions still exist about Mormons today. The attention the media has given to The Church of Jesus Christ of Latter-day Saints due to Mitt Romney's presidential campaign, has done a lot to educate the public on Mormon beliefs.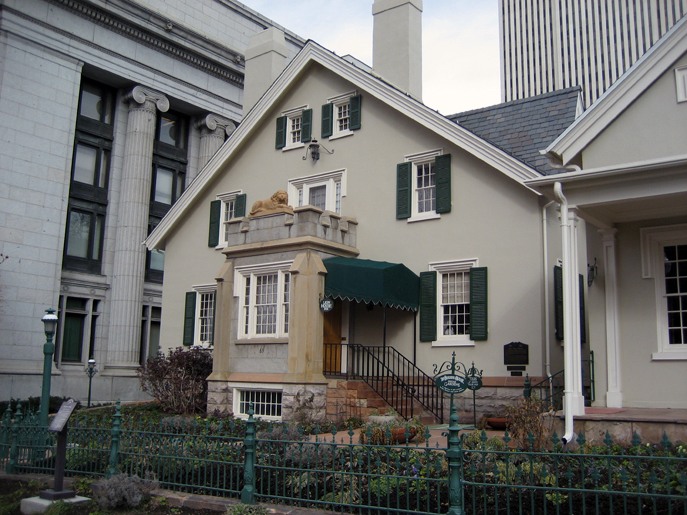 The Lion and Beehive Houses were both once homes built for second president of The Church of Jesus Christ of Latter-day Saints, Brigham Young. The Church of Jesus Christ of Latter-day Saints (frequently misnamed the "Mormon Church" by the media) has been headquartered in Salt Lake City, Utah, since 1847.
The Beehive House was constructed in 1854. Brigham Young was also territorial governor of the Utah Territory, and the Beehve House served as his executive mansion from 1852 to 1855, where he entertained important guests. It later became the official home of later presidents of The Church of Jesus Christ of Latter-day Saints Lorenzo Snow and Joseph F. Smith.
The Lion House, so named for a stone lion which sits on top of the front door to the house, was constructed in 1856 and housed up to twelve of Brigham Young's wives and their families. Mormon polygamy was still being practiced at this time, and Brigham Young had several families to take care of. It was in the Lion House that Brigham Young founded the Retrenchment Society for his daughters and other young women of the Church to learn together principles of industry, modesty, and religion. This society became today's Young Women Association of The Church of Jesus Christ of Latter-day Saints. Brigham Young died in the Lion House in 1877.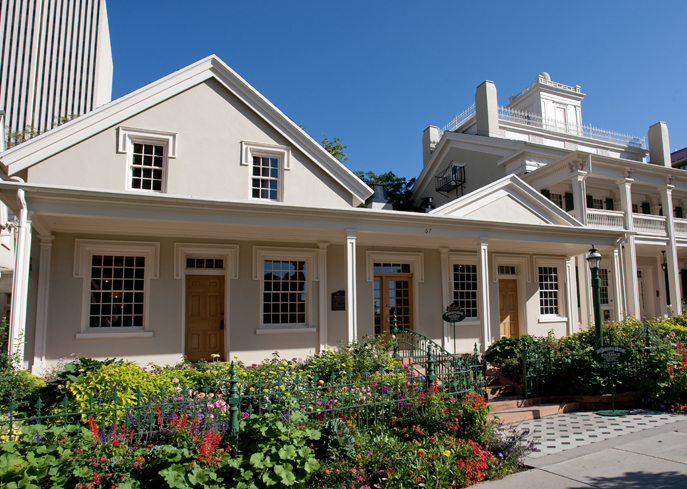 Both houses were designed by Truman Angell, Brigham Young's brother-in-law and architect of the Salt Lake Temple. The houses are built out of adobe and sandstone. While the Lion House is named for a stone lion which reminded Brigham of a similar lion featured on a prominent home in Vermont (where Brigham grew up) and which also served as a reminder of Brigham's nickname "Lion of the Lord," the Beehive House is named for a carved beehive on top of the house. Brigham Young frequently used the symbol of the beehive to denote industry.
After the death of Brigham Young in 1877, his family maintained the houses for several years before selling them to The Church of Jesus Christ of Latter-day Saints. After being used as a residence for LDS Church presidents, the Beehive House later became a dormitory. It was restored in 1960 and is now a historical site open for public tours.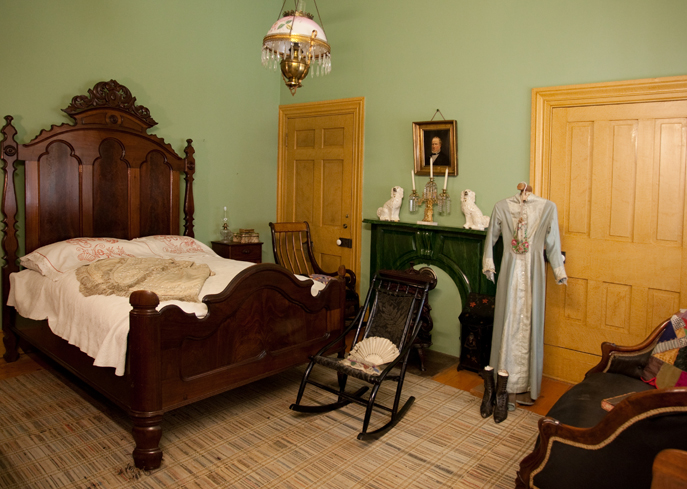 The Lion House became a home economics center for the Latter-day Saint University, which was located on the same block of South Temple Street. The Lion House later became a social center for young women of the Church where the Young Women Mutual Improvement Association held classes in myriad subjects including art, needlework, and lectures on diverse subjects. After its restoration in 1968, it remained a social center. It is home of the Lion House Pantry restaurant and is available for wedding receptions, group meetings, and birthday parties.
Additional Resources:
By Amy Choate-Nielsen
Deseret News
Published: Sunday, Jan. 15, 2012 7:00 p.m. MST
David Letterman knows how to get a laugh.Like most comics, he riffs on the day's news, deadpans the camera and revels in audacity."Oh, did you hear about this?" the host of CBS' Late Show with David Letterman asked his audience recently. "A campaign staffer on the Newt Gingrich campaign was fired because he was making negative comments about Mormons. I thought, now, wait a minute — isn't Newt in favor of multiple wives?"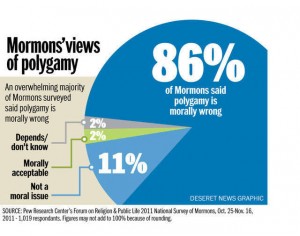 Laughter rumbled from the audience followed by applause. The polygamy punch line is a familiar one when it comes to poking fun at Mormons — as though Mormons and polygamy are synonymous in mainstream media. Ironically, the practice that's most linked to Mormons is a practice most Mormons oppose, according to a groundbreaking new study of Mormons in America released Thursday by the Pew Research Center's Forum on Religion and Public Life.
According to the study, members of The Church of Jesus Christ of Latter-day Saints unequivocally reject polygamy — only 2 percent said the practice is morally acceptable — evidence of a yawning gap in what Mormons believe and how they are perceived. Mormons' opinions are overwhelmingly conservative, the study shows, but in many ways, their views are also surprising — especially when it comes to opinions on moral issues, divorce, homosexuality and polygamy. Read more