Emma Smith was the wife of the first Mormon prophet, Joseph Smith. Throughout the years, she has remained a complex topic for both Mormons and non-Mormons. Many people have focused almost entirely on the decisions she made in the last years of Joseph Smith's life and after his death, and sometimes those events trouble Mormons and please non-Mormons. To understand her, we have to place her in her own setting and time, not in our own. We have to look at her entire life, not just one portion of it.
Emma Smith was born in 1804 in Pennsylvania and had unusual opportunities for a girl in her time. She was well-educated and taught school. She even owned cows and other items, possibly given as payment from students. Her family had a fair amount of money. Imagine, then, her family's concern when she developed a fondness for Joseph Smith, who was from a poor farm family and had almost no formal education—just that which his father had given him at home with a small amount of traditional schooling. He had no steady occupation and was involved intensely with religion. He was not, however, a member of her family's faith and in fact, had received a vision at age fourteen telling him not to join any existing church because none were completely right.
Emma saw in him what her family missed. She, like others who knew him well, saw an innate intelligence, a willingness to work very hard, and great integrity. Those who hired him found him to be the best employee they'd ever hired. He attended school as they courted, trying to live up to her. Despite her parents' disapproval, she eventually eloped. They lived with his family and then with hers for a time.
She worked hard to support his mission. When the time came for Joseph Smith to retrieve the golden plates hidden in ancient times by an angel—a book today called the Book of Mormon—she went with him, praying at the wagon while he went to open the box. She joined in his efforts to protect them from thieves and acted on occasion as his scribe. He was not sufficiently educated to write the translation of the plates, so while he translated through the Holy Ghost, she wrote his words. Other scribes would do the majority of the translation, but she filled in as needed.
She had sufficient faith to avoid looking at the plates even when they were in her bedroom or kitchen, although she frequently felt them and moved them out of her way as she worked. Later witnesses would be permitted to view the plates, but God asked Emma to accept them on faith, a testimony that God recognized her as a woman of great faith.
Emma Smith would make tremendous sacrifices for the gospel of Jesus Christ, for her husband, and for the church. She was not perfect and made choices that seem hard for us to understand today. There can be no question, though, that she made sacrifices far beyond what most Mormons would be asked to make, and that she experienced more than her fair share of suffering.
She would lose many of her children. Her first three died so quickly they were not even named. After losing twins, she adopted a set of twins, but one died after being exposed to the cold when a mob invaded their home while the children were ill. One child died at the age of fourteen months and another died less than a year later.
She would leave her parents in 1830, never to see them again as she and her family were forced to move from place to place to avoid persecution and violence. Her husband was arrested, essentially for being Mormon, leaving her alone to care for her children. She wrote to him that only God knew how hard it was for her to flee her home with her children, abandoning all her possessions and leaving her husband to endure whatever was to come.
Time and again, she was uprooted, often without warning and frequently without time to pack her belongings. She endured the jeering and insults of mobs. The comfortable and peaceful life she had led as a girl had done little to prepare her for this new life, but she faced it with faith. She comforted other women, instructed them, and helped them to build their own faith. She frequently found herself living in the homes of others and just as frequently took complete strangers into her own home. When a group of black Mormons arrived after a very difficult and painful journey fraught with danger and racial prejudice, their feet bleeding because they no longer had shoes, she sat them at her own dinner table and took them all into her home as guests until they could find work. When one was unable to find employment, she hired Jane Manning herself.
She led the Relief Society, an auxiliary for the women of the church that was organized to educate the women and to allow them to serve others. She compiled the first hymnbook.
She handled nearly every trial with grace. She was often anxious and sad, but she coped. Eventually, however, she encountered a trial that became more than she thought she could handle. It is possible that polygamy would have come more easily if it had not been added to an already extraordinary number of other trials and if she had not been the first wife to face it in the Church. She had no example to follow and no real support group, as later women would have.
Initially, when Joseph admitted to her that he had received a revelation about polygamy and was told he absolutely must carry it out, she accepted it. Later, when Brigham Young was the prophet, the practice would be refined so that the first wife had to approve each subsequent wife, but as we also see in the Bible, refinements of new practices often come over time as prophets continue to pray for guidance. Emma did, from time to time, offer approval of specific marriages. At other times, she found she could not handle the choices she had made, much as Sarah in the Old Testament first encouraged her husband to marry her handmaiden and then discovered it was more than she was prepared to handle.
According to historian Richard Bushman, Joseph saw polygamy simply as a way to join families together for eternity. Mormons believe family life continues after death. When eternal marriage was first introduced, many families carried out "sealings" with friends and those they wanted to be eternally associated with, not entirely understanding what the revelation meant. Many wished to be associated with the prophet for the eternal blessings they felt this would bring. He did not court the women or put his proposals in romantic terms. In fact, he generally took another man with him or even asked a father or brother to approach the woman. He instructed them to have the women pray about the request.
Modern DNA has ruled out all children Fran Brodie had proposed were his through other marriages. Since he did father many children with Emma, parenthood was possible, but there is, at this time, no biological proof of traditional marriage relationships and the only accounts came from others, not the women or Joseph. For him, it appears the marriages were fairly impersonal and meant to fulfill the requirement given him by an angel and to join certain families together in the eternities.
Whatever the situation, Emma eventually found herself unable to cope with polygamy. Bushman reports that Emma and Joseph had many intense discussions about his polygamy and their relationship was periodically strained.
All the same, she continued to have a testimony of his role as a prophet and she carried out her duties faithfully. She became the first woman to receive the temple endowment involving the making of sacred covenants with the Savior. She then became a temple worker, helping others with their first temple experiences. During this time, their relationship improved and Joseph may have agreed to stop taking on additional wives.
Although their marriage was often troubled following the introduction of polygamy, Emma continued to care for Joseph. When he was murdered, she bent over him and expressed her sorrow that they had taken him from her. She had a lock of his hair cut and given to her. She wore it in a locket the rest of her life, even after she remarried.
She was left alone with her five children, including her adopted daughter and four sons. Her financial state was precarious because there had not been a clear line between the family money and the church money, with Joseph often going into debt to help support the church. She made an understandable effort to keep some of the property and this put her at odds with Brigham Young, since it was unclear which of those properties belonged to the church and which to her. Some church members inappropriately rejected her because of her rejection of polygamy and her outspokenness on the subject. The Church was already in a period of great stress and grief as people struggled to decide who the next prophet would be and they faced the realization that they were again in great danger with an uncertain future. This most likely caused people to behave differently than they might have in gentler circumstances. With discomfort on both sides, she soon found herself outside the mainstream of the church.
When the Mormons left for Utah, she elected to remain behind. She moved away from Nauvoo for a while to avoid danger, but eventually returned to her former home. She was able to utilize the properties she owned to support her family, but with difficulty, particularly since she was left to cover Joseph's many debts. She later married Major Lewis Bidamon, who had supported the Mormons during the trials, but was not a member. He had one illegitimate child and after marrying Emma had another, which she raised, making her a most extraordinary woman. They had a reasonably good relationship despite these challenges.
When her son became an adult and headed up the Reorganized Church, as it was then known, she joined. However, she was never really an active member of that church, nor did she become active in any other church. She admitted that she had been reluctant to give her children any formal religious life—just personal reading of the Bible and Book of Mormon—because she was afraid of a return to the many trials she had faced. She helped to care for Joseph's mother and her mother-in-law noted that few women had endured as many trials as she had with so much grace.
Emma's life was a complex one. Her refined childhood and girlhood was not designed to give her the skills she needed in adulthood, and yet she managed nearly everything thrown at her. She held on to her faith in God, in the gospel, and in Joseph Smith as a prophet throughout it all. She was not perfect, but what is amazing is that she was as perfect as she was given the powerful trials and persecutions she experienced. Her heartaches were very real and would have been a challenge to any woman, particularly without the lens of understanding time brings. They were enough to wear out any woman and if she, in the end, was tired of fighting her way through life, that can be understood.
Modern Mormons are beginning to come to terms with Emma as the elect lady God declared her to be in a revelation, but a very real and human one at the same time who fought for God as long as she had to before choosing the calmer life she longed for. She stood by her husband even when they faced strains in their marriage. After his death she resisted encouragement to deny his role as a prophet. Since she left no journal, we don't really know what the entire truth about Emma Smith is…but we do know she was remarkable.
Sources:
Turley, Richard E., and Brittany A. Chapman. "A Comfort unto My Servant, Joseph." Women of faith in the latter days. Salt Lake City, Utah: Deseret Book Company, 2011. 343-362. Print.
Bushman, Richard L., and Jed Woodworth. Joseph Smith: Rough Stone Rolling. New York: Alfred A. Knopf, 2005. Print.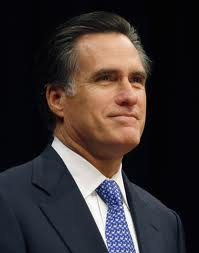 Though Mitt Romney has been getting a great deal of coverage due to his presidential campaign, a lot of the media's focus has been on his religion rather than his politics. Not much has been said, though, about the Romney family history in Arizona, which goes back a long way.
In the 1880s, Arizona became a pivotal center of religious persecution for members of The Church of Jesus Christ of Latter-day Saints (which church is frequently misnamed the Mormon Church). The LDS Church had made efforts to colonize Arizona, sending many of its members from Utah to establish colonies along several rivers in Arizona from 1876–1881.
Things began to spiral downward for the Latter-day Saints (Mormons) in 1882, when the federal Edmunds Act was passed. This made the practice of polygamy a felony and made polygamists ineligible for public office. One local election judge refused the right to vote to at least one Mormon bishop.
Mormon polygamy is a practice which is largely still misunderstood. Though the LDS Church has not condoned its practice since 1890, many people still think that Mormons practice polygamy, which is not true. Those who practice polygamy today are fundamentalists and are not members of The Church of Jesus Christ of Latter-day Saints, though many refer to themselves as Mormons.
However, in 1880, polygamy was being practiced by a small percentage of the membership of the LDS Church, and those who obeyed what they truly believed to be a direct commandment from God (and a right they felt was protected under freedom of religion in the U.S. Constitution),were severely persecuted. After the Edmunds Act was passed, more than 1,000 Mormons were imprisoned because of their faith, according to an estimate by Carmon Hardy, a professor emeritus of history at Cal State Fullerton who is an expert on Mormon history.
Though many people opposed to Latter-day Saints ("Mormons") used polygamy as an excuse to persecute the Saints because the real fear was that the large numbers of Saints would take everything over politically and economically. "They soon found themselves under attack, ostensibly because they practiced polygamy, but actually because their growing population threatened the status quo," according to "Prosecution of the Mormons in Arizona Territory in the 1880s," a 1977 article in "Arizona and the West," a quarterly journal of history put out by the University of Arizona.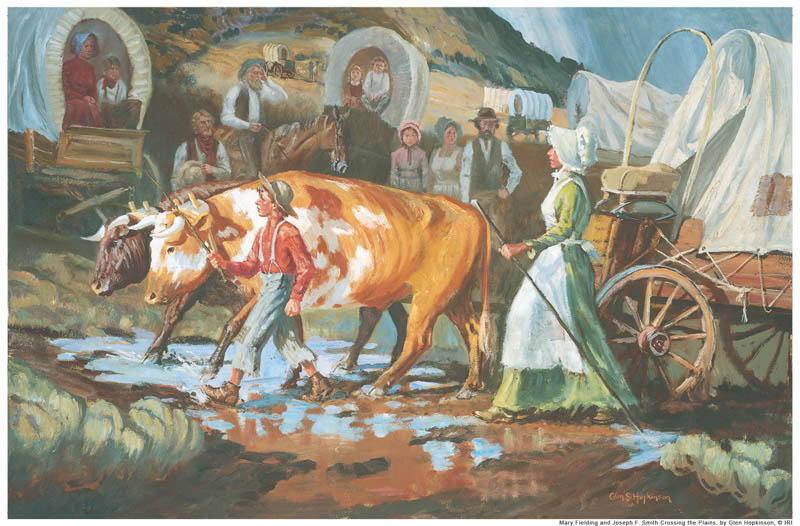 Battles over land lot jumping were common, as were disputes for control of the communities' land and water. In 1879, Ammon Meshach Tenney bought land, under the direction of the Church, to establish a Mormon colony at St. Johns, but Mexican squatters were already living there and existing white settlers tried to jump the claim. In 1882, Ammon's father, Nathan, was shot and killed while trying to keep the peace. At this time, the Saints' enemies tried to use the new, stronger polygamy law to drive the Mormons out.
During this tumultuous time, several Mormon leaders were arrested and sentenced to 3.5 years in the federal prison in Detroit, which they referred to as the "American Siberia." Their trials took place in Prescott, the territorial capital.
It was at this time that Miles Park Romney, Mitt Romney's great-grandfather was arrested for practicing polygamy. After witnessing his fellow Saints' unfair trials, Romney fled to Mexico along with hundreds of other Mormons, trying to escape religious persecution.
"The Mormons were subject to land-grabbers, cheats and deceivers, denied the right to vote, harassed by the local law enforcement, and involved in gunfights where one bullet went through Miles' home while his families were in it," said Larry Romney of Chino Valley, another great-grandson of Miles Park Romney.
In addition to the charges drawn up against practicers of polygamy, many Church leaders were accused of perjury. Though many were arrested on these charges, a grand jury would not indict them. However, after a few men were convicted on polygamy charges, some federal authorities decided to revive the perjury charges and brought them against Romney, Joseph Crosby, and David King Udall in 1885. While Romney escaped to Mexico and Crosby was acquitted, Udall was convicted. He was crushed. He said he would rather have been convicted on a polygamy charge, because the charge of perjury attacked his character. He was worried that his family was languishing without his financial support.
Ammon Tenney, Peter Christofferson, and Christopher Kempe refused to plead guilty to their charges and were convicted in December 1884 to 3.5 years in the Detroit prison. Two months later, Mormon prophet John Taylor was publicly encouraging Arizona polygamists to seek refuge in Mexico.
In addition to the persecution they were already facing, Mormon polygamists were prohibited from voting or holding public office by the territorial legislature in Prescott. Church leaders began to fight back by getting key witnesses to plead on Udall's behalf that he had not perjured himself. They then appealed to President Grover Cleveland to pardon Udall at the end of 1885.
Next, Church leaders gained support from other territorial leaders to get a presidential pardon for the three men sent to Detroit. After they had served nearly two years in prison, Cleveland signed their pardons in October 1886. This led to other polygamists being pardoned. Eventually, in 1887, the territorial legislature repealed its own anti-polygamy law.
To try and decrease tension, local Mormon leaders even encouraged the Saints to split their votes by becoming Republican. This continues today, with many political Udalls remaining Democrats while the Flakes, Romneys, and Tenneys are mostly Republicans. When The Church of Jesus Christ of Latter-day Saints officially stopped practicing polygamy in 1890, even more of the tension died down.
However, many who were persecuted didn't live to see the benefit of peace. Miles Park Romney died in Mexico in 1904 before his family returned to the U.S. during the Mexican Revolution in 1912.
Mitt's father George, a Michigan governor who also ran for president, was born in Mexico in 1907. Mitt Romney descends from Miles Romney's first of five wives.
It is because of stressful histories like these that many misconceptions still exist about Mormons today. The attention the media has given to The Church of Jesus Christ of Latter-day Saints due to Mitt Romney's presidential campaign, has done a lot to educate the public on Mormon beliefs.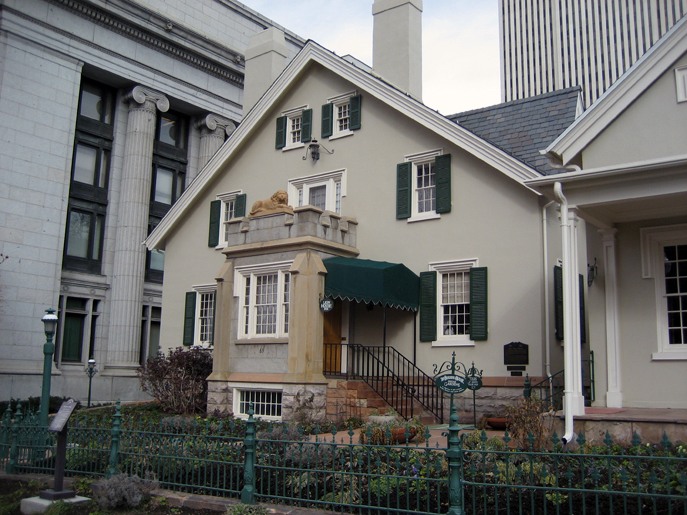 The Lion and Beehive Houses were both once homes built for second president of The Church of Jesus Christ of Latter-day Saints, Brigham Young. The Church of Jesus Christ of Latter-day Saints (frequently misnamed the "Mormon Church" by the media) has been headquartered in Salt Lake City, Utah, since 1847.
The Beehive House was constructed in 1854. Brigham Young was also territorial governor of the Utah Territory, and the Beehive House served as his executive mansion from 1852 to 1855, where he entertained important guests. It later became the official home of later presidents of The Church of Jesus Christ of Latter-day Saints Lorenzo Snow and Joseph F. Smith.
The Lion House, so named for a stone lion which sits on top of the front door to the house, was constructed in 1856 and housed up to twelve of Brigham Young's wives and their families. Mormon polygamy was still being practiced at this time, and Brigham Young had several families to take care of. It was in the Lion House that Brigham Young founded the Retrenchment Society for his daughters and other young women of the Church to learn together principles of industry, modesty, and religion. This society became today's Young Women Association of The Church of Jesus Christ of Latter-day Saints. Brigham Young died in the Lion House in 1877.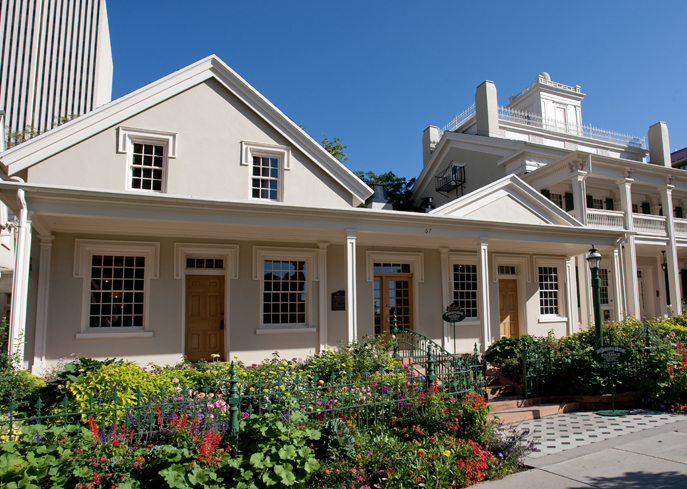 Both houses were designed by Truman Angell, Brigham Young's brother-in-law and architect of the Salt Lake Temple. The houses are built out of adobe and sandstone. While the Lion House is named for a stone lion which reminded Brigham of a similar lion featured on a prominent home in Vermont (where Brigham grew up) and which also served as a reminder of Brigham's nickname "Lion of the Lord," the Beehive House is named for a carved beehive on top of the house. Brigham Young frequently used the symbol of the beehive to denote industry.
After the death of Brigham Young in 1877, his family maintained the houses for several years before selling them to The Church of Jesus Christ of Latter-day Saints. After being used as a residence for LDS Church presidents, the Beehive House later became a dormitory. It was restored in 1960 and is now a historical site open for public tours.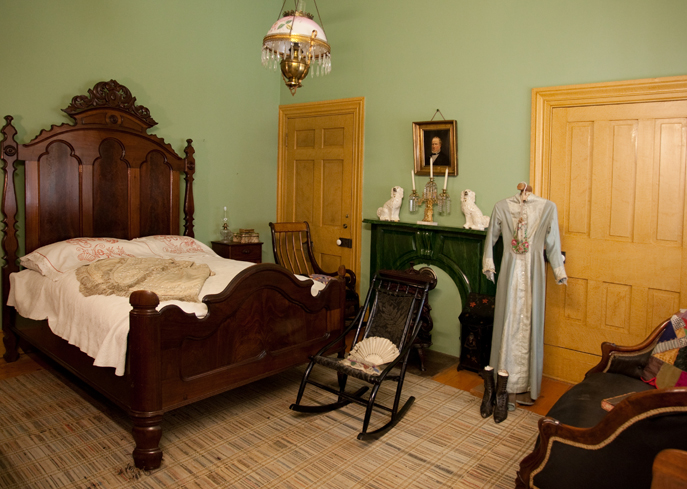 The Lion House became a home economics center for the Latter-day Saint University, which was located on the same block of South Temple Street. The Lion House later became a social center for young women of the Church where the Young Women Mutual Improvement Association held classes in myriad subjects including art, needlework, and lectures on diverse subjects. After its restoration in 1968, it remained a social center. It is home of the Lion House Pantry restaurant and is available for wedding receptions, group meetings, and birthday parties.
Additional Resources:
By Amy Choate-Nielsen
Deseret News
Published: Sunday, Jan. 15, 2012 7:00 p.m. MST
David Letterman knows how to get a laugh.Like most comics, he riffs on the day's news, deadpans the camera and revels in audacity."Oh, did you hear about this?" the host of CBS' Late Show with David Letterman asked his audience recently. "A campaign staffer on the Newt Gingrich campaign was fired because he was making negative comments about Mormons. I thought, now, wait a minute — isn't Newt in favor of multiple wives?"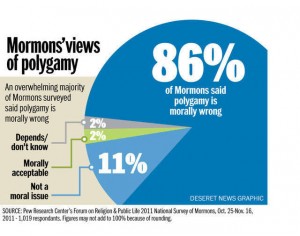 Laughter rumbled from the audience followed by applause. The polygamy punch line is a familiar one when it comes to poking fun at Mormons — as though Mormons and polygamy are synonymous in mainstream media. Ironically, the practice that's most linked to Mormons is a practice most Mormons oppose, according to a groundbreaking new study of Mormons in America released Thursday by the Pew Research Center's Forum on Religion and Public Life.
According to the study, members of The Church of Jesus Christ of Latter-day Saints unequivocally reject polygamy — only 2 percent said the practice is morally acceptable — evidence of a yawning gap in what Mormons believe and how they are perceived. Mormons' opinions are overwhelmingly conservative, the study shows, but in many ways, their views are also surprising — especially when it comes to opinions on moral issues, divorce, homosexuality and polygamy. Read more
The history of Mormon polygamy is widely misunderstood, and many people still believe that Mormons (officially members of The Church of Jesus Christ of Latter-day Saints) practice plural marriage today. However, Mormon polygamy has not been practiced since 1890.
When Joseph Smith, founder of The Church of Jesus Christ of Latter-day Saints, was reading through the Bible, he would pray to God for enlightenment on certain principles and practices which he read about and did not fully understand. One of these was the practice of plural marriage in the Old Testament. When Joseph enquired of the Lord on this matter, he was told:
Abraham received concubines, and they bore him children; and it was accounted unto him for righteousness, because they were given unto him, and he abode in my law; as Isaac also and Jacob did none other things than that which they were commanded; and because they did none other things than that which they were commanded, they have entered into their exaltation, according to the promises, and sit upon thrones, and are not angels but are gods.

David also received many wives and concubines, and also Solomon and Moses my servants, as also many others of my servants, from the beginning of creation until this time; and in nothing did they sin save in those things which they received not of me.

David's wives and concubines were given unto him of me, by the hand of Nathan, my servant, and others of the prophets who had the keys of this power; and in none of these things did he sin against me save in the case of Uriah and his wife; and, therefore he hath fallen from his exaltation, and received his portion; and he shall not inherit them out of the world, for I gave them unto another, saith the Lord (D&C 132:37–39).
This is significant revelation on the matter of plural marriage, but it was not all Joseph received. God commanded Joseph to re-institute the law of plural marriage (now referred to as Mormon polygamy). There have been many speculations on why God commanded Joseph to re-institute this practice, but ultimately it was a trial of obedience. Only a very small percentage of the Saints were ever asked to live the law of Mormon polygamy. People were not excited about this, including Joseph himself. In fact, records show that an angel came to Joseph with a drawn sword telling Joseph that he would be destroyed if he procrastinated introducing this law to the people any longer.
When Mormon polygamy was initially practiced, plural marriage was not explicitly against the law, but it was against tradition in the society the new Saints were living in. Mormon doctrine showed that when God commanded His people to practice polygamy, it was not a sin and came with many blessings, but it was still a difficult thing to do.
Persecution raged against the Saints at this time because of the practice of Mormon polygamy. The Saints were kicked out of their homes again and again. They constantly appealed to law enforcement to protect them, because they were exercising the freedom of religion as granted in the U.S. Constitution, but they were repeatedly denied justice and protection.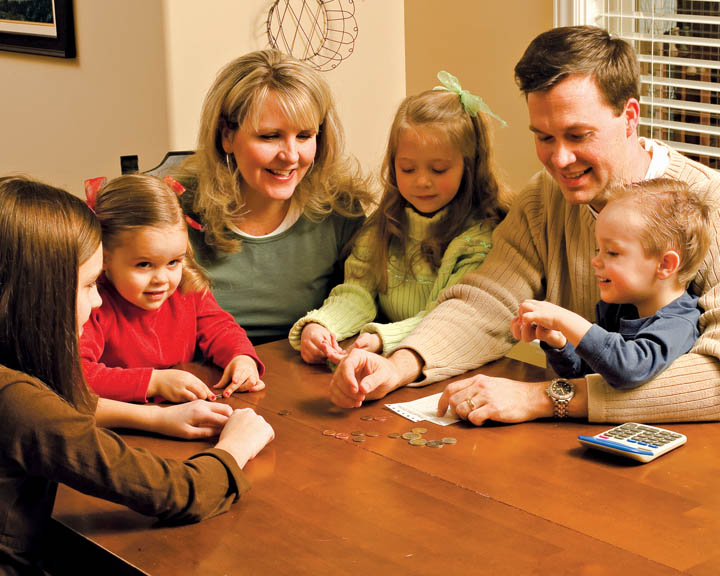 Eventually laws were passed which did make plural marriages illegal. However, the Saints were still living Mormon polygamy under the commandment of God, which transcends the laws of men. Some Church leaders went into hiding to protect their families. Eventually, God revealed to then-prophet Wilford Woodruff that He withdrew the commandment to practice polygamy. God did this to protect the Saints from further persecution at this time. In 1890, Wilford Woodruff issued the Manifesto, now canonized as scripture in Official Declaration—1 in the Doctrine and Covenants. From this time forward, no more plural marriages were sanctified by The Church of Jesus Christ of Latter-day Saints. Thus, Mormon polygamy has not been a practice for more than 100 years.
There are splinter groups who call themselves Mormons today, who continue the practice of polygamy. However, they are not officially connected with the Mormon Church in any way. Plural marriage is an offense worthy of excommunication from the Mormon Church today. Those Mormons who had already entered into plural marriages prior to 1890 continued to support each other in those marriages, but no more Mormon polygamous marriages have been performed since then.
Many misconceptions persist about when Mormon polygamy was in practice. The truth is that no women were ever forced into plural marriages. Only a small percentage of members of the Mormon Church ever practiced polygamy. Divorce was available to women who had chosen to enter a plural marriage and then, for whatever reason, decided they no longer wanted to participate in such a marriage. Many women enjoyed the benefits which plural marriages brought to them. There were more women to complete the chores and look after the children, allowing much more free time to everybody. Mormon polygamy was never an oppressive institution, and no one's free will was ever taken away in regard to entering into a plural marriage.