Above is an infographic from The Trek West page of history.lds.org.
The first section shows major events that took place in the lives of pioneers before and after they survived the trek to the Salt Lake Valley. The graphic depicts the timeline of the lives of two pioneer women whose lives spanned a 200-year period.
Mary Ann Pulver VanLeuven (28 March 1768 – 7 April 1861) was approximately 84 years of age and a widow when she crossed the plains with the Robert Wimmer Company. Prior to embarking on the trek west, she witnessed many events from the Declaration of Independence to the first Saints departing Nauvoo, Illinois, and following Brigham Young to Utah. She was the daughter of John and Mary Ann (Spenser) Pulver. She married John VanLeuven in 1790. He passed away in 1847.  She was also the mother of 12 children: Cornelius, John, Ransom, Frederick Matthew, David, Carson, Davis, Ann, Elizabeth "Betsey", Calvin, and Benjamin. Benjamin and Frederick took her to San Bernardino, California, by wagon train. She was captured by Indians en route and stripped naked before they where able to rescue her. They were among the first to bring oranges and citrus to Southern California. Many of their descendents still live in the area.
Hilda Anderson Erickson (11 November 1859 – 1 January 1968) was born in Ledso, Skaraborg, Sweden. She was the daughter of Pehr Anderson and  Maria Kathrina Larson Anderson. She was the wife of John August Erickson and had 2 children, Amy Dorothy Erickson Hicks and John Perry Erickson. She had 3 siblings, John Pehr, Claus, and Charles Pehr Anderson. She trekked across the United States as a young girl. During her lifetime she witnessed events from the completion of the First Transcontinental Railroad to the first successful human mission to space.
The second section of the infographic shows a day in the life of a pioneer traveling with a wagon train. In order to accomplish everything that needed to be done in a day's time, the pioneers had to make a schedule to include making all of their food from scratch, as well as taking care of any accidents that might occur and repairs to their wagons.
The third section of the infographic is a Then and Now comparison.
John Murdock was born 15 July 1792 in New York and suffered through a mostly unhappy childhood. He often turned to private prayer for comfort during that time. He had one year of formal schooling and was self-taught otherwise. He taught school for a time but was generally a farmer. John Murdock was married to Julia Clapp and they had five children.  He initially joined first the Baptists and then the Campbellites. He had become a Baptist because he wanted to be baptized by immersion, as Jesus had been baptized, but he still found himself unsatisfied with his religion. He kept searching his Bible and then looking for a church that practiced what the New Testament taught.
The Campbellites attempted to recreate the New Testament Church and that appealed to him, but like many of that sect, he became a member of The Church of Jesus Christ of Latter-day Saints, whose members are sometimes nicknamed Mormons, when it was organized. He was baptized near the end of 1830, the year the Church was organized. He had noted the scriptures about the Holy Ghost and when he met four Mormons, he decided to test their work by discovering whether or not the Spirit would testify to him of the truthfulness of their teachings. He rode twenty miles to Kirtland and that night the Spirit bore witness to him that it was true. He spoke with several recently baptized people and heard their testimonies that the Spirit had been present at their baptisms and conversions. That morning, he asked to be baptized. It was his third baptism, the first two being with the Baptists and the Campbellites, but the first time he felt the power of priesthood authority as the ordinances were performed. When he was confirmed and given the gift of the Holy Ghost, he felt that gift enter into him for the first time. Read more
Heber C. Kimball was born in 1801 in Vermont. In 1830 he became a Baptist, but soon after, he learned that some missionaries from a new faith, The Church of Jesus Christ of Latter-day Saints, were visiting the home of Phineas P. Young, brother of Brigham Young. He was curious about the Mormons, as the Church's members were sometimes called, and asked to meet them. Wanting to know still more, he accompanied Phineas and Brigham and their wives as they returned to Pennsylvania. There he attended church meetings for six days and talked with local Mormons. In April, a church member visited him at his shop and Heber expressed a desire to join the Church. He was baptized in a small stream near his home. Two weeks later, his wife also chose to be baptized.
Heber immediately began missionary work and baptisms with Brigham Young and Joseph Young. Early in April, he had the opportunity to meet Joseph Smith, the president and first prophet of the Church, for the first time. He also became a member of Zion's Camp, initially organized to try to peacefully stop mob attacks on Mormons in Missouri. Many future leaders came from this volunteer group. Later, when the Camp reorganized, he became a bodyguard to Joseph Smith, whose life was in constant danger. Read more
by Delisa Hargrove
John White Curtis, Jr., (1859–1949) was born in Springville, Utah, to John White Curtis (1820–1902) and Matilda Miner (1840–1909). His parents married in 1855 in Springville, Utah, and had 14 children between 1858 and 1885. John White Curtis, Sr.'s, first wife was Elmira Starr (1815–1883). They married 1836 in Connecticut had 3 children between 1842 and 1846.
John White Curtis, Sr., joined The Church of Jesus Christ of Latter-day Saints (often inadvertently called the Mormon Church) in 1832.  Matilda was baptized in 1851.
Honored Mormon Pioneers
Since past history is sure to indicate the general character of future families, this history will fall short of the very vital part of my parent's lives. Nothing has been written of them until now, and I can only recall a small part of our family life. My parents were both pioneers and had to endure all the hardships of those days. Words fall short of expression of Father's nobility and manhood. He had unusual foresight, used good judgment, and was always known as a fair dealing man. Both my parents were highly esteemed and their character is worthy of study for well-directed ideals.
My mother could remember the death of the Grandfather, Edmond Durfee by a mob. How it grieved her childish heart. She told how she lay counting the stars to make herself sleep. She well remembered walking across the plains, or carrying wood miles for their evening camp. Grandmother Tamma kept a jar of dry salt-rising bread meal ready for emergency needs. When they couldn't have a fire, they had this bread to nibble on. Sometimes they soaked it in water so they might eat it. Mother often told of her white factory dressed dyed with blue. She told us of one little girl who traveled near in crossing the plains who had two pairs of shoes. When they came to thorny, rocky roads, this girl wore the best pair and let Mother wear the other until they came to better roads, then Mother trudged happily along. Mother walked across the plains when only twelve years old, and had no shoes except when the girl loaned her shoes to Mother. Read more
by Delisa Hargrove
When most people think of Latter-day Saint or Mormon pioneers, they think of settlers from the Eastern United States or immigrants from Europe.  However, other members of The Church of Jesus Christ of Latter-day Saints (often inadvertently called the Mormon Church) left their homelands to follow the Lord and His prophet as well. Polynesians responded to the prophet's call to gather to Zion in the late 1800's.
Mormon Missionary Serving in Hawaii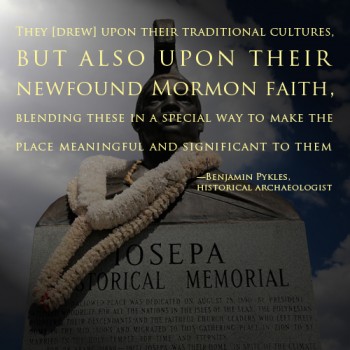 Brigham Young, then president of the Church, called my great, great uncle John Anderson West to leave Parowan, Utah, to preach the gospel in the Hawaiian islands in the late 1850's and again 14 years later.  In his journal, John recorded his initial difficulty in communicating with the islanders.  With divine help, he slowly learned Hawaiian.  He loved the humble, hospitable people. During his first mission, missionary work progressed slowly.  When he returned again in 1870, many locals converted to Mormonism.
One convert gave John a horse to use while he traversed the vast Big Island. John recorded how a recent volcanic eruption had totally wiped out villages where he had once taught the gospel and he mourned the loss of friends who perished. The converts were faithful and endured great hardship as they converted to Christianity. Read more
Mormon Pioneer Jane Grover (1830-1873) traveled with the John Tanner family to Utah.  In the summer of 1847, while camped with members of The Church of Jesus Christ of Latter-day Saint (often inadvertently called the Mormon Church), in Winter Quarters, Nebraska, Jane, 70 year old John Tanner, and three others went to gather berries.  Jane recorded the harrowing and miraculous experience in her journal.
One morning we thought we would go and gather gooseberries. Father [John] Tanner harnessed a span of horses to a light wagon. And with his little granddaughter [Matilda], two Sisters Lyman [Matilda's mother and Father Tanner's daughter being one of them], and I, Father Tanner started out. When we reached the woods we told the old gentleman to go to a house which was in sight and rest while we picked the berries. It was not long before the little girl and I strayed some distance from the others, when we suddenly heard shouts. The little girl thought it was her grandfather, and she was going to answer, but I restrained her, thinking it might be Indians. We walked until within sight of Father Tanner, when we saw he was running his team around. As we approached we saw Indians gathering around the wagon, whooping and yelling as others came and joined them. When he saw us approaching, Father Tanner drove over and we got into the wagon to start, when four of the Indians took hold of the wagon wheels to stop the wagon, and two others held the horses by the bits, and another came to take me out of the wagon. I then began to be afraid, and asked Father Tanner to let me get out of the wagon and run for assistance. He said, "No, poor child, it is too late!" Read more
William Greenwood (1819-1899) joined The Church of Jesus Christ of Latter-day Saints, often inadvertently called the Mormon Church,  in 1840 in England. His parents and all of his siblings joined the Church and immigrated to Warsaw, Illinois, where his parents and five other family members died of ague. William's granddaughter Louela White Storrs compiled this account of her grandfather's life.
William Greenwood was born March 4, 1819 in Heptonstall, Yorkshire, England, to William Greenwood I and Sarah Utley.
William I and Sarah Utley Greenwood
The elder William was a blacksmith by trade, but at an early age he got a spark in one of his eyes.  In trying to doctor it, he lost the sight of both eyes, so he never saw most of his thirteen children.  He and his wife Sarah, all of his children, and some of his brothers and sisters, joined the Latter-day Saint Church in England in 1840-41, and they emigrated to America.  Although William I was blind, he became quite handy at doing things with his hands such as making various articles of furniture, really specializing in good bedsteads. Read more
Ann Hartley Greenwood (1821-1897) joined The Church of Jesus Christ of Latter-day Saints in 1840 in England. Her family immigrated to Illinois to join Latter-day Saints. Living conditions were so bleak that Ann convinced her husband William to return to England. Later, they returned to Illinois and eventually crossed the plains with the Saints and were called to settle a desolate land.  Ann's granddaughter Louela White Storrs compiled this account of her grandmother's life.
Ann Hartley was born into the home of Bernard Hartley and Mary Beck, July 26, 1821, at Addingham, Yorkshire, England.  She had two sisters, Margaret and Martha, and three brothers, Barnard who died young, Joseph, and another Barnard.  Of her mother, Ann said, "She was a very good looking woman, having white pearly teeth and a rosy complexion.  She was a very good manager with quite a business sense."

Her father was a clothing manufacturer near Burnley.  It was customary at that time for little children to be carried to work at looms in the factories at a very early age.  Ann related that she was carried on her father's shoulders as soon as she was old enough to start work.  A never-to-be forgotten memory for her were the moaning cries of these little children being thus carried to work in the early morning hours. Ann grew up thus being kept busy with factory life until she became very adept at the looms, being able to handle three with the help of one little girl by the time that she was married. Read more
Austin Hammer was born May 6, 1804, in South Carolina to John and Nancy Hammer. He married Nancy Elston on September 7, 1826, in Wayne County, Indiana. Nancy Elston was born February 2, 1806, in Lexington (now Fayette) County, Kentucky, to Josiah Elston and Rebecca Lewis. Soon after their wedding they moved to Ohio, where they lived for three years, and then moved to Henry County, Indiana. Here they embraced the gospel of Jesus Christ and were baptized members of The Church of Jesus Christ of Latter-day Saints—sometimes inadvertently called the Mormon Church—in 1835. They then moved to Shoal Creek, Caldwell County, Missouri, where they had title to 180 acres of land. Austin and 16 other men were killed October 30, 1838, while guarding Haun's Grist Mill, in eastern Caldwell County, Missouri, from mobs trying to burn it down. The Hammers had 6 young children at the time. A few weeks after the massacre at Haun's Mill, the young widow took her 6 children to Pike County and then to Indiana to live with her husband's family. Nancy Hammer was anxious to return to the Latter-day Saints in Nauvoo, Illinois, so a friend provided them the resources to go—and then supported them until they could take care of themselves. The family eventually made the trek across the plains to the great Rocky Mountains. Nancy Elston Hammer died October 10, 1871, in Smithfield, Cache County, Utah, faithful to her God to the end.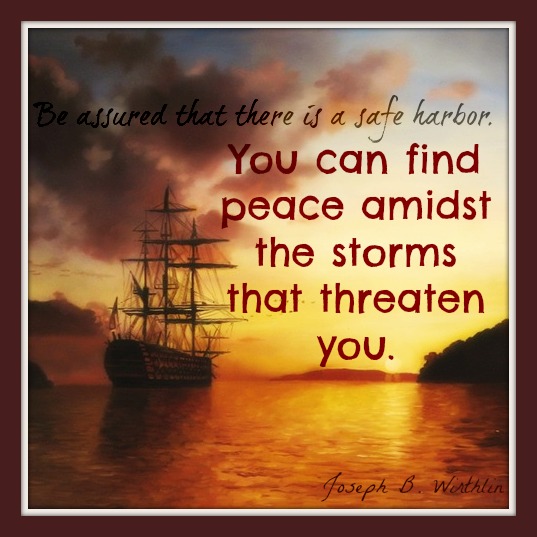 The following is an account of the Haun's Mill Massacre as told by Austin's widow and their son John.
A Mob Attacks
In the fall of 1838, mobs in the area were threatening to burn down the mill because it ground corn for members of The Church of Jesus Christ. "All the mills in that part of the country refused to grind for them as they were owned by the mob parties, hoping to starve them out." Because of the threats, a few of the brethren volunteered to guard the mill. This they did for several days and nights as the mob kept repeatedly threatening violence. Finally the mob leaders agreed to meet with some of the Mormons to see if they could work out a compromise. On the day appointed, a fixed number of brethren were at the mill, hoping to work out a settlement and anxious to restore peace. Read more
Erastus Snow was born November 9, 1818, in St. Johnsbury, Caledonia, Vermont. His mother was a devout Methodist, while his father was less religious. Erastus' mother raised him to believe in God. At the age of nine, he began to study the Bible seriously on his own, having a strong interest in religion. He chose to begin with a study of the life of Jesus Christ. By the time Erastus was thirteen years old, two of his older brothers, married and living away from home, had converted to Mormonism. (Mormonism is the nickname some people use to describe the belief system of members of The Church of Jesus Christ of Latter-day Saints.) Mormonism had been founded not quite two years before. That year, two Mormon missionaries, Orson Pratt and Lyman Johnson, came to Erastus' home and shared a message with his family about the religion. The whole family listened with great interest, curious to know what their older sons had decided to believe. Erastus, after hearing the missionaries share their testimonies, felt the testimony of the Holy Ghost come over him and he believed their teachings. Although his mother also gained a testimony, his father did not accept their message.
Erastus Snow Becomes a Mormon
Erastus was anxious to join the church, however, so he began to pray for a way to make that happen. His mother convinced his father to let him visit his married brothers, and one of them baptized Erastus. He began studying the Bible even more, determined to become a missionary someday. In time, all but two of his siblings were baptized, as was his mother.
When he was sixteen, he was sent on a ten-day mission into Vermont. He traveled with a relative the same age. They hosted a variety of large meetings where they taught the gospel to both Mormons and those who were curious about Mormons. They were very excited about the results of this first mission trip. Later, he went on another trip that was less successful. Read more