John Murdock was born 15 July 1792 in New York and suffered through a mostly unhappy childhood. He often turned to private prayer for comfort during that time. He had one year of formal schooling and was self-taught otherwise. He taught school for a time but was generally a farmer. John Murdock was married to Julia Clapp and they had five children.  He initially joined first the Baptists and then the Campbellites. He had become a Baptist because he wanted to be baptized by immersion, as Jesus had been baptized, but he still found himself unsatisfied. He kept searching his Bible and then looking for a church that practiced what the New Testament taught. The Campbellites attempted to recreate the New Testament Church and that appealed to him, but like many of that sect, he became a member of The Church of Jesus Christ of Latter-day Saints, whose members are sometimes nicknamed Mormons when it was organized. He was baptized near the end of 1830, the year the Church was organized. He had noted the scriptures about the Holy Ghost and when he met four Mormons, he decided to test their work by discovering whether or not the Spirit would testify to him of the truthfulness of their teachings. He rode twenty miles to Kirtland and that night the Spirit bore witness to him that it was true. He spoke with several recently baptized people and heard their testimonies that the Spirit had been present at their baptisms and conversions. That morning, he asked to be baptized. It was his third baptism, the first two being with the Baptists and the Campbellites, but the first time he felt the power of priesthood authority as the ordinances were performed. When he was confirmed and given the gift of the Holy Ghost, he felt that gift enter into him for the first time.
Murdock was so excited he began sharing the gospel with everyone he saw and his work resulted in seventy new members in four months. The requests for missionary lessons and baptisms came so fast he quit his job and joined home with another family to cut expenses.
The next year, his wife died in childbirth. He had five young children, including the newly born twins. Overwhelmed by having to care for so many little ones, Joseph Smith, the first prophet and president of the Church, offered to take in his twins and raise them with his wife, Emma. Their own twins had just died the day before John's were born and John knew of Emma's heartache. Unfortunately, one of these twins, a little boy, would also die, the victim of a mob. The twins were quite ill and the when the girl finally fell asleep, Joseph sent his wife to bed with their daughter to get some rest. Finally, when the boy fell asleep, Joseph placed the child in the cradle near the door and went to rest himself. A mob broke into the house and kidnapped Joseph, tarring and feathering him. They left the door open and the icy wind made the little boy so sick he died.
Two months after the death of John's wife, he became a high priest and then was called to serve a mission after he had settled his children. The three oldest were sent to stay with Bishop Partridge, while the surviving twin stayed with Joseph and Emma. He sold his property so he could assist these families in caring for his children.
In 1833, he came to live with Joseph Smith, allowing him to be near his daughter. He continued serving the church during this time and that year he had a vision in which he saw the face of the Lord, fulfilling the promise given to him in the revelation that called him to his mission.
When the Mormons moved to Utah, he became the first bishop (lay pastor) of the Salt Lake 14th ward. A ward is a congregation. He served a variety of missions over the years, including two to Australia. He remarried three times, with the second and third wives also dying (one just a year and a half after their marriage.) The last wife, with whom he adopted a child, outlived him.
Heber C. Kimball was born in 1801 in Vermont. In 1830 he became a Baptist, but soon after, he learned that some missionaries from a new faith, The Church of Jesus Christ of Latter-day Saints, were visiting the home of Phineas P. Young, brother of Brigham Young. He was curious about the Mormons, as the Church's members were sometimes called, and asked to meet them. Wanting to know still more, he accompanied Phineas and Brigham and their wives as they returned to Pennsylvania. There he attended church meetings for six days and talked with local Mormons. In April, a church member visited him at his shop and Heber expressed a desire to join the Church. He was baptized in a small stream near his home. Two weeks later, his wife also chose to be baptized.
He immediately began missionary work and baptisms with Brigham Young and Joseph Young. Early in April, he had the opportunity to meet Joseph Smith, the president and first prophet of the Church, for the first time. He also became a member of Zion's Camp, initially organized to try to peacefully stop mob attacks on Mormons in Missouri. Many future leaders came from this volunteer group. Later, when the Camp reorganized, he became a bodyguard to Joseph Smith, whose life was in constant danger.
In 1835, he became an apostle, following the New Testament model of Christian church leadership. He served a mission in the eastern states and was also able to attend the dedication of the Kirtland, Ohio temple. He was particularly proud of his wife's accomplishments in the building of the temple:
"Our women were engaged in spinning and knitting in order to clothe those who were laboring at the building, and the Lord only knows the scenes of poverty, tribulation, and distress which we passed through in order to accomplish this thing. My wife toiled all summer in lending her aid towards its accomplishment. She had a hundred pounds of wool, which, with the assistance of a girl, she spun in order to furnish clothing for those engaged in the building of the Temple, and although she had the privilege of keeping half the quantity of wool for herself, as a recompense for her labor, she did not reserve even so much as would make her a pair of stockings; but gave it for those who were laboring at the house of the Lord. She spun and wove and got the cloth dressed, and cut and made up into garments, and gave them to those men who labored on the Temple; almost all the sisters in Kirtland labored in knitting, sewing, spinning, etc. for the purpose of forwarding the work of the Lord"  (Instruments in the Hands of God, James E. Faust, General Conference, October 2005).
1837 was a very difficult time in Mormon history. Many people left the church this time, including leaders. However, not once did Heber C. Kimball waiver, even during this time period. Despite frequent threats to his life, persecution, and mob violence, he stayed faithful to the Church and to God. While others complained, he went cheerfully off to England as a missionary, where he taught and baptized about 1500 people.
After returning from his mission, he moved with his family to Far West, where the Mormons were currently living in their constant search for freedom of religion. However, a mob invaded that community as well. Heber C. Kimball offered himself as a hostage to protect others. In December of that year, he and a few other leaders petitioned the state of Missouri to protect the Mormons and their constitutional rights. (Instead, Missouri would eventually put out an extermination order against all Mormons.)
A committee had been organized to plan for the safe movement of the Mormons to a new place. In April of the year following the petition, Heber C. Kimball warned the committee to finish up and get out of the area, because their lives were in danger. At about that same time, members of a mob tried to kill him on the street. He took his family and moved to Quincy, Ilinois. He then moved to Nauvoo, Illinois, where the Mormons again tried to found a city.
While Heber was in Washington DC trying to seek help from the federal government for the unceasing attacks on Mormons, Joseph Smith was murdered. This set off another round of apostasy as some people rebelled against God's plan for Church succession, which made the head of the Quorum of the Twelve Apostles the new prophet. Heber C. Kimball stayed firm and followed Brigham Young's leadership.
The Mormons were forced to abandon their city and their homes to flee west, in the historic journey to Utah. Heber C. Kimball was made one of the two captains of the groups that left first—Brigham Young being the second. He was with the first group to reach the Great Salt Lake Valley and one of the first three speakers at the first church service. He offered a revelation that introduced an essential term into Mormon terminology, that of borrowed light:
""To meet the difficulties that are coming, it will be necessary for you to have a knowledge of the truth of this work for yourselves. The difficulties will be of such a character that the man or woman who does not possess this personal knowledge or witness will fall. If you have not got the testimony, live right and call upon the Lord and cease not till you obtain it. If you do not you will not stand. …
"The time will come when no man nor woman will be able to endure on borrowed light. Each will have to be guided by the light within himself. …
"If you don't have it you will not stand; therefore seek for the testimony of Jesus and cleave to it, that when the trying time comes you may not stumble and fall." (Orson F. Whitney, Life of Heber C. Kimball, Salt Lake City: Bookcraft, 1967, p. 450.)
He became a member of the First Presidency, (consisting of the president of the Church and two counselors.) making him the second highest ranking church member. He had the opportunity to help lay the cornerstone of the Salt Lake Temple and to offer the dedicatory prayer.
In 1856, the Mormons were facing potential starvation. He and his family chose to eat less so they could share what they had stored with those who were in need. He once wrote that he cared only for things of eternity. He died in 1868. His grandson, Spencer W. Kimball, would one day become the president of the Church.
This article is adapted from:
Every Person in the Doctrine and Covenants by Lynn F. Price, Cedar Fort, 2007
by Delisa Hargrove
John White Curtis, Jr., (1859–1949) was born in Springville, Utah, to John White Curtis (1820–1902) and Matilda Miner (1840–1909). His parents married in 1855 in Springville, Utah, and had 14 children between 1858 and 1885. John White Curtis, Sr.'s, first wife was Elmira Starr (1815–1883). They married 1836 in Connecticut had 3 children between 1842 and 1846.
John White Curtis, Sr., joined The Church of Jesus Christ of Latter-day Saints (often inadvertently called the Mormon Church) in 1832.  Matilda was baptized in 1851.
Honored Mormon Pioneers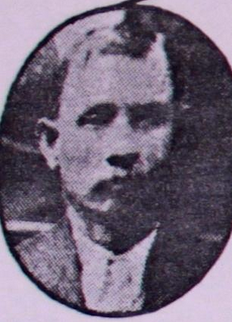 Since past history is sure to indicate the general character of future families, this history will fall short of the very vital part of my parent's lives. Nothing has been written of them until now, and I can only recall a small part of our family life. My parents were both pioneers and had to endure all the hardships of those days. Words fall short of expression of Father's nobility and manhood. He had unusual foresight, used good judgment, and was always known as a fair dealing man. Both my parents were highly esteemed and their character is worthy of study for well-directed ideals.
My mother could remember the death of the Grandfather, Edmond Durfee by a mob. How it grieved her childish heart. She told how she lay counting the stars to make herself sleep. She well remembered walking across the plains, or carrying wood miles for their evening camp. Grandmother Tamma kept a jar of dry salt-rising bread meal ready for emergency needs. When they couldn't have a fire, they had this bread to nibble on. Sometimes they soaked it in water so they might eat it. Mother often told of her white factory dressed dyed with blue. She told us of one little girl who traveled near in crossing the plains who had two pairs of shoes. When they came to thorny, rocky roads, this girl wore the best pair and let Mother wear the other until they came to better roads, then Mother trudged happily along. Mother walked across the plains when only twelve years old, and had no shoes except when the girl loaned her shoes to Mother.
My mother was born the 12th of January 1847 at Lima, Hancock County, Illinois, and was married in 1855. Her unwavering patience and sincere honesty are traits worthy of study by any person. To one who knew her casually, little note would be given, but to those who knew her innermost life, she is idolized as one among many. She devoted her all to those of her acquaintance and had a life of unusually hard toil and rough experiences.
Father had erysipelas of the bone and was very sick for two years, was never really well after this sickness, being somewhat crippled. Among experiences in these hard times, I remember helping Mother gather heads of grain in the fields that had been harvested. The hordes of grasshoppers which we always had to fight will always hold a place in my memory.
Memories of Indian Encounters
Our home life in Springville was quite adventurous because of savage Indians. They would steal our horses and cattle every chance they got. The women and children would all gather at one place at night and the men would stand guard. The squaws were bad to steal; they came often to our home and demanded food, etc., which Mother always shared.
I remember when I was very small my Father took me into the canyon with him for a load of wood. As we were leaving for home, an Indian stopped us and asked for a ride. Father let him ride but was rather uneasy, as then Indians were always treacherous. He had a rope under his blanket which he thought was well hidden, but we saw it and knew he was after something. He rode into the valley with us and disappeared. Hay was very scarce with us, so we had to turn our horses in pastures. The next morning, one of our horses was gone, and this Indian was later seen riding him.
On the 26th of June 1886, a band of these troublesome Indians stole horses from Spanish Fork and Springville pastures. They fled up Maple Canyon with our men in hot pursuit. As our men drew near they all began firing. One white man was killed and one seriously wounded. I was seven years old, and I remember they would not let me see either of the men they brought back. After this battle the Indians seem a little frightened and caused less trouble for a while. I loved the mountains, and being the oldest boy, my father usually took me along with him.
John's Parents' Polygamous Marriage
Times were very hard and my parents were poor, so we did any kind of work to get provisions and clothes. Father and his brother Ezra cared for the Utah County Coop sheep for two years. It took a great effort, as Father did his part with the sheep and went to Springville often enough to keep the farm going. His first Wife, Elmira Starr, stayed at home with part of the family, while my Mother went with, taking me and the baby girl. I was old enough to help some.
Both of father's wives lived in the same house. They were very congenial and worked together on all problems. They were both fond of children and Aunt Elmira treated us as her own. We loved her, the same as we did Mother. They were both spiritual people and we were taught religion from our early youth. Father's timely guidance with the firm cooperation of his wives are to be admired by all his children.
Settling Again
In 1877, when I was 18 years old, we moved to Willow Bend, now Aurora. Father took up land, and by extra hard effort raised a crop the first year. He went to the mountains and cut logs immediately, then moved his family from Springville. This first house was made by placing four poles in the ground and then making sides and a roof of willows. When winter came, we plastered the willows with mud to hold out the cold. We did our cooking on an open fire out of doors. Our furniture was limited. The chairs were made with rope, cane and leather, basket woven for seats. The beds were four posts beds, with rope for springs, and straw tick mattresses. Stools were commonly used for chairs. Later, the fireplace was a substitute for a stove, shelves were used for cupboards, and the roof was dirt covered.
Father traded one yolk of oxen to Mr. Coons in Richfield for water rights in the Rocky Ford Dam and Canal Company. I worked with father all my life until twenty-five years of age, helping him to support the family and get a start.
by Delisa Hargrove
When most people think of Latter-day Saint or Mormon pioneers, they think of settlers from the Eastern United States or immigrants from Europe.  However, other members of The Church of Jesus Christ of Latter-day Saints (often inadvertently called the Mormon Church) left their homelands to follow the Lord and His prophet as well. Polynesians responded to the prophet's call to gather to Zion in the late 1800′s.
Mormon Missionary Serving in Hawaii
Brigham Young, then president of the Church, called my great, great uncle John Anderson West to leave Parowan, Utah, to preach the gospel in the Hawaiian islands in the late 1850′s and again 14 years later.  In his journal, John recorded his initial difficulty in communicating with the islanders.  With divine help, he slowly learned Hawaiian.  He loved the humble, hospitable people. During his first mission, missionary work progressed slowly.  When he returned again in 1870, many locals converted to Mormonism.
One convert gave John a horse to use while he traversed the vast Big Island. John recorded how a recent volcanic eruption had totally wiped out villages where he had once taught the gospel and he mourned the loss of friends who perished. The converts were faithful and endured great hardship as they converted to Christianity.
Pacific Islander Emigration to Utah
Converts left the Pacific Islands and emigrated to Utah. The leaders of the Church found a place in Utah's Skull Valley, about 75 miles southwest of Salt Lake City, for the Pacific Islanders to settle. They named the settlement Iosepa (Yo-see-pa) honoring President Joseph F. Smith who was one of the first missionaries to the Hawaiian Islands, and the Prophet Joseph Smith. Though many parts of the Pacific Island's leeward shores are desert-like, the Islanders had never experienced jarring winters which compromised the settlers' health. Outbreaks of smallpox, diphtheria, pneumonia, and leprosy took a heavy toll. The emigrants creatively tried to adapt their traditional food to Utah food options, even substituting flour and cornstarch for poi. They tried to grow seaweed, as well as other more traditional mainland crops. However, crop failures forced many men to seek work as gold and silver miners. They created Kanaka Lake, a small reservoir, for swimming and recreational activities. Iosepa's grid pattern streets were lined with yellow roses.
Richard Poulsens' A History of Iosepa, Utah, reminisced that
The Polynesians were especially proud of their luaus, where they dressed in traditional costumes and performed the songs and dances of the islands along with their Gosh Ute Indian neighbors from the adjoining Reservation. On these occasions large feasts were prepared consisting of pigs and sheep cooked in an imu (underground oven), along with the making of laulau by wrapping carp (raised in their reservoir) inside corn husks. The traditional island poi was replaced with a substitute concoction that used cornstarch and flour.
In 1911, Utah historian J. Cecil Alter wrote,
Iosepa is perhaps the most successful individual colonization proposition that has been attempted by the Mormon people in the United States… There are 1,120 acres practically all in use and half as much more is being brought under the magic wand of the Hawaiian irrigator.
The Salt Lake Tribune reported, "As many as 200 [residents] lived [in Iosepa] from 1889 until 1917. Many then returned to their homeland, drawn by the LDS temple going up in Laie, Hawaii."  Iosepa was deserted in 1917.
Remembering Iosepa's Polynesian Mormon Pioneers
Vermin Hawes, a descendant of Iosepa settlers, coordinated a Memorial Day event in 1980 at Iosepa to repair and beautify the area.  Polynesians now gather annually on Memorial Day at Iosepa for a three-day festival celebrating the pioneers' history with memorial services, games, and a luau.
Late LDS President Gordon B. Hinckley dedicated a bronze bust Polynesian warrior monument to the memory of the settlers of Iosepa on August, 28, 1989.
Visitors continue to pay tribute to the Polynesian converts' memories in Iosepa. Celebrating Utah's 2013 Pioneer Day at Iosepa, Jacob Fitisemanu from Taylorsville, Utah, imagined being part of the original settlement and reflected,
There is a spiritual connection whenever we come here. We try to be reverent when we come here. We understand it.

They made it work. They were very spiritual people who managed to survive. They brought water to town from the top of the mountain four or five miles away for an irrigation system. They were an industrial people.
The converts of Iosepa settled their portion of Utah's barren wilderness to be closer to the Salt Lake City Temple so they could participate in sacred Mormon temple rituals. The courage born of their faith enabled them to overcome the challenges of bitter winters and unusual food and culture. When a temple was built in the Hawaiian Islands, they returned to worship and build up the Church in Hawaii.
Having lived in Hawaii, I know that the Polynesians' incredible faith in Jesus Christ and His Church continues today. They diligently spread the Savior's love and aloha to others through food, friendship, and a constant invitation to learn of and worship the Savior in His holy temples throughout the Pacific Islands.
Mormon Pioneer Jane Grover (1830-1873) traveled with the John Tanner family to Utah.  In the summer of 1847, while camped with members of The Church of Jesus Christ of Latter-day Saint (often inadvertently called the Mormon Church), in Winter Quarters, Nebraska, Jane, 70 year old John Tanner, and three others went to gather berries.  Jane recorded the harrowing and miraculous experience in her journal.
One morning we thought we would go and gather gooseberries. Father [John] Tanner harnessed a span of horses to a light wagon. And with his little granddaughter [Matilda], two Sisters Lyman [Matilda's mother and Father Tanner's daughter being one of them], and I, Father Tanner started out. When we reached the woods we told the old gentleman to go to a house which was in sight and rest while we picked the berries. It was not long before the little girl and I strayed some distance from the others, when we suddenly heard shouts. The little girl thought it was her grandfather, and she was going to answer, but I restrained her, thinking it might be Indians. We walked until within sight of Father Tanner, when we saw he was running his team around. As we approached we saw Indians gathering around the wagon, whooping and yelling as others came and joined them. When he saw us approaching, Father Tanner drove over and we got into the wagon to start, when four of the Indians took hold of the wagon wheels to stop the wagon, and two others held the horses by the bits, and another came to take me out of the wagon. I then began to be afraid, and asked Father Tanner to let me get out of the wagon and run for assistance. He said, "No, poor child, it is too late!"

I told him they should not take me alive. Father Tanner's face was white as a sheet.

The Indians commenced to strip him of his belongings. They had taken his watch and handkerchief, and were trying to pull me out of the wagon. I began silently to appeal to my Heavenly Father. While praying and struggling, the Spirit of the Almighty fell upon me and I arose with great power, , and no tongue can tell my feelings. I was as happy as I could be. A few moments before, I saw worse than death staring me in the face, and now my hand was raised by the power of God, and I talked with those Indians in their own language. They let go the horses and wagon, and stood in front of me while I talked to them by the power of God. They bowed their heads and answered yes in a way that made me know they understood. The little girl and Father Tanner looked on in speechless amazement.

I realized our situation. Their calculation was to kill Father Tanner, burn the wagon and take us women prisoners. This was plainly shown to me; but they were convinced by the power of God manifested through me, to change their minds. When I stopped talking, they shook hands with all three of us and returned all they had taken from Father Tanner, who gave them back the handkerchief, and I gave them berries and crackers. By this time the other young women came up and we hastened home.

The Lord gave me a portion of the interpretation of what I had said, which was as follows: "I suppose you Indian warriors think you are going to kill us. Don't you know that the Great Spirit is watching you, and knows everything in your hearts? We have come out here to gather some of our Father's fruit. We have not come to injure you, and if you harm us or injure one hair of our heads, the Great Spirit will smite you to the earth, and you will not have power to breathe another breath. We have been driven from our homes and so have you. We have come out here to do you good, not to injure you.

"We are the Lord's people and so are you, but you must cease your murders and wickedness. The Lord is displeased with it and will not prosper you if you continue in it. You think you own all this land, this timber, this water, all these horses; why, you do not own one thing on earth, not even the air you breathe. It all belongs to the Great Spirit."
William Greenwood (1819-1899) joined The Church of Jesus Christ of Latter-day Saints, often inadvertently called the Mormon Church,  in 1840 in England. His parents and all of his siblings joined the Church and immigrated to Warsaw, Illinois, where his parents and five other family members died of ague. William's granddaughter Louela White Storrs compiled this account of her grandfather's life.
William Greenwood was born March 4, 1819 in Heptonstall, Yorkshire, England, to William Greenwood I and Sarah Utley.
William I and Sarah Utley Greenwood
The elder William was a blacksmith by trade, but at an early age he got a spark in one of his eyes.  In trying to doctor it, he lost the sight of both eyes, so he never saw most of his thirteen children.  He and his wife Sarah, all of his children, and some of his brothers and sisters, joined the Latter-day Saint Church in England in 1840-41, and they emigrated to America.  Although William I was blind, he became quite handy at doing things with his hands such as making various articles of furniture, really specializing in good bedsteads. Read more
Ann Hartley Greenwood (1821-1897) joined The Church of Jesus Christ of Latter-day Saints in 1840 in England. Her family immigrated to Illinois to join Latter-day Saints. Living conditions were so bleak that Ann convinced her husband William to return to England. Later, they returned to Illinois and eventually crossed the plains with the Saints and were called to settle a desolate land.  Ann's granddaughter Louela White Storrs compiled this account of her grandmother's life.
Ann Hartley was born into the home of Bernard Hartley and Mary Beck, July 26, 1821, at Addingham, Yorkshire, England.  She had two sisters, Margaret and Martha, and three brothers, Barnard who died young, Joseph, and another Barnard.  Of her mother, Ann said, "She was a very good looking woman, having white pearly teeth and a rosy complexion.  She was a very good manager with quite a business sense."

Her father was a clothing manufacturer near Burnley.  It was customary at that time for little children to be carried to work at looms in the factories at a very early age.  Ann related that she was carried on her father's shoulders as soon as she was old enough to start work.  A never-to-be forgotten memory for her were the moaning cries of these little children being thus carried to work in the early morning hours. Ann grew up thus being kept busy with factory life until she became very adept at the looms, being able to handle three with the help of one little girl by the time that she was married.

Ann met William Greenwood who was a loom overseer.  As they grew very fond of each other, they decided to get married, which they did in 1838, when Ann was only eighteen years old.  Since they both went on working, it seemed expedient that they should live in Ann's father's home, paying board.
Baptism By Mormon Missionaries
About this time, Ann heard missionaries from The Church of Jesus Christ of Latter-day Saints preaching.  She was very much interested in it, and began leaving her home, alone, to hear more of the gospel message.  She was afraid to let her husband or family know what she was doing for fear they would not approve.  As was to be expected, her husband became curious, so he decided to follow her one evening to see what was going on.  He listened attentively to the message and became so interested that he began attending the meetings regularly with her.  Ann's family hated to have Ann join the Church, and she was the only one of the family ever to do so.  She was baptized September 8, 1840, and William followed in June of 1841.
Joining The Saints In Illinois
William and Ann began making plans to go to America to be with the church members there. William and Ann arrived at New Orleans November 24, 1841, after a seven to nine week trip in the ship Tyrene. They settled in Warsaw, Hancock County, Illinois. Before they could adjust to the new climate, they all came down with the "ague" and were very, very sick for a long time.They found it hard to adjust to the new life, as living conditions were very hard.  Ann decided that it was just unbearable.  Her family had told her that if she ever wanted to return to them to let them know and they would send her the money for the return voyage.  She tried to talk William into writing to them to tell them of her desire to return.  He wasn't in favor of the action, so wouldn't write the letter.  She then went to another William Greenwood, a friend of theirs, and got him to write the letter for her.  The money was immediately forthcoming.

They returned to England in 1843, taking with them the little girl Martha who had been born in Warsaw.  This child died and was buried in Burnley in 1844.  Two other children were born to them here, Sarah and Foster.  Foster also died and was buried in the same place as Martha.

William was very unhappy back in England, so he decided he would have to leave Ann there, as she still wanted to stay, and return to the new land alone, which he did in 1846 or 47.  But Ann was not long in deciding that living with her husband was worth more than living in England without him.  She went to work and earned enough money to bring herself to Warsaw in 1848.  Their son Bernard was born in Warsaw in September of 1849.
Crossing The Plains
The Greenwoods began making preparations to cross the plains to Utah, and left Illinois in May of 1852. When it had come time for baby William to be born July 27, 1852, the family merely pulled off the road behind the wagon train and, with the help of some of the kind women, the baby came into the world.  That baby lived to be one of the healthiest and long-lived of the family, so everything must have gone well.

At one time, the animals became frightened and stampeded while Ann was driving. She had William shortly before and was not yet strong enough to walk by the wagon. She hung onto the animals, talking gently to soothe them down, until they finally continued on without any harm being done.  What a breathtaking experience for this factory maid from civilized England!
Settling The Desert
The Greenwoods arrived in Utah in November and soon were called to help settle Cedar City.  Their first year in Cedar City they lived in a sort of cave or dugout.  After several discouraging years in Cedar City, the family relocated in Beaver.  The first year in Beaver was very hard for them.  The only shoes Ann had were moccasins purchased from the Indians.  Her daughter Mary Ann wrote:  "Having no dress to her back, she wore what was called a sack, along with a quilted petticoat which she secured by making a quilt for a neighbor.  Ann went out doing washing or helping in any way when possible, but this was not often, as very few could afford such a luxury in that day."

Ann had never had any experience in making clothing or doing housework before she was married, as she was practically raised at the loom in the factory.  She became very adept at all kinds of such work connected with raising a large family.  She was a very good cook and housekeeper, and she could make clothing in all its steps, starting from the sheep's back to the finished product.  Mary Ann wrote,   "Clothing was extremely scarce.  It was not an uncommon thing for my mother to bathe her children on Saturday night and put them to bed perfectly nude while she sat up and washed and dried their clothes by the fire so they could have clean things for Sunday."  The boys also sometimes ran around the house in their shirt tails while their trousers were being mended.  Even her husband had to go to bed when his trousers needed mending.

At this time, William and Ann had only one quilt for their bed.  It had worn very thin in the middle.  In desperation, they tore it in two so that they could each make better use of their piece, as they could tuck it in around their backs a little better.  They kept wood fires burning day and night, as wood was quite accessible, and it did help in keeping the biting cold away.

An interesting incident of this first year was of Ann walking a mile or so to an old fort to milk a teacup of milk from a cow that was about to go dry.  Her husband called her a fool for doing it.  However, the cow didn't go dry; her milk came back, giving the family all the milk they needed, and it became their chief food.  Then her husband had to admit it hadn't been foolishness, but extreme foresight and wisdom.

At one time, the family lived on potatoes and salt for three weeks.  They had not had a taste of bread all that time.  They went up to North Creek to gather bullberries at this time.  When Ann got out of the wagon to help gather the berries, she was so weak and faint from hunger that it was impossible for her to help gather any berries.  These bullberries were a great delicacy, heated up in their milk.  Hunger was the sweetener for the dish.  Bullberries were the only fruit they had for years.  They made many uses of them, such as drying them for storage and use all through the year.  In later days, they made dumplings of the berries with the other usual ingredients which gave a most delicious dessert.

Although their economic situation gradually improved somewhat, as late as 1863 when Ann's baby Rachel was born, Ann could not provide a single piece of clothing for the baby to wear.  It was only through help from kind neighbors that the child had any clothing at all.  In 1861, when Titus had been born, Ann could only scare up two cotton diapers.

Every family in Beaver secured a barrel of molasses from Utah's "Dixie" for the winter.  Except for an occasional bit of brown sugar, this was their only sweet flavoring.  Molasses candy combined with parched corn was their greatest delicacy.  Ann would make molasses candy loaded with cayenne pepper whenever a cold appeared among the children.

Eight of Ann's children grew to maturity, and soon there were grandchildren.  They were always welcome in Ann's home.  Cookies and apples in season were always on hand.  It was great sport to run and climb among the orchard trees and in the cattle corral and barn.  Most of all they loved to play in "Grandma's Attic."  They took picnics together and picked the yummy apples from the trees in the fall.

Ann was a dearly beloved mother with a sweet disposition.  She was a hard worker and a good example of the sturdy, long-suffering, patient pioneer woman of her day.  She was crippled up for many of the later years of her life so that she had to use a cane to get about.  She did much of her housework sitting and moving about on a chair.  She passed away in her bluestone house in Beaver on July 18, 1897, at the age of 76.
Austin Hammer was born May 6, 1804, in South Carolina to John and Nancy Hammer. He married Nancy Elston on September 7, 1826, in Wayne County, Indiana. Nancy Elston was born February 2, 1806, in Lexington (now Fayette) County, Kentucky, to Josiah Elston and Rebecca Lewis. Soon after their wedding they moved to Ohio, where they lived for three years, and then moved to Henry County, Indiana. Here they embraced the gospel of Jesus Christ and were baptized members of The Church of Jesus Christ of Latter-day Saints—sometimes inadvertently called the Mormon Church—in 1835. They then moved to Shoal Creek, Caldwell County, Missouri, where they had title to 180 acres of land. Austin and 16 other men were killed October 30, 1838, while guarding Haun's Grist Mill, in eastern Caldwell County, Missouri, from mobs trying to burn it down. The Hammers had 6 young children at the time. A few weeks after the massacre at Haun's Mill, the young widow took her 6 children to Pike County and then to Indiana to live with her husband's family. Nancy Hammer was anxious to return to the Latter-day Saints in Nauvoo, Illinois, so a friend provided them the resources to go—and then supported them until they could take care of themselves. The family eventually made the trek across the plains to the great Rocky Mountains. Nancy Elston Hammer died October 10, 1871, in Smithfield, Cache County, Utah, faithful to her God to the end.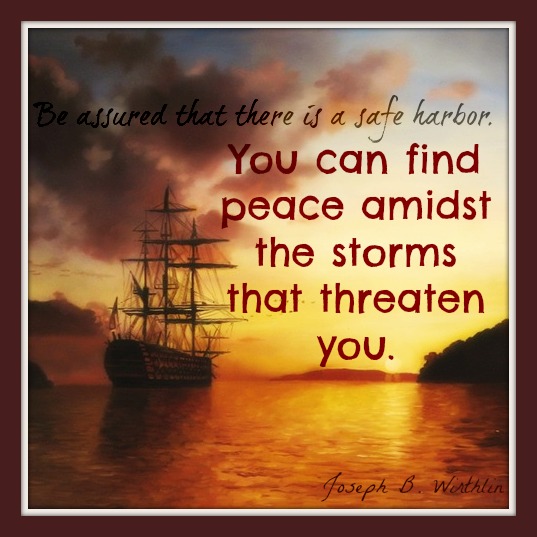 The following is an account of the Haun's Mill Massacre as told by Austin's widow and their son John.
A Mob Attacks
In the fall of 1838, mobs in the area were threatening to burn down the mill because it ground corn for members of The Church of Jesus Christ. "All the mills in that part of the country refused to grind for them as they were owned by the mob parties, hoping to starve them out." Because of the threats, a few of the brethren volunteered to guard the mill. This they did for several days and nights as the mob kept repeatedly threatening violence. Finally the mob leaders agreed to meet with some of the Mormons to see if they could work out a compromise. On the day appointed, a fixed number of brethren were at the mill, hoping to work out a settlement and anxious to restore peace. Read more
Erastus Snow was born November 9, 1818, in St. Johnsbury, Caledonia, Vermont. His mother was a devout Methodist, while his father was less religious. Erastus' mother raised him to believe in God. At the age of nine, he began to study the Bible seriously on his own, having a strong interest in religion. He chose to begin with a study of the life of Jesus Christ. By the time Erastus was thirteen years old, two of his older brothers, married and living away from home, had converted to Mormonism. (Mormonism is the nickname some people use to describe the belief system of members of The Church of Jesus Christ of Latter-day Saints.) Mormonism had been founded not quite two years before. That year, two Mormon missionaries, Orson Pratt and Lyman Johnson, came to Erastus' home and shared a message with his family about the religion. The whole family listened with great interest, curious to know what their older sons had decided to believe. Erastus, after hearing the missionaries share their testimonies, felt the testimony of the Holy Ghost come over him and he believed their teachings. Although his mother also gained a testimony, his father did not accept their message.
Erastus Snow Becomes a Mormon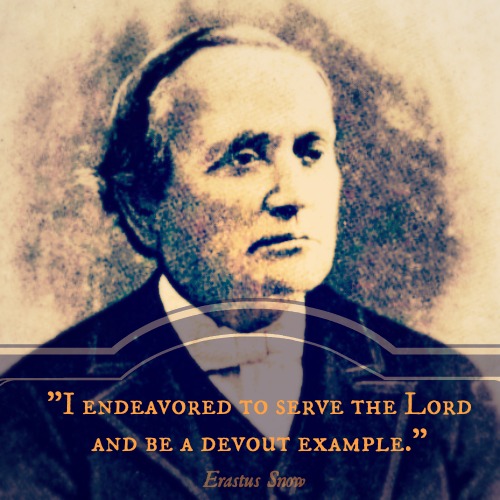 Erastus was anxious to join the church, however, so he began to pray for a way to make that happen. His mother convinced his father to let him visit his married brothers, and one of them baptized Erastus. He began studying the Bible even more, determined to become a missionary someday. In time, all but two of his siblings were baptized, as was his mother.
When he was sixteen, he was sent on a ten-day mission into Vermont. He traveled with a relative the same age. They hosted a variety of large meetings where they taught the gospel to both Mormons and those who were curious about Mormons. They were very excited about the results of this first mission trip. Later, he went on another trip that was less successful. Read more
Excerpts taken from Tamma Durfee Miner White's reflections of her father Edmond Durfee (1788-1845). Edmond joined The Church of Jesus Christ of Latter-day Saints, often inadvertently called the "Mormon Church," in 1831. He was shot by an angry anti-Mormon mob at the Isaac Morley settlement at Green Plains, Hancock, Illinois in 1845.
My father's name was Edmund Durfee, he was born in Rhode Island on the 3rd October 1788 of Dutch decent [SIC]. My mother's name was Magdalena "Lana" Pickle and she was born 6 June 1788. Her father and mother were from Holland. I was born 6 March 1813 in Lennox, Madison County, New York and lived there until I was about nine years old when we moved to Amboy, Oswego County. Father bought some land, built him a house, made a small farm, and worked at his trade that was mostly carpenter and millwright. We lived there until the first of June 1830, father bought more land. There were lots of maple trees. Then father wanted to go West so he sold his sugar bush and farm and started for the south of Ohio. We went through Camden Village to the canal, went on the canal to Buffalo, we went to Briggles (Ruggles) in Huron County. Read more