Parley P. Pratt was an early Mormon apostle and author. He was born April 12, 1807 to Jared Pratt and Charity Dickenson in Burlington, New York. Pratt was a descendent of Pilgrims on the Pratt side of the family. He had limited education because his family moved often, but he read extensively and was very well self-educated.

He became a Baptist when he was eighteen, although not fully satisfied as to their truthfulness. He heard Sydney Rigdon speak soon after his marriage. Rigdon later became a Mormon apostle, but at that time he was a preacher for a group called the Disciples or Campbellites. Pratt was thrilled to hear someone actually teaching New Testament gospel, but still worried about the issue of authority. He saw in his own studies that the apostles had been given the authority to continue teaching after Jesus Christ died, and he felt there ought to be apostles with authority today. Despite his concerns, Pratt joined that movement and became a preacher.
Parley P. Pratt Conversion to Mormonism
In 1830 he was preaching in Ohio near Cleveland when he returned home to New York for a visit. There he heard about the Book of Mormon through a Baptist minister. He read part of it and was strongly moved.
"I read all day; eating was a burden, I had no desire for food; sleep was a burden when the night came, for I preferred reading to sleep….I knew and comprehended that the book was true. … My joy was now full."
He decided to travel to Manchester to meet Joseph Smith. There, he found Joseph's brother, Hyrum Smith, who gave him a Book of Mormon. Parley read it and in August, he went to Fayette with Hyrum to be baptized. He became an elder (priesthood holder) following his baptism and then returned home to teach his family about Mormonism. His brother Orson Pratt became a member of the Church. Read more
Mormon history is rich with faith-filled stories of overcoming persecution, migrating in the vilest of circumstances, and trusting God with everything they had. But there is more to the history of Mormons (members of The Church of Jesus Christ of Latter-day Saints, sometimes mistakenly called the "Mormon Church") than the spiritual side of things—there is of course, logistics. After all, you can't expect to be fed manna every day just because you're a believer—you have to plan, build, and grow.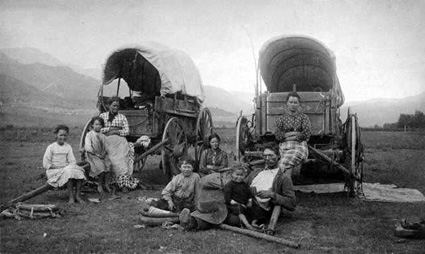 When Mormons arrived at the Salt Lake valley, in Utah, there was nothing there. In fact, it wasn't even part of the United States yet. Mormons had been driven from so many places because of their unique belief in God—and this valley was pronounced as "the place" where they would finally be able to settle.
After Brigham Young (the second prophet in Mormon history, after Joseph Smith) showed where the temple would be, the people were heavily involved in the planning, or the platting, of the city. Not only were the surprisingly wide streets ingeniously made on an easily understandable grid system (with the center being the temple) but there was much more, like the well-built irrigation systems that are still in use today.  Brigham Young had seen all of this in vision.  The plan carried Salt Lake City into modern times with very few adjustments needed.
Why was this platting so important, more than just for ease of governance? We learn about the unique history from an article titled, "Travel guide: Mormon Pioneer National Heritage Area:"
It was called the plat of Zion (Zion meaning the pure in heart). These were all viewed as little miniature experiments in Zion, in building Zion in each little town… They were called the United Order, a way of living where everybody just deeded over all of their belongings to the church and then they were given back as they needed, according to what their assigned tasks were in a community. If they were a cattle herder, then they needed a horse.
In order for these Latter-day Saints to live this United Order, which was the way God wanted them to live, they needed to be organized.
As a Mormon myself, I have been taught, since my youth, that having an organized life is the way of God. We live by the scripture found in Doctrine and Covenants (a book of modern day revelations) 88:119, "Organize yourselves; prepare every needful thing; and establish a house, even a house of prayer, a house of fasting, a house of faith, a house of learning, a house of glory, a house of order, a house of God." That is why if you ever go into LDS Church building, especially the Temples, that everything is organized—it is the way of God. This is yet another reason the history of Mormonism proves why they established such a successful community—because they followed their way of "platting" after the pattern of God.
I invite you to learn more about Mormons by meeting with Mormon missionaries. I know that God lives and that His Son, Jesus Christ, is the Savior of the world. I love Him, and I will be forever grateful for what He has done for me, my family, and for all mankind.
This article was written by Ashley Bell, a member of The Church of Jesus Christ of Latter-day Saints.
Additional Resources:
Learn about the history of Mormons on an official website of The Church of Jesus Christ of Latter-day Saints
Newel Knight was the second son born to Joseph Knight, Sr. and Polly Peck. He was born September 13, 1800 in Vermont. The family was not wealthy, but it was comfortably well-off and the children received a common-school education. His parents believed in God, but did not belong to a church. They accepted the doctrine of Universalian, which taught that everyone would eventually go to Heaven, although they did not attend any churches at all.
In 1825, Joseph Smith, first prophet of the Mormons, came to work for Joseph's business partner. When Joseph returned home, he kept in contact with the two men, and was hired in 1826 to work for Joseph Knight. Knight considered Joseph Smith the best hired hand the family had ever employed and young Joseph Smith got along well with the entire family, but developed a particular friendship with the father.
The family learned that Joseph Smith had been called by God to bring to light an ancient record in the future. Joseph Knight and his youngest son, also named Joseph, believed him, but Newel and his brother Nahum did not. However, Newel continued his high respect for Joseph Smith, describing the prophet as a close friend and a kind man.
After the plates were translated and published as the Book of Mormon, the Church was organized. Over time, members of Newel's family began to be baptized. When Joseph Smith traveled to Colesville to preach at a series of meetings, Newel attended each one and also held private discussions with his friend concerning the new religion. One day he went into the woods to pray privately about the faith and an evil spirit sealed his lips, making him unable to pray. Joseph Smith was sent for, who commanded the spirit to leave. Newel was overcome by the spirit and was lifted from the floor. This was the first miracle in modern times and it helped many people decide to join the Church.
Newel was baptized by David Whitmer, because Joseph Smith was not performing baptisms at that time. He was the first person in his family to convert, and was possibly the first person in Colesville as well, although there would be many baptisms in that town in the near future. At the church's first conference, Newel would have his first vision, one in which he came to know a great work would occur because of the restoration of the gospel. He also saw the Savior in his vision and received assurances of his salvation. A baptism was to follow the conference and his father was among those scheduled to be baptized. However, mobs destroyed the dammed stream. It was quickly repaired and the baptisms commenced. Before the confirmations could occur, the mobs had Joseph Smith arrested. Newel's father sent his lawyer to assist in clearing the obviously false charges designed to stop the confirmations and Newel testified at the trial. The charges were dropped and the confirmations continued.
The persecutions of the Knight family increased and Newel's father and sister were forced to flee their home. Newel remained so he could help other church members prepare to leave as soon as the ice cleared the waters.
The Mormons continued to seek a place where they could enjoy the religious freedom promised by the Constitution. In Missouri, Newel's mother died, followed by a number of other relatives. When his uncle died, he took in his aunt and cared for her without complaint. He wrote that they faced life cheerfully. During the very worst of the persecution, he wrote that the Mormons never forgot to thank God for the many blessings they were receiving. His newborn son died, as did his wife, who, he wrote, was unable to withstand the persecutions and hardships the mobs imposed on them with her frail constitution. He was also ill and this time and struggled to care for his aunt and his remaining child. Despite being so ill he could barely walk, he answered a general call for people to help build the Kirtland Temple. By the time he completed the 900 mile journey, he was feeling healthier and had begun preaching along the way. During the time he spent on this project, he met his second wife, a young convert whose husband had abandoned her. They were married by Joseph Smith in his first wedding ceremony.
When the couple returned home to Missouri, persecution was intense. The Mormons were being ordered to leave, but Newell had no money to do so, having worked without pay on the temple while maintaining his home and providing for the care of his aunt and son. He was also in poor health. He stayed behind with others who could not yet leave. His aunt died. When he finally was able to leave, he settled in Caldwell County, but mobs destroyed the city. Governor Boggs issued an extermination order, making it legal to kill all Mormons and thereby increasing the danger. Once again, Newel was forced to leave, this time for Nauvoo. During this time, he was sometimes without food or clothing, but other times there was even enough for a few luxuries. He wrote that regardless of which circumstance he was in, he never lost his testimony.
Joseph Smith was murdered and again the family had to uproot and leave. This was a time of personal grief to Newel, because he and Joseph were good friends. However, he and his family, which now included seven children, moved to Council Bluffs, en route to Utah. Newel was not to reach Utah, however. A fire endangered their fort and Newel responded to the call for help. He became very ill as a result, probably with pneumonia, and died. His family would continue on to Utah in a few years, when they could afford to do so.
Sources:
Every Person in the Doctrine and Covenants by Lynn F. Price, Cedar Fort, 2007
The Joseph Knight Family, Larry Porter, Ensign, October, 1978
Orson Hyde is best known for his dedication of the Holy Lands for the gathering of the Jews. He was born in 1805 in Oxford, Connecticut. Orson Hyde's early years were very difficult. He was one of eleven children and his family became homeless when he was seven.  Then his mother died during childbirth. His father sent the children to live with others, splitting them up as he left to fight in the War of 1812. Orson was sent to the home of Nathan Wheeler. His birth father died from drowning when he was twelve, leaving him orphaned. Despite the challenge of being sent to live away from home so young, the boy was apparently happy in his new home.
When he was fourteen, the family fell on hard times and Orson walked 600 miles on foot to take care of some property his foster father owned. This, while certainly challenging for a teenager, was excellent preparation for his future life as a Mormon pioneer.
Orson lived in Kirtland, Ohio on this land for four years and then decided to leave home. He returned three years later, just in time to discover the town stirred up about religion. He began participating in the various meetings and soon became a Methodist. During this time he heard about a man named Joseph Smith and his "golden Bible," but ignored the stories as being untrue. He met Sidney Rigdon, who was a Campbellite preacher, and joined his movement, impressed by their teachings about the importance of following the example of Jesus Christ in being baptized by immersion for the remission of sins. He moved to Mentor, Ohio and boarded with Rigdon's family. He began his first formal education at this time and was very successful as a student. He became a preacher and began preaching against the "golden Bible" he had learned about earlier. However, although he had read small portions of it, he had not read the Book of Mormon, which was the correct name for it. He felt a strong impression that it was immoral to preach against this book without having even read it, so he set out to read and study it correctly. He went to find Joseph Smith and learn about the book directly from him. To his surprise, when he arrived, he discovered that Sidney Rigdon had become a Mormon. He began to properly study the book and the young faith and soon joined the church.
The next spring, he was called to serve a mission and walked 2000 miles to and through New York, Massachusetts, Maine, and Rhode Island. He was, by this time, becoming experienced at traveling on foot with very little.
When trouble with mob violence broke out in Missouri, Orson Hyde was sent there to give instructions to church members and then to take a petition for help to the governor, who told him to take it to court, a process which did not turn out to be helpful at all. He became a member of Zion's Camp, which worked to protect the Mormons from violence and also married during this time.
In 1835, Orson Hyde was chosen to be an apostle in the manner of the New Testament apostles—witnesses of Jesus Christ and leaders in the Church. He served a mission in Canada and began studying Hebrew.  In 1837, he went to England to work in the Church's first foreign mission, returning to the United States in 1838.
When Orson returned to the United States, he moved to Far West, Missouri, but things were very difficult there. Mobs were out of control in their attacks on the Church. As Orson watched the conflicts between the two groups, he began to feel uncomfortable. He became extremely ill and during this time of physical weakness, he left Far West and, with another church leader, signed a document attacking the church with false accusations. Unfortunately, these accusations were believed and led to the "Mormon War." He was disfellowshipped, which means he did not have full standing but was not excommunicated and also lost his position as an apostle. However, they also invited him and William Smith, the other signer of the document, to come and explain their concerns about the church. When they arrived, they asked to be reinstated as church members, having repented of their actions.
He wrote:
"Few men pass through life without leaving some traces which they would gladly obliterate. Happy is he whose life is free from stain and blemish. In the month of October, 1838, with me it was a day of affliction and darkness. I sinned against God and my brethren; I acted foolishly. I will not allude to any causes for so doing save one, which was, that I did not possess the light of the Holy Ghost. I lost not my standing in the Church, however; yet, not because I was worthy to retain it, but because God and his servants were merciful. … Brothers Hyrum Smith and H. C. Kimball, men of noted kindness of heart, spake to me words of encouragement and comfort in the hour of my greatest sorrow" (Orson Hyde: Olive Branch of Israel, Howard H. Barron, New Era, April 1979)
This time in his life would remain in his heart as a great tragedy and he continued to agonize over his mistakes and the problems they caused for church members. He was reinstated in the Church and also as an apostle, although he lost his seniority and thus did not become the prophet when Brigham Young died.
A prophecy had been issued that said Orson Hyde would one day perform a great work among the Jews. It is believed this came through Joseph Smith. During one long and dangerous mission, he taught many Jewish people and even had an opportunity to serve in Palestine, where he stood on the Mount of Olives and dedicated Palestine for the gathering of the Jews.
When Joseph Smith was murdered, the Mormons fled for Iowa. Orson Hyde was asked to stay in Illinois, a dangerous thing, to supervise the completion of the temple. They had been instructed by prophecy to complete it even if they couldn't stay to enjoy it.
Orson Pratt would continue to accept every call that came his way, no matter how dangerous. He never again strayed from his faith. He would help to lead people across the plains several times, organize new settlements, teach adult education classes, and serve on the state legislature. He died in 1878.
Sources:
Every Person in the Doctrine and Covenants by Lynn F. Price, Cedar Fort, 2007
Orson Hyde: Olive Branch of Israel, Howard H. Barron, New Era, April 1979
Orson Hyde, MormonWiki.com
William Huntington, an early member of The Church of Jesus Christ of Latter-day Saints, whose members are often nicknamed Mormons, is an example of someone who faced hardship with courage and faith.
Born in 1784 in New Hampshire, William Huntington married Zina Baker in 1806. He did very well financially until 1811. Then he sold out. Unfortunately, when the country went to war in 1812, he suffered severe financial setbacks. He completed his military service in 1816 and then once again improved his financial situation. He began to study the Bible, trying to understand what God really taught. Huntington received inspiration that alcohol was not appropriate, so he stopped drinking. He became a Presbyterian.
William Huntington began to pray to know which church was true, even though he had already joined one. He received an answer that none were true, but that the true church would be restored in his lifetime. He learned that it would be the same church Jesus Christ established in New Testament times. Naturally, with this information, he left his church and began preaching what he had learned through prayer. He and his wife, who supported him, became social outcasts as a result.
As he continued to watch for the true church to develop, he came into contact with the Book of Mormon. He read it and believed it. He began teaching about the Book of Mormon as well. In 1835, he, his wife, and two of his children were baptized.
In 1836, two of his children and their families moved to Kirtland, Ohio, where the Mormons lived. The next year, he wrapped up his business and joined them. He purchased a farm for 3000 dollars, but was cheated out of it by the owner, losing the money and not receiving the farm. He took on a regular job, but also lost 500 dollars in a bank failure while living in Missouri. His family struggled financially, lacking many of life's necessities. Unlike some who struggled however, he never seemed to expect that obeying God promised an easy life, and so he remained faithful to the church and to God.
As persecution in Missouri increased beyond the potential for survival, all three members of the First Presidency, who ran the church, were arrested on false charges. Brigham Young, as head of the apostles, began making plans to get church members out of Missouri. William Huntington was chosen to be the head of the committee to plan the move. His wife died during this time and a little more than a year later he married Lydia Partridge, widow of Edward Partridge.
William Huntington was called to the High Council in a revelation recorded in the Doctrine and Covenants, a book of modern revelation. During this time, he also helped to lay the cornerstone for the Nauvoo, Illinois temple and participated in building it.
In 1844, Joseph Smith and his brother Hyrum were murdered. William Huntington helped to bury the bodies. This sparked the need for the Mormons to again flee their own country and they began making plans to move to the Rocky Mountains. Brigham Young intended to send a group of unmarried men ahead to choose the location and to plant crops, in order to make the move easier for the church members. However, no one wanted to be left behind in this hostile environment, so Young instead began the complex task of figuring out how to move an entire city.
On February 9, William Huntington left the city and began the trip westward. He was appointed a captain. When he reached Mt. Pisgah, where some of the Mormons were encamped, he was appointed president of the camp, but he died that August after being ill for ten days.
This article is adapted from Every Person in the Doctrine and Covenants by Lynn F. Price, Cedar Fort, 2007.
By Doris
Captain Jens Martin Christensen was a faithful convert to The Church of Jesus Christ of Latter-day Saints (which church is frequently misnamed the Mormon Church). Jens was born on April 29, 1843, in Hammerholt, Denmark, the seventh of eight children, to Christen Oveson and Kirsten Marie Andersen. When Jens grew up, he proudly wore his red military uniform jacket, black trousers, and large black fur hat as a member of the Danish queen's guards. Jens was known for keeping his boots polished and looking smart.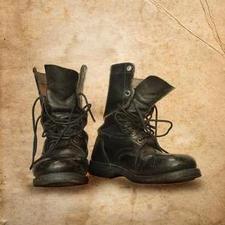 When Jens heard the gospel preached in Denmark in 1866, he gained a personal testimony of its truthfulness and was baptized on February 4 of that year by Elder S. Petersen. Not long thereafter, Jens boarded a three-mast ship called the Kenilworth and sailed to New York from Germany. He brought his fiancée, Maren Johanne Rasmussen with him, having snuck her out of her home against the wishes of her parents. Her mother had locked her in her bedroom, but Jens tied bed sheets together to help her escape. They then took a train to Hamburg, Germany, where they sailed from.
After arriving in New York, Jens and Maren travelled up through the Great Lakes and came down the Missouri River by rail, trying to avoid the inflated prices of the direct rail tickets. They travelled further to North Platte, Nebraska, where other Saints arrived to walk the rest of the way across the plains to Utah. The tradition of Jens' descendants is that Jens kept his boots shiny all the way to Utah.
Maren became very sick with cholera. Jens was a volunteer to help the many sick pioneers, and he would carry Maren around with him, sometimes holding an umbrella over her to protect her from the sun. Maren survived the trek to the Salt Lake Valley, and she eventually recovered fully. They were married on October 22, 1866, and moved to Fairview, Utah, where they built their first home. They were sealed a few months later, on May 8, 1867 in the Endowment House in Salt Lake City (the Salt Lake Temple was not yet complete). Their faith was tried when church authorities asked them in 1878 to relocate to the Manasseh-Ephraim area of Colorado, 500 miles away. Then, after moving, Jens was called on a mission to Denmark. He sought reconciliation with his in-laws, but they refused to acknowledge they had a daughter.
After returning home from his mission in April 1887, Christensen's health began to fail. He and his family moved to Murray, Utah, where he stayed until he passed away on July 8, 1908, at the age of 65. Jens' descendants look to their ancestor for faith and determination to remain clean and pure, even in the face of adversity.
If you wish to read the full account of Jens Christensen, it is told in Erastus Snow Christensen, 1874–1943, A Family History, by Steve Mecham and Verda Christensen Murphy, accessible at The Church of Jesus Christ of Latter-day Saints Family History Library on Film No. 142703, Item 2.
http://youtu.be/AuR2eRxZgYc
Additional Resources:
Basic Mormon Beliefs and Real Mormons
By Doris
George Goddard, an early convert to The Church of Jesus Christ of Latter-day Saints (often misnamed the "Mormon Church") was rejected by his relatives in England after he was baptized. George and his wife and seven children journeyed to the western Zion by land and sea. Four of the children died along the way.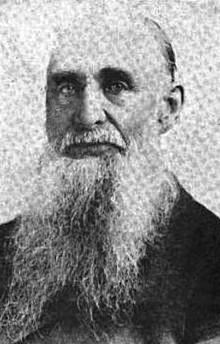 Establishing themselves in the Salt Lake Valley, George became a prominent business and Church leader, serving with the presiding bishopric, serving in the presidency of the Sunday Schools of the Church (with President George Q. Cannon and the other counselor, Karl G. Maeser), singing in the Tabernacle Choir for fifteen years, and being called by Brigham Young to serve as secretary to the school of the prophets in Salt Lake City.
During the early 1860s the pioneering Saints needed more paper to advance the causes of education and publishing. Paper was made from rags for several years, but even rags were difficult to come by because the people had scarcely enough to cover their bodies. Brigham Young called successful businessman George Goddard on a "Rag Mission," going door to door throughout the territory "for the purpose of gathering up whatever might be obtained convertible into printing paper."1 As a true Englishman, George wrote, "[This calling] was a severe blow to my native pride. . . . After being known in the community for years, as a merchant . . . then to be seen on the streets going from door to door with a basket on one arm and an empty sack on the other, enquiring for rags at every house. Oh, what a change in the aspect of affairs. . . . When President Young first made the proposition, the humiliating prospect almost stunned me, but a few moments' reflection reminded me that I came to these valleys of the mountains . . . for the purpose of doing the will of my Heavenly Father, my time and means must be at His disposal. I therefore answered President Young in the affirmative, and for over three years, from Franklin, Idaho, in the north, and Sanpete in the south, my labors extended, not only visiting many hundreds of houses during the week days, but preaching rag sermons on Sunday. The first time I ever spoke in the Tabernacle, Salt Lake City, was a rag discourse, and Presidents Brigham Young and Heber C. Kimball backed it up with their testimony and enlarged upon it."2
"It was my duty as a servant of God to obey, and as such I undertook it, to assist in laying the foundation of an important home enterprise. . . . No person could have been more abundantly blessed of the Lord than I was during the three years I was thus engaged. The Spirit of the Lord made me cheerful and happy, and the feeling of humiliation was removed."3
This was a "riches to rags" story, in a sense, but George's humble service provided over 100,000 pounds of rags for the paper mills. Not only that, but he "became so well known to the Saints in the territory that following his mission his business flourished and his popularity as a merchant was even greater than before."4
George Goddard concluded this episode of his life by testifying: "I can truly say that the Lord inspired me with His Holy Spirit to deliver rag sermons, as much as if I was preaching upon . . . any other principle of the gospel. . . . [Jesus] descended below all things that He might be exalted above all things. And he that humbleth himself shall be exalted. Therefore, let no one feel that by responding to the calls of the Priesthood, however humiliating the duty imposed may be to natural pride, the luster of their respectability will not be dimmed or their usefulness curtailed thereby. Let us stoop to conquer."5
Many Latter-day Saints have been asked to sacrifice a great deal to build up the kingdom of God on the earth, and most of the time they heed the call. Men like George Goddard were fortunately not scarce at critical times in the Church's history, and the inspired others Saints then as well as today to step up and make the sacrifices that God requires of them.
Read D. Kelly Ogden's full article, "What More Can We Do? A Rags to Riches Story"
Sources:
1 Deseret News, May 14, 1862.
2 Deseret Weekly, April 4, 1896, 485; as cited in Leonard J. Arrington, Great Basin Kingdom, Cambridge, Mass.: Harvard University Press, 1958, 115.
3 George Goddard, "Review of an Active Life," in The Juvenile Instructor, 1882, 174.
4 Church News View point, August 3, 1996, 16.
5 George Goddard, "Review of an Active Life," in The Juvenile Instructor, 1882, 174.
Additional Resources:
Basic Mormon Beliefs and Real Mormons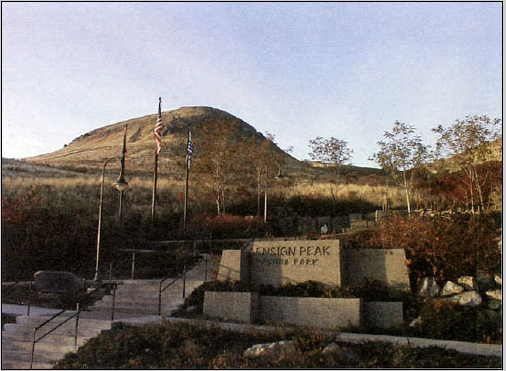 Ensign Peak is a natural landmark near Salt Lake City, Utah, rising 1,080 feet from the valley floor. It has come to be both a religious and an ecumenical landmark today, but on July 26, 1847, just two days after the Latter-day Saint (or "Mormon") pioneers entered the Salt Lake Valley, Brigham Young and eight other leaders of The Church of Jesus Christ of Latter-day Saints (including Heber C. Kimball, Willard Richards, Wilford Woodruff, George A. Smith, and Ezra T. Benson) hiked the peak to get a better view of the valley and assess their situation. Today The Church of Jesus Christ of Latter-day Saints is frequently misnamed the "Mormon Church," which leads to confusion. This church is truly The Church of Jesus Christ of Latter-day Saints.
Before departing Illinois with the first group of Saints, President Brigham Young had seen a vision in answer to his prayer seeking guidance about where to lead the Saints. In this vision, he saw an angel standing on a "conical hill." The angel was Joseph Smith (martyred prophet), and he was pointing to where the Saints' city and temple should be built. Upon arrival in the Salt Lake Valley, Brigham Young recognized Ensign Peak as that conical hill.
The name given to the hill, Ensign Peak, comes from Isaiah 11:11–12:
And it shall come to pass in that day, that the Lord shall set his hand again the second time to recover the remnant of his people, which shall be left . . . And he shall set up an ensign for the nations, and shall assemble the outcasts of Israel, and gather together the dispersed of Judah from the four corners of the earth.
From the time the first brethren climbed the hill, Ensign Peak has held special significance for the inhabitants of the Salt Lake Valley. Many festivals and celebrations have been held there, and in 1934, a monument was erected memorializing its significance. The 18.47-foot monument (the Saints arrived in 1847) was built of stones collected from stakes (organizational units of congregations) along the Mormon Trail.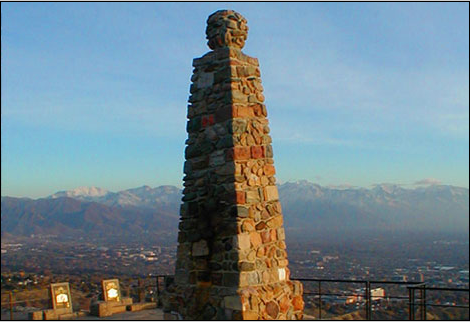 Decades later, the Salt Lake City Public Services Department and the Ensign Peak Foundation (a non-profit organization of private citizens), and the Mormon Historic Sites Foundation banded together to raise money to build a historic trail up the peak and a nature park of 66 acres surrounding it. This immense project, which included hiking trails, historic signs, two vista points, and the reclamation of eroding soil, was completed in 1996. President Gordon B. Hinckley dedicated the Ensign Peak Nature Park on July 26 of that year, setting it apart to be "a place of pondering, a place of remembrance, a place of thoughtful gratitude, a place of purposeful resolution" ("Park at Ensign Peak Dedicated," LDS Church News, (August 3, 1996).
Latter-day Saints believe their pioneer forebears were led to the Salt Lake Valley by God. Brigham Young had the vision of Joseph Smith standing in the valley where they were supposed to go, but the Saints had no other pilot or guide. None of them had ever been to the Utah wilderness or knew anything about it, but they were led by a living prophet of God who knew the place when he arrived because he had been shown it previously. After climbing Ensign Peak with those eight men, he said, "This is Ensign Peak. Now, brethren, organize your exploring parties, so as to be safe from Indians; go and explore where you will, and you will come back every time and say this is the best place" (Journal of Discourses, 26 vols. London: Latter-day Saints' Book Depot, 1854–1886), 13: 86). These men did explore many other areas in the Utah Territory, but all returned to declare their original stopping point the "best spot."
Ensign Peak also served as a temple for at least one of the early Saints. Because the Saints had left their temple in Nauvoo, and it took several years for them to complete another temple, Addison Pratt had no temple to go to in order to receive his endowment before leaving to serve a mission. He "was taken to the summit of Ensign Peak and given his endowments, that he might return to those islands of the sea in which he had labored, with greater spiritual power" (Brigham H. Roberts, Conference Report, April 1915, 130). Brigham Young specially consecrated the peak for this purpose.
Additional Resources:
"A Defense and a Refuge," Boyd K. Packer, Ensign, October 2006.
"A Banner Is Unfurled: Mormonism's Ensign Peak," Ronald Walker, Dialogue—A Journal of Mormon Thought.
The story of the Saluda is strikingly sad, especially when one takes the perspective of William Dunbar, a Scottish convert to The Church of Jesus Christ of Latter-day Saints (incorrectly referred to as the "Mormon Church" by the media). In the mid-1800s, Latter-day Saint converts were all travelling West to join the Saints in the Utah Territory. Many would arrive from Europe by ship in New Orleans, then take steamboats to St. Louis, then other steamboats up the Missouri River to Council Bluffs, Iowa (then Kanesville).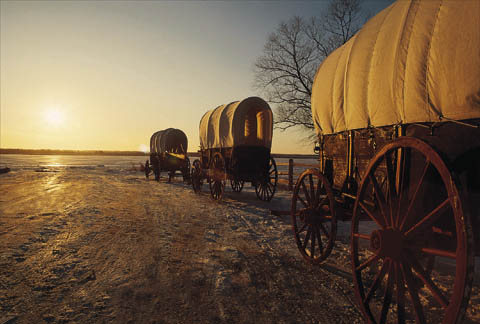 There was typically a Church representative in St. Louis to help newly arrived converts gain passage on steamboats for a fair price and get to where they needed to go. However, in 1852, the representative had left and was not replaced until the end of that year. Eli Kelsey and David J. Ross were consequently sent from Kanesville down to St. Louis to help out in the interim. They were also planning to head to the Utah Territory that year, and they felt pressure to get the Saints on their way as quickly as possible. It was still early spring, though, and ice flows in the river were preventing steamboat captains from taking the risk of the journey. When they found Captain Francis T. Belt of the Saluda, he agreed to book passage for about 100 passengers, feeling the profits outweighed the risks he would take. Many of the waiting Saints were grateful, because they were having to pay for unexpected lodging and food during the delay.
One of the passengers, William Cameron Dunbar, heard the boat was not the most reliable, so he and two other LDS passengers decided to have a look at the steamboat. Looking back, William said: "on entering the hold a most horrible feeling came over us, and without knowing the cause of it, we had an impression that something awful was going to happen somehow or other." After leaving the boat, Dunbar remarked, "I remarked to brother Campbell that if I had not already given in my name to go with that steamer, I would not do so now; but under the circumstances we almost felt in duty bound to go, so as not to disappoint the officers of the boat, nor the Elders who had chartered her" (Dunbar account in Jenson, "Church Emigration," 411).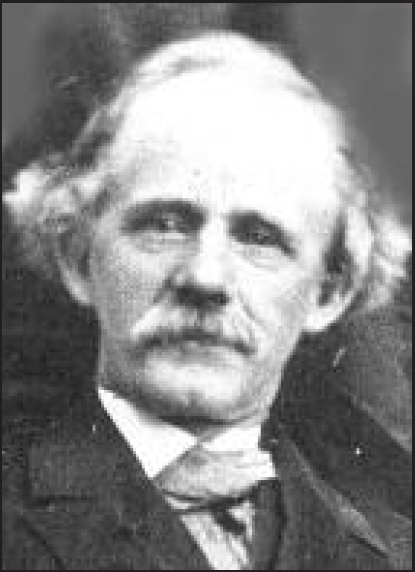 "Although I did not understand it then," Dunbar later observed, "I am perfectly satisfied now that some friendly unseen power was at work in my behalf, trying to prevent me from going on board with my family on that illfated steamer" (Dunbar account in Jenson, "Church Emigration," 411).
Members of The Church of Jesus Christ of Latter-day Saints believe in the power of the Holy Ghost and His ability to speak to our hearts, guiding us in the direction we should go. Dunbar ignored the prompting he received that he should not go on board. In addition, he could have warned others of his feelings, as could have the other two men who saw the boat with him and felt the same prompting.
Dunbar not only ignored the prompting, he also looked over three different delays which could easily have kept his family from being aboard the ship when disaster struck: Supplies he ordered for the journey did not arrive when they were supposed to. He waited for them to be sent down, and then hurried to the dock with his wife and children. They actually missed the boat. They took another boat and tried to catch up with the Saluda, but ice flow and strong river current prevented the two boats from meeting and the passengers to transfer, though they passed each other several times. Finally, the steamboat the Dunbars had managed to take was damaged by ice and the passengers were forced to disembark. William refused to leave, because the captain had promised he would deliver the Dunbars to the Saluda if possible. Ignoring three chances to avoid the Saluda, William finally succeeded in getting his family on board the boat.
The Saluda had already had an interesting history. It was built in 1846, and had sunk in 1847, remaining underwater for several months. It was raised and floated to St. Louis for repairs, but kept its old boilers. At that time, a six-year-old vessel was quite old for a river boat, when the average life for a steamboat was three to four years, and old boilers were very dangerous. River travel was in and of itself very dangerous. Snags (trees under the water) were common hazards, as were the ice flows. Strong currents were also dangerous. The Saluda had side wheels, which allowed it more maneuverability, but its boilers were still old. The boat reached Lexington, 370 miles from St. Louis, on April 4, but lacked the power to get around Lexington Bend, an infamous horseshoe banking to the left from their position.
"Whipping around the point of this bend, the current created a treacherous 'cross-over' from the north bank to the south bank along the Lexington bluff. This was the Lexington Bend, a well known hazard to river men of the day" (Dan H. Spies, "The Story of the Saluda," 2). After admitting defeat the first day, Captain Belt tried again the next day, but ice chunks broke parts of the paddle wheels, and the boat had to be repaired, which took two more days. Many frustrated passengers disembarked because they were close to their destination. This is when the Dunbars were finally able to get aboard the Saluda.
Many people, knowing of the Captain's determination to navigate the bend Friday morning, April 9, went to the bluffs for a good view. Due to the long delay, the Captain was insistent that the boat would make it around the point. According to folklore, Captain Belt  said, "I will round the point this morning or blow this boat to hell!" He ordered the engineers to fill the boilers to maximum pressure. The boiler walls were red hot, and before the paddle wheels had made three full revolutions, the boilers exploded. Reports indicate that engineers had let the boilers go dry while they were heating up, so when the cold river water was drawn in, the metal burst. One engineer survived, and admitted this was the case, but also said it the action was under direct orders from the captain.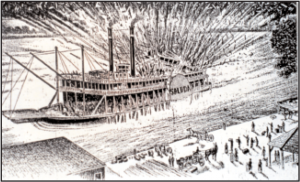 Witnesses said, "The noise of the explosion resembled the sharp report of thunder, and the houses of the city were shaken as if by the heavings of an earthquake," causing houses to rattle and windows to shake ("Awful Calamity: Explosion of the Steamer Saluda—130 Lives Lost!!" Liberty Tribune, 16 April 1852, 1). Passengers were thrown into the air and onto the shore. Pieces of the boat's two tall chimneys, the hurricane deck, the cabin section, and even the boilers flew in all directions. A spectator on the shore was killed by a piece of flying timber. Wreckage fell from the sky and landed as far as 400 yards away. The ship's 3-foot diameter cast-iron bell and 600-pound safe flew high into the side of the bluffs. Two-thirds of the boat's structure was destroyed. Many people were thrown into the river. Some survived, many did not. A surprising number suffered only minor injuries, but those closer to the explosion were nearly unidentifiable.
William Dunbar had been standing on the deck preparing breakfast. He remembered seeing the paddle wheels rotate twice, then woke up on the river bank. He knew of nothing in between. When he awoke, he saw his dead son lying close to him, but could not move toward him, because his spine had been injured when he was thrown from the boat. He was brought to the hospital, he saw his wife breathe her last breath, but did not have the chance to speak to her. He later saw his daughters remains which were so mangled another woman claimed the child was hers. This memory haunted Dunbar later in life, when he considered the possibility that he had left his daughter an orphan in the town, though he was fairly certain the dead child was his daughter.
The total casualties are not precisely known, because so many survivors left almost immediately on another vessel, when its captain offered to take them for free. It is fairly safe to say, though, that between 90 and 100 passengers out of 175 were killed, including crew and passengers. It is estimated that 80 Latter-day Saints who had taken passage aboard the Saluda, 25 were killed, and 3 were missing and presumed dead.
Several of the surviving Saints were injured, and nine were severely injured. Lexington families adopted four orphaned children, including two from Latter-day Saint families. Lexington citizens reached out with true charity to the victims of the Saluda. The created four separate committees to care for the sick, bury the dead, raise money to aid the victims, and find homes for the orphans. Citizens donated $1,000 to pay for related expenses, women cared for the injured and prepared the dead for burial. The city donated a plot of ground for the burials, and twenty-one victims were laid to rest in Christ Church parish cemetery. In addition, citizens gave some survivors money and clothes (many had lost all their belongings) to help them on their journey. Some Saints were cared for, for weeks by Lexington families.
Tragically, some of the surviving Saints from the Saluda died soon thereafter at Kanesville from a cholera epidemic. Others died along the difficult trek to the Salt Lake Valley. Dunbar made it to the Utah Territory and served faithfully in the church for the rest of his life. He remarried and had thirteen children, one of whom he named Helen Euphemia in remembrance of his wife and daughter who died in the explosion.
The explosion of the Saluda and the cholera epidemic of 1852 helped spur reforms and regulations for boat travel, but the next year, The Church of Jesus Christ of Latter-day Saints had its members avoid the Missouri River by starting out in Keokuk, 200 miles north of St. Louis. Then, beginning in 1855, LDS immigrants sailed to New York rather than New Orleans, and took much safer railroad travel to the Salt Lake Valley.
Read more about the history of the Saluda.
It has always been a part of the heritage of members of The Church of Jesus Christ of Latter-day Saints (commonly called Mormons by friends of other faiths) to remember those who have gone before them, who have suffered for the sake of building up the kingdom of God. Some of the Latter-day Saint Church's richest legacy comes from the pioneers who crossed the plains to enter the Salt Lake Valley. Some of these people came by handcart, walking thousands of miles while pulling their belongings behind them.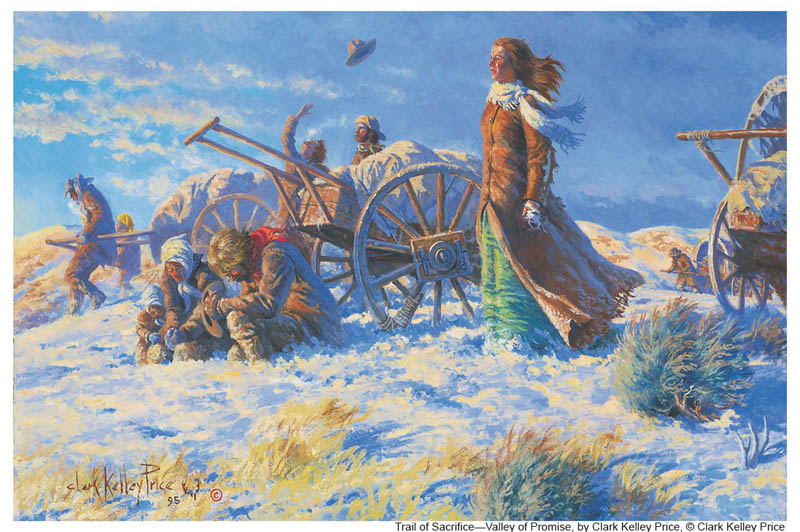 Two of these handcart groups struck disaster in 1856, when they left later than they should have and got stuck in horrific winter storms in Wyoming. These two groups were the Willie and Martin Handcart Companies. Many Saints died along the way, but those who survived claimed they had grown closer to God through their experience than through any other experience they had throughout their lives.
Descendants of the Saints who travelled in the Martin Handcart Company came together in the summer of 2011 to make some of the difficult part of the trek in memory of their ancestors. It is not uncommon for members of the Mormon Church (as The Church of Jesus Christ of Latter-day Saints is often mistakenly referred to) to particpate in treks commemorating those who have gone before. However, this particular trek was the first that was solely made up of descendants of this company.
The Martin's Cove Historic site in Wyoming is owned and operated by The Church of Jesus Christ of Latter-day Saints and is 933 acres. It is located 55 miles southwest of Casper, Wyoming. This is where 160 descendants of the Martin Handcart Company gathered in 2011 to commemorate their anscestors' trek. Particpants ranged in age from babies to grandparents. They pulled handcarts (in pioneer dress), square-danced, played pioneer games, and listened to stories of what their ancestors suffered, sacrificed, and rose above, through the power of God.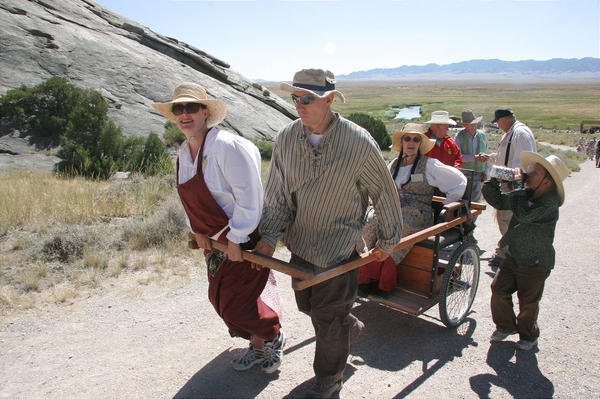 Leta Greene, one of the older participants, was able to do far more than she thought she would. Being wheelchair bound, she didn't think she would be able to participate, but her children were able to pull her in her own handcart of sorts, so she was able to participate.
The trekkers were also able to cross the Sweetwater River, which their ancestors had had to cross in the middle of winter. The cold water took the lives of some of the original company, but crossing in the summer, trekkers were still able to feel a kinship with their ancestors.
People are already planning another similar reunion for descendants of the Willie Handcart Company descendants. Mormons know how important their ancestors' sacrifices were to building up the kingdom of God. Sacrifices others have made, even if they were not direct ancestors of current members of The Church of Jesus Christ of Latter-day Saints, have helped make the Church stronger and have provided an environment of less persecution for those who practice Mormonism.