During the early days of the history of The Church of Jesus Christ of Latter-day Saints, members experienced and endured unjustified suffering and persecution. On numerous occasions, they were driven from their homes and forced to leave behind many of their precious possessions. Among those things that were left behind, lost, or destroyed were books, coins, notes, and documents which have long since been salvaged as a means of preserving history.
1830 First Edition of the Book of Mormon – How Rare a Possession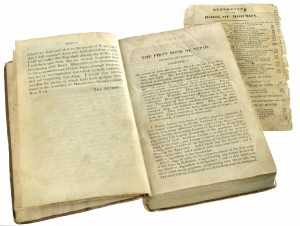 Among the rare artifacts that have been recovered from early Church history is an original 1830 first edition of the Book of Mormon. Although the edition is not considered the rarest LDS publication, it is in fact a treasured commodity to be had by serious collectors as it marks the beginning of the Lord's true Church in this dispensation. Only five thousand copies of the first Book of Mormon were printed, and each sold for the cost of 75 cents. Today it is estimated that only a few hundred copies remain in any condition, and a majority of those are not complete copies. It is interesting to note that in 1998, Bill Gates, founder of Microsoft, purchased an 1830 first edition copy of the Book of Mormon.
Two back-to-back pages, which became referred to as "References to the Book of Mormon," were placed inside copies of the first copies of the 1830 edition of the Book of Mormon to be used as a navigation tool – an index – by missionaries as they used the Book of Mormon to teach the gospel. The pages were not attached which made it easy for them to be lost or destroyed. Together with the pages from the 1830 first edition, these have become some of the rarest and most expensive printed pages in the history of The Church of Jesus Christ.
1833 Book of Commandments – First Record of Printed Revelations
In July 1833, the early Church was to publish the first collection of printed revelations in a book titled "Book of Commandments." The press and the thousands of pages waiting to be folded and cut was located on the upper floor of the home of William W. Phelps. The publication was abruptly disrupted on 20 July 1833 when a mob broke in, chased Phelps' wife and children out, and destroyed the press. The printed pages were dumped into the street with the intent of the mob to destroy them.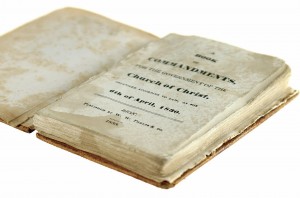 In an act of courage, 15-year-old Mary Elizabeth Rollins and her 13-year-old sister Caroline grabbed up as many sheets as they could hold and ran. They were discovered and chased by the mob, but were never found. The pages that they were able to salvage were hand cut and bound into 15 incomplete copies of the Book of Commandments with covers made out of leather, goat hair, and even wood. In 2001, a rare complete copy of the Book of Commandments was sold at auction at Christie's in New York for the hefty price of $391,000 – the most money ever paid for a nineteenth century American book.
The destruction of the Book of Commandments did not thwart the work of the Lord from progressing, nor His Word from going forth. The Brethren immediately began work on compiling another Book of Commandments. However, after deliberating that the book contained more than just commandments, it was agreed that the new book should be titled "Doctrine and Covenants," and in an 1835 conference, the Doctrine and Covenants was accepted as scripture.
Kirtland and Early Mormon Currency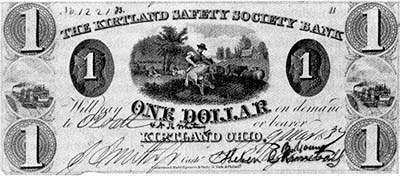 In 1836, the first attempts of producing Mormon currency took place in Kirtland, Ohio when the young growing Church decided to establish a bank. The Ohio legislature denied their charter, and so they created the Kirtland Safety Society Anti-Banking Company. The currency that was distributed, known as Kirtland Safety Society Notes, were signed by Joseph Smith and Sidney Rigdon.
Coins were also made and used as currency. In 1846, while camped in Iowa Territory, Peter Haws created a brass coin which became known as "Do Your Duty" Coin which was used by members of The Church of Jesus Christ throughout Pottawattamie County. According to the LDS Living.com article dated 8 August 2014, "He embossed one side with a beehive and the slogan "Do Your Duty." On the other side, he embossed hands clasped together with the motto "Union Is Strength.""
In 1848, after the Saints had settled in the Great Salt Lake Valley, President Brigham Young directed the Brethren to establish a mint for the production of gold coins. The production of the coins began in 1849. The LDS Living.com article describes the coins as follows:
Like all 1849 gold Mormon coins, the ten dollar denomination features an open eye and a crown surrounded by the words "Holiness to the Lord." The reverse side of the coin shows two hands clasped. "Pure Gold" and "Ten Dollars" is written around the hands.
Unfortunately, the life of the gold coins was short-lived because of their rejection in non-Mormon territories due to their substandard weight. Some banks did accept them at a 25 percent discount, but most were melted.
1842 Book of Mormon – Last Edition Published Under Direction of Joseph Smith
The 1842 edition of the Book of Mormon has become the scarcest of all copies of the Book of Mormon as it was the last edition that was published under the direction of the Prophet, Joseph Smith, in Nauvoo, Illinois. Joseph's father had passed away before the volume was complete, and so it is the only volume that credits him without the usual suffix of "Junior."

The Legacy of the Early Church
The Saints lived under constant persecution, and were often attacked and forced to flee for their lives to find solace in unexplored territories. Oftentimes they took flight with nothing more than the clothes on their backs, and their children at their side. Many valuable and meaningful journals and documents had to be left behind, and in time were completely lost or destroyed. With such precious losses, a part of their legacy was also lost. Nevertheless, they continued to press forward by faith. We can be thankful that with the discovery of rare artifacts from early Church history, a large part of that legacy can be reclaimed. We can also be thankful that in spite of the opposition, the work of the Lord continues to roll forth. The Prophet Joseph Smith declared:
The Standard of Truth has been erected; no unhallowed hand can stop the work from progressing; persecutions may rage, mobs may combine, armies may assemble, calumny may defame, but the truth of God will go forth boldly, nobly, and independent, till it has penetrated every continent, visited every clime, swept every country, and sounded in every ear, till the purposes of God shall be accomplished, and the Great Jehovah shall say the work is done.
by Shaun Heaton
It had been 60 years since any Jesse N. Smith's family member knew what had happened to the Book of Mormon that Joseph Smith fondly gave to his 7-year-old youngest cousin Jesse. It was a treasured family heirloom and a symbol of Grandpa Jesse's love for the restored Gospel. Had it been lost, stolen, or misplaced? Here is the incredible story.
In 1839, Grandpa had lost his father Silas Smith Sr., brother to Joseph Smith Sr., and his 6-year-old brother John, as a result of Missouri persecution. Joseph and Hyrum and Uncle John Smith took it upon themselves to take care of the tiny family of Mary Aiken, mother to young Silas Jr. and Jesse. In adult life, Silas Jr. is remembered for being called by Erastus Snow to lead the San Juan Saints to the San Juan as detailed in Gerald Lund's book Undaunted.
In his April 1905 General Conference address in the tabernacle, President Jesse N. Smith, first leader of the Snowflake Stake, shared this striking and humorous experience he had in Nauvoo. Read more
Mary Musselman Whitmer (August 27, 1778 – January 1856) was baptized into The Church of Jesus Christ of Latter-day Saints, inadvertently called the Mormon Church, on April 18, 1830, shortly after the Church was organized. However, her conversion to the truthfulness of the Church's doctrines and the divine work of Joseph Smith the Prophet occurred in 1829.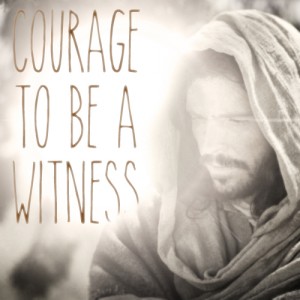 Mary became acquainted with Joseph Smith through introduction by her son David Whitmer. Joseph experienced strong persecution while translating the Book of Mormon, and the Whitmer family boarded Joseph, his wife Emma, and his scribe Oliver Cowdery.  Caring for the boarders as well as her large family became quite a burden for Mary. Read more
Excerpts taken from Susannah Washburn Bowles' biography of her mother Tamer Washburn (1805-1886). Tamer joined The Church of Jesus Christ of Latter-day Saints, often inadvertently called the "Mormon Church," in 1838 and continued faithful to the Church until the time of her death in 1886.
Tamer Washburn was a daughter of Jesse and Susannah Tompkins Washburn. She was born July 4th, 1805, at Mt Pleasant, Westchester County, New York. When she was 19 years old, Tamer married Abraham Washburn (whose grandfather was her father's brother) on March 16, 1824, at Mt. Pleasant, New York. In their early married life, they moved to Sing Sing, where Abraham went into the shoe-making and tanning business.
Mormon Missionaries
When Parley P. Pratt came to New York with the gospel message, Abraham Washburn was converted immediately; the message was so plain and beautiful that he believed everybody could readily be converted. Abraham took Brother Pratt home with him to explain the wonderful message to his wife. Brother Pratt told her that the Lord and His Son had visited, in person, the boy Joseph Smith, and later sent heavenly messengers who had restored the Priesthood, both Aaronic and Melchizedek, and that the Lord was giving the boy Prophet continued revelations, revealing the gospel of Jesus Christ in its fulness. He said that the Angel Moroni had delivered the history of the ancient inhabitants of this continent, written on gold plates, to the Prophet, and he had by the power of God, translated them, and that the book was now published and was called The Book of Mormon. Read more
Excerpts taken from Tamma Durfee Miner White's reflections of her father Edmond Durfee (1788-1845). Edmond joined The Church of Jesus Christ of Latter-day Saints, often inadvertently called the "Mormon Church," in 1831. He was shot by an angry anti-Mormon mob at the Isaac Morley settlement at Green Plains, Hancock, Illinois in 1845.
My father's name was Edmund Durfee, he was born in Rhode Island on the 3rd October 1788 of Dutch decent [SIC]. My mother's name was Magdalena "Lana" Pickle and she was born 6 June 1788. Her father and mother were from Holland. I was born 6 March 1813 in Lennox, Madison County, New York and lived there until I was about nine years old when we moved to Amboy, Oswego County. Father bought some land, built him a house, made a small farm, and worked at his trade that was mostly carpenter and millwright. We lived there until the first of June 1830, father bought more land. There were lots of maple trees. Then father wanted to go West so he sold his sugar bush and farm and started for the south of Ohio. We went through Camden Village to the canal, went on the canal to Buffalo, we went to Briggles (Ruggles) in Huron County. Read more
I, Mary Abagail White Savage, am the daughter of John Griggs White and Lucy Bailey who were born in Connecticut.
I was born in the State of New York, town of Parishville, Lawrence Co., March 30th, 1832. When I was about 12 years old my father moved to Ohio and settled at Fairport in Geauga Co., fifteen miles from Kirtland. My father said to mother one day, "They say the Smiths live at Kirtland and are Mormons." They had been acquainted with the Smiths before the Book of Mormon was found and lived neighbors to John and Silas Smith, Joseph Smith's uncles. Father said, "I'm going to see them and if honest John Smith tells me the Book of Mormon is true I will believe it for I don't believe he has ever told a lie in his life." Read more
On a June day in 2012, my husband and I pulled in to Palmyra, New York. I had wanted to go to the Sacred Grove for years, and I was excited about the opportunity that had finally come to visit it and many other historical sites of The Church of Jesus Christ of Latter-day Saints (which church is often misnamed the "Mormon Church"). It was pretty early in the morning that day, so we were lucky enough to have the place to ourselves for a little bit.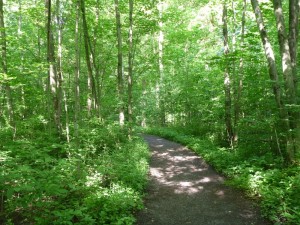 We walked by the Smith Family Home and back into the trees to take advantage of the fact that we were alone. As we quietly walked through the grove of beautiful trees, I thought to myself, "Heavenly Father and Jesus Christ appeared here!" Just that thought filled me with a sense of awe and reverence. I have been in holy places before, but this was a wonderful and unique experience.
I was born to parents who are both faithful members of The Church of Jesus Christ of Latter-day Saints and, I was raised in the teachings of the Church. I have heard the story of the First Vision all my life, but being in the place where it actually occurred strengthened my personal witness of its veracity. Read more
Translating the Book of Mormon into other languages commenced relatively soon after the first publication in 1830. As of April 2011, the Book of Mormon has been published in its entirety in 82 languages, with selections of the book available in an additional 25 languages. The first edition of the Book of Mormon after English was Danish in 1851, followed by French, Italian, Welsh, and German in 1852. [1] There was even a Deseret Alphabet version. As far as possible, the translators were to be members of The Church of Jesus Christ of Latter-day Saints, but as the Church expanded rapidly with missionaries entering new countries, it was necessary sometimes to employ translators from outside the Church. Such was the case in South Africa. Currently Afrikaans is the native tongue of about 13% of the population in South Africa. [2]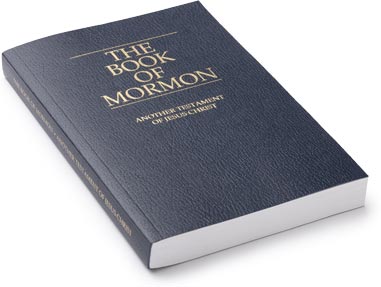 John M. Pontius was a missionary for The Church of Jesus Christ of Latter-day Saints in South Africa from 1971–73. He describes the yearning for Afrikaans-speakers for a translation of the Book of Mormon
I attended the special conference in Johannesburg on May 14, 1972 when the new translation of the Book of Mormon into Afrikaans (Die Boek van Mormon) was presented. It was an electric moment. People wept. Some had waited all of their lifetimes to read the Book of Mormon in Afrikaans. Many people had learned English for the sole purpose of reading this scripture. The Spirit was strong among us as we rejoiced. [3] Read more
By Terrie
Sidney Rigdon was an early leader of The Church of Jesus Christ of Latter-day Saints (often misnamed the "Mormon Church"). He was born in 1793 in Pennsylvania. When he was seventeen, his father died. His mother died when he was twenty-six, but the year prior to that, Sidney became a Baptist and left home to become a preacher. Six years later, in 1824, Sidney Rigdon, Alexander Campbell, and Walter Scott left the Baptist church over the issues of what happened to infants who died without baptism and began meeting together to discuss religion. They were known as Campbellites, although they called themselves Disciples. Sidney Rigdon continued his work as a preacher, but focused on faith, repentance, baptism, and the Holy Ghost, rather than promoting the doctrines of a specific religion.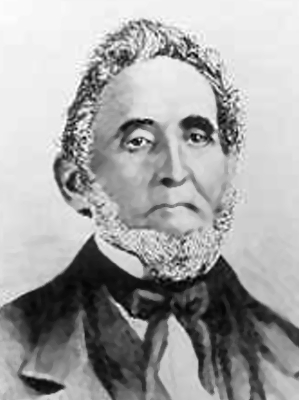 In 1830, The Church of Jesus Christ of Latter-day Saints was organized and its members were largely known as "Mormons." One Mormon leader, Parley P. Pratt, had known Rigdon previously, because Pratt had been a missionary for the Campbellites in the past. During a mission trip to the Native Americans, Pratt and his companions visited with Sidney Rigdon and received permission to give a sermon in Rigdon's church. The sermon had a strong impact on the preacher, and Rigdon and his wife began to pray to know whether or not the Mormons had the truth. They also began to study the new religion. Two weeks after the sermon, the Rigdons were baptized along with more than 100 members of Rigdon's congregation. The group was formed into a new Mormon congregation and Rigdon was quickly called to the ministry.
In December of that year, Sydney Rigdon was commanded by revelation to become a scribe for Joseph Smith, who had minimal education and used scribes while translating manuscripts. He worked with Joseph on a translation of the Bible that was never completed due to the assassination of Joseph Smith. Read more
By Doris
With the so-called "Mormon Moment" having taken center stage for such a length of time in the media, it's hard to imagine anyone left in the United States who has not heard of a Mormon. Yet, many people are still mixed up about what exactly a Mormon is. What is a Mormon?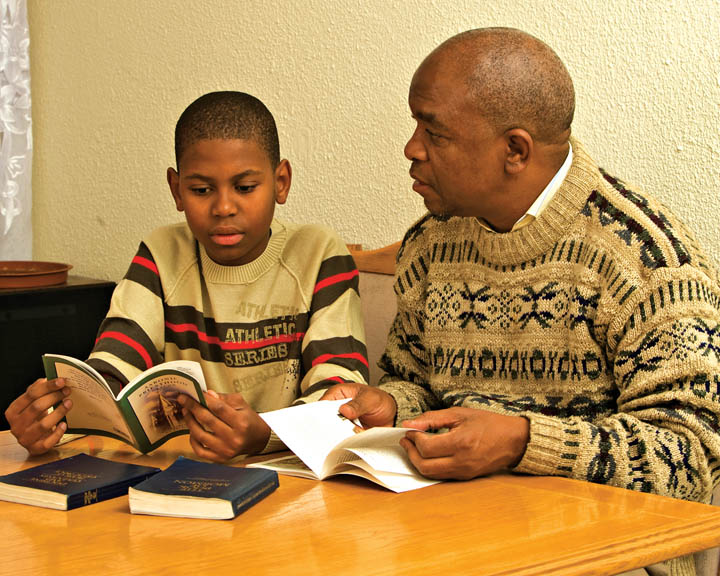 First off, "Mormons" do not refer to themselves as "Mormon." They are Latter-day Saints. They are members of The Church of Jesus Christ of Latter-day Saints. However, the media constantly confuses this name and misnames the church the "Mormon Church." This causes many people who are not familiar with the faith to think of Latter-day Saints as "Mormons." The confusion extends so far that some people actually think Mormons and Latter-day Saints are followers of two different religions. Read more