Mark L. McConkie, a professor at the University of Colorado, has recently published a book entitled Remembering Joseph: Personal Recollections of Those Who Knew the Prophet Joseph Smith. Below is an excerpt from this book, a recollection of Mary Adams, regarding a specific incidence of Joseph's kindness while he upheld his position of authority in the town over which he was mayor.
While he [Joseph Smith] was acting as mayor of the city, a colored man called Anthony was arrested for selling liquor on Sunday, contrary to law. He pleaded that the reason he had done so was that he might raise the money to purchase the freedom of a dear child held as a slave in a southern state. He had been able to purchase the liberty of himself and wife and now wished to bring his little child to their new home. Joseph said, "I am sorry, Anthony, but the law must be observed, and we will have to impose a fine."

The next day Brother Joseph presented Anthony with a fine horse, directing him to sell it, and use the money obtained for the purchase of the child.

Sister Adams says how well she remembers the feeling of sorrow that pervaded the city, when the two brothers were lying dead in the Mansion House. She with the rest of the children, were not permitted to go in the streets owing to the crowd of people who thronged the city, coming and going by steamboat and carriages, and all with grieving hearts for the departed loved ones.

Mary Frost Adams, "Joseph Smith, the Prophet," Young Woman's Journal 17, no. 12 (December 1906): 538.
Mary Adams was touched by this kindness from Joseph Smith. I am impressed by Joseph's ability to handle the situation so well. How his heart must have been broken at the thought of a man who had escaped the wicked bonds of slavery doing all in his power to bring his family back together. Yet, Joseph's position as mayor required him to exercise the law. Since Anthony had broken the law, Joseph could not ignore the fact, even though his motive was noble. While making sure Anthony answered for the law he had broken, Joseph reached out in love and mercy to offer this man the chance to reunite his family in freedom.
While slavery remains inexcusable, as does prejudice, the fact remains that at the time Joseph did this, African Americans were not generally looked on as equals to other races. I believe that Joseph recognized the equal value of all members of the human race, without regard to gender, religion, or ethnicity, but having that attitude during the time in which he lived is even more testament to the remarkably honest and righteous man he was.
This article was written by Doris White, a member of The Church of Jesus Christ of Latter-day Saints.
Additional Resources:
Joseph Smith: Prophet of the Restoration
The Book of Mormon (Another Testament of Jesus Christ)
The Lord Jesus Christ in Mormonism
Remembering Joseph: Personal Recollections of Those Who Knew the Prophet Joseph Smith, a new publication by Mark L. McConkie, shares several personal stories of people who had the opportunity to interact with Joseph Smith. Benjamin Brown shared his experience of receiving a healing blessing from Joseph Smith when Benjamin was very sick.
My family, with myself, was also taken sick, and I laid so for two or three weeks. I was so far gone that I was quite senseless, and all thought I was dying. Doubtless I should have died, but one day Joseph Smith was passing by my door, for I had managed to procure a house, and was called in, and, as I was afterwards informed, laid his hands upon me, and commanded me to rise and walk in the name of the Lord.

The first thing I knew was that I found myself walking on the floor, perfectly well, and within ten minutes afterwards I was out of the house visiting my daughter, whom I had not seen for nearly a month. I felt so full of joy and happiness, that I was greatly surprised that everyone else was not as full of praise as myself. This was the second time that I had been healed instantly by the power of God, through his servants.

This man, Joseph Smith, was the one that the world says was an impostor, and a false prophet, and either deny that he ever performed any miracle, or, if any are too well attested to be denied, attribute them to the power of the imagination over the body. Was it the power of imagination over the body, that cured me, when I did not even hear Joseph's voice, or know that any operation on my behalf was going on, until I found myself well? The honest in heart will judge righteously.

(Benjamin Brown, Testimonies for the Truth: A Record of Manifestations of the Power of God, Miraculous and Providential, Witnessed in the Travels and Experience of Benjamin Brown, High Priest in The Church of Jesus Christ of Latter-day Saints, Pastor of the London, Reading, Kent, and Essex Conferences [Liverpool: S.W. Richards, 1853], 12.)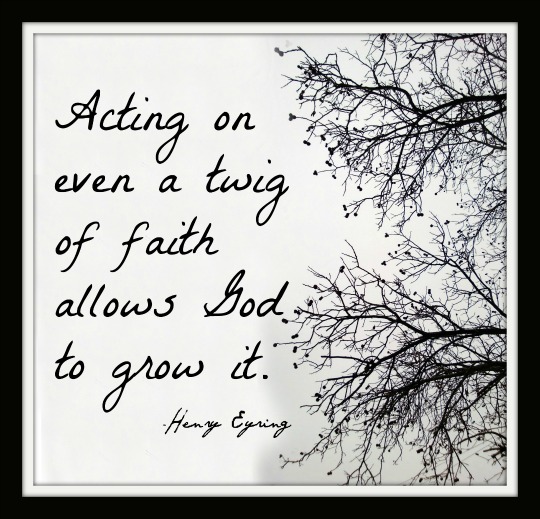 Most, if not all, members of The Church of Jesus Christ of Latter-day Saints (which church is frequently misnamed the "Mormon Church") have experienced, either directly or indirectly, the healing power of a priesthood blessing by one who has authority. Benjamin Brown's experience is certainly not unique, but that does not make it any less miraculous.
Joseph Smith was a prophet called of God in our day to restore ancient truths and ordinances which had been lost from the earth. Healing blessings through the power of the priesthood was one such restored gift of the Spirit, and Joseph Smith is not the only person to have administered to the sick, as Benjamin himself implies when referencing another time he had been healed by the power of the priesthood.
What a comfort it is to know that the priesthood power of God has been restored to the earth and that all worthy male members of the restored church can hold and exercise this power through their obedience and faithfulness.
This article was written by Doris White, a member of The Church of Jesus Christ of Latter-day Saints.
Additional Resources:
Joseph Smith: Prophet of the Restoration
A recent The Pew Research Center's Forum on Religion and Public Life conducted an in-depth survey of Mormons in the United States. Mormon is a nickname sometimes used to describe members of The Church of Jesus Christ of Latter-day Saints. The fourth article in a series that appears in Deseret News is evaluating the results of this survey and providing context for the results.
Immigration is a controversial topic in the United States. The survey asked one question on this topic. They were asked which of two statements most closely matched their view, even if they didn't completely agree. They were asked whether immigrants strengthen or burden the nation. No distinction was made between legal and illegal immigration, leaving those polled to decide for themselves what the question meant.
In the general U.S. population, 45 percent of Americans feel that immigrants strengthen the country, while 44 percent burden it. 12 percent feel that neither or both are true or they have no opinion on the subject. Mormon views closely mirror these statistics. 45 percent of Mormons also believe immigrants strengthen the nation, although a smaller number, 41 percent, consider them a burden on society. The number of Mormons who accept both or neither or who have no opinion is higher, at 14 percent.
These numbers put them at odds with evangelical Christians, one of the few political areas in which they disagree. Within the white evangelical population, 59 percent believe immigrants are a burden, and 27 percent believe they strengthen the country. Like Mormons, 14 percent answered both, neither, or no opinion.
The statistics for Mormons shows a strong divide based on age, income, and education, as well as on religious commitment. Only 36 percent of highly committed Mormons see immigrants as a burden, while 50 percent of those who are less committed see them as a burden. This largely correlates with economic status. 84 percent of Mormons who are highly committed to their religion are college graduates. (The church strongly encourages education, which may be a factor in this.) Only 50 percent of those with high school educations are strongly committed to their faith. This statistic is very unusual in the religious world. For most religions, the least educated are the most religious.
49 percent of Mormons under age 50 see immigrants as a strength. 39 percent of Mormons over 50 see it as a strength.
Beyond the study's statistics, several other factors influence the Mormon view of immigration. Many Mormons serve missions for their church. For two years, they live wherever they are sent, learning the language and living as the people in that community live. They go into the homes, attend the churches, and do service work in addition to their missionary work. Many of those serve in Spanish countries and have a realistic view of the hardships faced by those people. They come home with a compassionate view of the world and an understanding that Americans have much easier lives than most. The love missionaries almost invariably develop for the people they served influences their views on immigration.
Finally, the church has taken very specific stands on the subject of illegal immigration in recent years. Mormons believe God has sent a prophet to lead His church, just as He has always done in ancient times, and so, Mormons are asked to sustain the prophet as the leader of the Church. Official statements from the prophet or the Church are considered to be from God.
The Church officially endorsed the basic principles of the Utah Compact, a law working to create a balanced legal approach to immigration. In November, 2011, L. Whitney Clayton gave an official statement from the church in honor of the first anniversary of the bill. The statement said in part:
The Utah Compact is consistent with three principles we believe should be carefully balanced when considering immigration:

We follow Jesus Christ by loving our neighbors. The meaning of neighbor

includes all of God's children, in all places and in all times.

We recognize an ever-present need to strengthen families. Families are meant to be together. Forced separation of working parents from their children weakens families and damages society.

We acknowledge that every nation has the right to enforce its laws and secure its borders.

We continue to encourage lawmakers everywhere to consider laws that properly balance love of neighbors and the importance of keeping families together, within the framework of just and enforceable laws." (See Utah Compact One-Year Anniversary Marked by Utah Community Leaders.)
The official Mormon position is to encourage its members to stay in their homelands or to immigrate legally, but once they are here, however they came, they are to be treated with love, dignity, and respect, and laws should not separate families.
For a more in-depth look at the issue of Mormons and immigration, read the Deseret News article: Mormons' immigration attitudes set them apart, by Eric Schulzke, Deseret News, published: Saturday, Jan. 14, 2012 8:12 p.m. MST.
SMITHFIELD — After dinner, three baths, four bedtime stories and a half-a-dozen goodnight kisses for 2-year-old twins Brock and Isaac and 6-year-old Ellie, Erin and Brian Thompson finally sink into the couch with weary smiles.
Being parents is just what they always wanted. And they love it.
"Of course we have our crazy moments," Thompson says, "but for the most part we just try to find the good things in the day and remember that they're only going to be little for so long."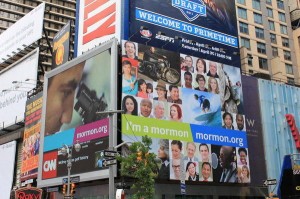 As members of The Church of Jesus Christ of Latter-day Saints, the Thompsons believe that maintaining a strong marriage and raising and teaching children are essential keys to happiness and their most important responsibilities on earth.
In fact, 81 percent of Mormons say being a good parent is "one of the most important things in life," according to a new survey by the Pew Research Center's Forum on Religion & Public Life — the first survey of Mormons about Mormons, by a non-LDS research organization. Read more
By Terrie.
I recently had an opportunity to visit the Kirtland Temple in Kirtland, Ohio. This was the first temple built by The Church of Jesus Christ of Latter-day Saints, whose members are often called Mormons.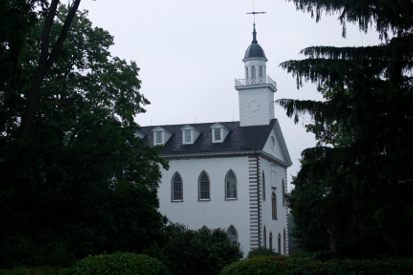 This temple was built for a somewhat different purpose than modern Mormon temples. It was a place where heavenly beings could come to restore important parts of the gospel that were lost during the apostasy which followed the death of Jesus and His apostles. It was also a place where Mormons, even children, could come to receive an education in both secular and spiritual matters. Many of the early Mormons were uneducated and many were immigrants. The academic classes were not just for children; adults were free to attend them as well, allowing them to make up for a lifetime of poverty or lack of education.
Joseph Smith, the first prophet and president of the restored Mormon Church, took classes there himself. He had only three years of formal education, supplemented by a little education at home from his father, and worked hard all his adult life to make up for that lack of education. One class Joseph attended was a popular course in Hebrew, taught by a leading Jewish instructor named Joshua Seixas. The instructor said Joseph Smith worked harder than any other student and at the end of the course, he received not only a certificate of completion, but a certificate authorizing him to teach Hebrew. It was through this Hebrew class that Lorenzo Snow, a future Mormon prophet, would become interested in joining the Church. His sister, a Mormon, invited him to attend it, giving him an opportunity to meet Joseph Smith and other leaders.
Today's temples are not open to the public and are used to carry out sacred ordinances, such as marriage and baptism for the dead. Baptism for the dead is an ordinance done vicariously through a living person in the name of someone who died without receiving the ordinances necessary for salvation. For instance, the Bible says we must be baptized in order to enter the kingdom of Heaven, but many people die never having been baptized or without even knowing they needed to be baptized. A loving and fair God does not punish people for things beyond their control and so he has created a way for them to receive the ordinance. This baptism does not automatically make the person a Mormon—each person will be given the opportunity to accept or reject the ordinance, just as he would have during his lifetime if he'd had the opportunity.
The Kirtland temple is now owned by the Community of Christ, not The Church of Jesus Christ of Latter-day Saints. This group organized after the death of Joseph Smith as a splinter group from the main body of the Church. The apostles were to become the governing body at the death of a prophet, with the senior apostle becoming the new prophet. However, a number of groups organized around people who wanted a different plan. The Community of Christ, which was initially called the Reorganized Church of Jesus Christ of Latter-day Saints, wanted the role of prophet to be handed from father to oldest son. However, Joseph's oldest son was only eleven when Joseph was murdered by a lawless mob, and so the three men who proposed this plan intended to operate their church through a proxy group until he was old enough to do it himself. Joseph Smith III was initially unwilling to take on leadership, but eventually agreed to do so when he was an adult.
The Community of Christ has opened the temple to tours and, naturally, many of their visitors are Mormons. Our guide was very knowledgeable about Mormon history and, upon figuring out we were Mormons, he gave scripture references from the Doctrine and Covenants using our numbering system rather than the numbes from his church's version. Both groups use this book of modern revelations, but they have removed some sections, and, of course, some occurred after they left the main body of the Church, so their book is not identical to ours.
I had some familiarity with this religion, so the night before the visit I first read the history of the temple and of Kirtland's Mormon period on my own church's website. Then I went to the Community of Christ website and to their temple website to read about it from their perspective. There were some differences, naturally, because history is not just facts and figures, but is also a narrative. Those who tell the story of history will tell the narrative based on their own values and ongoing storyline. For instance, the way I tell my life story is probably different than the way my mother would tell it, since she was seeing it from a mother's perspective, not mine. The Civil War narrative will be told differently by a Southerner than by a Northerner and differently still by a soldier who was there than by a civilian who lived outside the war zones. In each case, the version might be accurate, even though it is different.
As both a Mormon and a history buff, I felt it important to understand the narrative in terms of the larger picture of my faith, but since my guide would be from the Community of Christ, I also wanted to understand it in the larger picture of his faith. It helped me to understand the ways our churches have moved in very different directions since parting ways. They have become largely an evangelical church while we have continued in the restorationist pattern. The guide put disclaimers before some historical accounts of miracles, saying there was no proof of whether or not they happened other than the personal accounts of witnesses, whereas we tend to accept these miraculous events without question.
Our guide was very kind and when I asked a few questions about his religion—with the sole intent of learning, not converting or debating—he answered them with the same spirit in which they were asked. I enjoyed learning more about his faith, as well as my own. It was fascinating to see our shared history through a new lens and I enjoyed the testimony we shared of Joseph Smith and many of the events our people shared, having been one unified people in those days. Today, the two churches have a good relationship, since each has some of the historical sites and documents of our shared history. We work together to preserve and study early Mormon history.
As I toured the temple and learned of the many sacrifices that went into building it and the miracles that occurred at the dedication, I could feel the Spirit testifying of the sacredness of the temple space. The current owners treat it with a great deal of loving respect for its sacredness and have done a lovely job of restoring it and protecting it.
The first time I heard of the Mormons was in 1923.  I was then studying with a friend of mine and was reading a book about western traveling.  In this book was a short account, perhaps a page or two telling about the Mormons.  I asked this friend of mine what kind of people are they?  He said he had a brother that had been in Salt Lake City and has seen this temple and that an old man which was very friendly had showed it to him.  This friend of mine further stated that they believed like the Israelites of old in giving tithes etc., and that they had a book that they had found buried on the Atlantic Coast, where some Israelites that had visited this country long ago had buried it.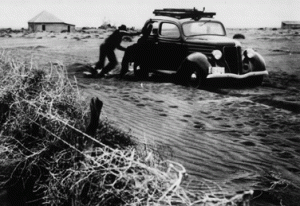 I soon forgot all about the whole thing.  The next time, I heard about the Mormons as I remember it was while reading Mark-Twain's book, "Roughing It".  This was about 1930.  Up to this time I had been very little interested in religion.  Although I had been brought up in a home where I had been taught to pray and believe in a God.  But, in the years just before 1930 I had been almost an atheist at times.
I started farming in 1923 and was batching it alone most of the time.  In the winter of 1931 I read some books that made me very much interested in religion, in fact, by the end of that year I was firmly convinced of the Divinity of Christ and had experienced a true repentance.  But it seemed the more I studied the Bible and the more I listened to the different ministers the more confused I would get.  I could not accept the teachings of any church, for they seemed not to teach according to the Bible.
One day I met a Lutheran Minister at one of my neighbors.  We discussed religion for about 12 hours.  This was the first time I had ever really talked to a minister. I especially tackled him upon the subject of baptism, as it seemed to me the Bible taught baptism by immersion, plain enough for any one to understand.  He offered, at length to take me out and dip me in the farmer's water tank, but by now, I had lost all confidence in him, as I had from childhood had the opinion that a minister was a wise person that could answer most any question regarding religion and I had found him, it seemed to me, very ignorant.  From that day the reverence I had had for ministers left me.
During the year 1930 and 1931 I studied religion very extensively and yet I had not found a church that seemed to teach according to the Bible.
In the spring of 1932 the idea came to me that perhaps if I studied the heathen religions perhaps I would find something that would be better than the teachings of some of the religions I had studied.  So with this in mind I went to the free library in Gettysburg, S.D. sometime in March 1932 and asked for the Koran.  The librarian told me they did not have the book but she would send to the state library and get it.  As I was about to leave the librarian said, "We still have a religious book you have not read, 'The Book of Mormon!  A man here in town tried to read it, he found it so dull he went to sleep but perhaps you would like it".  I said  "I have heard about the Mormons but their religion is of little importance I want to study the leading heathen religions first."
As I was leaving the building the thought came to me that if I was to study all the heathen religions (I considered the Mormon a heathen religion) I would have to study Mormonism sooner or later, why not study it now while waiting for the Koran?  So, with this in mind I returned and told the librarian I wanted The Book of Mormon.  She told me I ought to read a book by the name of "Brigham Young" first, then it would be easier for me to understand "The Book of Mormon".  So I told her to give me both.
As I read the book "Brigham Young", it seemed to me the writer had the intention of speaking as much evil of the person as he could.  Many places I found where the writer contradicted previous made statements in the book.  This made me lose confidence in the truthfulness of his writings.
Having finished the book I started on the "Book of Mormon", and naturally I felt I had started to read a book of fiction.  I had not read many pages before I discovered I had found a most remarkable book and the tears started to run down my cheeks and the most sweet spirit seemed to be present.  I may here mention that it was customary with me as I worked around the place that perhaps several times a day if the work was not rushing, I would run in the house and read for a while.  If I read fiction, I did not bother to take my cap off, but if I read the Bible, I would remove my cap, as I considered it a sacred book.  I had my cap on as I started to read the "Book of Mormon", but before long I felt a man ought to read such a book with a bare head.
As I remember it I read the book in about three days and it seemed to have the sweetest spirit with it and as far as I could see the book could be true, but yet I had the feeling that by and by I would see where the book would contradict itself.  I thought the book so remarkable so I took it to a religious neighbor of mine and told him to read the book, but that I would have to return it to the library in three days.  I felt my neighbor would be very enthusiastic about the book, but when I returned in three days, I found him scoffing at the book, saying it was all made up with a lot of names borrowed from the Bible.  I returned the books to the library and all summer I often thought of the book and yet I could see nowhere the book contradicted itself nor the Bible.
That year (1932) my brother was working for me and one Saturday evening in the fall as he was preparing to go to Gettysburg, I told him to go up to the library and tell the librarian I wanted the Book of Mormon.  The next morning being Sunday morning, as I got up I saw the book lying on the kitchen table.  I started to read as soon as I had my stock fed and that night before I went to bed I had read the Book of Mormon through.  I was more impressed with the book than ever.  I read the book through once more before I returned it to the library in two weeks and by then I knew that it was true.
As I returned the book I told the librarian to write to the state library and tell them to send all the books they had on Mormonism.  The answer came back that they had no such books but they sent the address of the Deseret Bookstore in Salt Lake City and told me I could get some books there.  Consequently I wrote to the bookstore and told them to send me a price list on all the books that Joseph Smith wrote.  The answer came that Joseph Smith wrote no book only a pamphlet entitled "My Own Story" I could have for 10 cents.  They also sent me a book catalog on L. D. S. literature.  I immediately ordered a Book of Mormon and a book by the title of Latter-Day Revelation also Pearl of Great Price.  The books impressed me very much.  I could not see how books like the Book of Mormon and Pearl of Great Price could exist without everyone talking about them.
In about two weeks I ordered "The Articles of Faith" by Talmage and the "Falling Away" by Roberts.  Up to this time I had been of the opinion that there was not a church upon the earth that did teach according to the Bible but after reading the "Articles of Faith" I felt that perhaps the Mormons did.
In the following months I sent for many L. D. S. Books and as I see it now I am sure I was inspired of the Lord to order the books I did.  Naturally after I had read some books I had numberless questions I would like to have had answered.  I must say that the Spirit of the Lord revealed many things to me which I in later study found substantiated by the authorities of the church.
By 1933 I had a testimony, yes I may say a burning testimony of the restored gospel and I taught it to my friends.  In July 1934 while reading the Argus-Leader I saw a notice in the paper that the new mission president would be in Sioux Falls and that a meeting would be held there, from where he would reside.  There was also a picture of the new mission president (I believe his name was Wilford Richard) the picture showed him wearing glasses and the thought came to me why does he not have some elders administer to him that his eye sight may be corrected.
I immediately wrote to the address where the meeting would be held stating I would like to be baptized.  The letter came back in a few days stating that there was no one living there.
The year 1934 was a crop failure and in September I hired a man to take care of my cattle for the winter and started out in my car alone for Salt Lake City to be baptized and stay there for the winter.  On the third day I arrived in Coleville, Utah, just inside the state line and as it was getting dark, I decided to stay there for the night and drive into Salt Lake the next morning.  Being I was in Utah, the thought naturally came to me that there ought to be some Mormons there, for up to this time I had knowingly never seen a Mormon.  So I went into a restaurant and ordered my supper and watched the people closely to see if I could pick out one that wall a Mormon.  I may say I felt I wanted to see a Mormon rather badly for in my heart there was a great love for the Saints.
After having eaten my supper I was still in a doubt if there had been a Mormon in there (in later years I have been informed that the populous in Coleville are nearly all Mormons) I went to a hotel to get me a room for the night and I felt that the manager there perhaps was a Mormon as he spoke very kindly to me, however I could not get up courage to ask him as I felt it would be a bad insult to him in case he was not.  But I was determined to see a Mormon before I went to bed that night as I drove up to a filling station to have my car filled up.  After getting my gas I sat down to talk to the man as there was no one else there.  After awhile he asked me where I was going, I said to see Salt Lake City.  I asked if he had ever been there.  He answered good many a time.  I said from what I have heard there are mostly Mormons, I have never seen a Mormon.  He said I am a Mormon.  I was rather surprised and I told him that I was going there to join the Mormon Church.  He said, that's fine.  Then I started to ask him a lot of questions and I found to my disappointment he knew very little of the doctrine.  He said he had been ordained to a deacon years ago but hardly ever goes to church, but said he had a brother who was always studying the gospel.  He did not care to discuss Mormonism but invited me back in the fall and we would go deer hunting.  As I remember it he smoked a cigarette and I told him I thought the Mormons was not supposed to smoke, I had myself quit smoking while studying the gospel.
The next morning I drove in to Salt Lake City and the first thing I knew I was driving north on the west side of the temple block so I parked my car there and walked in through the West Gate (I had seen pictures of temple block in the books I had read) and this being Saturday they were baptizing in the baptistery under the tabernacle.  The first man I met was the door watch and he told me I could not come in there as they were baptizing. (The man later became a dear friend of mine. ) I told him I had come there to ask to join the Mormon Church.  He told me to go up and see the guide that was talking to a group of tourists in front of the museum.  I had a hard time to keep my emotions under control.  I was so happy to be there and the most wonderful spirit rested over me.
I followed the group of tourists until they were dismissed inside of the Bureau of Information then I stepped up to the guide and told him I wanted to join the Church.
He looked at me rather surprised and after talking to me for about half a minute he told me to go with him to see Brother Perry the Temple Block Mission President.  So I was introduced to him where I immediately stated my desires.  He looked at me rather sharply and said, where did you contact our missionaries?  I said I had never contacted one in fact I have never seen a Mormon until last night.  He said, What do you know about us and our doctrine?  I said ' I know it is the true church.  He said, How do you know?  I said, Through the books I have read, Then followed the questions.  Have you read that book?  That book?, etc.  I mentioned about 25 books I had read and I could see that he looked at the guide and marveled, He asked, do you know that you are supposed to pay tithes?  I said yes.  Then he called in several guides and I told them how I was converted while they asked questions.  I was under the impression that it was an every day happening that people came there and asked for baptism, However, I know different now.
After awhile Brother Perry said I could be baptized any time but being it was Saturday he asked it I would wait until Monday.  Then he took the guide I had contacted and said, Brother Christensen it will be your duty to find Brother Sandberg a good hotel and take him to one of the chapels in the morning.  I spent a delightful day on temple block listening to the guides explaining the Gospel to the tourists but under a great emotional stress, being so happy.  My guide took me to the twentieth ward chapel Sunday morning and being it was to be conference next week they had put the fast Sunday one week ahead so it was fast meeting I first attended and there I bore my testimony of the gospel in front of the whole congregation after which my guide told of my conversion, and how I rejoiced to hear the Saints bear their testimonies.  I knew then why I had a great love for the Saints in my heart.  I was at last among real brothers and sisters.  After the meeting it seemed that most everybody came and shook hands with me.
I was baptized the next Monday being the first of October 1934 and my guide asked if he could baptize me before a group of tourists and I said it would be all right with me.  The baptistery was almost full of tourists when I was baptized and after I came out of the water standing by the edge of the font I bore my testimony of the Gospel before the group of tourists.  President Perry told me to come back the next day and they would confirm me.
That night was one of the most miserable nights I spent in my life.  It seemed something told me to leave Salt Lake City immediately for if I did not have hands laid for the Holy Ghost I could not sin against the Holy Ghost.  As I remember it I did not sleep any all night and I suffered some awful mental agony being continuously urged to leave the city.  The next morning I went to the Bureau of Information on Temple Block and told President Perry how I had suffered all night and told him if he wanted to confirm me he better do it right away for I was not going to spend another night like it and may leave any time.  He listened to me very attentively and said, Why Brother Sandberg you have been tempted by the evil one all night.  I was confirmed that very hour and have never since been in that mental agony.  May be mentioned that during that night it never came to my mind once that I was tempted by an unclean spirit.
I stayed in Salt Lake City until the 14th of February next spring.  Working a few days in a packing plant but spent by far most of my time on temple block visiting with the guides and tourists and attending church Sundays.  Also attended night school.  I was ordained an Elder before I left Salt Lake City in the spring and needless to say I had gained a better understanding of the gospel and the Mormon People.
It may come as a surprise even to those who are members of The Church of Jesus Christ of Latter-day Saints (commonly referred to as the Mormon Church) that until the last few decades, very few of Joseph and Emma Smith's direct descendants were members of the now-worldwide church which Joseph was instrumental in founding. In the following account, one of their great-great granddaughters shares her experience of learning of the restored gospel and gaining her own testimony that the Book of Mormon is true and that her ancestor Joseph Smith was a prophet called of God to perform a great work on the earth in the latter days.
On 17 March 2011, I [Gracia Normandeau Jones] will celebrate the fifty-fifth anniversary of my baptism into The Church of Jesus Christ of Latter-day Saints. My grandmother, Coral, was a granddaughter of Joseph and Emma Hale Smith; her father, Alexander Hale Smith, was their third surviving son. Many people ask how it is I am a convert when I am a great-great granddaughter of the Prophet Joseph Smith. It was several years after my conversion before I finally pieced together the family history and learned the reason my family had never spoken of Joseph Smith.

In the terrifying aftermath of the martyrdom of Joseph Smith, and his elder brother, Hyrum, at Carthage, Illinois, in 1844, my great-great-grandmother, Emma, was left widowed, with four minor children: adopted daughter, Julia, 12; and sons, Joseph III, 11 ½, Frederick, 8, Alexander Hale, 6, and David Hyrum born 4 ½ months later. Amid great distress, Emma chose not go west when the LDS Church was forced to leave Illinois in 1846. Except for a brief time when she fled to safety during the mob hostilities from September 1846 to January 1847, she brought up her children in Nauvoo. With the LDS Church gone from Nauvoo, and the neighbourhood hostile toward anyone who professed belief in it, the Smith children missed being raised in the LDS faith.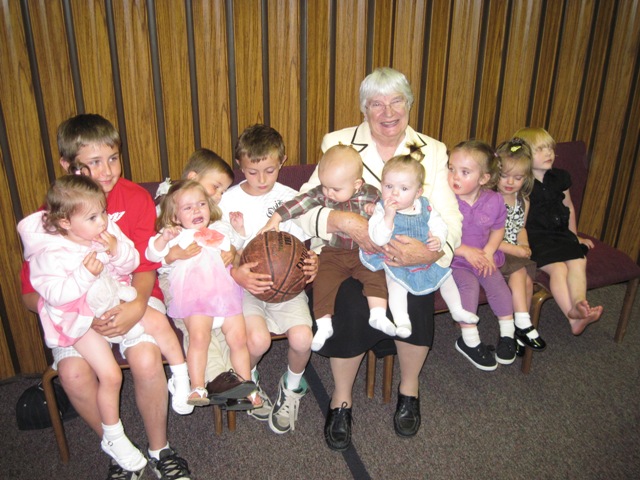 In 1860, Joseph Smith III was recruited by a group calling themeselves the Reorganization. This group developed into The Reorganized Church of Jesus Christ of Latter-day Saints (RLDS). When Joseph Smith III made the decision to join this group, his family was confused about what actions they should take. Some joined, some did not. Family members lived in Iowa, Missouri, and Illinois until the mid-1920s, when conflicts about both leadership of the RLDS Church and money scattered them all across the country. In 1932, after having been forced from several farms during the Great Depression, Gracia's grandparents moved to Montana. Here Gracia's mother, Lorena, married and raised her own children.
I had a mixed religious experience since my father's family was Catholic and my mother, notwithstanding she was a great granddaughter of Joseph Smith, was Protestant, though she had never been baptized. Her mother was never able to live near an RLDS Church. Therefore, she sometimes served as organist in the Methodist Church and even taught Sunday school. She did not talk about her family's past; she never discussed the story of the restoration with her children other than to tell them her grandfather had seen an angel. I never, as a child, heard my grandmother speak the name of Joseph Smith, though she did one time speak of "the martyrs." I didn't understand what she was referring to, and nobody explained. . .

Years later, after our family had moved east of the Rocky Mountains, to Conrad, Montana. That fall I was about to enter into my senior year of high school. It was kind of tough trying to fit into a new town and begin in a new school. One thing I needed was to earn money, so I found a job babysitting for a family named Lederer. Dee Lederer had two youngsters and needed help. I fell in love with the children and eagerly began working after school and on weekends to assist this woman whose husband was away. It was an ideal situation, as we got along very well from the start. Soon after I began working for her, my mother took me aside and said, "Don't you tell HER you are related to Joseph Smith; she'll think you should be a Mormon."

Having never heard the word "Mormon," I couldn't imagine what she meant. My mother's attitude and tone of voice seemed to forbid my asking any questions. I thought it was really strange.

I was curious, but I didn't dare ask. It was not too long before my curiosity about "Joseph Smith" would be satisfied.

One day my employer told me a really fantastic story about a man named Joseph Smith, whom she said, was "a prophet." I didn't understand. In my mind, the word sounded like "profit." I thought "profit" was the difference between what you bought something for and what you could sell it for. She soon explained to me that Joseph Smith was a prophet of God, like Abraham, Isaac, and Jacob, in the Bible. I had heard those Bible stories, but I had no real concept of what a "prophet" was. It seemed like myth, but she made it sound very special. It only took a little discussion to realize that the Joseph Smith she was talking about was my great-great grandfather, who my mother said not to talk about. I was intrigued and curious. Soon I found myself telling her that my great-great grandfather was Joseph Smith. Her reaction was surprise and delight.

A few days later she called me in the morning to ask, "Can you come over after school? The missionaries want to give you a gift. . . "

When I walked into the kitchen that day, Dee Lederer introduced me to Elder Waldron and Elder Richins. In a few moments, one of them held out a little black book to me, and he said, "This is The Book of Mormon. It was translated by the gift and power of God, by your great-great grandfather, and it is true."

As I took the book into my hands, I was swept over with a very intense feeling, almost like an electric shock, or vibration. In my mind echoed the words, "It's true! It's REALLY TRUE!"
Gracia got permission from her parents to continuing listening to the missionaries, but they were both opposed to her getting baptized. Her mother actually did not know hardly anything about the history of the Church and Joseph Smith, but she remembered how upset her mother would get every time the subject was brought up, so she had serious reservations about Gracia joining the church. Gracia's father simply felt she was too young to make such an important decision. As she waited for her eighteenth birthday, Gracia continued studying the Bible and the Book of Mormon and her testimony grew. Shortly after her birthday in 1956, she was baptized 65 miles from her branch. No one she knew was able to attend her baptism, and no one at the baptism knew of her heritage. Gracia was only the third descendant of Joseph and Emma to be baptized, and she was the first to remain active and to receive her temple ordinances. Largely through her example and influence, now more than one hundred of Joseph and Emma's descendants have been baptized, including Gracia's mother, Lorena, who was baptized in 1979 and was the first of Joseph's descendants to serve a full-time mission for the Mormon Church.
Now that I am engaged in the work of gathering the scattered posterity of the Prophet Joseph Smith and his wife Emma, I realize that I have the talent to simply love them. I know that some have heavy burdens of family prejudice which may never be lifted in this mortal life. I know that others are committed to the creeds and faiths in which they have found spiritual and social comfort or solace—they may never be "converted." Let them worship who, what, when or how they may, I love them, and I wish to dispel the prejudice that binds the minds and hearts of so many.

My ongoing passion is to find each descendant, to bond with them as kin, through family reunions, or perhaps just through one-on-one visits, in person, or on the phone. I want to teach them to know and respect their ancestor, Joseph Smith, and his wife Emma. In this labor I am greatly blessed to have my wonderful husband, Ivor Jones, to share the burdens and the joys of our endless travels in search of the dear ones we have yet to find. Our dearest wish is that every descendant of Joseph and Emma could somehow come to know that Joseph Smith was a true prophet of God and that The Book of Mormon is really, really, true.
Gracia's testimony of Emma Smith
Kanesville, Iowa, was a settlement built in 1847 as the first group of Saints continued West to the Salt Lake Valley from Winter Quarters, Nebraska. Located just across the Missouri river from Winter Quarters, Kanesville was named in honor of Thomas L. Kane. The Saints continued to gather to Kanesville out of Nauvoo, Illinois, while Brigham Young led the first group of Saints to the Salt Lake Valley.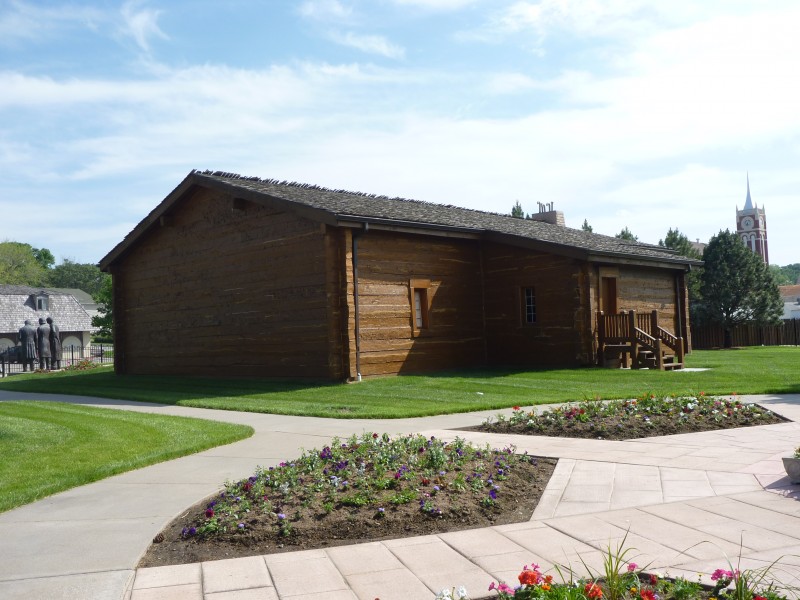 After the first group of Saints had managed to make it to the Salt Lake Valley on July 24, 1847, Brigham Young returned to the Kanesville area with most of the other members of the Quorum of the Twelve Apostles on October 31, 1847. After much discussion, the members of the Quorum were inspired to reorganize the First Presidency and the Quorum of the Twelve. Brigham Young was set apart as the new president and prophet of The Church of Jesus Christ of Latter-day Saints.
Since the Martyrdom of the Prophet Joseph Smith and his brother Hyrum, three years earlier, the Church had been successfully led by the Quorum of the Twelve Apostleswith no prophet at the head. They were able to accomplish a great deal by continuing to work together. They had completed the Nauvoo Temple before leaving Illinois, which meant that many Saints were able to receive their temple blessings before heading West. They had also led the evacuation of Nauvoo and had directed the building of the settlements in Iowa and Nebraska before finally settling in the Salt Lake Valley. Missionary work had successfully continued in Great Britain. However, the time had come for a prophet to again lead the Church, and when the Lord directed that the time was right, a new First Presidency was sustained with Brigham Young as the prophet and he called Heber C. Kimball and Willard Richards as his two counselors. More men were called to fill the vacancies left in the Quorum of the Twelve.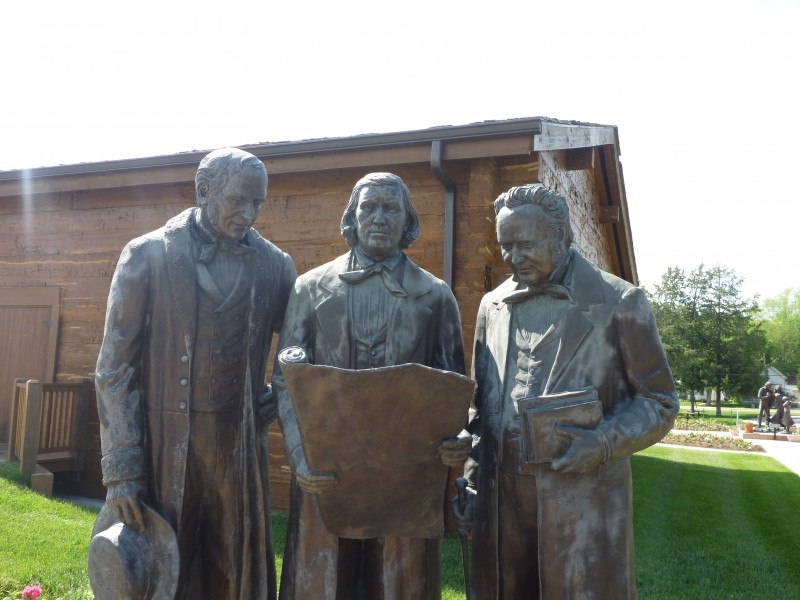 An official Church gathering was planned to have the members of the Church sustain their new leaders on December 27, 1847. A tabernacle was built in less than three weeks in Kanesville for this purpose. Henry W. Miller directed 200 men in the construction of the 60′ x 40′ building. It was built to accommodate about 1,000 people and was later used for many public functions. However, the sustaining of the new prophet was the most important event to take place there and was an extremely significant one in the history of the Mormon Church.
The original Kanesville Tabernacle stood for only two years. It was made of Green Cottonwood, which shrinks when it dries. The shrinking caused the roof to actually separate from the walls of the building by about fourteen inches. In addition, when the tabernacle was built, the ground was frozen. However, when spring came and the ground thawed, it was discovered that the tabernacle had been built on top of a spring. The building rapidly deteriorated and was eventually dismantled. A replica was built in 1996 very close to the original site (though not on top of the spring). Those in charge of the replication wanted the building to be as accurate as possible, so they even built it out of Green Cottonwood. Accounting for the shrinkage of the wood, they put in a jack system to lower the roof onto the walls after the wood had dried. The Kanesville Tabernacle stands as a reminder of the importance of recognizing the prophet and leader of the Lord's church on the earth today.
After the Saints built up a thriving community in Nauvoo, Illinois, they were surrounded by angry mobs wishing to drive them out. The Martyrdom of the Prophet Joseph Smith and his brother Hyrum Smith, though not unexpected, was a turning point for the Saints, and they knew they would have to leave Illinois. Church leaders had already been discussing moving west to the area of the Rocky Mountains and had been talking to explorers and studying what maps were available at the time.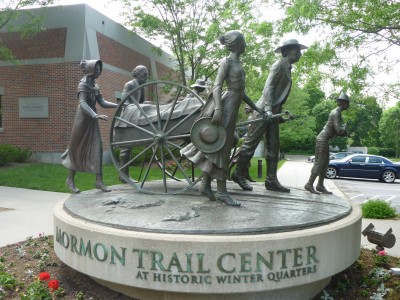 As persecution increased, the Saints realized they would have to leave Nauvoo even earlier than originally planned. Instead of leaving in April of 1846, an emergency meeting was held by Church leaders and they decided to leave immediately. The exodus of the Saints west began on February 4, 1846. Those who left early had been able to make the most preparations for their journey, though most things were still unknown. Though safety from persecution was the deciding factor in such a quick evacuation, the desire to go ahead and prepare for the rest of the Saints who would follow was also a factor for the first group to leave.
It was the middle of winter and very cold. One of the first boats to carry people over the Mississippi river was sunk when an ox kicked a hole in it. Two weeks after the first Saints crossed, a miracle occurred. The Mississippi river froze over solid, allowing the Saints to cross with their wagons without the peril of boats. The cold snap brought the blessing of the frozen river, but it was also very hard on the Saints, most of whom were not prepared for the harsh conditions, which awaited them in the Sugar Creek encampment where those who had crossed the river gathered before continuing on their journey.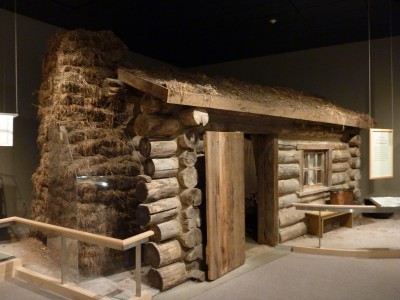 While early estimates placed the length of the journey to the Rocky Mountains at about 4–6 months, Iowa endured a very wet spring. In some places the mud came up to the wagon beds making progress nearly impossible. It took the Saints 131 days (just over four months) just to get across Iowa. They were forced to stay in the settlements of western Iowa for the winter of 1846–47 before they could make it to the Rocky Mountains. The settlement where they endured this winter was called Winter Quarters, located on the west side of the Missouri River in Nebraska. Nearly 3,500 Saints gathered at this settlement during that winter, surviving in crowded, makeshift shelters which were no match for the bitter cold and which housed 10–15 people each. Malaria ravaged the people in the summer and when winter came it brought cholera, scurvy, night blindness, and severe diarrhea.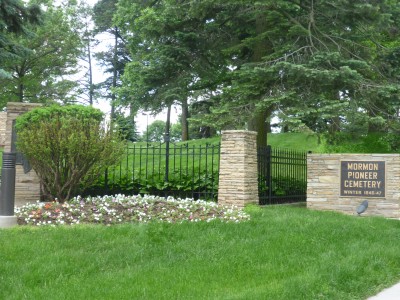 During the first winter here, one in twelve died for a total of 369 burials. About 37 percent of the population was sick at the same time and nearly half of the deaths were children under the age of 3. It was truly a time of testing and trial for the Saints who had to endure it. Still, work went on. The men planted crops for those coming after their group would have passed on. The women continued their daily chores and the people held activities such as dances, theological discussions, parties, and of course Church meetings. Faith grew and the Saints grew closer together.
On May 12, 1846, the U.S. Congress declared war on Mexico. Secretary of War William Marcy authorized Colonel Stephen W. Kearny to recruit and enlist Mormon men to go fight in California, and in June 1846, Captain James Allen travelled to the Mormon encampments in southern Iowa to recruit 500 men. Wilford Woodruff said, "I had some reasons to believe them to be spies and that the President had no hand in it. We however treated them with civility and directed them on to Council Bluffs to lay the case before the President."
It is little wonder that the Saints were dubious at this request of a government which had repeatedly refused to help them in their intense persecutions. However, Brigham Young, Heber C. Kimball, and Willard Richards "decided it was best to meet Captain Allen in the morning and raise the men wanted." These men recognized the opportunity of enlistment for men to earn money which they sorely needed to move the Saints West. In addressing the Saints regarding the issue, Brigham Young said, "Let the Mormons be the first men to se their feet on the soil of California. . . . This is the first offer we have ever had from the government to benefit us." Over several days, the 500 men were raised. Called the Mormon Battalion, these men fulfilled their duties but were blessed to never have to fight in the war with Mexico. They did receive the capital that the Church needed, and all the families they left behind were miraculously provided for and looked after. It was only after the Mormon Battalion left that Winter Quarters was fully developed.
Eventually the settlement at Winter Quarters was abandoned and the Saints finished their outfitting in Kanesville, Iowa, across the Missouri River. Thousands of pioneers benefited from this experience of the first group of Saints. All those who travelled west to settle were able to learn from the Saints' experiences and knowledge. Of course, it was especially beneficial to the other Mormon settlers who came after them, but the United States owes much of its settlement in the west after this period to the sacrifices of this first group of Mormon settlers.
In 1847, a smaller group left Winter Quarters for the Rockies. It took 111 days for them to reach the Salt Lake Valley. Immediately men began planting and building. Almost as soon after arriving, Brigham Young and a small group turned around to head back to Winter Quarters and send the rest of the Saints on their way. Four days after arriving in the Salt Lake Valley, Brigham Young chose a temple site.
Over the years, 100,000 Mormons travelled to Salt Lake City; 85,000 of them came from outside of the United States. As the railroads expanded and the Transcontinental Railroad was eventually finished, the journey was cut from 3 months to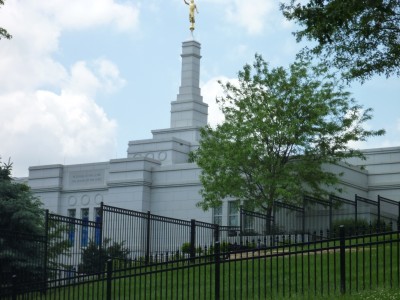 3 days. Saints continued to pour into the Salt Lake Valley and to spread out in their developments. Winter Quarters, which was called the "Valley Forge of Mormondom" by John Young, Brigham's son, was an area which required great sacrifices from those who lived there. These sacrifices led to great blessings for those who endured, and they in turn were able to bless all those who came after them.
Today a temple stands next to the cemetery at Winter Quarters as a reminder of all the blessings and freedoms for which those who died here were fighting.
(Quotes taken from Church History in the Fulness of Times Student Manual.)
The Church of Jesus Christ of Latter-day Saints was organized on April 6, 1830, in New York. At this organization, the Lord revealed to Joseph Smith a commandment that the Saints should keep a record of the history of the Church (Doctrine and Covenants 21:1). Later it became a position in the Church —Church Historian — to be in charge of the record kept. This commandment applies individually as well. Church members are encouraged to keep personal journals of their lives and of the Lord's hand in their lives.
Today the Church Historian and Recorder is Elder Marlin K. Jensen of the Seventy. He said of the importance of keeping records, "The primary purpose of Church history is to help Church members build faith in Jesus Christ and keep their sacred covenants" ("Giving the Past a Future," Ensign, October 2009, 42). The Church recently completed a new facility in which to store all these records. The new Church History Library was dedicated in June 2009 and is located in downtown Salt Lake City, just to the east of the Conference Center. The close location to both the Family History Library and to the Church History Museum gives patrons easy access to countless documents.
Leaders of the Church have long recognized that the history of the Church involves much more than just dates and names, but rather encompasses the history of all its people. Members from all around the world, from the time of the First Vision in 1820 to the present, have had faith-building, spiritual experiences which have contributed to the building of the kingdom of God on the earth. People have made sacrifices, have made covenants, and have been richly blessed, knowing their stories can strengthen the faith of Church members today.
The Church History Library provides nearly 25 miles of shelving to store all kinds of records: books, journals, photographs, microfilm, other media, and miscellaneous documents. The library's old facilities in the Church Office Building were inadequate in size and scope. Now the library has the proper facilities to provide adequate temperature, humidity, and air-quality control to precious documents, plus fire and seismic protection.
It is not only the goal of library staff to collect and store important Church documents, but to provide these documents to researchers, who might be professionals or amateurs. Archivists don't want to simply preserve this information, they want people to use this information. Patrick Dunshee, manager of marketing and communications for the Church History Department explains, "Our desire is to help patrons increase their faith as they connect to their past" ("Giving the Past a Future," Ensign, October 2009, 20). Family history can be conducted here which can bring new life and meaning by looking at personal records and pictures. When records were moved to the new building, every item was given a bar code and was scanned, thus enabling much more efficient and effective research and maintenance. Though not everything is open to public access, due to considerations such as privacy, confidentiality, and copyright laws, patrons are given access to the library catalogs and indexes. With 125 employees and nearly 200 full-time and Church-service missionaries, ample research help is also available. The library will also be offering myriad programs to teach people more about the resources available.
President Henry B. Eyring shares his experiences of keeping a daily journal: