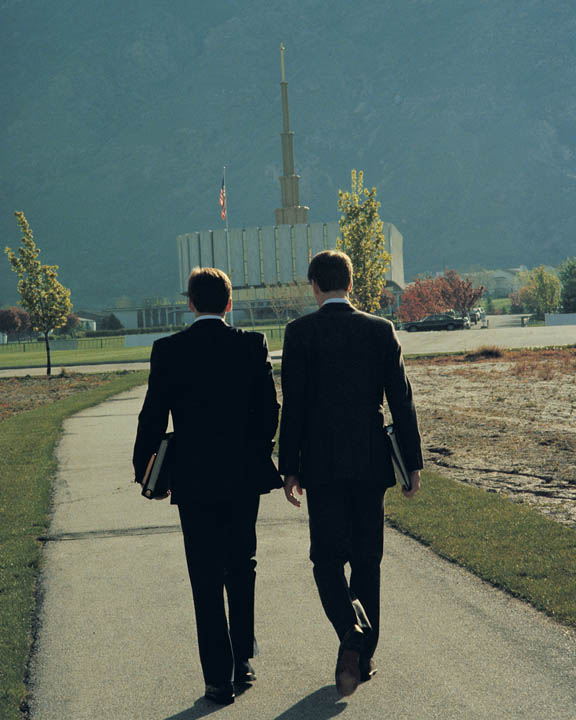 When the Provo Tabernacle, a historic building belonging to The Church of Jesus Christ of Latter-day Saints, was destroyed by fire, many were devastated by the loss of the historically significant building. However, the Mormons (a nickname for members of the Church) quickly turned the tragedy into a blessing by deciding to build Provo's second Mormon temple on the site. Archaeologists were brought in to assist with the excavation, to ensure no historical artifacts were lost. This provided an opportunity for archaeology students at nearby Brigham Young University to gain valuable field work experience.
During the excavation, a baptistry from the 1870s was uncovered. It was the oldest in the area, and at least the fifth oldest in Utah. Prior to its building, Mormons had to be baptized in rivers and lakes. The baptistery, which has a 5×9 foot font, was built around 1875 and was used until at least 1906. Archaeologists knew it existed, but were not sure where it was on the block of land. The Church history department chose to find and excavate the font, using high powered lasers that detect underground objects. This allowed them to know where to dig and to protect the font as they worked.
The original site contained a meetinghouse, first built in the 1850s and 1860s, the baptistry, and the tabernacle. The tabernacle was built in the 1890s. There was also a caretaker's cottage.
A news release from the Mormons describes the original font construction:
"The font floor has three layers of wood laid in crisscross fashion and was held together with nails and screws. As the screws were tightened, the wood was pulled together to form a floor solid enough to hold water. The excavation unearthed a water pipe used to fill the font and a drain to empty it. In early photographs of the baptistry a chimney is shown, which archeologists believe vented a stove that heated the water to make the facility usable year-round. Large quantities of painted plaster fragments were also discovered, revealing the original sky-blue color of the baptistry's interior walls."
A temple is now being built at the location. Mormon temples are not used for weekly Sabbath worship. Those regular worship services are held on Sundays and are open to the public. Temples are closed on the Sabbath. They are, after the initial open houses, dedicated and then are open only to Mormons who have been members of the Church for at least a year and are keeping the commandments of God. Teenagers fourteen and older are admitted to a small portion of the temple for special ordinances and children may enter only to be "sealed" (joined) to their parents if the parents receive an eternal marriage after having children or if children are adopted. Children born to parents already married in the temples are automatically sealed to their parents. Mormon believe families are meant to last for eternity, not just this life. Only in a Mormon temple can this ordinance take place.
Read about the discovery of the historic Mormon baptistry.
Cyrus E. Dallin was a noted sculptor born in Springdale, Utah in 1861. He was a member of The Church of Jesus Christ of Latter-day Saints, whose members are often called Mormons. Growing up, he frequently played with the Native American children nearby, setting the stage for a career in which his most noted works were often of Native Americans. He and his Native American friends often sculpted animals from the clay, sparking his interest in sculpture.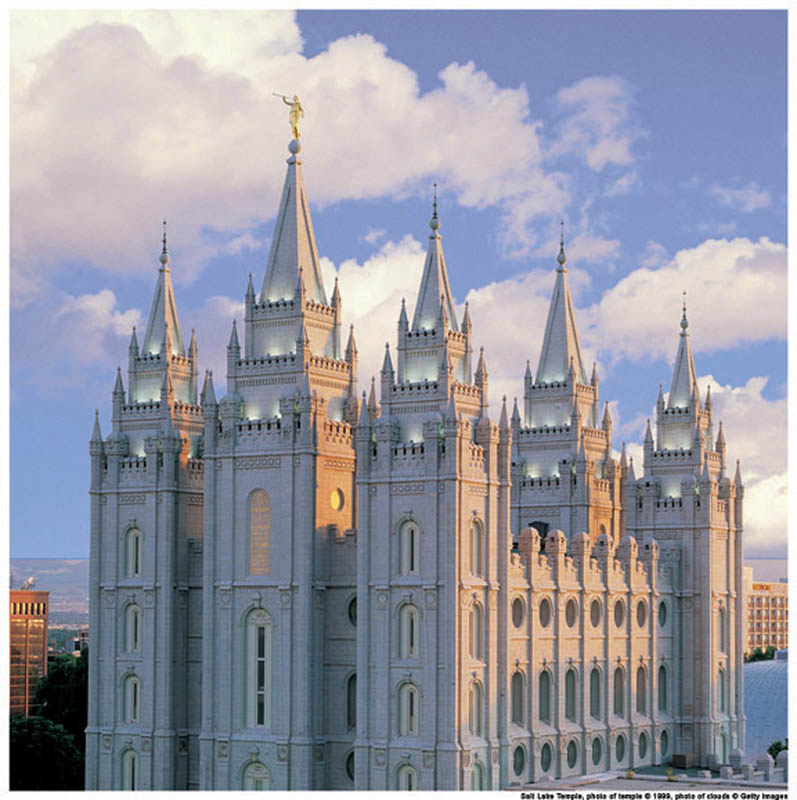 While doing odd jobs at his father's mine, he took some discovered white clay and sculpted it. These creations were shown to many and two patrons decided to pay for his journey to go east to study. His traveling companions were a group of Crow Indians. He was eighteen when he made that trip. He then moved to Paris about ten years later. There he studied sculpture at the Ecole des Beaux Arts and at Academie Julien under Henri Chapu.
In 1883, he won a contract to create a statue of Paul Revere to be placed in Boston, MA. However, he made five models of it before one was finally accepted and then funding fell through. It was not until 1940 that the completed statue was finally displayed. Throughout the process, he never gave up, a quality for which he was noted.
In 1890 he returned to Massachusetts but then went to Utah, where he created the Angel Moroni statue found on the spire of the Mormon temple in Salt Lake City, Utah.The statue became the model for other statues of Moroni and today is recognized as a symbol of the Church. By the time Cyrus was asked to do this statue, he had left the church and become a Unitarian. He initially did not want to do the project, but in the end, he agreed.  He said that creating that statue brought him closer to God than anything else he'd ever done. Cyrus then spent a year teaching at Drexel College in Philadelphia, PA, and creating a statue of Sir Isaac Newton for the Library of Congress, completed in 1895. Following this he returned to Paris to study and to create several more sculptures.
From  1900 to 1941, he taught at what is now the Massachusetts College of Art and Design, but also created commissioned art works. His work in creating visually appealing public art is credited by many with changing the nation's perception of such projects. Many of his works featured Native Americans or historical figures.
In 1904, Dallin won a bronze medal in archery at the Olympics in Missouri. That same year,  his Sioux Chief won a medal at the St. Louis Exposition. In all, he created about 260 sculptures.
By Terrie.
I recently had an opportunity to visit the Kirtland Temple in Kirtland, Ohio. This was the first temple built by The Church of Jesus Christ of Latter-day Saints, whose members are often called Mormons.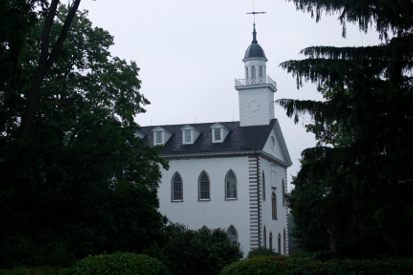 This temple was built for a somewhat different purpose than modern Mormon temples. It was a place where heavenly beings could come to restore important parts of the gospel that were lost during the apostasy which followed the death of Jesus and His apostles. It was also a place where Mormons, even children, could come to receive an education in both secular and spiritual matters. Many of the early Mormons were uneducated and many were immigrants. The academic classes were not just for children; adults were free to attend them as well, allowing them to make up for a lifetime of poverty or lack of education.
Joseph Smith, the first prophet and president of the restored Mormon Church, took classes there himself. He had only three years of formal education, supplemented by a little education at home from his father, and worked hard all his adult life to make up for that lack of education. One class Joseph attended was a popular course in Hebrew, taught by a leading Jewish instructor named Joshua Seixas. The instructor said Joseph Smith worked harder than any other student and at the end of the course, he received not only a certificate of completion, but a certificate authorizing him to teach Hebrew. It was through this Hebrew class that Lorenzo Snow, a future Mormon prophet, would become interested in joining the Church. His sister, a Mormon, invited him to attend it, giving him an opportunity to meet Joseph Smith and other leaders.
Today's temples are not open to the public and are used to carry out sacred ordinances, such as marriage and baptism for the dead. Baptism for the dead is an ordinance done vicariously through a living person in the name of someone who died without receiving the ordinances necessary for salvation. For instance, the Bible says we must be baptized in order to enter the kingdom of Heaven, but many people die never having been baptized or without even knowing they needed to be baptized. A loving and fair God does not punish people for things beyond their control and so he has created a way for them to receive the ordinance. This baptism does not automatically make the person a Mormon—each person will be given the opportunity to accept or reject the ordinance, just as he would have during his lifetime if he'd had the opportunity.
The Kirtland temple is now owned by the Community of Christ, not The Church of Jesus Christ of Latter-day Saints. This group organized after the death of Joseph Smith as a splinter group from the main body of the Church. The apostles were to become the governing body at the death of a prophet, with the senior apostle becoming the new prophet. However, a number of groups organized around people who wanted a different plan. The Community of Christ, which was initially called the Reorganized Church of Jesus Christ of Latter-day Saints, wanted the role of prophet to be handed from father to oldest son. However, Joseph's oldest son was only eleven when Joseph was murdered by a lawless mob, and so the three men who proposed this plan intended to operate their church through a proxy group until he was old enough to do it himself. Joseph Smith III was initially unwilling to take on leadership, but eventually agreed to do so when he was an adult.
The Community of Christ has opened the temple to tours and, naturally, many of their visitors are Mormons. Our guide was very knowledgeable about Mormon history and, upon figuring out we were Mormons, he gave scripture references from the Doctrine and Covenants using our numbering system rather than the numbes from his church's version. Both groups use this book of modern revelations, but they have removed some sections, and, of course, some occurred after they left the main body of the Church, so their book is not identical to ours.
I had some familiarity with this religion, so the night before the visit I first read the history of the temple and of Kirtland's Mormon period on my own church's website. Then I went to the Community of Christ website and to their temple website to read about it from their perspective. There were some differences, naturally, because history is not just facts and figures, but is also a narrative. Those who tell the story of history will tell the narrative based on their own values and ongoing storyline. For instance, the way I tell my life story is probably different than the way my mother would tell it, since she was seeing it from a mother's perspective, not mine. The Civil War narrative will be told differently by a Southerner than by a Northerner and differently still by a soldier who was there than by a civilian who lived outside the war zones. In each case, the version might be accurate, even though it is different.
As both a Mormon and a history buff, I felt it important to understand the narrative in terms of the larger picture of my faith, but since my guide would be from the Community of Christ, I also wanted to understand it in the larger picture of his faith. It helped me to understand the ways our churches have moved in very different directions since parting ways. They have become largely an evangelical church while we have continued in the restorationist pattern. The guide put disclaimers before some historical accounts of miracles, saying there was no proof of whether or not they happened other than the personal accounts of witnesses, whereas we tend to accept these miraculous events without question.
Our guide was very kind and when I asked a few questions about his religion—with the sole intent of learning, not converting or debating—he answered them with the same spirit in which they were asked. I enjoyed learning more about his faith, as well as my own. It was fascinating to see our shared history through a new lens and I enjoyed the testimony we shared of Joseph Smith and many of the events our people shared, having been one unified people in those days. Today, the two churches have a good relationship, since each has some of the historical sites and documents of our shared history. We work together to preserve and study early Mormon history.
As I toured the temple and learned of the many sacrifices that went into building it and the miracles that occurred at the dedication, I could feel the Spirit testifying of the sacredness of the temple space. The current owners treat it with a great deal of loving respect for its sacredness and have done a lovely job of restoring it and protecting it.
The temples of the Mormon Church are one of its most unique and distinguishing characteristics and a fruition of Mormon beliefs in the afterlife and in the purpose of our lives here on earth.  Since earliest Mormon history, the prophets and members of the Mormon Church have sacrificed to build and worship in these sacred buildings.  In comparison to most other Christian churches, Mormonism stands virtually alone in affirming the importance and centrality of proper authority and the use of this authority, called Priesthood, to guide Christ's Church and build and operate Temples for the salvation of the living and the dead.  In a revelation given to the Prophet Joseph Smith, the Lord Jesus Christ declared, "my people are always commanded to build [temples] unto my holy name" (Doctrine and Covenants 124:39).
Since the first Mormon temple was dedicated in 1836, 124 temples have been built, though the first two, the Kirtland Temple and the Nauvoo Temple were lost as the Mormons fled persecution.  Since the Mormons settled in Utah, they have continued building temples wherever there are sufficient members, and those in outlying areas are encouraged to attend the Mormon temple at least once in their life.  The building of temples signifies the maturity of the Mormon Church in a particular region, as can seen in Japan, Ghana, Switzerland, or Mexico.  Since the 1970s, over 100 temples have been built, with most of those in the period between 1997 and 2004 during the great building expansion program of Prophet and President Gordon B. Hinckley.  The following traces the history of Mormon temples from 1830 to 2006.
Time Periods:
As early as 1830, Joseph Smith received revelations indicating that God would require the young Mormon Church to build a temple.  Even earlier, the Book of Mormon, which Joseph Smith had translated from the records of an ancient people who lived in the Americas, taught that God had commanded this people to build temples, just as God had commanded the ancient Israelites.  … (read more)

In Ohio, the Mormons were building their community in Kirtland, a small community southeast of Cleveland.  In May of 1833, at the same time the Mormons in Missouri were being driven from their homes, Joseph Smith received a revelation commanding the Mormons to build a House of the Lord in Kirtland to be "dedicated unto the Lord for the work of the presidency"…(read more)
After the abortive attempts to build temples in Missouri, both in Jackson County and later in Far West, Daviess County, the Mormons built their first true temple in Nauvoo, Illinois.  In late 1838, the Mormons had been forcibly expelled from Missouri by the infamous Extermination Order which decreed that all Mormons who would not flee the state would be murdered… (read more)
Mormon Temples in the Rocky Mountains
On July 24, 1847, the first group of Mormon pioneers, led by Brigham Young and the Quorum of the Twelve reached the Salt Lake Valley.  Four days later, Brigham Young marked the spot for the building of their next temple which would serve as the center of their new city, Salt Lake City…(read more)
Mormon Temples and the Expanding Church
After most of the turbulence of the nineteenth century, which witnessed much persecution against the Mormons, the Mormon Church began to grow worldwide in the twentieth century.  In 1915, President Joseph F. Smith announced the construction of the Laie Hawaii Temple, the first temple outside the continental United States…(read more)
Worldwide Growth: Mormon Temples in Asia, Oceania, Africa, and Europe
Under President David O. McKay, who was president and prophet of the Mormon Church from 1951 to 1971, the Mormon Church once again concentrated itself on missionary work.  Under President McKay, every worthy young man was asked to serve as a Mormon missionary, and the number of Mormon missionaries grew from a few thousand in the 1951 to tens of thousands by the 1970s…(read more)
In 1995, Gordon B. Hinckley became President and Prophet of the Mormon Church.  Perhaps no person in Mormonism since Joseph Smith has had such an impact on Mormon temples and the presentation of Mormon temple ceremonies.  After World War II, he helped oversee the project to transition Mormon temple instructional material to film to ease translation into foreign languages…(read more)
By 2006, there were 122 operating temples with 12 either in the planning or construction phase.  President Hinckley said that the pace will slow from tremendous surge seen in the late 1990s and early 2000s, but will continue until there are temples to dot the earth and to bless all of God's children.  Currently there are Mormon Temples in dozens on countries….(read more)