It is somewhat well known that in 1863 when Charles Dickens traveled from England to New York with eight hundred Mormons aboard the ship Amazon with the intent to "bear testimony against them if they deserved it, as I fully believed they would." But he was surprised to find them "strikingly different" from other emigrants and described them as "the pick and flower of England."1
Less well known is Sir Arthur Conan Doyle's visit to Utah more than thirty years after writing a book set among "sinister" and "nefarious" Mormons in Salt Lake City. He admitted that he had been misled before his visit by the writings of the time, and he apologized for his inaccurate portrayal. He wrote that he had "great respect for the Mormons."2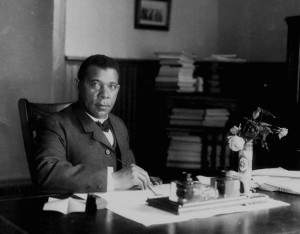 But a visit to the Mormons by prominent educator, author, orator, and presidential advisor, Booker T. Washington and what he thought about them is almost completely forgotten. This year marks the 100th anniversary of Washington's visit to Utah and The Deseret News recently published an article describing what brought him to Utah.
Booker T. Washington was the most prominent African-American of his generation. In late March 1913 he traveled to Utah to "'get right into the midst of the Mormons to see what kind of people they are, what they look like, what they are doing, and in what respect they are succeeding.'"
After his two-day visit, he wrote a 2,000-word account for the New York Age, which was one of the most influential African-American newspapers at that time.
"'They have certainly made the desert blossom as a rose,'" he wrote. "'I have never been among a more intelligent, healthy, clean, progressive, moral set of people than these people are.'"
During his visit he met with African-Americans and "local leaders, attended receptions in his honor and spoke to educators." He also spoke to a large assembly of University of Utah students, where he was "'greeted by vociferous applause.'"
Washington said of Utah students: "'It has been my privilege to address schools and universities in nearly every part of America, and I saw without hesitation that I have never addressed a college anywhere where the students were more alert, more responsive, more intelligent than is true of the students in these Mormon colleges.'"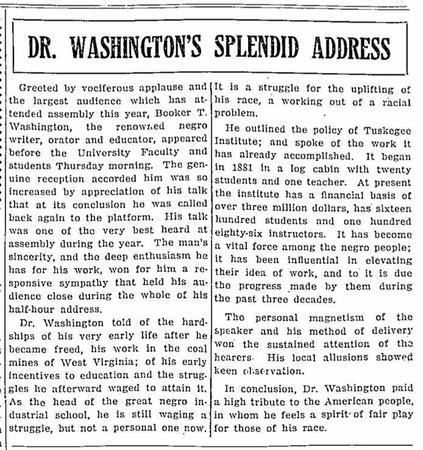 According to Max Mueller, who is writing a forthcoming paper titled "Booker T. Washington's March 1913," the superintendent of Salt Lake City schools visited Tuskegee Institute—the teachers college that Washington founded—and invited him to come and speak.
Washington's visit was evidently in response to an invitation, a curiosity about the Mormons, and possibly a quest to obtain funding for his college.
Mueller said that Washington hoped to "'create an independent, self-sufficient, respected community of industrious, conservative people'" and thought the Latter-day Saints were a model of that type of community. "'The saints and African Americans actually have a shared history of exclusion from the mainstream, of persecution. So they had that in common.'"
Washington wrote:
"'First  . . . the Mormons were most inhumanly persecuted almost from the first organization of their church. This was especially true in Missouri and Illinois. Hundreds of their followers were put to death. The courts gave them little protection. The mob that either killed or wounded the Mormons was seldom, if ever, punished. . . . but out of this inhuman and unjust treatment grew the strength of these people . . .

'The second parallel between the Mormon and the Negro is this. These people, I am sure, have been misrepresented before the world. . . . The Negro is suffering today just as the Mormons are suffering and have suffered, because people from the outside have advertised the worst in connection with Mormon life and they seldom called attention to the best in connection with the life of the Mormons.'"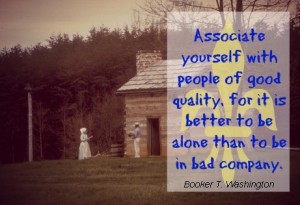 Washington's observations are also interesting because "at that time The Church of Jesus Christ of Latter-day Saints did not allow its members of African descent to be ordained to the priesthood." (All worthy males are ordained to the priesthood now.) And because of racially discriminatory policies of the time, Washington wasn't allowed to stay in the prestigious Hotel Utah.
But Mormons recognized their similarities with African-Americans and often "spoke out about extralegal violence against African-Americans."
Booker T. Washington visited Utah to "see what kind of people" the Mormons were because he knew the value of getting "right into the midst" of them:
"'I have learned by experience and observation that it is never safe to pass final judgment upon a people until one has had an opportunity to get into the real life of these people.'"
Notes:
1. The Voyage of the Amazon: A Close View of One Immigrant Company
2. 100 years since Booker T. Washington's historic visit to the Mormons
Reference:
100 years since Booker T. Washington's historic visit to the Mormons
This article was written by Paula Hicken, a member of The Church of Jesus Christ of Latter-day Saints.

Paula Hicken was an editor with the Neal A. Maxwell Institute for Religious Scholarship from 2000 to 2013. She earned her BA degree in English from Brigham Young University. She edited Insights, the Maxwell Institute newsletter, and was the production editor for Faith, Philosophy, Scripture, Hebrew Law in Biblical Times (2nd ed.), Third Nephi: An Incomparable Scripture, and was one of the copy editors for Analysis of the Textual Variants of the Book of Mormon. She also helped manage the Maxwell Institute intellectual property and oversaw rights and permissions. She has published in the Ensign, the Liahona, the LDS Church News, and the FARMS Review.
Additional Resources:
http://youtu.be/9_3gsa65avY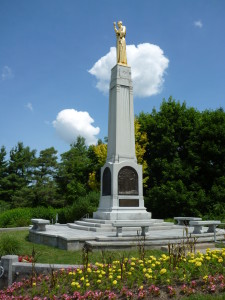 Torleif S. Knaphus was born in Norway on December 14, 1881. At a very young age his parents noticed his extreme talent for art. They encouraged it, and he developed his skills. At age 15, Torleif became an art apprentice painting houses and decorative furniture. In 1901, he traveled to Oslo to pursue more formal art studies. While there, his roommate invited him to attend a Latter-day Saint concert. He enjoyed the concert and began attending meetings of The Church of Jesus Christ of Latter-day Saints (which church is often misnamed the "Mormon Church"). He said, "It was easy for me to see and understand that this was the only true Church of God."
Torleif was baptized at the age of 21 in a river that was frozen and had to be cut with a saw. His love of the gospel and strong testimony caused him to turn down an art scholarship to Rome in order to immigrate to Utah in 1905. That was the beginning of Torleif's lifelong association with church art projects. He worked on many, many temples and was even called to serve a mission in Paris just to study art. This time was a wonderful boon to him, especially since he had given up the chance to study in Rome.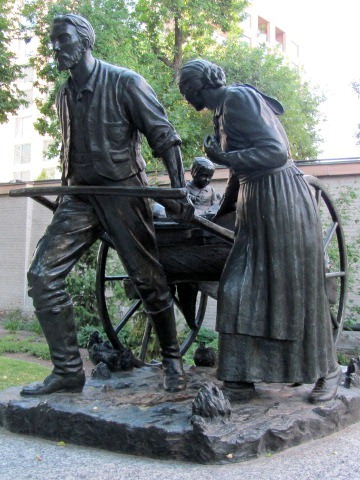 Upon returning home, Torleif continued his work on temples and in the 1920s completed the original Handcart Pioneers statue. In 1947, he completed the larger replica of the same statue that is now displayed on Temple Square.
Torleif's artistic works for The Church of Jesus Christ of Latter-day Saints are found in many places around the United States. Perhaps none are so large and recognizable, however, as his monument of the angel Moroni which stands on the Hill Cumorah.
The Church acquired the land for the Hill Cumorah in 1928, and immediately Torleif recommended to the Brethren [church leaders] that a monument should stand there commemorating the important event of Moroni visiting Joseph Smith and giving him the brass plates.
While the Brethren had not commissioned Torleif to create this monument, Torleif felt so strongly about it that he created seven sketches on his own and went to the Lord in prayer for guidance about which sketch was the most accurate and if he should formally present his plan to the Brethren. One night in 1929 he climbed Ensign Peak in Salt Lake City and knelt in prayer, with his sketches spread out on the ground. In answer to his plea, an angel appeared to him and pointed to one of the sketches saying, "This is the one." The angel also told Torleif to visit the Brethren in the church offices the next morning and that they would be waiting for him.
The next day, Torleif did as he had been instructed. The Brethren welcomed him and unanimously chose the picture the angel had singled out. Official permission to begin the project soon followed. Torleif was understandably very private about his encounter with the angel. He only shared his experience a couple of times, and when a friend asked him if the angel had been Moroni, Torleif said, "That's my secret." His second wife, Rebecca, though, said Torleif had told her it had been the angel Moroni.
The final statue of Moroni stands 9 feet tall and is gold plated. It rests on a granite pillar, which Torleif also created. He spent five years on the design and creation of the monument, which was more than double the time he spent on any other single work of art in his life.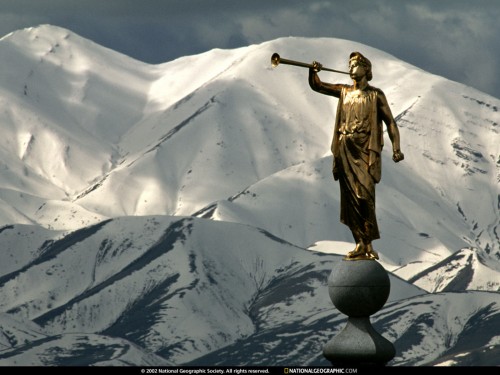 Immediately after Torleif had been granted permission to work on the project, he looked for a model. He found the physique he wanted in Elwin Clark, a bricklayer, but he felt Elwin's face was too young to accurately represent the mature Moroni. He fasted and prayed for a suitable model for the face. One day an older gentleman caught his eye in the city. After following him for some time, Torleif approached the man and asked if he would consider being a model for him. He persuaded the man, who had just moved to Utah from Wyoming, to come with him to his studio right then.
Elwin was already at the studio waiting for Torleif. To everyone's surprise, Elwin recognized the older man as his father, Hyrum Don Carlos Clark. This "coincidence" confirmed to Torleif that these men were the appropriate models for him to use.
The monument was placed on the Hill Cumorah in 1935, which had been replenished during the previous year with 10,000 trees on its barren landscape. Each of the four sides of the base has a bronze plaque depicting a significant event which took place in the area: the west side shows Moroni delivering the plates to Joseph Smith; the south side shows Moroni revealing the plates to the three witnesses; the east side depicts Joseph Smith showing the plates to the eight witnesses; and on the north side is the text from Moroni 10:4–5, which reads, "And when ye shall receive these things, I would exhort you that ye would ask God, the Eternal Father, in the name of Christ, if these things are not true; and if ye shall ask with a sincere heart, with real intent, having faith in Christ, he will manifest the truth of it unto you, by the power of the Holy Ghost. And by the power of the Holy Ghost ye may know the truth of all things."
The statue of Moroni shows him holding the plates in his left arm while raising his right arm to call attention to the gospel message. Other religious symbols are explained to visitors on nearby plaques.
As for Torleif's personal life, he married Emilia "Millie" Helena Christensen in 1909 in the Salt Lake Temple. However, she passed away in 1931, leaving six children, the youngest just 15 months old. He refused to split up the family, despite offers from friends to adopt the younger children, and did his best to be both father and mother to his children until he remarried eight years later, a woman named Rebecca Marie Knaphus.
A reporter asked Torleif in the late years of his life what he considered his greatest work. He said, gesturing to some family photos and a pedigree chart on his wall, "My family and this genealogical research have been my greatest work in life." Historians have estimated that Torleif personally submitted 10,000 of his Norwegian ancestors' names for temple work. Elder LeGrand Richards of the Quorum of the Twelve Apostles said he knew of no other person who had done more genealogy work than Torleif. Torleif passed away June 14, 1965, at the age of 83.
It is easy to look back on Torleif's life and see many turning points which led him to the gospel, but which could have gone another way. For example, what if his roommate had not invited him to attend that concert in the first place? God's hand is truly guiding each of our lives. If we let Him, He will use us for His purposes and will make a masterpiece out of us. Torleif had such an impact for good in the lives of those around Him because He turned His life to God.
This article was written by Doris White, a member of The Church of Jesus Christ of Latter-day Saints.
Additional Resources:
The Lord Jesus Christ in Mormonism
Joseph Smith: Prophet of the Restoration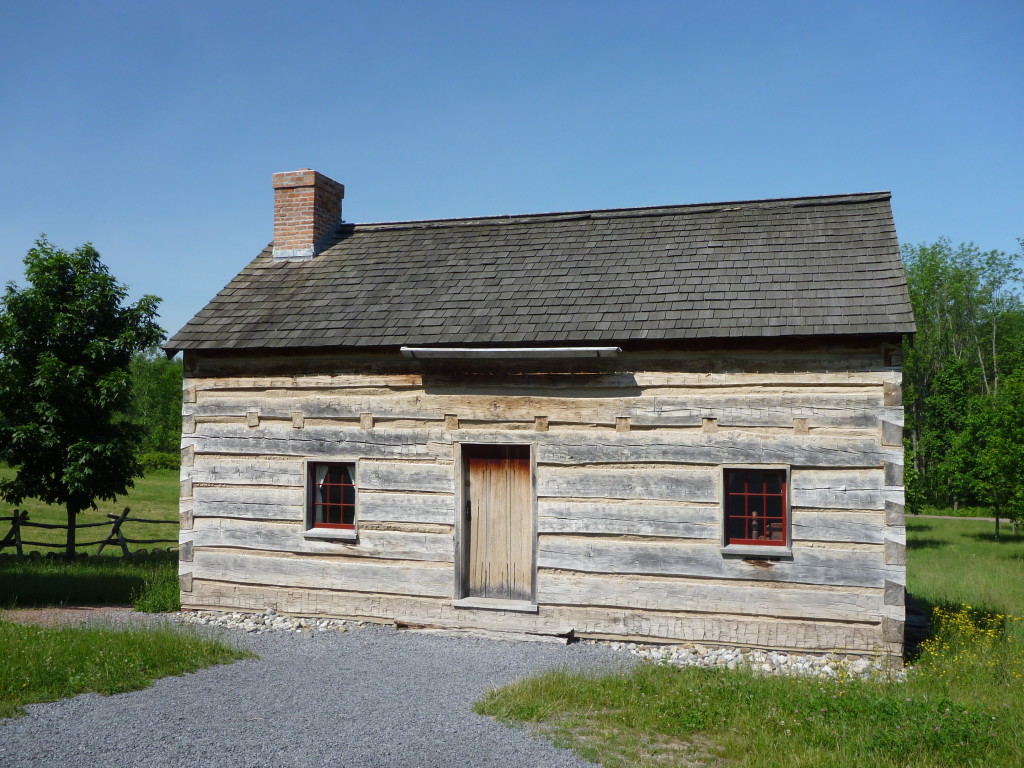 This third-person account from Oliver Cowdery of Joseph Smith's experience when he prayed in his home and received a vision of the angel Moroni is a very special one. It had been three years since Joseph's vision of God the Father and His Son, Jesus Christ. Joseph felt he needed more guidance, and thus prayed for more. While Joseph shares a record of this experience in his own words in Joseph Smith—History 1:29–47, the emotions he obviously conveyed to Oliver are depicted more vividly in this account, as published in Messenger and Advocate, Volume 1, No. 5, (February 1835), 79.
On the evening of the 21st of September, 1823, previous to retiring to rest, our brother's mind was unusually wrought up on the subject which had so long agitated his mind—his heart was drawn out in fervent prayer, and his whole soul was so lost to every thing of a temporal nature, that earth, to him had lost its charms, and all he desired was to be prepared in heart to commune with some kind messenger who could communicate to him the desired information of his acceptance with God.

At length the family retired and he, as usual, bent his way, though in silence, where others might have rested their weary frames 'locked fast in sleep's embrace,' but repose had fled and accustomed slumber had spread her refreshing hand over others beside him—he continued still to pray—his heart though once hard and obdurate, was softened, and that mind which had often flitted, like the "wild bird of passage," had settled upon a determined basis not to be decoyed or driven from its purpose.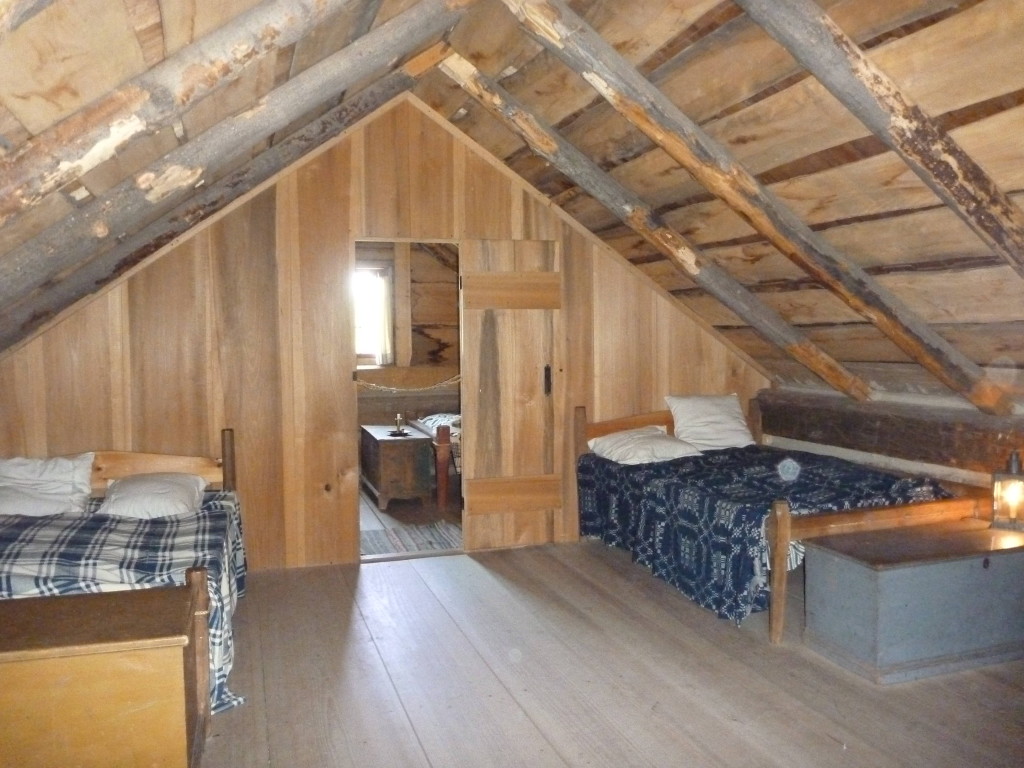 A unique part of Joseph's situation in this case was that he was not alone. He prayed in silence because he shared the room (and also his bed) with several siblings. It is remarkable to me that they were all completely unaware of the presence of Joseph' visitor later in the night. On the other hand, it is not remarkable. If God did not want them to be aware of what was going on, that was certainly easy enough to accomplish. Also, heavenly messengers can only be seen with spiritual eyes. There are several instances recorded in Church history when heavenly personages were present in larger groups and some of those present could not see the messengers, even though they were aware of their presence from those who could see them.
In this situation hours passed unnumbered—how many or how few I know not, neither is he able to inform me, but supposes it must have been eleven or twelve, and perhaps later as the noise and bustle of the family, in retiring, had long since ceased.

While continuing in prayer for a manifestation in some way that his sins were forgiven, endeavouring to exercise faith in the scriptures, on a sudden a light like that of day, only of a purer and far more glorious appearance and brightness, burst into the room. Indeed to use his own description, the first sight was as though the house was filled with consuming and unquenchable fire. This sudden appearance of a light so bright, as most naturally be expected, occasioned a shock or sensation, visible to the extremities of the body. It was, however, followed with a calmness and serenity of mind, and an overwhelming rapture of joy that surpassed understanding, and in a moment a personage stood before him.
Now in Joseph's words, from his own account:
Not only was his robe exceedingly white, but his whole person was glorious beyond description, and his countenance truly like lightning. The room was exceedingly light, but not so very bright as immediately around his person. When I first looked upon him, I was afraid; but the fear soon left me.

He called me by name, and said unto me that he was a messenger sent from the presence of God to me, and that his name was Moroni; that God had a work for me to do; and that my name should be had for good and evil among all nations, kindreds, and tongues, or that it should be both good and evil spoken of among all people (JS—H 1:32–33).
Moroni conversed with Joseph three separate times, for several hours—in fact, through the night until morning—and shared many instructions with Joseph.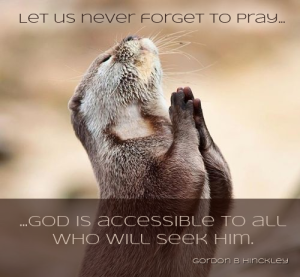 What a wonderful personal experience. Joseph Smith was an example to us because he was called of God to be the prophet to restore the fulness of the gospel of Jesus Christ in the last days. His examples to us of the power of sincere prayer are before he was officially called, though, or at least before he was fully aware of that call. He was a young boy of 14 when his first prayer was answered. This second marvelous manifestation occurred when he was only 17. Though it may not be necessary for us to receive personal visions of heavenly messengers, we can just as certainly receive answers to our own personal prayers through the witness of the Holy Spirit. This is a witness that cannot be denied once it is felt, but we have to put in the work on our end to be humble, to have meaningful communication with our Heavenly Father, and to allow the Spirit to come into our hearts and souls.
Additional Resources:
Joseph Smith: Prophet of the Restoration
Request a free copy of The Book of Mormon (Another Testament of Jesus Christ)
Mark L. McConkie, a professor in the school of public affairs at the University of Colorado, compiled hundreds of eye witness accounts of Joseph Smith to create his book Remembering Joseph: Personal Recollections of Those Who Knew the Prophet Joseph Smith. Below are three separate records from Oliver Huntington recalling prophecies of Joseph Smith which he also saw come to pass.
Joseph Prepared a Route for the Saints to Take across the Rocky Mountains
Monday Sept. 27th [1897] . . . I met that day, at the Hall of Relicks, Hopkins G. Pendar an old Nauvoo Mormon, and from him learned that Joseph Smith just before he was killed, made a sketch of the future home of the saints in the Rocky Mountains, and their route or road to that country as he had seen in vision; a map or drawing of it.

(Oliver B. Huntington, "History of the Life of Oliver B. Huntington, Written by Himself 1878–1990," typescript copy, BYU Special Collections, Harold B. Lee Library, Provo, Utah, 50.)
As Oliver states below, it is no secret that Joseph Smith knew when he turned himself in at Carthage Jail (on spurious charges) that he was going to his death. He did all he could to prepare the Saints for this event. He knew that they were in God's hands even during his life and prophesied of God's will for the Saints even for the time following his death.
Joseph Sacrificed Himself to Protect the Saints
I have just learned from Brother Peter W. Cownover another evidence of the certainty in the Prophet's mind that he was going to Carthage to be slain as a sacrifice for the Saints.

Brother Cownover had been to Carthage in charge of prisoners arrested by the county sheriff, and when he reached that place he and the prisoners were all thrown into jail together, without judge or jury, and after they were liberated he returned to Nauvoo, and arrived just as Joseph was starting for Carthage. After usual salutations, Brother Cownover asked Joseph where he was going.

"I am going to Carthage to give myself up," was his reply.

Brother Cownover said, "If you go there they will kill you."

"I know it," replied the Prophet, "but I am going. I am going to give myself for the people, to save them."

(Oliver B. Huntington, "Letter to the Editor [Susa Gates]," Young Woman's Journal 2, no. 3 [December 1890]: 125; see also "Philo Dibble Autobiography [1806–c. 1843]," in "Early Scenes in Church History," Four Faith Promoting Classics [Salt Lake City, Utah: Bookcraft, 1968], 79.)
Joseph prophesied Saints would live in Nauvoo for only seven years, then go to Rocky Mountains.
My father was living in a good hewed log house in 1840 when one morning as the family all sat at breakfast old Father Joseph Smith, the first Patriarch of the Church and father of the Prophet Joseph, came in and sat down by the fire place, after declining to take breakfast with us, and there he sat some little time in silence looking steadily in the fire. At length he observed that we had been driven from Missouri to this place; with some passing comments, he then asked this question: "And how long, Brother Huntington, do you think we will stay here?" As he asked this question I noticed a strange, good-natured expression creep over his whole being—an air of mysterious joy.

Father answered, after just a moment's hesitation, "Well, Father Smith, I can't begin to imagine."

"We will just stay here seven years," he answered. "The Lord has told Joseph so—just seven years," he repeated. "Now this is not to be made public; I would not like to have this word go any further," said the Patriarch, who leaned and relied upon his son Joseph in all spiritual matters as much as boys generally do upon their parents for temporalities. There were then two or three minutes of perfect silence. The old gentleman with more apparent secret joy and caution in his countenance said, "And where do you think we will go to when we leave here, Brother Huntington?" Father did not pretend to guess; unless we went back to Jackson County.

"No," said the old Patriarch, his whole being seeming to be alive with animation. "The Lord has told Joseph that when we leave here we will go into the Rocky Mountains; right into the midst of the Lamanites."

This information filled our hearts with unspeakable joy, for we knew that the Book of Mormon and this gospel had been brought to light more for the remnants of Jacob upon this continent than for the Gentiles.

Father Smith again enjoined upon us profound secrecy in this matter and I don't think it was ever uttered by one of Father Huntington's family. The history of Nauvoo shows that we located in Nauvoo in 1839 and left it in 1846.

The Church did move to the Rocky Mountains into the midst of the Indians or Lamanites—or more properly speaking the Jews—and here expect to live until we move to the spirit land or the Lord moves us somewhere else.

(Oliver B. Huntington, "Prophecy," Young Woman's Journal 2, no. 7 [April 1891]: 314–15).
Joseph Smith was a truly remarkable man. He was a prophet called of God in these last days to restore the fulness of the gospel of Jesus Christ. He prophesied many things which came to pass. People like Oliver Huntington kept good records of these things, as Joseph himself in fact did. Learning more about Joseph Smith's life brings any person of faith to the conclusion that he was exactly what he claimed to be: a humble man of common upbringing who was called of God to build His kingdom on the earth.
This article was written by Doris White, a member of The Church of Jesus Christ of Latter-day Saints.
Additional Resources:
Joseph Smith: Prophet of the Resttoration
The Book of Mormon (Another Testament of Jesus Christ)
The Lord Jesus Christ in Mormonism
Mark L. McConkie, a professor at the University of Colorado, has recently published a book entitled Remembering Joseph: Personal Recollections of Those Who Knew the Prophet Joseph Smith. Below is an excerpt from this book, a recollection of Mary Adams, regarding a specific incidence of Joseph's kindness while he upheld his position of authority in the town over which he was mayor.
While he [Joseph Smith] was acting as mayor of the city, a colored man called Anthony was arrested for selling liquor on Sunday, contrary to law. He pleaded that the reason he had done so was that he might raise the money to purchase the freedom of a dear child held as a slave in a southern state. He had been able to purchase the liberty of himself and wife and now wished to bring his little child to their new home. Joseph said, "I am sorry, Anthony, but the law must be observed, and we will have to impose a fine."

The next day Brother Joseph presented Anthony with a fine horse, directing him to sell it, and use the money obtained for the purchase of the child.

Sister Adams says how well she remembers the feeling of sorrow that pervaded the city, when the two brothers lying dead in the Mansion House. She with the rest of the children, were not permitted to go in the streets owing to the crowd of people who thronged the city, coming and going by steamboat and carriages, and all with grieving hearts for the departed loved ones.

Mary Frost Adams, "Joseph Smith, the Prophet," Young Woman's Journal 17, no. 12 (December 1906): 538.
Mary Adams was touched by this kindness from Joseph Smith. I am impressed by Joseph's ability to handle the situation so well. How his heart must have been broken at the thought of a man who had escaped the wicked bonds of slavery doing all in his power to bring his family back together. Yet, Joseph's position as mayor required him to exercise the law. Since Anthony had broken the law, Joseph could not ignore the fact, even though his motive was noble. While making sure Anthony answered for the law he had broken, Joseph reached out in love and mercy to offer this man the chance to reunite his family in freedom.
While slavery remains inexcusable, as does prejudice, the fact remains that at the time Joseph did this, African Americans were not generally looked on as equals to other races. I believe that Joseph recognized the equal value of all members of the human race, without regard to gender, religion, or ethnicity, but having that attitude during the time in which he lived is even more testament to the remarkably honest and righteous man he was.
This article was written by Doris White, a member of The Church of Jesus Christ of Latter-day Saints.
Additional Resources:
Joseph Smith: Prophet of the Restoration
The Book of Mormon (Another Testament of Jesus Christ)
The Lord Jesus Christ in Mormonism
http://youtu.be/6j-ir5rHmQg
On a June day in 2012, my husband and I pulled in to Palmyra, New York. I had wanted to go to the Sacred Grove for years, and I was excited about the opportunity that had finally come to visit it and many other historical sites of The Church of Jesus Christ of Latter-day Saints (which church is often misnamed the "Mormon Church"). It was pretty early in the morning that day, so we were lucky enough to have the place to ourselves for a little bit.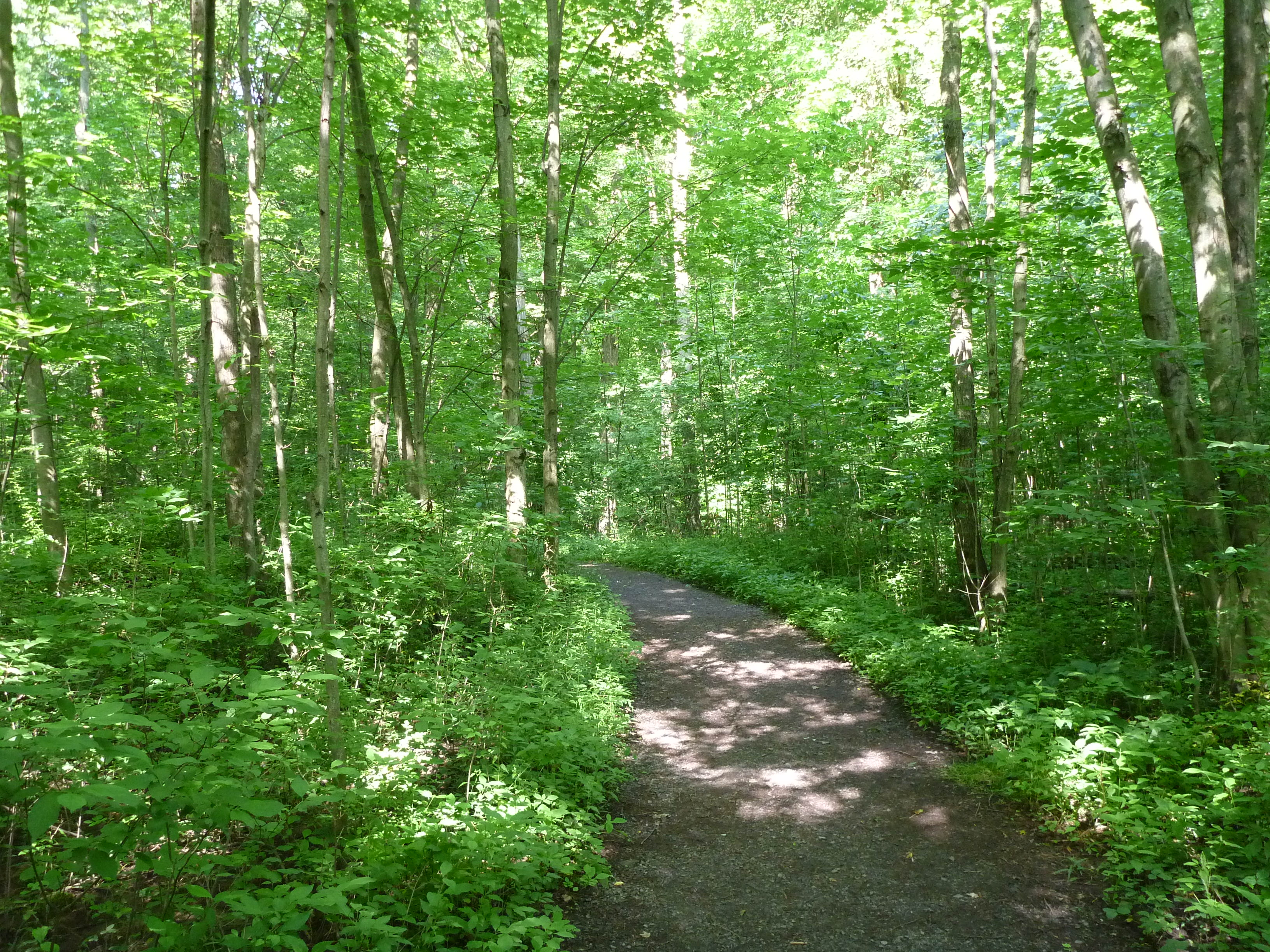 We walked by the Smith Family Home and back into the trees to take advantage of the fact that we were alone. As we quietly walked through the grove of beautiful trees, I thought to myself, "Heavenly Father and Jesus Christ appeared here!" Just that thought filled me with a sense of awe and reverence. I have been in holy places before, but this was a wonderful and unique experience.
I was born to parents who are both faithful members of The Church of Jesus Christ of Latter-day Saints and, I was raised in the teachings of the Church. I have heard the story of the First Vision all my life, but being in the place where it actually occurred strengthened my personal witness of its veracity.
Joseph Smith, as a young man of 14, struggled with the turmoil that surrounded him in upstate New York in 1820. He was a religious boy who took spiritual matters very seriously, and he was confused by the bickering among different Christian denominations, each claiming to be the only church that had the truth. He wanted to make sure he joined the right church. After studying James 1:5 of the King James Version of the Bible, he was prompted to ask God, in prayer, to help him to know which church was right. Joseph had faith that if he asked God in faith, then he would be given an answer.
On a spring day in 1820, Joseph got up very early and took a walk to be by himself. He walked into the grove of trees behind his family's home and eventually knelt to pray. The experience he had there was far beyond his imaginings and started a chain of events that is still in motion and cannot be stopped. In answer to a young boy's prayer, God the Father and His Son, Jesus Christ, appeared in that grove of trees and spoke to Joseph Smith face to face. They told Joseph that none of the churches on the earth at that time contained the fulness of the gospel of Jesus Christ, so he should not join any of them.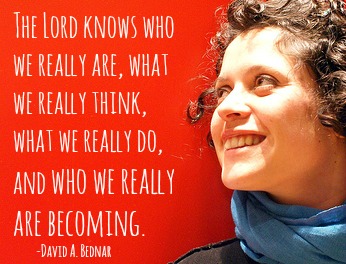 Some marvelous truths were restored to the earth just by that visit: God the Father and Jesus Christ were separate beings with tangible bodies; they knew Joseph personally and cared about him, just as they do each one of us; and the fulness of the gospel had been lost from the earth. It was three more years before Joseph received another heavenly visitor who brought instructions from God and Jesus Christ. For several more years, Joseph was taught and prepared to fulfill his calling of restoring the truths that had been lost from the earth.
The Church of Jesus Christ of Latter-day Saints is the only true church on the earth today. This does not mean that no other church has worth or truth. There are many good people and churches who are devoted to bringing people closer to Jesus Christ. However, Jesus Christ Himself has restored the fulness of His gospel and has declared to the world that it is contained in The Church of Jesus Christ of Latter-day Saints.
I know that I am literally a child of a loving Heavenly Father who knows and loves me. I know that Jesus Christ is His only begotten Son in the flesh and that the power of His Atonement gives me and all men and women the ability to repent and be cleansed from sin so that I may someday return to God and remain in His presence forever.
These truths were restored in a beautiful grove of trees in New York nearly 200 years ago. I have felt the influence of these truths in my life, and I felt a peaceful witness in that grove of trees that Joseph saw there what he said he saw. He knew it, he knew that God knew it, and I know that is true.
This article was written by Doris White, a member of The Church of Jesus Christ of Latter-day Saints.
Additional Resources:
Joseph Smith: Prophet of the Restoration
The Book of Mormon (Another Testament of Jesus Christ)
The Lord Jesus Christ in Mormonism
Before reading Section 3 of the Doctrine and Covenants, it is important to understand the situation Joseph Smith was in when he received these words from the Lord. It had been less than a year earlier that the angel Moroni had been instructed by the Lord to give the plates to Joseph to translate. Since the morning of September 22, 1827, when Joseph first received the plates, he had protected the plates from thieves and had begun translation that December. Joseph spent December through February 1828 learning how to translate and copying many of the characters. Finally, in February, Martin Harris arrived to work as a scribe for Joseph and the real translation began. Already, Joseph had devoted a great deal to this work. His life had been put in danger many times, but always the Lord protected him.
By June 14, 1828, Joseph and Martin's work had produced 116 pages of manuscript, and Martin asked Joseph for permission to show the pages to his wife and some of his acquaintances, convinced that if they could see the outcome of the work, they would be convinced of the truth of the work and of Joseph's calling from God to be a prophet. Not only had Martin Harris devoted a great deal of time to helping Joseph, he had also given Joseph a great deal of money to help him pay off past debts, giving him more free time to work on the translation. Martin was also willing to pay for the publication of the Book of Mormon, which Joseph simply did not have the funds to do himself. Martin Harris was several years Joseph Smith's senior. It is not difficult to imagine the gratitude Joseph felt for Martin's help and the obligation he must have felt for all Martin had done for him.
Joseph went to the Lord to seek permission to give the pages to Martin. The Lord told him no. Under considerable pressure, Joseph asked again for permission. Again the answer was no. Joseph was under a great deal of strain when Martin would not accept the answer. Joseph asked of the Lord a third time for permission and was finally told that Martin could take the pages under a condition: he could only show the manuscript to his wife, his brother, his father and mother, and his sister-in-law. Martin agreed to the condition and took the only copy of the manuscript.
Two weeks passed without word from Martin. Joseph finally went after him. Martin, in despair, confessed to Joseph that he had broken the condition the Lord gave him and showed the manuscript to other people. Though he had searched high and low for the pages, they were gone. The anguish Joseph felt is clear from the record of their meeting:
Joseph said, "Martin, have you lost that manuscript? Have you broken your oath, and brought down condemnation upon my head as well as your own?"

"Yes; it is gone," replied Martin, "and I know not where."

"All is lost! all is lost! What shall I do? I have sinned—it is I who tempted the wrath of God. I should have been satisfied with the first answer which I received from the Lord; for he told me that it was not safe to let the writing go out of my possession" (Church History in the Fulness of Times, p48).
The Lord told Joseph that evil men had stolen the pages with the design of proving Joseph a false prophet. If he re-translated the record those 116 pages came from, those men planned to make changes to the original manuscript, "proving" that Joseph was not what he claimed to be. Thus, that record was never re-translated.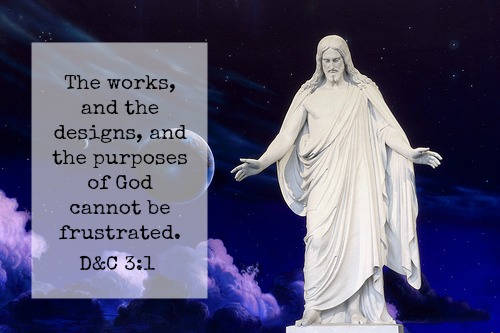 After returning home, the angel Moroni again appeared to Joseph and told him he must take the plates and tools of translation away from him for awhile, but that he could receive them again if he repented. During this period, Joseph received the revelation that is now Section 3 of the Doctrine and Covenants. The things which the Lord shares with Joseph in this section, when the history of events is understood, bring a good deal of understanding to those who read them.
First, the Lord assures Joseph that "The works, and the designs, and the purposes of God cannot be frustrated, neither can they come to naught" (D&C 3:1). If I had been in Joseph's place at this time, I would have found a great deal of comfort in these words, knowing that, even though I had made a huge mistake, ultimately, no one can defeat the will of God.
The Lord goes on to chastise Joseph even further than he had already been chastised:
Behold, you have been entrusted with these things, but how strict were your commandments; and remember also the promises which were made to you, if you did not transgress them.

And behold, how oft you have transgressed the commandments and the laws of God, and have gone on in the persuasions of men.

For, behold, you should not have feared man more than God (D&C 3:5–7).
Though Joseph must have felt at an all-time low after receiving these words, he is also promised that, if he repents and remains faithful, the Lord will support him against "all the fiery darts of the adversary" (D&C 3:8).
Reading these words, I am filled with a great deal of humility and comfort. I know the Lord has a work for me to do. Surely it is not as great as the work that Joseph Smith was called to do, but in its own way, our works hold the same amount of responsibility for us individually as Joseph's did for him. Knowing that Joseph was able to repent of such a huge mistake and press forward in the work God had for him gives me hope and peace that I can also overcome my own obstacles and weaknesses.
I am grateful to know that Joseph Smith was a true prophet of God. The truths of the gospel of Jesus Christ which were restored through Joseph Smith by the hand of God bring all of the necessary ordinances back to the earth which are necessary for the salvation of men. The Church of Jesus Christ of Latter-day Saints is the restored church of Jesus Christ and is led by a living prophet today. What a blessing that God still speaks to His children now, when they need more than ever to hear His voice.
This article was written by Doris White, a member of The Church of Jesus Christ of Latter-day Saints.
Additional Resources:
Joseph Smith: Prophet of the Restoration
Request a free copy of The Book of Mormon (Another Testament of Jesus Christ)
A recent publication by Mark L. McConkie, Remembering Joseph: Personal Recollections of Those Who Knew the Prophet Joseph Smith, is a wonderful collection of memories and impressions of the remarkable man Joseph Smith was. Below is a personal account from William Taylor about time he spent with the Prophet.
Late in the night the Prophet had gone to my brother John's house in Nauvoo and said to him: "I want you to go with me to your father's." My brother said: "But I can't go, Brother Joseph; I am sick in bed!" The Prophet replied: "I'll come in and help you dress, and you'll find no inconvenience from going out."

So Brother John got up, dressed and started out with him, and by the time they reached our home, none of us could tell that he had been the least sick. The four stayed at our house a few days and then the Prophet sent the other three back to Nauvoo to see if anything was going wrong at that place. In a few days they returned. During their absence the Prophet and I spent most of our time during the day in the woods, near our house on the Henderson bottom, walking around, shooting squirrels sometimes, or doing anything we could to amuse ourselves. I was the Prophet's only companion in these tramps through the woods, and I have often thought it strange, that though there were many people in that part of the country we never met anyone when we were out.
It is interesting to see the faith that John had in the Prophet's words. It may have just beent he prospect of so much intimate time with Joseph that got John going, and he was certainly blessed for going along—not just because his health improved, but also because he strengthened a friendship and gained more knowledge of the gospel. William went on to say:
I do not remember exactly how long the Prophet remained at our home, but it seems to me it was about two weeks, but in this short period, owing to the nature of the circumstances surrounding us, I had more real close association with him than I would have had in a lifetime under different conditions. It is impossible for me to express my feelings in regard to this period of my life.

I have never known the same joy and satisfaction in the companionship of any other person, man or woman, that I felt with him, the man who had conversed with the Almighty. He was always the most companionable and lovable of men—cheerful and jovial! Sometimes on our return home in the evening after we had been tramping around in the woods, he would call out: "Here, mother, come David and Jonathan."

Much has been said of his geniality and personal magnetism. I was a witness of this—people, old or young, loved him and trusted him instinctively. I said to him once: "Brother Joseph, don't you get frightened when all those hounding wolves are after you?"

And he answered: "No, I am not afraid; the Lord said he would protect me, and I have full confidence in His word." I knew the danger, and whatever happened to him would happen to me, but I felt no more fear than I now feel. There was something superior to thoughts of personal safety. Life or death was a matter of indifference to me while I was the companion of the Lord's anointed!

He said to me often: "I'll never forsake you, William," and I knew he wouldn't.

(William Taylor, "Joseph Smith, the Prophet," Young Woman's Journal 17, no. 12 [December 1906]: 547–48.)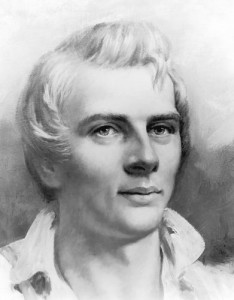 What a testimony of a good man. All who met and spent time with the Prophet testified of his love for those around him, his genial attitude, and his kind heart. Having the spirit of Christ with you as much as Joseph Smith did means that you radiate joy and light, and people are drawn to that because they long for it in their own lives as well. Joseph Smith was a true follower of Christ, and his mission was to bring the joy of the Light of Christ into as many other lives as would accept it.
Joseph had more reason than most to fear his enemies. They were relentless and sped on by the hatred of the Adversary who knew what a threat Joseph Smith posed. However, Joseph and been promised by the Lord that he would be protected, and he had complete faith in that promise, as well as all the other promises the Lord made him. This nearness to the Lord dispelled all fear. As William said, "There was something superior to thoughts of personal safety" in Joseph's company—death became a matter of indifference because not only had Joseph been promised protection until his purpose had been fulfilled, but also, death held no fear for Joseph because he kept the Lord's commandments.
We can have the same peace and joy that Joseph Smith had and which William felt emanating from Joseph. If we live our lives in accordance with the gospel of Jesus Christ, we can feel of His love for us and feel at peace even in a troubled world.
This article was written by Doris White, a member of The Church of Jesus Christ of latter-day Saints.
Additional Resources:
Joseph Smith: Prophet of the Restoration
Basic Mormon Beliefs and Real Mormons
Mark L. McConkie, a professor in the school of public affairs at the University of Colorado, has recently published Remembering Joseph: Personal Recollections of Those Who Knew the Prophet Joseph Smith. This is an excerpt from that book and is the recollection of Jesse W. Crosby.
Brother Jesse W. Crosby, a prominent man in early Dixie and an early preacher of the Gospel lived a close neighbor to the Prophet [Joseph Smith] in Nauvoo. Being a very observing man he learned much of that great man's home life, and he used to tell us many interesting things about it.

He said the Prophet had great ability as a financier, and that had his enemies left him he would have become one of the wealthiest men in America. Everything his hand touched seemed to prosper. His fields were always in good condition and yielded well.

When people came to see him, and he had many visitors, their teams were fed the best of hay and his barn was full. No other orchard had as fine fruit as his did. If an inferior cow was by any means shoved on to him it would be but a short time before she became a first-class milker. Many men sought his advice when in financial difficulty, and none failed to profit by it if they followed the counsel he gave.

A period of great prosperity for him, Brother Crosby said, would seem to induce a raid upon him. One trial after another would be launched until he was left penniless and perhaps in debt. On one of these occasions when the Prophet had been absent from home for some time, Brother Crosby went to his home to see if he might render some assistance.

When he made the purpose of his visit known, the [Prophet's] wife burst into tears and said that if the persecution would cease they could live as well as any other family in the land. They could even have the luxuries of life. Bro. Crosby related the following items of interest concerning the Prophet.

He was strong and active, and could build more rods of good fence in one day than most men could do in two, and he always left his fence clear of everything that might gather fire, such as underbrush, loose limbs, and tall strong weeds.

He was orderly. His wood yard was an example of order. Logs were neatly piled and all trash cleared away. If he did not finish the log on which he was chopping the remnant was laid back on the pile and not left on the ground for a stumbling block. The chips he made he picked up himself into a basket and put them in a wooden box which stood in the wood yard to carry them into the house to be burned.

Bro. Crosby confessed this: During a period of financial depression for the prophet, the ax was stolen from his wood yard and Brother Crosby contributed to loan him the ax belonging to himself because of the unfailing habit of the Prophet to always sharpen the ax he had been using before it left his hand. People in that section burned hard wood and to keep the ax in good shape required much time and energy. Some of the home habits of this best friend, however, such as building kitchen fires, carrying out ashes, carrying in wood and water, assisting in the care of the children, etc. were not in accord with Brother Crosby's idea of a great man's duty.

("LaFayette C. Lee, Notebook," LDS Church Archives, Salt Lake City, Utah.)
What a wonderful personal character sketch of the Prophet Joseph Smith. It is truly the day-to-day activities and actions of a man that show his true character. The commentary regarding how everything Joseph touched seemed to prosper reminds me of Jacob in the Old Testament, when he was working for Laban and was able to build up quite a stock of goods for himself because the Lord blessed him (Genesis 30).
Joseph Smith was a hard and honest worker. He wanted to help those around him, but his enemies refused to leave him alone. Yet, each time Joseph's enemies thought they had ruined him, he rose like a phoenix from the ashes and prospered again. Even when Joseph willingly went to Carthage and knew it was to his death, he was comforted by the knowledge that he had fulfilled God's work for him on the earth. How many of us, when we feel our mortality, can say with an honest heart that we know we have done our best to keep God's commandments and to fulfil His wishes for us here?
Joseph Smith was truly a prophet of God, and he lived his life the best way he knew how to please God.
This article was written by Doris White, a member of The Church of Jesus Christ of Latter-day Saints.
Additional Resources:
Joseph Smith: Prophet of the Restoration
The Book of Mormon (Another Testament of Jesus Christ)
http://youtu.be/dZDaHTuKrU8
Pieter Vlam was born on July 8, 1894, to Arien and Aaltje Klant Vlam in the Netherlands. When he was 16 years old, he and his mother and brothers joined The Church of Jesus Christ of Latter-day Saints (which church is often misnamed the Mormon Church). A year after his baptism, Pieter joined the Royal Dutch Navy, where he spent his career. He married Hanna Melaine Gysler on August 24, 1929, in Zurich, Switzerland. Hanna was also a member of the "Mormon Church."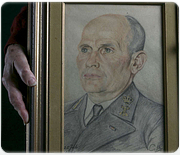 In 1933, Hanna joined her husband for his tour of duty in Indonesia with their three-year-old daughter, Grace, and their new son, Heber. They stayed in Indonesia until his tour ended in 1938. While the children had been very happy in Indonesia, Pieter was severely persecuted in his career for his religious beliefs, and his superior officer made it impossible for Pieter to extend his stay in Indonesia, so they returned to the Netherlands.
Pieter and Hanna's plan was always to move to the United States, as soon as it became possible, but this option did not arise for several years. On their way back to the Netherlands, however, the Vlam family was able to stop in Salt Lake City, Utah, and they were sealed together as an eternal family in the Salt Lake Mormon Temple. At this time, the Vlams had another child, Vera. On June 9, 1938, they were sealed together before returning to the Netherlands. In 1939, they had their last child, Alvin.
As World War II approached and the Nazi threat intensified, The Church of Jesus Christ of Latter-day Saints recalled their missionaries from Europe. Vlam was still an officer in the Royal Dutch navy, and he was also called by Elder Joseph Fielding Smith to serve in the Dutch Mission presidency. These men became responsible for the church in their area during the war. In 1940, the Nazis invaded the Netherlands, and Vlam had to move to Voorburg, near The Hague, to find a new job to support his family. Most of Pieter's neighbors in the area were also former military personnel, but they were standoffish towards their Mormon neighbor. However, after Vera was killed in a tragic train accident at the age of 4, the neighbors' hearts were softened and they were more open with the Vlam family. The family was struck by the loss of Vera, but they were comforted by the blessings they had received in the temple to be an eternal family.
In May 1942, the former Dutch military were all taken prisoners, including Pieter. Grace was eleven at the time and heard the news at school. She rushed home to find her father gone. She was devastated, but remembers the Spirit telling her audibly that she would see her father again. Pieter was taken to the Nuremberg-Langwasser prison camp. He wrote home asking for a copy of the Book of Mormon and the Doctrine and Covenants. In his letter, his faith was apparent as he said to his wife: "God will bring us together again. . . . We trust in him. Live the gospel with the children. . . . Be courageous and continue a normal life."
Three months after arriving at Nuremberg-Langwasser, Pieter was transferred to Stanislau, Poland (now Ivano Frankivsk, Ukraine), to Stalag 371, a prison camp in an 18th-century monastery now surrounded by barbed-wire fences. Faced with such a bleak outlook, many of the inmates (some of whom were Pieter's fellow officers) began asking serious questions about life. Some turned to Pieter for answers.
Because meetings were forbidden in Stalag 371, Pieter would take a couple people with him and walk in circles for miles around the camp, discussing the gospel with them. He taught nearly 1,000 men about the Restoration and the fulness of the gospel of Jesus Christ. Pieter shared joy instead of misery, and many people joined the church.
The men who believed Pieter wanted to meet together, but at first had to do so in secret. They would gather, one by one, in an isolated room in the old monastery. The first to arrive swept the floor, the second covered the window. They would not sing, because it would draw too much attention, but they read and talked. They pondered the Sacrament prayers, but did not perform the ordinance of the Sacrament. They had not yet been baptized, and the Sacrament is a renewal of baptismal covenants.
A Dutch Reformed Church chaplain volunteered in Stalag 371 and became aware of Pieter's efforts. He met with each person attending Vlam's meeting and distributed anti-Mormon literature, telling them Vlam was misguided and deceived. While this had the desired effect on some, for others it enforced their belief in Vlam's teachings because they compared the anti-Mormon literature with what they had been taught and recognized the obvious discrepancies.
After a while, the group was able to meet in the open. They fasted once a month and gave their food to weak or ill prisoners. Though things were difficult, Pieter warned the men who met with him that the true test of their faith would come outside the prison walls when old family, friends, and new enemies would challenge them and disown them for their beliefs. He certainly knew that from personal experience.
Pieter continued to be blessed. His former employer continued to pay his salary to Pieter's family, even though he was not working. Still, his family had to travel to the country to make the money stretch far enough to survive on.
In January 1944, Stalag 371 was evacuated and the prisoners were moved to a camp in Neubrandenburg, north of Berlin. Finally the war ended, and on June 5, 1945, 14-year-old Grace was able to welcome her father home.
In 1949, Pieter was able to move his whole family to the United States, as he had longed to do for years. They lived in Salt Lake City. Pieter passed away on October 31, 1957, and Hanna passed away on June 17, 1982. Many men who believed Pieter's words were baptized after the war ended and remained faithful members.
Pieter was truly an example of staying true to one's faith and sharing the peace it brought him with others.
Additional Resources:
The Book of Mormon (Another Testament of Jesus Christ)