SMITHFIELD — After dinner, three baths, four bedtime stories and a half-a-dozen goodnight kisses for 2-year-old twins Brock and Isaac and 6-year-old Ellie, Erin and Brian Thompson finally sink into the couch with weary smiles.
Being parents is just what they always wanted. And they love it.
"Of course we have our crazy moments," Thompson says, "but for the most part we just try to find the good things in the day and remember that they're only going to be little for so long."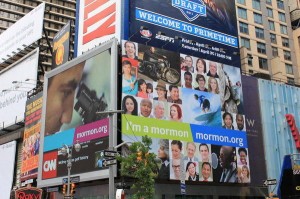 As members of The Church of Jesus Christ of Latter-day Saints, the Thompsons believe that maintaining a strong marriage and raising and teaching children are essential keys to happiness and their most important responsibilities on earth.
In fact, 81 percent of Mormons say being a good parent is "one of the most important things in life," according to a new survey by the Pew Research Center's Forum on Religion & Public Life — the first survey of Mormons about Mormons, by a non-LDS research organization. Read more