by Doris White
Many people have called Joseph Smith a gold digger, but who knew that Mormon gold would one day be so valuable? The early history of Latter-day Saints ("Mormons") in the Utah Territory certainly wouldn't have led anyone to believe it.
When members of The Church of Jesus Christ of Latter-day Saints (which church is often inadvertently referred to as the "Mormon Church") first entered the Salt Lake Valley in Utah in 1847, they had little or no money. They had all had to leave behind homes and many of their most prized possessions, including property. The church leader at the time himself, Brigham Young, only carried $50 with him. When you think about it, what was the use of money? There was no one there, nothing to buy.
However, as time went on, the lack of a standard currency (Utah was not an official part of the United States at the time), presented unique challenges for the Mormon population. They came up with some inventive ways to meet that challenge. Read more
by
Reasons for the Original Exodus
In a bone-chilling temperature of -12°Fahrenheit, 1,000 people gathered in Nauvoo, Illinois, on February 3, 1996, to remember the original Mormon Exodus from the Saints' beloved city. Members of The Church of Jesus Christ of Latter-day Saints (often inadvertently referred to as "Mormons") had been forced from their homes many times before, but this occasion in 1846 was the last time. Then president of the Church, Brigham Young, said:
We could have remained sheltered in our homes had it not been for the threats and hostile demonstrations of our enemies. Our only means of avoiding a rupture was by starting in midwinter. Our homes, gardens, orchards, farms, streets, bridges, mills, public halls, magnificent Temple . . .  we leave as a monument of our patriotism, industry, economy, uprightness of purpose and integrity of heart (History of the Church, 7:603).
The Saints were, this time, leaving not only their homes and city behind, but (as they thought), their country. Heading for the unsettled West, they intended to leave the United States, where they had endured so much persecution. However, the Utah Territory, where they settled, soon became part of the United States after the war with Mexico. Read more
The Church of Jesus Christ of Latter-day Saints (which church is often inadvertently referred to as the "Mormon Church"), is full of stories of ordinary people who made extraordinary sacrifices for their beliefs. All Latter-day Saints ("Mormons") are encouraged to remember this history, whether they are direct descendants of the earliest Mormon pioneers or not, because we can all learn so much from these amazing people.
George Laub is one such ordinary man who joined the Church early on and remained faithful throughout his life. However, he is not a man with whom most Mormons today are familiar. A journal of his is preserved in the LDS Church Archives and is quite instructional.
A man without a great deal of education, George Laub did the best he could with what he had, and he learned more as he went along. He, like Joseph Smith, learned more through the Holy Ghost than he had opportunity to learn in a formal education setting. His journal is in the language of a frontiersman, but his faith is like Job's.
George Laub's Personal Accounts of Joseph Smith and Brigham Young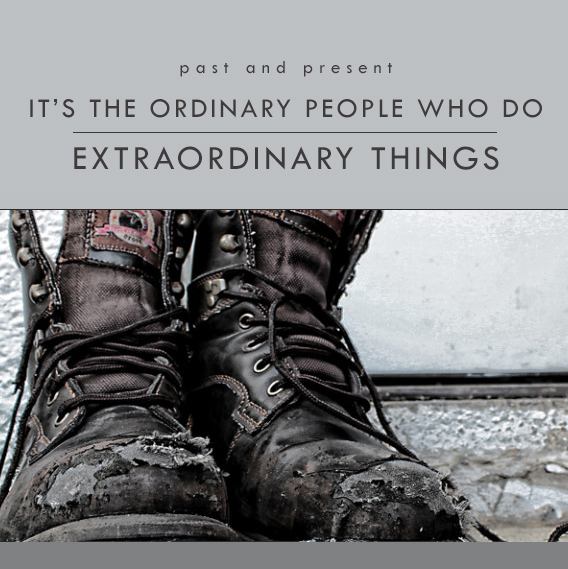 George Laub's personal accounts of many of Joseph Smith's and Brigham Young's sermons provide excellent documentation of some things that may otherwise have been lost, including a sermon from Hyrum Smith on the "plurality of gods." Laub also recorded his own version of the Prophet Joseph Smith's famous "King Follett Discourse" from April 7, 1844, which "explores startling ideas about the nature of God and the universe and about man's eternal identity and potential godhood" ("George Laub's Nauvoo Journal," edited by Eugene England, BYU Studies, 1978). Read more
Erastus Snow was born November 9, 1818, in St. Johnsbury, Caledonia, Vermont. His mother was a devout Methodist, while his father was less religious. Erastus' mother raised him to believe in God. At the age of nine, he began to study the Bible seriously on his own, having a strong interest in religion. He chose to begin with a study of the life of Jesus Christ. By the time Erastus was thirteen years old, two of his older brothers, married and living away from home, had converted to Mormonism. (Mormonism is the nickname some people use to describe the belief system of members of The Church of Jesus Christ of Latter-day Saints.) Mormonism had been founded not quite two years before. That year, two Mormon missionaries, Orson Pratt and Lyman Johnson, came to Erastus' home and shared a message with his family about the religion. The whole family listened with great interest, curious to know what their older sons had decided to believe. Erastus, after hearing the missionaries share their testimonies, felt the testimony of the Holy Ghost come over him and he believed their teachings. Although his mother also gained a testimony, his father did not accept their message.
Erastus Snow Becomes a Mormon
Erastus was anxious to join the church, however, so he began to pray for a way to make that happen. His mother convinced his father to let him visit his married brothers, and one of them baptized Erastus. He began studying the Bible even more, determined to become a missionary someday. In time, all but two of his siblings were baptized, as was his mother.
When he was sixteen, he was sent on a ten-day mission into Vermont. He traveled with a relative the same age. They hosted a variety of large meetings where they taught the gospel to both Mormons and those who were curious about Mormons. They were very excited about the results of this first mission trip. Later, he went on another trip that was less successful. Read more
Lorena Washburn Larsen, Daughter of Mormon Pioneers
Lorena Washburn (1860-1945) was born in Manti, Utah, five years before the Black Hawk War. Her family belonged to The Church of Jesus Christ of Latter-day Saints (often inadvertently called the Mormon Church). Her parents Abraham and Flora Gleason Washburn were Mormon pioneers and emigrated from Nauvoo, Illinois, to Salt Lake City, Utah, in 1848.  Brigham Young, president of The Church of Jesus Christ, called the Washburns to settle Manti in 1849 after Ute chiefs Wakara and Sowiette visited him asking for permanent settlers in the area. In 1865, the Chiefs became uneasy as settlements expanded. Because of starvation among the Utes, a few of them began stealing the Mormons'cattle. On April 9, 1865, in Manti, at a meeting between the Mormons and the Utes discussing the cattle thefts, an altercation ignited the violence. Black Hawk, an Indian brave, successfully united neighboring tribes against the Mormons.
My Memories of the Black Hawk War

I was just a small child when the Black Hawk War with the Ute Indians began in April, 1865. We lived in Manti, Utah.  All the people living in the east part of town were told to move onto our street or into houses not farther east than the second row of blocks east of Main Street. That would make it easier to defend the town against the Indians.

In our home there was one large living room, a bedroom, and a kitchen. Under the living room was a large cellar with a trap door in the living room. During the war, we were in danger of Indian attacks at any time of day or night. Mother told us and the neighborhood children to be  on the lookout in the daytime. If we saw a group of horsemen coming at any time, we were to all run to our house and she would hide us in the cellar.  We had one such scare. A large group of horsemen came riding around Temple Hill and came galloping up our street. We all ran and were quickly hidden in the cellar. Then Mother discovered that it was a scouting party who had been out looking for Indians. Read more
William Marsden was one of those stalwart Mormon pioneers who served in any way he could with the many talents he had.  A convert to The Church of Jesus Christ of Latter-day Saints (often inadvertently called the Mormon Church), his burning testimony made him a worthy servant of God.
I, William Marsden, son of Abraham Marsden and Hannah Thornton…was born…on the 16th of March 1814, in the town of Oldham, County of Lancashire, England. My father was by trade a cotton spinner. I was brought up in the cotton business, and followed the same until I was twenty-five, years of age. My parents were strictly Methodists, they belonged to what was called the New Connection Methodists.
Conversion and Mormon Missionary Service
At the age of twenty four I joined The Church of Jesus Christ of Latter-day Saints, I was baptized on the 7th of October 1839 in the river Irnvel, Manchester County of Lancashire, by James Mahon, Priest. I was also ordained a Priest January 5, 1840, by Parley Peter Pratt and Brigham Young, two of the Twelve Apostles of The Church of Jesus Christ of Latter-day Saints.

The next day being Sunday, President Brigham Young requested me to go to Oldham to preach to the people as they did not have any Latter-day Saint preacher there. I did go having to make the journey on foot, a distance of seven miles. I invited Thomas Yates and James Mahon, Priests, to accompany me which they did. Thomas Yates and myself continued to labor there. In six weeks there were six persons baptized, each one belonging to a different denomination. I continued to labor there until a branch of the Church was organized. The branch was organized on Sunday February 17th, 1840. I then went to labor in new places, wherever I could get an opportunity to preach to the people. Read more
Samuel H. Smith was born on March 13 or 14, 1808, in Tunbridge, Vermont. His parents were Joseph Smith, Sr., and Lucy Mack Smith. Samuel was the younger brother of the Mormon prophet, Joseph Smith. Mormon is a nickname sometimes used to describe members of The Church of Jesus Christ of Latter-day Saints.
Samuel's family was not wealthy and they worked very hard at a variety of tasks in order to stay alive. They were primarily farmers but also sold products of their own making to supplement their farm income. As a young boy, Samuel became a Presbyterian with his mother and siblings Hyrum and Sophronia.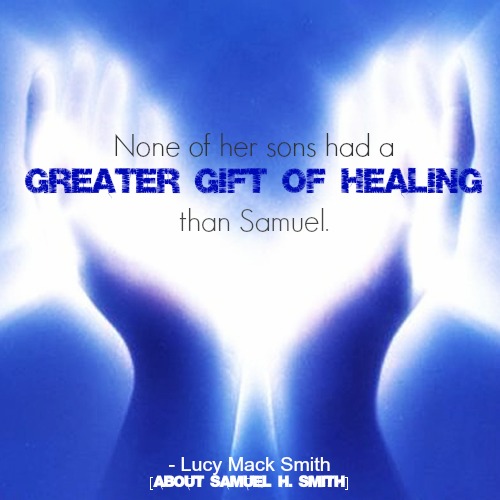 When his older brother, Joseph Smith, received a revelation and then was called to help bring a restoration of the gospel, Samuel did not automatically accept what his brother taught. In time, he used the same method Joseph had used to find out what church was true. He went into the woods and asked God in prayer. There he received a personal revelation of the truthfulness of the gospel of Jesus Christ that his brother taught. He served as a scribe for a brief time for his brother, who was translating the Book of Mormon.
When his brother Joseph organized The Church of Jesus Christ of Latter-day Saints, Samuel was one of the six legally required representatives to attend the first meeting. He was the third person to be baptized. He had the privilege of being one of the eight official witnesses of the Book of Mormon, who were allowed to see and touch the plates on which the book had been written. His testimony, combined with that of the other witnesses, can be read online. Read more
Elizabeth Degen was born on September 12, 1802, in Holstein, Basel Switzerland. Elizabeth Degen's family escaped the then current political upheaval by emigrating to Pennsylvania in 1816. She married Martin Bushman in 1827. Elder Elisha H. Davis baptized 38 year-old Elizabeth and Martin into The Church of Jesus Christ of Latter-day Saints, often inadvertently called the Mormon Church, and in 1842, the Bushmans joined other Latter-day Saints in Nauvoo, Illinois. The Pennsylvania Dutch were notable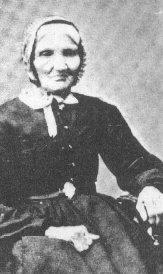 farmers, and Brigham Young asked them to stay and maintain farms after the main body of the Saints left Nauvoo. Martin and Elizabeth's family stayed behind in Nauvoo and then later in Kanesville, Iowa, to produce crops for the Saints. They arrived in Salt Lake City, Utah, in 1851. Martin died in 1870.
Elizabeth served as a midwife and contracted pneumonia while traveling in the rain to deliver a baby. The following thoughts of God the Eternal Father and the Savior Jesus Christ were recorded on her deathbed. She passed through "the valley and shadow of death" May 21, 1878.
Thou Art the Living God
My Father and my God that dwelleth in the Heavens. The Father of my spirit and the spirits of all men, look upon me in mercy because I am Thy daughter and I feel that I am about to pass the valley and shadow of death, but I fear no evil for Thou wilt be my prop and my stay. My mind is as calm as a summer's morning and I have a peace that passeth understanding. Permit me, Oh God, to depart in peace, for my body not to be racked with pain and anguish. Lay underneath me Thy arms of love to be my stay and my support. Read more
Emma Smith was the wife of the first Mormon prophet, Joseph Smith. Throughout the years, she has remained a complex topic for both Mormons and non-Mormons. Many people have focused almost entirely on the decisions she made in the last years of Joseph Smith's life and after his death, and sometimes those events trouble Mormons and please non-Mormons. To understand her, we have to place her in her own setting and time, not in our own. We have to look at her entire life, not just one portion of it.
Emma Smith was born in 1804 in Pennsylvania and had unusual opportunities for a girl in her time. She was well-educated and taught school. She even owned cows and other items, possibly given as payment from students. Her family had a fair amount of money. Imagine, then, her family's concern when she developed a fondness for Joseph Smith, who was from a poor farm family and had almost no formal education—just that which his father had given him at home with a small amount of traditional schooling. He had no steady occupation and was involved intensely with religion. He was not, however, a member of her family's faith and in fact, had received a vision at age fourteen telling him not to join any existing church because none were completely right.
Emma saw in him what her family missed. She, like others who knew him well, saw an innate intelligence, a willingness to work very hard, and great integrity. Those who hired him found him to be the best employee they'd ever hired. He attended school as they courted, trying to live up to her. Despite her parents' disapproval, she eventually eloped. They lived with his family and then with hers for a time. Read more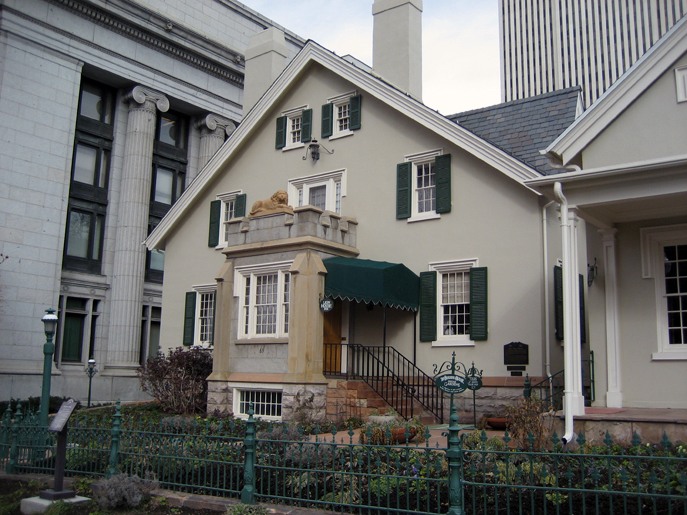 The Lion and Beehive Houses were both once homes built for second president of The Church of Jesus Christ of Latter-day Saints, Brigham Young. The Church of Jesus Christ of Latter-day Saints (frequently misnamed the "Mormon Church" by the media) has been headquartered in Salt Lake City, Utah, since 1847.
The Beehive House was constructed in 1854. Brigham Young was also territorial governor of the Utah Territory, and the Beehve House served as his executive mansion from 1852 to 1855, where he entertained important guests. It later became the official home of later presidents of The Church of Jesus Christ of Latter-day Saints Lorenzo Snow and Joseph F. Smith.
The Lion House, so named for a stone lion which sits on top of the front door to the house, was constructed in 1856 and housed up to twelve of Brigham Young's wives and their families. Mormon polygamy was still being practiced at this time, and Brigham Young had several families to take care of. It was in the Lion House that Brigham Young founded the Retrenchment Society for his daughters and other young women of the Church to learn together principles of industry, modesty, and religion. This society became today's Young Women Association of The Church of Jesus Christ of Latter-day Saints. Brigham Young died in the Lion House in 1877. Read more