Emma Smith was the wife of the first Mormon prophet, Joseph Smith. Throughout the years, she has remained a complex topic for both Mormons and non-Mormons. Many people have focused almost entirely on the decisions she made in the last years of Joseph Smith's life and after his death, and sometimes those events trouble Mormons and please non-Mormons. To understand her, we have to place her in her own setting and time, not in our own. We have to look at her entire life, not just one portion of it.
Emma Smith was born in 1804 in Pennsylvania and had unusual opportunities for a girl in her time. She was well-educated and taught school. She even owned cows and other items, possibly given as payment from students. Her family had a fair amount of money. Imagine, then, her family's concern when she developed a fondness for Joseph Smith, who was from a poor farm family and had almost no formal education—just that which his father had given him at home with a small amount of traditional schooling. He had no steady occupation and was involved intensely with religion. He was not, however, a member of her family's faith and in fact, had received a vision at age fourteen telling him not to join any existing church because none were completely right.
Emma saw in him what her family missed. She, like others who knew him well, saw an innate intelligence, a willingness to work very hard, and great integrity. Those who hired him found him to be the best employee they'd ever hired. He attended school as they courted, trying to live up to her. Despite her parents' disapproval, she eventually eloped. They lived with his family and then with hers for a time.
She worked hard to support his mission. When the time came for Joseph Smith to retrieve the golden plates hidden in ancient times by an angel—a book today called the Book of Mormon—she went with him, praying at the wagon while he went to open the box. She joined in his efforts to protect them from thieves and acted on occasion as his scribe. He was not sufficiently educated to write the translation of the plates, so while he translated through the Holy Ghost, she wrote his words. Other scribes would do the majority of the translation, but she filled in as needed.
She had sufficient faith to avoid looking at the plates even when they were in her bedroom or kitchen, although she frequently felt them and moved them out of her way as she worked. Later witnesses would be permitted to view the plates, but God asked Emma to accept them on faith, a testimony that God recognized her as a woman of great faith.
Emma Smith would make tremendous sacrifices for the gospel of Jesus Christ, for her husband, and for the church. She was not perfect and made choices that seem hard for us to understand today. There can be no question, though, that she made sacrifices far beyond what most Mormons would be asked to make, and that she experienced more than her fair share of suffering.
She would lose many of her children. Her first three died so quickly they were not even named. After losing twins, she adopted a set of twins, but one died after being exposed to the cold when a mob invaded their home while the children were ill. One child died at the age of fourteen months and another died less than a year later.
She would leave her parents in 1830, never to see them again as she and her family were forced to move from place to place to avoid persecution and violence. Her husband was arrested, essentially for being Mormon, leaving her alone to care for her children. She wrote to him that only God knew how hard it was for her to flee her home with her children, abandoning all her possessions and leaving her husband to endure whatever was to come.
Time and again, she was uprooted, often without warning and frequently without time to pack her belongings. She endured the jeering and insults of mobs. The comfortable and peaceful life she had led as a girl had done little to prepare her for this new life, but she faced it with faith. She comforted other women, instructed them, and helped them to build their own faith. She frequently found herself living in the homes of others and just as frequently took complete strangers into her own home. When a group of black Mormons arrived after a very difficult and painful journey fraught with danger and racial prejudice, their feet bleeding because they no longer had shoes, she sat them at her own dinner table and took them all into her home as guests until they could find work. When one was unable to find employment, she hired Jane Manning herself.
She led the Relief Society, an auxiliary for the women of the church that was organized to educate the women and to allow them to serve others. She compiled the first hymnbook.
She handled nearly every trial with grace. She was often anxious and sad, but she coped. Eventually, however, she encountered a trial that became more than she thought she could handle. It is possible that polygamy would have come more easily if it had not been added to an already extraordinary number of other trials and if she had not been the first wife to face it in the Church. She had no example to follow and no real support group, as later women would have.
Initially, when Joseph admitted to her that he had received a revelation about polygamy and was told he absolutely must carry it out, she accepted it. Later, when Brigham Young was the prophet, the practice would be refined so that the first wife had to approve each subsequent wife, but as we also see in the Bible, refinements of new practices often come over time as prophets continue to pray for guidance. Emma did, from time to time, offer approval of specific marriages. At other times, she found she could not handle the choices she had made, much as Sarah in the Old Testament first encouraged her husband to marry her handmaiden and then discovered it was more than she was prepared to handle.
According to historian Richard Bushman, Joseph saw polygamy simply as a way to join families together for eternity. Mormons believe family life continues after death. When eternal marriage was first introduced, many families carried out "sealings" with friends and those they wanted to be eternally associated with, not entirely understanding what the revelation meant. Many wished to be associated with the prophet for the eternal blessings they felt this would bring. He did not court the women or put his proposals in romantic terms. In fact, he generally took another man with him or even asked a father or brother to approach the woman. He instructed them to have the women pray about the request.
Modern DNA has ruled out all children Fran Brodie had proposed were his through other marriages. Since he did father many children with Emma, parenthood was possible, but there is, at this time, no biological proof of traditional marriage relationships and the only accounts came from others, not the women or Joseph. For him, it appears the marriages were fairly impersonal and meant to fulfill the requirement given him by an angel and to join certain families together in the eternities.
Whatever the situation, Emma eventually found herself unable to cope with polygamy. Bushman reports that Emma and Joseph had many intense discussions about his polygamy and their relationship was periodically strained.
All the same, she continued to have a testimony of his role as a prophet and she carried out her duties faithfully. She became the first woman to receive the temple endowment involving the making of sacred covenants with the Savior. She then became a temple worker, helping others with their first temple experiences. During this time, their relationship improved and Joseph may have agreed to stop taking on additional wives.
Although their marriage was often troubled following the introduction of polygamy, Emma continued to care for Joseph. When he was murdered, she bent over him and expressed her sorrow that they had taken him from her. She had a lock of his hair cut and given to her. She wore it in a locket the rest of her life, even after she remarried.
She was left alone with her five children, including her adopted daughter and four sons. Her financial state was precarious because there had not been a clear line between the family money and the church money, with Joseph often going into debt to help support the church. She made an understandable effort to keep some of the property and this put her at odds with Brigham Young, since it was unclear which of those properties belonged to the church and which to her. Some church members inappropriately rejected her because of her rejection of polygamy and her outspokenness on the subject. The Church was already in a period of great stress and grief as people struggled to decide who the next prophet would be and they faced the realization that they were again in great danger with an uncertain future. This most likely caused people to behave differently than they might have in gentler circumstances. With discomfort on both sides, she soon found herself outside the mainstream of the church.
When the Mormons left for Utah, she elected to remain behind. She moved away from Nauvoo for a while to avoid danger, but eventually returned to her former home. She was able to utilize the properties she owned to support her family, but with difficulty, particularly since she was left to cover Joseph's many debts. She later married Major Lewis Bidamon, who had supported the Mormons during the trials, but was not a member. He had one illegitimate child and after marrying Emma had another, which she raised, making her a most extraordinary woman. They had a reasonably good relationship despite these challenges.
When her son became an adult and headed up the Reorganized Church, as it was then known, she joined. However, she was never really an active member of that church, nor did she become active in any other church. She admitted that she had been reluctant to give her children any formal religious life—just personal reading of the Bible and Book of Mormon—because she was afraid of a return to the many trials she had faced. She helped to care for Joseph's mother and her mother-in-law noted that few women had endured as many trials as she had with so much grace.
Emma's life was a complex one. Her refined childhood and girlhood was not designed to give her the skills she needed in adulthood, and yet she managed nearly everything thrown at her. She held on to her faith in God, in the gospel, and in Joseph Smith as a prophet throughout it all. She was not perfect, but what is amazing is that she was as perfect as she was given the powerful trials and persecutions she experienced. Her heartaches were very real and would have been a challenge to any woman, particularly without the lens of understanding time brings. They were enough to wear out any woman and if she, in the end, was tired of fighting her way through life, that can be understood.
Modern Mormons are beginning to come to terms with Emma as the elect lady God declared her to be in a revelation, but a very real and human one at the same time who fought for God as long as she had to before choosing the calmer life she longed for. She stood by her husband even when they faced strains in their marriage. After his death she resisted encouragement to deny his role as a prophet. Since she left no journal, we don't really know what the entire truth about Emma Smith is…but we do know she was remarkable.
Sources:
Turley, Richard E., and Brittany A. Chapman. "A Comfort unto My Servant, Joseph." Women of faith in the latter days. Salt Lake City, Utah: Deseret Book Company, 2011. 343-362. Print.
Bushman, Richard L., and Jed Woodworth. Joseph Smith: Rough Stone Rolling. New York: Alfred A. Knopf, 2005. Print.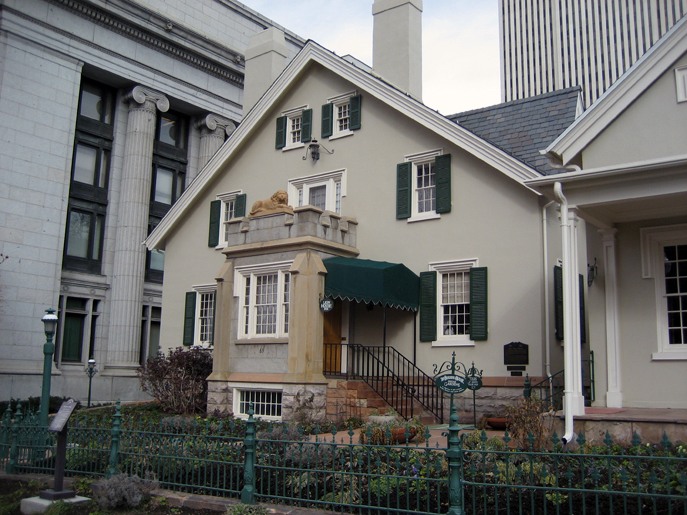 The Lion and Beehive Houses were both once homes built for second president of The Church of Jesus Christ of Latter-day Saints, Brigham Young. The Church of Jesus Christ of Latter-day Saints (frequently misnamed the "Mormon Church" by the media) has been headquartered in Salt Lake City, Utah, since 1847.
The Beehive House was constructed in 1854. Brigham Young was also territorial governor of the Utah Territory, and the Beehive House served as his executive mansion from 1852 to 1855, where he entertained important guests. It later became the official home of later presidents of The Church of Jesus Christ of Latter-day Saints Lorenzo Snow and Joseph F. Smith.
The Lion House, so named for a stone lion which sits on top of the front door to the house, was constructed in 1856 and housed up to twelve of Brigham Young's wives and their families. Mormon polygamy was still being practiced at this time, and Brigham Young had several families to take care of. It was in the Lion House that Brigham Young founded the Retrenchment Society for his daughters and other young women of the Church to learn together principles of industry, modesty, and religion. This society became today's Young Women Association of The Church of Jesus Christ of Latter-day Saints. Brigham Young died in the Lion House in 1877.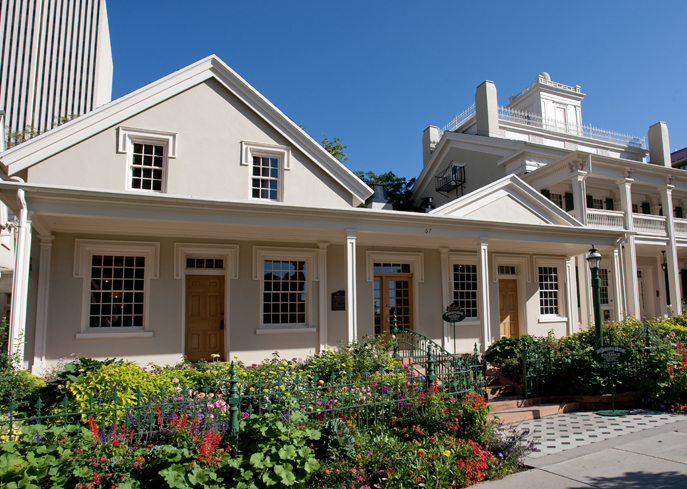 Both houses were designed by Truman Angell, Brigham Young's brother-in-law and architect of the Salt Lake Temple. The houses are built out of adobe and sandstone. While the Lion House is named for a stone lion which reminded Brigham of a similar lion featured on a prominent home in Vermont (where Brigham grew up) and which also served as a reminder of Brigham's nickname "Lion of the Lord," the Beehive House is named for a carved beehive on top of the house. Brigham Young frequently used the symbol of the beehive to denote industry.
After the death of Brigham Young in 1877, his family maintained the houses for several years before selling them to The Church of Jesus Christ of Latter-day Saints. After being used as a residence for LDS Church presidents, the Beehive House later became a dormitory. It was restored in 1960 and is now a historical site open for public tours.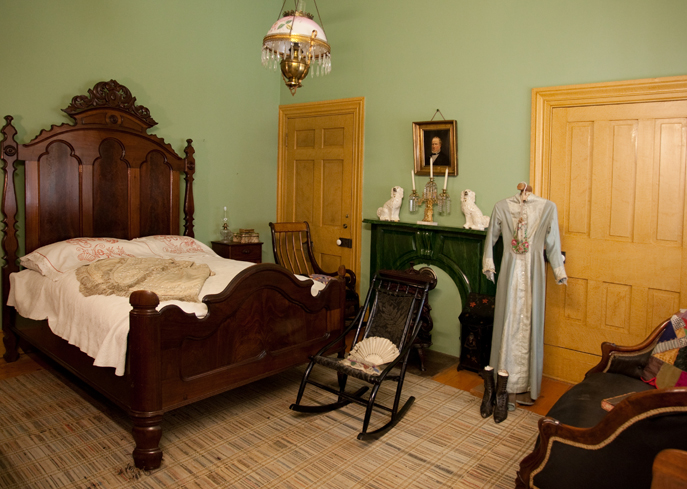 The Lion House became a home economics center for the Latter-day Saint University, which was located on the same block of South Temple Street. The Lion House later became a social center for young women of the Church where the Young Women Mutual Improvement Association held classes in myriad subjects including art, needlework, and lectures on diverse subjects. After its restoration in 1968, it remained a social center. It is home of the Lion House Pantry restaurant and is available for wedding receptions, group meetings, and birthday parties.
Additional Resources: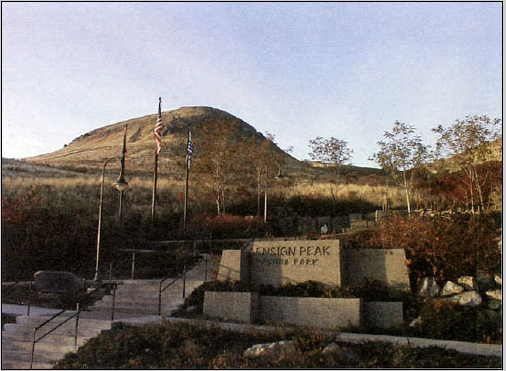 Ensign Peak is a natural landmark near Salt Lake City, Utah, rising 1,080 feet from the valley floor. It has come to be both a religious and an ecumenical landmark today, but on July 26, 1847, just two days after the Latter-day Saint (or "Mormon") pioneers entered the Salt Lake Valley, Brigham Young and eight other leaders of The Church of Jesus Christ of Latter-day Saints (including Heber C. Kimball, Willard Richards, Wilford Woodruff, George A. Smith, and Ezra T. Benson) hiked the peak to get a better view of the valley and assess their situation. Today The Church of Jesus Christ of Latter-day Saints is frequently misnamed the "Mormon Church," which leads to confusion. This church is truly The Church of Jesus Christ of Latter-day Saints.
Before departing Illinois with the first group of Saints, President Brigham Young had seen a vision in answer to his prayer seeking guidance about where to lead the Saints. In this vision, he saw an angel standing on a "conical hill." The angel was Joseph Smith (martyred prophet), and he was pointing to where the Saints' city and temple should be built. Upon arrival in the Salt Lake Valley, Brigham Young recognized Ensign Peak as that conical hill.
The name given to the hill, Ensign Peak, comes from Isaiah 11:11–12:
And it shall come to pass in that day, that the Lord shall set his hand again the second time to recover the remnant of his people, which shall be left . . . And he shall set up an ensign for the nations, and shall assemble the outcasts of Israel, and gather together the dispersed of Judah from the four corners of the earth.
From the time the first brethren climbed the hill, Ensign Peak has held special significance for the inhabitants of the Salt Lake Valley. Many festivals and celebrations have been held there, and in 1934, a monument was erected memorializing its significance. The 18.47-foot monument (the Saints arrived in 1847) was built of stones collected from stakes (organizational units of congregations) along the Mormon Trail.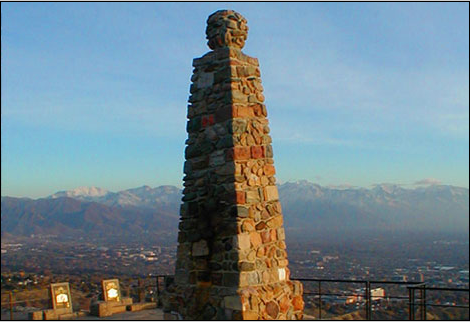 Decades later, the Salt Lake City Public Services Department and the Ensign Peak Foundation (a non-profit organization of private citizens), and the Mormon Historic Sites Foundation banded together to raise money to build a historic trail up the peak and a nature park of 66 acres surrounding it. This immense project, which included hiking trails, historic signs, two vista points, and the reclamation of eroding soil, was completed in 1996. President Gordon B. Hinckley dedicated the Ensign Peak Nature Park on July 26 of that year, setting it apart to be "a place of pondering, a place of remembrance, a place of thoughtful gratitude, a place of purposeful resolution" ("Park at Ensign Peak Dedicated," LDS Church News, (August 3, 1996).
Latter-day Saints believe their pioneer forebears were led to the Salt Lake Valley by God. Brigham Young had the vision of Joseph Smith standing in the valley where they were supposed to go, but the Saints had no other pilot or guide. None of them had ever been to the Utah wilderness or knew anything about it, but they were led by a living prophet of God who knew the place when he arrived because he had been shown it previously. After climbing Ensign Peak with those eight men, he said, "This is Ensign Peak. Now, brethren, organize your exploring parties, so as to be safe from Indians; go and explore where you will, and you will come back every time and say this is the best place" (Journal of Discourses, 26 vols. London: Latter-day Saints' Book Depot, 1854–1886), 13: 86). These men did explore many other areas in the Utah Territory, but all returned to declare their original stopping point the "best spot."
Ensign Peak also served as a temple for at least one of the early Saints. Because the Saints had left their temple in Nauvoo, and it took several years for them to complete another temple, Addison Pratt had no temple to go to in order to receive his endowment before leaving to serve a mission. He "was taken to the summit of Ensign Peak and given his endowments, that he might return to those islands of the sea in which he had labored, with greater spiritual power" (Brigham H. Roberts, Conference Report, April 1915, 130). Brigham Young specially consecrated the peak for this purpose.
Additional Resources:
"A Defense and a Refuge," Boyd K. Packer, Ensign, October 2006.
"A Banner Is Unfurled: Mormonism's Ensign Peak," Ronald Walker, Dialogue—A Journal of Mormon Thought.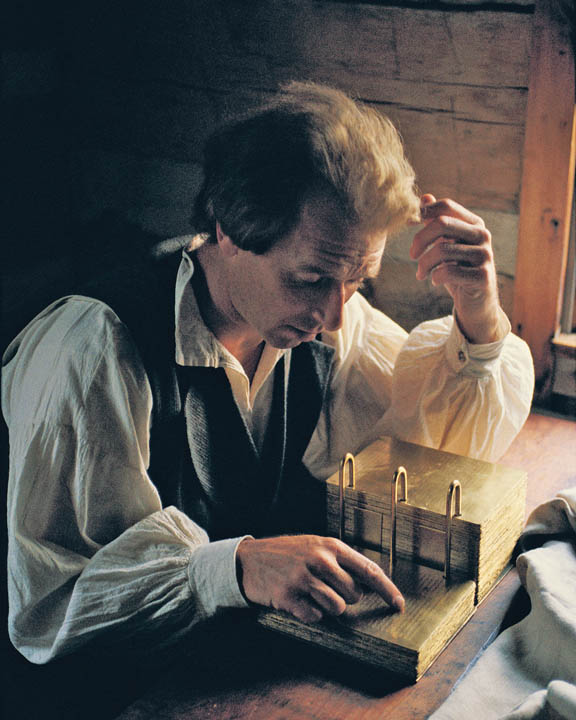 After the martyrdom of the Mormon prophet Joseph Smith and his brother Hyrum, the Saints were forced to leave Nauvoo, Illinois, and head West. Emma, Joseph's grief-stricken widow, did not want to leave the bodies of her beloved husband and his brother behind. She was exhausted from running with her children, and she had lost her best friend. Because Joseph died without leaving a will, there was a great deal of confusion about what property was his and what property he held as Trustee-in-Trust for The Church of Jesus Christ of Latter-day Saints, as the Mormon Church is officially known. Regardless of who owned what, most of the property was mortgaged anyway.
It isn't hard to understand why Emma would want to hold on to many of Joseph's manuscripts, including his unpublished manuscript of his translation of the Bible. It also isn't hard to understand why she tried to obtain many of Joseph's papers from Brigham Young, the president of the Quorum of the Twelve Apostles, who was not trying to lead the Church. She felt those documents belonged to her, and they were a dear reminder to her of her husband. As Brigham saw it, those documents were revelations from God for the good of His Church, and they were necessary to the leadership of the Church. Thus, despite the amicable resolution of most of the property issues, a rift was made between Brigham and Emma over other disagreements. This rift grew among their descendants, especially Emma's, as misunderstandings compounded later.
Though Mormon Church leaders thought they had taken care of Emma leaving her with a hotel, multiple houses, lots to sell, and a farm, the actions of others who stayed behind to help settle the Smith estate were less than honorable. In the end, Emma was reduced to poverty level and lost nearly all of what she had been left. Though these actions were not known of or condoned by Church leaders, Emma was, understandably, deeply hurt. Joseph III, Emma's son, remembered the actions taken against his mother at this time and later blamed Brigham Young for her condition.
Matters did not improve when Joseph III's brothers, Alexander and David (now aligned with dissenters against Brigham Young who had established a group called the Reorganization) travelled to Salt Lake in the 1870s to meet with Brigham Young. They were denied access to the Tabernacle, which they wanted to preach against the Mormon Church. People on both sides of the issue were upset and gossip raged. Accounts were published in Salt Lake newspapers as well as the RLDS (Reorganized Church of Jesus Christ of Latter-day Saints) publication. This led to Emma being branded as an apostate or simply being ignored by many in Utah, while RLDS members harbored ill feelings towards Brigham Young.
While there is little evidence that Brigham Young and Emma Smith personally had prejudice for each other, events continued to snowball and hatred abounded between groups whose leaders had once been close, loyal friends.
After more than 100 years of this prejudice, descendants of Joseph and Emma Smith planned to gather for a reunion. Michael Kennedy, who held responsibility for the organization of this event, felt strongly he should contact the Young family to try and heal the relationship between the families. After a few weeks, Michael successfully contacted Kari Robinson, a historian for the Brigham Young Family Association. Kari contacted Mary Ellen Elggren, President Elect of the BYFA, and explained the situation. Mary was quite surprised, because she had been largely unaware of the history and any feelings of animosity. She felt a heavy responsibility to try and make amends by writing an "apology" letter as Michael called it, though he knew that wasn't quite the right term. Gracia Jones, Chief Historian for the Joseph Smith Sr. and Emma Hale Smith Historical Society, explained it would act more as a bridge to connect the two families. Mary prayed about it and finally felt she was given the words to compose the letter. It was accepted unanimously by the BYFA and signed by its ten leaders. The letter has since been dubbed the "Healing Letter." The letter was even shown to and approved by the First Presidency. It was presented to the Smith family at their gathering at the Nauvoo House in 2007 by three representatives of the BYFA: Mary Ellen Elggren, Kari Robinson, and Peter Kennedy. This is the letter:
For a century and a half we have grieved over the loss of the fellowship of our dear Emma Hale Smith, her children and her descendants. We feel in our hearts an abiding longing to join once again these two families in a common celebration of their ancestors, two men who loved each other and gave their lives together in the service of the Lord, Jesus Christ. The Prophet Joseph Smith, who stands at the head of this dispensation, is second only in our affections to the Lord Himself, and we hold in the highest esteem our progenitor, Brigham Young, whose dying words in this world were the repeated name of his greatest friend and mentor, Joseph.

If there are any misunderstandings that continue to exist in the lexicon of traditions in our family concerning the Prophet's beloved wife whom we revere as a truly great and saintly aldy, we would commit ourselves to do whatever is needed to publish to the world our deep regard for her noble life.

It would be our earnest desire to rebuild that bridge of friendship between our two families that existed not so long ago.
At least twice now, LDS members of both families have met in temples in prayer circles. Many hurts have been healed, and the families continue to grow in love and respect for one another.
For full story, visit Meridian Magazine.
Kanesville, Iowa, was a settlement built in 1847 as the first group of Saints continued West to the Salt Lake Valley from Winter Quarters, Nebraska. Located just across the Missouri river from Winter Quarters, Kanesville was named in honor of Thomas L. Kane. The Saints continued to gather to Kanesville out of Nauvoo, Illinois, while Brigham Young led the first group of Saints to the Salt Lake Valley.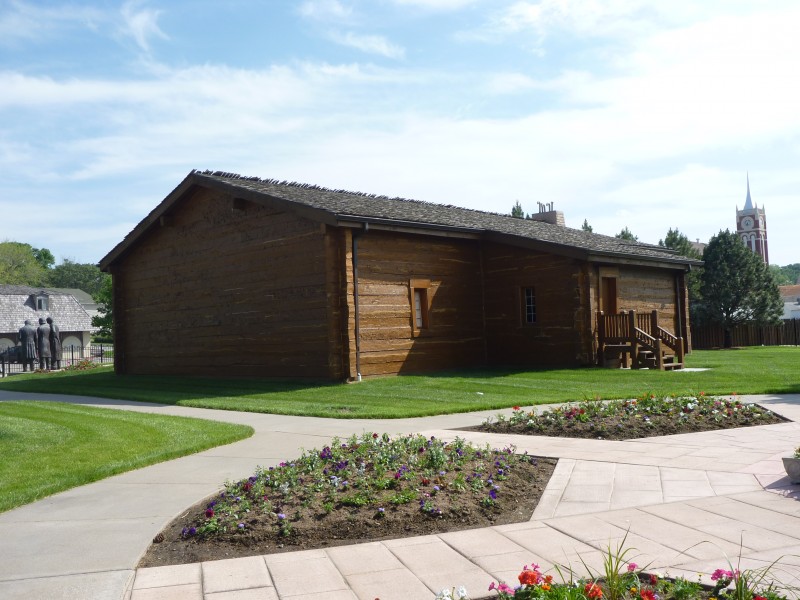 After the first group of Saints had managed to make it to the Salt Lake Valley on July 24, 1847, Brigham Young returned to the Kanesville area with most of the other members of the Quorum of the Twelve Apostles on October 31, 1847. After much discussion, the members of the Quorum were inspired to reorganize the First Presidency and the Quorum of the Twelve. Brigham Young was set apart as the new president and prophet of The Church of Jesus Christ of Latter-day Saints.
Since the Martyrdom of the Prophet Joseph Smith and his brother Hyrum, three years earlier, the Church had been successfully led by the Quorum of the Twelve Apostleswith no prophet at the head. They were able to accomplish a great deal by continuing to work together. They had completed the Nauvoo Temple before leaving Illinois, which meant that many Saints were able to receive their temple blessings before heading West. They had also led the evacuation of Nauvoo and had directed the building of the settlements in Iowa and Nebraska before finally settling in the Salt Lake Valley. Missionary work had successfully continued in Great Britain. However, the time had come for a prophet to again lead the Church, and when the Lord directed that the time was right, a new First Presidency was sustained with Brigham Young as the prophet and he called Heber C. Kimball and Willard Richards as his two counselors. More men were called to fill the vacancies left in the Quorum of the Twelve.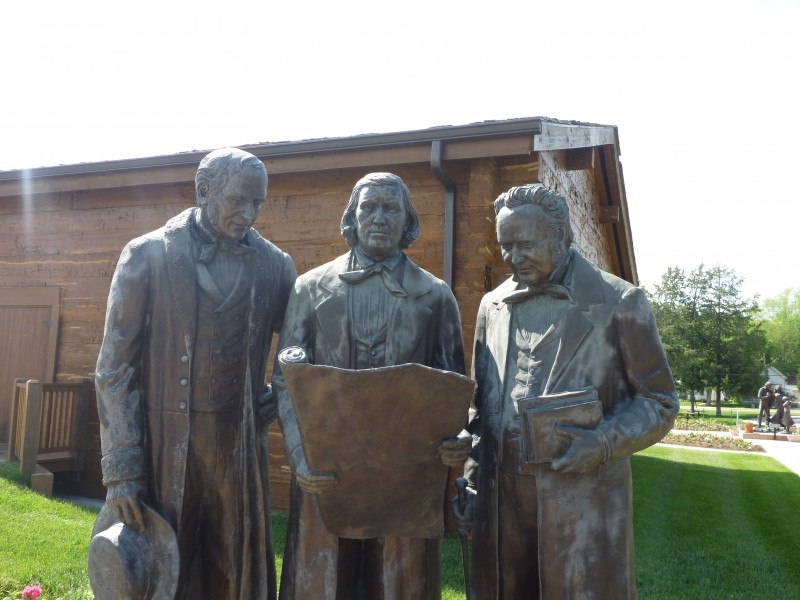 An official Church gathering was planned to have the members of the Church sustain their new leaders on December 27, 1847. A tabernacle was built in less than three weeks in Kanesville for this purpose. Henry W. Miller directed 200 men in the construction of the 60′ x 40′ building. It was built to accommodate about 1,000 people and was later used for many public functions. However, the sustaining of the new prophet was the most important event to take place there and was an extremely significant one in the history of the Mormon Church.
The original Kanesville Tabernacle stood for only two years. It was made of Green Cottonwood, which shrinks when it dries. The shrinking caused the roof to actually separate from the walls of the building by about fourteen inches. In addition, when the tabernacle was built, the ground was frozen. However, when spring came and the ground thawed, it was discovered that the tabernacle had been built on top of a spring. The building rapidly deteriorated and was eventually dismantled. A replica was built in 1996 very close to the original site (though not on top of the spring). Those in charge of the replication wanted the building to be as accurate as possible, so they even built it out of Green Cottonwood. Accounting for the shrinkage of the wood, they put in a jack system to lower the roof onto the walls after the wood had dried. The Kanesville Tabernacle stands as a reminder of the importance of recognizing the prophet and leader of the Lord's church on the earth today.
After the Saints built up a thriving community in Nauvoo, Illinois, they were surrounded by angry mobs wishing to drive them out. The Martyrdom of the Prophet Joseph Smith and his brother Hyrum Smith, though not unexpected, was a turning point for the Saints, and they knew they would have to leave Illinois. Church leaders had already been discussing moving west to the area of the Rocky Mountains and had been talking to explorers and studying what maps were available at the time.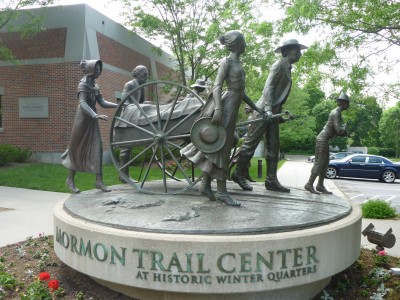 As persecution increased, the Saints realized they would have to leave Nauvoo even earlier than originally planned. Instead of leaving in April of 1846, an emergency meeting was held by Church leaders and they decided to leave immediately. The exodus of the Saints west began on February 4, 1846. Those who left early had been able to make the most preparations for their journey, though most things were still unknown. Though safety from persecution was the deciding factor in such a quick evacuation, the desire to go ahead and prepare for the rest of the Saints who would follow was also a factor for the first group to leave.
It was the middle of winter and very cold. One of the first boats to carry people over the Mississippi river was sunk when an ox kicked a hole in it. Two weeks after the first Saints crossed, a miracle occurred. The Mississippi river froze over solid, allowing the Saints to cross with their wagons without the peril of boats. The cold snap brought the blessing of the frozen river, but it was also very hard on the Saints, most of whom were not prepared for the harsh conditions, which awaited them in the Sugar Creek encampment where those who had crossed the river gathered before continuing on their journey.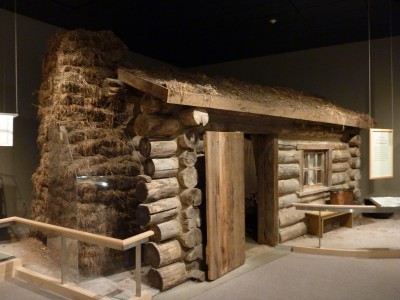 While early estimates placed the length of the journey to the Rocky Mountains at about 4–6 months, Iowa endured a very wet spring. In some places the mud came up to the wagon beds making progress nearly impossible. It took the Saints 131 days (just over four months) just to get across Iowa. They were forced to stay in the settlements of western Iowa for the winter of 1846–47 before they could make it to the Rocky Mountains. The settlement where they endured this winter was called Winter Quarters, located on the west side of the Missouri River in Nebraska. Nearly 3,500 Saints gathered at this settlement during that winter, surviving in crowded, makeshift shelters which were no match for the bitter cold and which housed 10–15 people each. Malaria ravaged the people in the summer and when winter came it brought cholera, scurvy, night blindness, and severe diarrhea.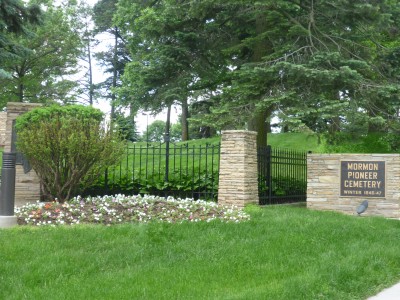 During the first winter here, one in twelve died for a total of 369 burials. About 37 percent of the population was sick at the same time and nearly half of the deaths were children under the age of 3. It was truly a time of testing and trial for the Saints who had to endure it. Still, work went on. The men planted crops for those coming after their group would have passed on. The women continued their daily chores and the people held activities such as dances, theological discussions, parties, and of course Church meetings. Faith grew and the Saints grew closer together.
On May 12, 1846, the U.S. Congress declared war on Mexico. Secretary of War William Marcy authorized Colonel Stephen W. Kearny to recruit and enlist Mormon men to go fight in California, and in June 1846, Captain James Allen travelled to the Mormon encampments in southern Iowa to recruit 500 men. Wilford Woodruff said, "I had some reasons to believe them to be spies and that the President had no hand in it. We however treated them with civility and directed them on to Council Bluffs to lay the case before the President."
It is little wonder that the Saints were dubious at this request of a government which had repeatedly refused to help them in their intense persecutions. However, Brigham Young, Heber C. Kimball, and Willard Richards "decided it was best to meet Captain Allen in the morning and raise the men wanted." These men recognized the opportunity of enlistment for men to earn money which they sorely needed to move the Saints West. In addressing the Saints regarding the issue, Brigham Young said, "Let the Mormons be the first men to se their feet on the soil of California. . . . This is the first offer we have ever had from the government to benefit us." Over several days, the 500 men were raised. Called the Mormon Battalion, these men fulfilled their duties but were blessed to never have to fight in the war with Mexico. They did receive the capital that the Church needed, and all the families they left behind were miraculously provided for and looked after. It was only after the Mormon Battalion left that Winter Quarters was fully developed.
Eventually the settlement at Winter Quarters was abandoned and the Saints finished their outfitting in Kanesville, Iowa, across the Missouri River. Thousands of pioneers benefited from this experience of the first group of Saints. All those who travelled west to settle were able to learn from the Saints' experiences and knowledge. Of course, it was especially beneficial to the other Mormon settlers who came after them, but the United States owes much of its settlement in the west after this period to the sacrifices of this first group of Mormon settlers.
In 1847, a smaller group left Winter Quarters for the Rockies. It took 111 days for them to reach the Salt Lake Valley. Immediately men began planting and building. Almost as soon after arriving, Brigham Young and a small group turned around to head back to Winter Quarters and send the rest of the Saints on their way. Four days after arriving in the Salt Lake Valley, Brigham Young chose a temple site.
Over the years, 100,000 Mormons travelled to Salt Lake City; 85,000 of them came from outside of the United States. As the railroads expanded and the Transcontinental Railroad was eventually finished, the journey was cut from 3 months to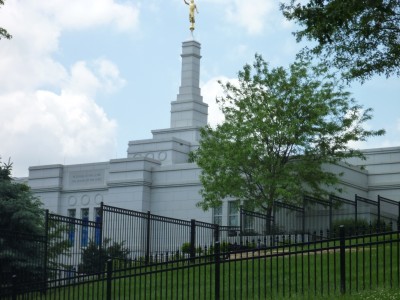 3 days. Saints continued to pour into the Salt Lake Valley and to spread out in their developments. Winter Quarters, which was called the "Valley Forge of Mormondom" by John Young, Brigham's son, was an area which required great sacrifices from those who lived there. These sacrifices led to great blessings for those who endured, and they in turn were able to bless all those who came after them.
Today a temple stands next to the cemetery at Winter Quarters as a reminder of all the blessings and freedoms for which those who died here were fighting.
(Quotes taken from Church History in the Fulness of Times Student Manual.)