Above is an infographic from The Trek West page of history.lds.org.
The first section shows major events that took place in the lives of pioneers before and after they survived the trek to the Salt Lake Valley. The graphic depicts the timeline of the lives of two pioneer women whose lives spanned a 200-year period.
Mary Ann Pulver VanLeuven (28 March 1768 – 7 April 1861) was approximately 84 years of age and a widow when she crossed the plains with the Robert Wimmer Company. Prior to embarking on the trek west, she witnessed many events from the Declaration of Independence to the first Saints departing Nauvoo, Illinois, and following Brigham Young to Utah. She was the daughter of John and Mary Ann (Spenser) Pulver. She married John VanLeuven in 1790. He passed away in 1847.  She was also the mother of 12 children: Cornelius, John, Ransom, Frederick Matthew, David, Carson, Davis, Ann, Elizabeth "Betsey", Calvin, and Benjamin. Benjamin and Frederick took her to San Bernardino, California, by wagon train. She was captured by Indians en route and stripped naked before they where able to rescue her. They were among the first to bring oranges and citrus to Southern California. Many of their descendents still live in the area.
Hilda Anderson Erickson (11 November 1859 – 1 January 1968) was born in Ledso, Skaraborg, Sweden. She was the daughter of Pehr Anderson and  Maria Kathrina Larson Anderson. She was the wife of John August Erickson and had 2 children, Amy Dorothy Erickson Hicks and John Perry Erickson. She had 3 siblings, John Pehr, Claus, and Charles Pehr Anderson. She trekked across the United States as a young girl. During her lifetime she witnessed events from the completion of the First Transcontinental Railroad to the first successful human mission to space.
The second section of the infographic shows a day in the life of a pioneer traveling with a wagon train. In order to accomplish everything that needed to be done in a day's time, the pioneers had to make a schedule to include making all of their food from scratch, as well as taking care of any accidents that might occur and repairs to their wagons.
The third section of the infographic is a Then and Now comparison.
The Mormon Battalion, a volunteer unit of between 534 and 559 Latter-day Saints men, served from July 1846 to July 1847 in the 1846 U.S. campaign against Mexico. It was the only religiously based unit in United States military history. The battalion made an arduous march of nearly 2,000 miles from Council Bluffs, Iowa, to San Diego, California, led by Mormon company officers under the command of United States Army officers.
Although the Mormon Battalion never engaged in an actual battle, it earned a rightful place in the history of the West. The march and the service rendered was instrumental in helping the U.S. secure much of the American Southwest to include new territory in several Western states. Of particular noteworthiness was the Gadsden Purchase of much of southern Arizona in 1853. The march also opened a southern wagon route to California, and veterans of the battalion played significant roles in the westward expansion of California, Utah, Arizona, and other parts of the West.
The Longest Historical Infantry March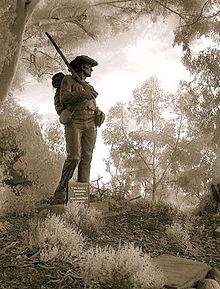 In 1846, the United States was actively engaged in the Mexican-American War. James K. Polk, then President of the United States, called for 500 to 1,000 Mormon volunteers to march to Fort Leavenworth (present-day Kansas) and then to California on a one-year U.S. Army enlistment. On Saturday, 18 July 1846, muster was held for the Mormon recruits, and on Monday, 20 July 1846, on the Little Pony River in Council Bluffs, Iowa, the Mormon Battalion began their trek, which would cover approximately 1,850 miles by the time they reached San Diego, California.
The battalion arrived at Fort Leavenworth (Kansas) on 1 August 1846, where they were outfitted with the necessary accoutrements, and received a military clothing allowance of forty-two dollars. As military uniforms were not required, many of the recruits sent their clothing allowances to their families who were back in the camps in Iowa. Members of the battalion honored their military assignment – some served for one to three years, while others served for nearly a decade.
A Call to Arms
Susan Easton Black, a professor of Church History and Doctrine at Brigham Young University in Provo, Utah, in her article about the Mormon Battalion in the Utah History Encyclopedia recounts the beginning days of the battalion:
In July 1846, under the authority of U.S. Army Captain James Allen and with the encouragement of Mormon leader Brigham Young, the Mormon Battalion was mustered in at Council Bluffs, Iowa Territory. The battalion was the direct result of Brigham Young's correspondence on 26 January 1846 to Jesse C. Little, presiding elder over the New England and Middle States Mission. Young instructed Little to meet with national leaders in Washington, D.C., and to seek aid for the migrating Latter-day Saints, the majority of whom were then in the Iowa Territory. In response to Young's letter, Little journeyed to Washington, arriving on 21 May 1846, just eight days after Congress had declared war on Mexico.

Little met with President James K. Polk on 5 June 1846 and urged him to aid migrating Mormon pioneers by employing them to fortify and defend the West. The president offered to aid the pioneers by permitting them to raise a battalion of five hundred men, who were to join Colonel Stephen W. Kearny, Commander of the Army of the West, and fight for the United States in the Mexican War. Little accepted this offer.

Colonel Kearny designated Captain James Allen, later promoted to Lieutenant Colonel, to raise five companies of volunteer soldiers from the able-bodied men between the ages of eighteen and forty-five in the Mormon encampments in Iowa. On 26 June 1846 Allen arrived at the encampment of Mt. Pisgah. He was treated with suspicion as many believed that the raising of a battalion was a plot to bring trouble to the migrating Saints.

Allen journeyed from Mt. Pisgah to Council Bluffs, where on 1 July 1846 he allayed Mormon fears by giving permission for the Saints to encamp on United States lands if the Mormons would raise the desired battalion. Brigham Young accepted this, recognizing that the enlistment of the battalion was the first time the government had stretched forth its arm to aid the Mormons.

On 16 July 1846 some 543 men enlisted in the Mormon Battalion. From among these men Brigham Young selected the commissioned officers; they included Jefferson Hunt, Captain of Company A; Jesse D. Hunter, Captain of Company B; James Brown, Captain of Company C; Nelson Higgins, Captain of Company D; and Daniel C. Davis, Captain of Company E. Among the most prominent non-Mormon military officers immediately associated with the battalion march were Lt. Col. James Allen, First Lt. Andrew Jackson Smith, Lt. Col. Philip St. George Cooke, and Dr. George Sanderson. Also accompanying the battalion were approximately thirty-three women, twenty of whom served as laundresses, and fifty-one children.
A Fulfilment of Prophecy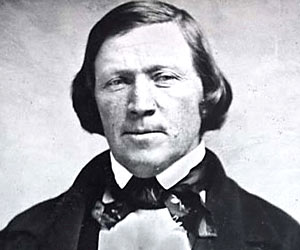 Brigham Young, then President and Prophet of The Church of Jesus Christ of Latter-day Saints (often called the "Mormon" Church by the media and others), prophesied that not a single battalion member would be lost to hostile action. However, twenty members died due to the privations they suffered, with the first being Samuel Boly who died only twenty-eight miles from Council Bluffs.  It is also reported that not a single shot was fired by the Mormon Battalion except at a herd of rampaging bulls. The battalion arrived in San Diego, California on Friday, 29 January 1847.
Stanley B. Kimball, a professor of history at Southern Illinois University, in the conclusion to his article "The Mormon Battalion March, 1846–47" states:
The battalion filled its enlistment term with performed routine garrison duty in San Diego, San Louis Rey, and Los Angeles, until being discharged 16 July 1847. Some reenlisted for six months, but most made preparation for joining the pioneers in the Great Basin. They pushed north and picked up the Old California Trail east of San Francisco. Some decided to winter at Sutter's Fort—and were present when gold was discovered in January 1848. Those who had gone on arrived in Salt Lake Valley 16 October 1847.
Historic Sites and Monuments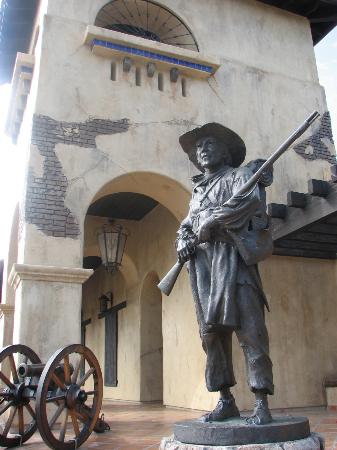 There are several historic sites associated with the Mormon Battalion. These include the Mormon Battalion Memorial Visitor's Center in San Diego, California; Fort Moore Pioneer Memorial in Los Angeles, California; and the Mormon Battalion Monument in Memory Grove, Salt Lake City, Utah. Monuments have also been built in New Mexico, Arizona, and Colorado, and trail markers have been placed on segments of the battalion route.
The Mormon Battalion Historic Site of San Diego which was established in 2009 has been chosen to receive the California Historian of the Year Commercial Award which will be presented at the Conference of California Historical Societies on Saturday, 21 June 2014 in Los Angeles, California. The newly restored facility includes interactive displays, hands on activities, and entertaining presentations for people of all ages. Those who visit the site are also able to relive the trials and accomplishments of the Mormon Battalion through journals of members of the battalion.
by Doris White
Eliza Roxcy Snow is one of the most revered women in the history of The Church of Jesus Christ of Latter-day Saints (frequently misnamed the "Mormon Church"). She was an incredible woman who, once she found the fulness of the gospel of Jesus Christ, dedicated her life building up the kingdom of God on the earth.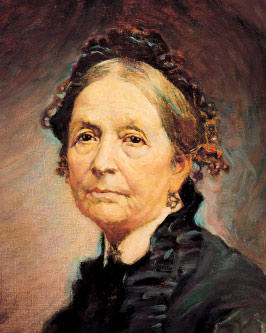 Early Life of Eliza Snow
Eliza was born on January 21, 1804, in Becket, Massachusetts. She was the second daughter of Oliver and Rosetta Pettibone Snow. She was raised in a financially successful home and was well educated. Unusually for the time, Eliza was even employed as her father's secretary for a period, proving herself quite capable. At different times in her life, she was also employed as a seamstress and schoolteacher.
Eliza is perhaps most famous for her poetry, but if she made any money with her poetry before she joined The Church of Jesus Christ of Latter-day Saints, she did not make money for her poetry after her conversion. She believed it was a gift from God which she had a duty to share for free. Her first poem was published in 1825. Though there was a brief period of intense sorrow in her life, from about 1836 to 1838, where there is no record of her writing any poetry at all, for the most part, she continuously wrote poetry her entire life.
In 1828, Eliza encountered a suitor through her writings. He offended her, however, when he published a very presumptuous poem about her in the Western Courier, of which he was the editor. Though he pursued her with courtship, she denied him. This was several years before she joined the Church, but looking back at her early life, she said:
I remained single; and why, I could not comprehend at the time. But, when I embraced the fulness of the Gospel, in recalling the events of my past life, I felt, and still feel to acknowledge the kind overruling hand in the providences of God in that circumstance, as fully as in any other in my mortal existence; I do not know that one of my former suitors have received the Gospel, which shows that I was singularly preserved from the bondage of a marriage tie which would, in all probability, have prevented my receiving, or from the free exercise of religion which has been, and now is dearer to me than my life. ("Sketch," in Beecher, Personal Writings, 16.)
Many members of Eliza's family joined the Church. Eliza's sister Leonora and their mother, Rosetta, joined first. It took more than four years for Eliza to be certain that was a step she wanted to take herself. She was 31 when she was baptized in 1835. Almost immediately upon being baptized, Eliza and her family began to experience the persecution that was the lot of the early Saints. Over the years, Eliza's parents and some of her siblings distanced themselves from the Church due to the persecution. Eliza, however, remained faithful and valiant all her life.
Her love of poetry and writing made Eliza a well-known figure among the Saints almost immediately. She published poetry frequently in the Saints' newspaper, the Deseret News. She also wrote many hymns, some of which are still sung and loved by the Saints today. In Nauvoo, Illinois, she was called to serve as a secretary for the first meetings of the Female Relief Society of Nauvoo. This organization, now known simply as the Relief Society, is the largest women's organization in the world.
In Kirtland, Ohio, Eliza was present at the dedication of the temple there, which experience had a profound impact on her. There are many records of the miraculous things that happened at the dedication, and Eliza counted herself lucky to have been a part of it. She even gave her inheritance to the building of the Kirtland Temple and supported herself by teaching school. It was in Kirtland that Eliza's younger brother Lorenzo visited her and eventually joined the Church as well. He became the fifth president of The Church of Jesus Christ of Latter-day Saints in 1898.
After increased persecution had caused the Saints to flee Ohio and settle in Missouri, tensions began to build in their new communities. These tensions in Missouri culminated in the Saints once again begin driven from their homes. Much later in life, as Eliza was writing for the Juvenile Instructor, a periodical for young Latter-day Saints, she tried to capture the state of affairs in a manner which a child could comprehend. She wrote of her family's dog, Jack.
We had a very large watch-dog, which my father took with him from Ohio, on purpose to guard the wagons while we were traveling. As soon as my brother Lorenzo [who had been very ill] was strong enough to walk out, and carry a rifle, he amused himself by hunting turkeys, which were very abundant in that part of Missouri. Whenever he went on those little hunting excursions, the watch-dog, Jack, was sure to accompany him. Some dogs seem quite sensible, as my young readers will understand, and Jack was uncommonly smart, and seemed to realize that his master had but little strength—he would walk as stilly as possible, at my brother's heels, until they came in sight of game, when he would place himself directly in front, and raise his head sufficiently, then hold his head perfectly still for his master to rest the rifle on his head, to shoot.

. . . Jack was highly prized by all the family, and although a dog, he was worthy of respect, because he was a true friend. . . . We had learned that Jack could be trusted, and when we knew that we were surrounded by mobocrats, we could lie down at night, feeling pretty safe, knowing that no one could approach the house, until the faithful dog had given the alarm.

I think by this time, my little friends are feeling enough interest for the dog Jack, to wish to know what became of him. I will tell you. Our Missouri neighbors (if I may call those neighbors who were plotting our destruction) saw that Jack was true to us, and they were afraid of him, and tried to entice him away, but when they found it impossible to coax him to leave us, they shot him. We all felt very sorry to lose poor Jack, and two of my younger brothers dug a grave and buried him with all the formalities that the occasion called for, and, with great childish lamentations, pronounced him a martyr. (Snow, "Little Incidents for Little Readers," Juvenile Instructor, November 15, 1866, 2; as quoted in Eliza: The Life and Faith of Eliza R. Snow, by Davidson and Derr.)
Days in Nauvoo and Plural Marriage
In late 1838, Joseph Smith personally asked Eliza to once again use her poetry to uplift the Saints. She rose to the occasion, though it was not easy for her, and wrote poetry the rest of her life. After the Saints were driven from Missouri, they settled in what became Nauvoo, Illinois, and, for a brief time, enjoyed peace and prosperity. Eliza loved Nauvoo and enjoyed her time there. She lived with Joseph and Emma Smith for a time.
She considered the privilege of receiving her temple endowment in the completed Nauvoo Temple one of the most important of her life. She served as an ordinance worker both in the Nauvoo Temple and later in Salt Lake at the Endowment House, helping other women who were receiving their temple ordinances. She loved the temple and working in the temple.
Another eternally significant event for Eliza took place during her time in Nauvoo. On June 29, 1842, she was sealed to Joseph Smith as a plural wife for time and eternity, "in accordance with the Celestial Law of Marriage, which God has revealed" (Snow, "Sketch," in Beecher, Personal Writings, 17). Eliza was one of the first women to enter into plural marriage, and the principle was not shared with many until much later because public opinion was so violently opposed to it.
Pretty much everyone who first heard the principle was opposed to it, including Joseph Smith himself. He did not want to implement the practice, and postponed doing so as long as he could, but it is a testament to the truthfulness of the principle that those who were asked to live it had very spiritual, personal witnesses from the Holy Ghost that the principle was from God. Eliza was no exception to this.
She recorded that at the outset the idea was "very repugnant to my feelings." The thought of Old Testament polygamy would be reinstated was not favorable to nearly anyone raised in a Western culture. However, over time, Eliza said that she became converted through faith and revelation. She said, "As I increased in knowledge concerning the principle and design of Plural Marriage, I grew in love with it." She defended the principle the rest of her life and called it a "precious, sacred principle" (Personal Writings, 17).
Records show that Emma Smith vacillated in her public opinion of plural marriage. After Joseph Smith's martyrdom, she declared that he had never taught the principle, which everyone close to him knew to be false. Still, out of respect for Emma, it wasn't until after Emma Smith's death and after Brigham Young's death (Eliza's second husband) that Eliza took Joseph's name and was known until her death as Eliza R. Snow Smith. Eliza was a believer in the principle as it was revealed by God and defended it until her death. However, judging from her stalwart behavior, it is more than likely she would have been an advocate for the transition from plural marriage back to monogamy which the Church eventually followed under God's direction. She believed the prophets were men called of God who spoke in God's name and followed them in faith.
Persecutions raged so strongly in Illinois that Joseph Smith and his brother Hyrum were eventually martyred on June 27, 1844. The Saints were once again forced to flee their homes. Those who had killed Joseph expected his death to be the end of the Mormon movement, but they misunderstood the Saints' faith. It was not Joseph Smith they worshipped. It was and is Jesus Christ who leads His own Church. Brigham Young was called by God to lead the Saints to the West and to be the second prophet of our day. Eliza accompanied the Saints on the long, arduous journey. It was filled with misery and death, but upheld by faith and determination. The journey began on February 12, 1846 and didn't end until October 1847.
Women had few opportunities to support themselves at this time, and Eliza was married to Brigham Young for time only (until death do they part) in October 1844. A marriage of time gave Eliza protection and a home, though due to circumstances this wouldn't actually be the case for two more years, once the Saints were settled in the Salt Lake Valley. Mormon doctrine teaches that marriages for eternity are what provide everlasting blessings, but a woman can only be sealed to one man. Since Eliza had already been married to Joseph for eternity, the marriage to Brigham Young was more to provide for her financially than it was to secure those eternal blessings.
The Saints Settling in Utah
Though the experience was a long and difficult one, Eliza did not complain much about the long trek to Utah, nor did the other Saints. Amidst intense suffering, their faith in God was solidified to a point where it could not break. Lifelong friendships were forged which helped to build the kingdom in what became the Utah Territory. It took many years, but the Saints made the desert blossom as a rose.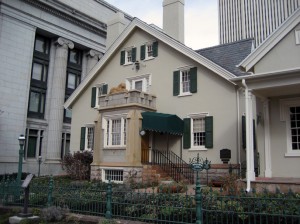 After living with a few different women, Eliza moved to the Lion House in Salt Lake, Brigham Young's large home. She had her own room here, but helped with the children and around the house. She recorded that she was very happy there and loved to be with all the children. She was an excellent seamstress and devoted nurse.
Eliza continued to write poetry and published her first volume of poetry in 1856. Brigham Young called on her myriad talents several times to help further organize the Relief Society in 1867­–68. Two years later, he called her to establish a new organization for younger women, which was originally called the Retrenchment Associations and then the Young Ladies' Mutual Improvement Associations. She encouraged women to meet together and to edify their minds. She helped Mormon women develop cooperative stores in the different settlements, produce their own newspaper (the Woman's Exponent), manufacture silk in their homes, and even helped many women attend medical colleges. Remaining very vocal about the gospel and its doctrine, Eliza continued to use both poetry and prose to reach people who were not members of the Church.
Much later in her life, in October 1872, Eliza had the opportunity to journey with several Church leaders to different parts of Europe and the Holy Land. It was one of the crowning points of her life. She shared her experiences with the sisters of the Church, who had helped fund her trip, by sending them articles and poems to publish in their paper.
It is hard to fathom that a single woman could have accomplished so much in one lifetime, but Eliza did not even stop there. In 1878, she and two other women decided to come up with an organization to help the young children of the Church. With full support from Church leaders, the women began organizing the children in different settlements. These became known as the Primary Associations. Today it is simply called Primary. The organization teaches children the principles of the gospel through lessons, activities, and music.
Continuing her pattern of service until the end of her life, Eliza took a trip from November 1880 to March 1881 to visit five Utah counties and strengthen the people in each. It was a difficult and uncomfortable journey at the best of times, but at her age it must have been an ordeal. She loved to visit with the sisters and the youth, though.
Her death on December 5, 1887, brought sadness to all who knew her. Her absence was felt keenly, but she left a legacy for members of the Church which continues today. Her faithfulness and endurance are an example to the world.
Sources:
Eliza: The Life and Faith of Eliza R. Snow, by Karen Lynn Davidson and Jill Mulvay Derr.
by Doris White
Many people have called Joseph Smith a gold digger, but who knew that Mormon gold would one day be so valuable? The early history of Latter-day Saints ("Mormons") in the Utah Territory certainly wouldn't have led anyone to believe it.
When members of The Church of Jesus Christ of Latter-day Saints (which church is often inadvertently referred to as the "Mormon Church") first entered the Salt Lake Valley in Utah in 1847, they had little or no money. They had all had to leave behind homes and many of their most prized possessions, including property. The church leader at the time himself, Brigham Young, only carried $50 with him. When you think about it, what was the use of money? There was no one there, nothing to buy.
However, as time went on, the lack of a standard currency (Utah was not an official part of the United States at the time), presented unique challenges for the Mormon population. They came up with some inventive ways to meet that challenge. Read more
by
Reasons for the Original Exodus
In a bone-chilling temperature of -12°Fahrenheit, 1,000 people gathered in Nauvoo, Illinois, on February 3, 1996, to remember the original Mormon Exodus from the Saints' beloved city. Members of The Church of Jesus Christ of Latter-day Saints (often inadvertently referred to as "Mormons") had been forced from their homes many times before, but this occasion in 1846 was the last time. Then president of the Church, Brigham Young, said:
We could have remained sheltered in our homes had it not been for the threats and hostile demonstrations of our enemies. Our only means of avoiding a rupture was by starting in midwinter. Our homes, gardens, orchards, farms, streets, bridges, mills, public halls, magnificent Temple . . .  we leave as a monument of our patriotism, industry, economy, uprightness of purpose and integrity of heart (History of the Church, 7:603).
The Saints were, this time, leaving not only their homes and city behind, but (as they thought), their country. Heading for the unsettled West, they intended to leave the United States, where they had endured so much persecution. However, the Utah Territory, where they settled, soon became part of the United States after the war with Mexico. Read more
The Church of Jesus Christ of Latter-day Saints (which church is often inadvertently referred to as the "Mormon Church"), is full of stories of ordinary people who made extraordinary sacrifices for their beliefs. All Latter-day Saints ("Mormons") are encouraged to remember this history, whether they are direct descendants of the earliest Mormon pioneers or not, because we can all learn so much from these amazing people.
George Laub is one such ordinary man who joined the Church early on and remained faithful throughout his life. However, he is not a man with whom most Mormons today are familiar. A journal of his is preserved in the LDS Church Archives and is quite instructional.
A man without a great deal of education, George Laub did the best he could with what he had, and he learned more as he went along. He, like Joseph Smith, learned more through the Holy Ghost than he had opportunity to learn in a formal education setting. His journal is in the language of a frontiersman, but his faith is like Job's.
George Laub's Personal Accounts of Joseph Smith and Brigham Young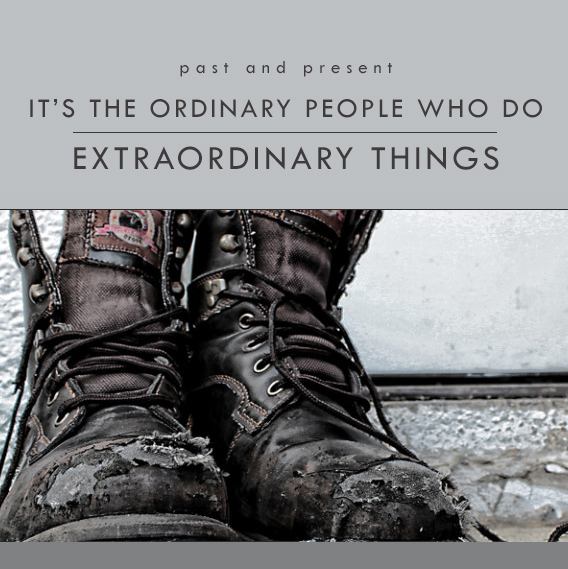 George Laub's personal accounts of many of Joseph Smith's and Brigham Young's sermons provide excellent documentation of some things that may otherwise have been lost, including a sermon from Hyrum Smith on the "plurality of gods." Laub also recorded his own version of the Prophet Joseph Smith's famous "King Follett Discourse" from April 7, 1844, which "explores startling ideas about the nature of God and the universe and about man's eternal identity and potential godhood" ("George Laub's Nauvoo Journal," edited by Eugene England, BYU Studies, 1978). Read more
Erastus Snow was born November 9, 1818, in St. Johnsbury, Caledonia, Vermont. His mother was a devout Methodist, while his father was less religious. Erastus' mother raised him to believe in God. At the age of nine, he began to study the Bible seriously on his own, having a strong interest in religion. He chose to begin with a study of the life of Jesus Christ. By the time Erastus was thirteen years old, two of his older brothers, married and living away from home, had converted to Mormonism. (Mormonism is the nickname some people use to describe the belief system of members of The Church of Jesus Christ of Latter-day Saints.) Mormonism had been founded not quite two years before. That year, two Mormon missionaries, Orson Pratt and Lyman Johnson, came to Erastus' home and shared a message with his family about the religion. The whole family listened with great interest, curious to know what their older sons had decided to believe. Erastus, after hearing the missionaries share their testimonies, felt the testimony of the Holy Ghost come over him and he believed their teachings. Although his mother also gained a testimony, his father did not accept their message.
Erastus Snow Becomes a Mormon
Erastus was anxious to join the church, however, so he began to pray for a way to make that happen. His mother convinced his father to let him visit his married brothers, and one of them baptized Erastus. He began studying the Bible even more, determined to become a missionary someday. In time, all but two of his siblings were baptized, as was his mother.
When he was sixteen, he was sent on a ten-day mission into Vermont. He traveled with a relative the same age. They hosted a variety of large meetings where they taught the gospel to both Mormons and those who were curious about Mormons. They were very excited about the results of this first mission trip. Later, he went on another trip that was less successful. Read more
Lorena Washburn Larsen, Daughter of Mormon Pioneers
Lorena Washburn (1860-1945) was born in Manti, Utah, five years before the Black Hawk War. Her family belonged to The Church of Jesus Christ of Latter-day Saints (often inadvertently called the Mormon Church). Her parents Abraham and Flora Gleason Washburn were Mormon pioneers and emigrated from Nauvoo, Illinois, to Salt Lake City, Utah, in 1848.  Brigham Young, president of The Church of Jesus Christ, called the Washburns to settle Manti in 1849 after Ute chiefs Wakara and Sowiette visited him asking for permanent settlers in the area. In 1865, the Chiefs became uneasy as settlements expanded. Because of starvation among the Utes, a few of them began stealing the Mormons'cattle. On April 9, 1865, in Manti, at a meeting between the Mormons and the Utes discussing the cattle thefts, an altercation ignited the violence. Black Hawk, an Indian brave, successfully united neighboring tribes against the Mormons.
My Memories of the Black Hawk War

I was just a small child when the Black Hawk War with the Ute Indians began in April, 1865. We lived in Manti, Utah.  All the people living in the east part of town were told to move onto our street or into houses not farther east than the second row of blocks east of Main Street. That would make it easier to defend the town against the Indians.

In our home there was one large living room, a bedroom, and a kitchen. Under the living room was a large cellar with a trap door in the living room. During the war, we were in danger of Indian attacks at any time of day or night. Mother told us and the neighborhood children to be  on the lookout in the daytime. If we saw a group of horsemen coming at any time, we were to all run to our house and she would hide us in the cellar.  We had one such scare. A large group of horsemen came riding around Temple Hill and came galloping up our street. We all ran and were quickly hidden in the cellar. Then Mother discovered that it was a scouting party who had been out looking for Indians. Read more
William Marsden was one of those stalwart Mormon pioneers who served in any way he could with the many talents he had.  A convert to The Church of Jesus Christ of Latter-day Saints (often inadvertently called the Mormon Church), his burning testimony made him a worthy servant of God.
I, William Marsden, son of Abraham Marsden and Hannah Thornton…was born…on the 16th of March 1814, in the town of Oldham, County of Lancashire, England. My father was by trade a cotton spinner. I was brought up in the cotton business, and followed the same until I was twenty-five, years of age. My parents were strictly Methodists, they belonged to what was called the New Connection Methodists.
Conversion and Mormon Missionary Service
At the age of twenty four I joined The Church of Jesus Christ of Latter-day Saints, I was baptized on the 7th of October 1839 in the river Irnvel, Manchester County of Lancashire, by James Mahon, Priest. I was also ordained a Priest January 5, 1840, by Parley Peter Pratt and Brigham Young, two of the Twelve Apostles of The Church of Jesus Christ of Latter-day Saints.

The next day being Sunday, President Brigham Young requested me to go to Oldham to preach to the people as they did not have any Latter-day Saint preacher there. I did go having to make the journey on foot, a distance of seven miles. I invited Thomas Yates and James Mahon, Priests, to accompany me which they did. Thomas Yates and myself continued to labor there. In six weeks there were six persons baptized, each one belonging to a different denomination. I continued to labor there until a branch of the Church was organized. The branch was organized on Sunday February 17th, 1840. I then went to labor in new places, wherever I could get an opportunity to preach to the people. Read more
Samuel H. Smith was born on March 13 or 14, 1808, in Tunbridge, Vermont. His parents were Joseph Smith, Sr., and Lucy Mack Smith. Samuel was the younger brother of the Mormon prophet, Joseph Smith. Mormon is a nickname sometimes used to describe members of The Church of Jesus Christ of Latter-day Saints.
Samuel's family was not wealthy and they worked very hard at a variety of tasks in order to stay alive. They were primarily farmers but also sold products of their own making to supplement their farm income. As a young boy, Samuel became a Presbyterian with his mother and siblings Hyrum and Sophronia.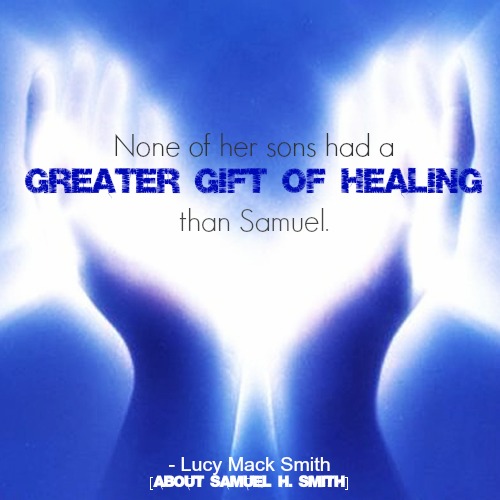 When his older brother, Joseph Smith, received a revelation and then was called to help bring a restoration of the gospel, Samuel did not automatically accept what his brother taught. In time, he used the same method Joseph had used to find out what church was true. He went into the woods and asked God in prayer. There he received a personal revelation of the truthfulness of the gospel of Jesus Christ that his brother taught. He served as a scribe for a brief time for his brother, who was translating the Book of Mormon.
When his brother Joseph organized The Church of Jesus Christ of Latter-day Saints, Samuel was one of the six legally required representatives to attend the first meeting. He was the third person to be baptized. He had the privilege of being one of the eight official witnesses of the Book of Mormon, who were allowed to see and touch the plates on which the book had been written. His testimony, combined with that of the other witnesses, can be read online. Read more