The Mormons in Northern Missouri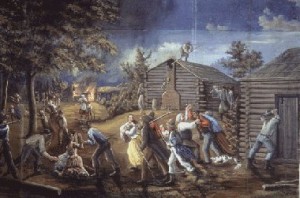 The time the Mormons spent in northern Missouri was very tumultuous. Joseph Smith had received a revelation that the Saints should gather to Missouri, and they began arriving by the thousands. By 1838, tensions had grown to a boiling point between the Missourians and the Mormons. Due to misunderstandings and misrepresentations on both sides, civil war broke out. Though casualties were not high on either side, many people suffered and lost their homes and possessions. The Mormons only intended to defend themselves, but tempers exploded and some individuals got carried away. Many Missourians were convinced the Mormons were ill-intentioned people bent on destruction, when in reality they were a peace-loving people who had already been persecuted and driven to their breaking point.
While under seige a second time (mostly by mobs), the Mormon leaders realized that in order to prevent a slaughter they would have to surrender. Joseph Smith and many other Church leaders were taken prisoner and were kept illegally for four winter months in a jail with little heat and with very poor conditions. Though eventually freed, bias was unsurmountable in many Missourians, and Governor Boggs signed an extermination order giving Missourians the right to run Mormons out of the state. It was a sad time in the history of this country as well as in the history of Mormonism.
Expulsion of the Saints from Missouri and Imprisonment of the Prophet Joseph
Related Posts: