Joseph Smith First Visions
Joseph Smith's First Visions
The First Vision
Joseph Smith, 14 years old in the spring of 1820, had discovered while attending the various meetings of the different churches in Palmyra, that there was great confusion between the denominations about many basic issues.  He said,
"How to act I did not know, and unless I could get more wisdom than I then had, I would never know; for the teachers of religion of the different sects understood the same passages of scripture so differently as to destroy all confidence in settling the question by an appeal to the Bible" (Joseph Smith-History 1:12).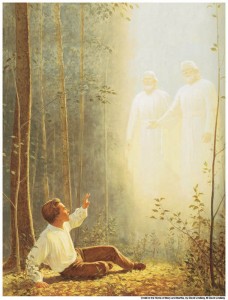 Later he came across a passage in the epistle of James, chapter 1, verse 5: "If any of you lack wisdom, let him ask of God, that giveth to all men liberally, and upbraideth not; and it shall be given him."  Joseph Smith said that as he read this passage, "It seemed to enter with great force into every feeling of my heart. I reflected on it again and again, knowing that if any person needed wisdom from God, I did" (JSH 1:12).
He concluded that just as James had directed, he could ask of God concerning what he should do.  Joseph Smith wanted to know the truth.  Joseph and his family lived in an environment of faith, and though not everyone on the frontier was a church member, most were religious and believed in God and in the occurrence of miracles.  Belief in folk magic was also strong, and while Joseph Smith and his family believed in some of these superstitions, ultimately Joseph Smith would reject superstition in favor for a belief in the power of God.  Joseph Smith's faith in God was strong, and he went one day early in the spring of 1820, to pray to God in order to know which church he should join and how he could obtain forgiveness of his sins, which troubled him.
What happened can best be told in Joseph Smith's own words:
After I had retired to the place where I had previously designed to go, having looked around me, and finding myself alone, I kneeled down and began to offer up the desires of my heart to God. I had scarcely done so, when immediately I was seized upon by some power which entirely overcame me, and had such an astonishing influence over me as to bind my tongue so that I could not speak. Thick darkness gathered around me, and it seemed to me for a time as if I were doomed to sudden destruction.
But, exerting all my powers to call upon God to deliver me out of the power of this enemy which had seized upon me, and at the very moment when I was ready to sink into despair and abandon myself to destruction—not to an imaginary ruin, but to the power of some actual being from the unseen world, who had such marvelous power as I had never before felt in any being—just at this moment of great alarm, I saw a pillar of light exactly over my head, above the brightness of the sun, which descended gradually until it fell upon me. It no sooner appeared than I found myself delivered from the enemy which held me bound. When the light rested upon me I saw two Personages, whose brightness and glory defy all description, standing above me in the air. One of them spake unto me, calling me by name and said, pointing to the other—This is My Beloved Son. Hear Him!  My object in going to inquire of the Lord was to know which of all the sects was right, that I might know which to join. No sooner, therefore, did I get possession of myself, so as to be able to speak, than I asked the Personages who stood above me in the light, which of all the sects was right (for at this time it had never entered into my heart that all were wrong)—and which I should join.  I was answered that I must join none of them, for they were all wrong; and the Personage who addressed me said that all their creeds were an abomination in his sight; that those professors were all corrupt; that: "they draw near to me with their lips, but their hearts are far from me, they teach for doctrines the commandments of men, having a form of godliness, but they deny the power thereof."  He again forbade me to join with any of them; and many other things did he say unto me, which I cannot write at this time. When I came to myself again, I found myself lying on my back, looking up into heaven. When the light had departed, I had no strength; but soon recovering in some degree, I went home. (JSH 1:15-20)
He returned home and at first kept the vision a secret, telling his family only that he had discovered by himself that he should not join any of the available churches, though he continued to attend some of their meetings and discuss matters of religion with some of the local ministers.  Mormons today call this event the First Vision as it marks the beginning of Joseph Smith's prophetic and revelatory mission.
As Joseph began sharing this sacred experience with others, it stirred up much controversy in the community and led to some ostracism and harassment of the young Joseph Smith.  Ministers warned people to stay away from him and said that the vision was from the devil, since God no longer worked by revelation.
Joseph said:
It caused me serious reflection then, and often has since, how very strange it was that an obscure boy, of a little over fourteen years of age, and one, too, who was doomed to the necessity of obtaining a scanty maintenance by his daily labor, should be thought a character of sufficient importance to attract the attention of the great ones of the most popular sects of the day, and in a manner to create in them a spirit of the most bitter persecution and reviling. But strange or not, so it was, and it was often the cause of great sorrow to myself. (JSH 1:23).
The Visit of the Angel Moroni
For the next few years, Joseph Smith and his family faced much prejudice and even persecution in their community, and some people refused to hire any member of the family for day labor.  This caused some hardship financially, as production from the family farm was not yet sufficient to support them.  Worse still, in November of 1823, Alvin Smith, the oldest son and one of the most important workers in the family, died.  This was a tragic blow to the family as a whole and to Joseph Smith especially, who greatly admired his brother.
Around the time of Alvin's death, Joseph grew worried about the state of his own soul.  He had had a glorious vision some three years before, but since that time, he felt that he had grown distant from God, and that the company he kept was not wholesome enough, especially since he had been ostracized by many in town and had instead kept company with some of the rougher characters in the area.  He later said that while he committed no "great or malignant sins," he was guilty of "levity, and sometimes associated with jovial company, etc. not consistent with that character which ought to be maintained by one who was called of God" (JSH 1:28)
On the night of 21 November, 1823, Joseph knelt to pray in his room.  As he prayed, a light appeared above him beside the bed.  A figure appeared, dressed in a white robe, standing in the air next to Joseph's bed.  The being, an angel sent from God, gave his name as Moroni and said that he had been sent to call Joseph Smith to be a prophet of God and to complete a mission for God.  He told Joseph that a book, written on metal plates, was deposited in a hill (later called the Hill Cumorah after a hill in the Book of Mormon) near Palmyra.  It contained the fullness of the Gospel of Jesus Christ as God's prophets had taught it to the ancient inhabitants of the American continent.  He also told Joseph many things about the work he was called to perform, much of which Joseph could scarcely understand at the time.  As he completed the message, he disappeared from Joseph's view.
Twice more that night the angel appeared to Joseph Smith and repeated the same message, each time adding something more.  He counseled Joseph to be faithful and not to try to use the record for material gain, neither to show it to anyone except those whom God would appoint.  After the third visit, the Angel ascended into heaven and the sun came up.  Joseph immediately got out of bed and prepared to do his daily chores, but his strength was too far gone.  His father, noticing his son was not feeling well, told Joseph to go home, but as he crossed the fence that led out of the fields, he fell.  When he awoke he saw the angel again standing above him.  The angel told Joseph to go tell his father about the visions.  Joseph did so, and his father, after some reflection, declared that the visions truly came from God and told Joseph to go to hill as the angel had instructed.
Guided by the vision of the hill he had seen in his mind, Joseph quickly found the spot where the records were deposited.  He cleared away the dirt around a large stone which marked the spot, and opened up the box containing the records and other sacred items.  The angel reappeared and told him that the time had not come for him to remove the records, and that he had much to learn before he would be ready to open the record and translate it.  The angel told him to return to that spot every year on the 22 of September until that time was right.
Treasure Digging and Marriage
Over the next few years, Joseph returned to the hill every year on the same date, but during the rest of the year he continued to work hard both on the family farm and by hiring himself out as a laborer.  He continued to be harassed and mocked by the town people because of his visions, but his family stuck by him, knowing that he was always truthful.
In 1825, a man named Josiah Stowell (also spelled Stoal) hired Joseph to help him search for buried treasure.  The region of upper state New York was full of legends about buried Spanish or pirate treasure.  Stowell had sought out Joseph because of the rumors about his ability to find hidden things, as the stories about his visions of the Angel Moroni and buried golden plates indicated.  Joseph was also known for an uncanny ability to find water when digging wells.  Though treasure-digging was not as honorable a profession as farming or running a store, it was widely practiced in the region in which Joseph was raised.  According to Joseph Smith the Angel Moroni later commanded him to stay away from money diggers and the whole treasure seeking business, because these were greedy, wicked persons and he was called to a higher work.  After this 1825 excursion with Stowell, Joseph never again associated with the money-diggers.
Nevertheless, Joseph and his father needed money for the family, and so they hired themselves out to Stowell late in 1825 to search for Spanish treasure in Harmony, Pennsylvania.  After one month of fruitless digging, Joseph Smith Sr. and his son convinced Stowell to give up the venture.  The expedition was not altogether worthless, for while digging, Joseph stayed with the Hale family where he met their beautiful, well educated daughter Emma whom he married in January 1827.  Unfortunately, in the interim, some of Stowell's relatives felt cheated and took Joseph Smith to trial in 1826 for disturbing the peace and "glass looking."  In the hearing Stowell defended Joseph Smith as capable and hard working, and for his part, Joseph said he hated looking for treasure, but needed the work.  No official trial was ever undertaken, merely a hearing before a judge as witnesses were examined to determine if a trial was warranted.  Ultimately Joseph was released and continued working in the area both for Stowell and at various mills.  Shortly after he married Emma Hale in early 1827, the newlyweds returned to Palmyra where they lived with Joseph's parents.