Joseph Smith Early Life
The Early Life of Joseph Smith
Birth and Childhood
Joseph Smith, Jr. was born on December 23, 1805, in Sharon, Vermont.  He was the fifth child (including an unnamed son who died at birth in 1797), of eleven children born to Joseph Smith Sr. (1771-1848) and Lucy Mack (1775-1856).  Of those eleven children, nine survived to adulthood.  Of the surviving nine, there were six boys and three girls: Alvin, Hyrum, Sophronia, Joseph, Samuel Harrison, William, Katharine, Don Carlos, and Lucy.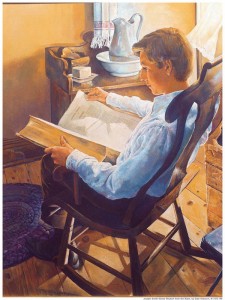 Early on, the Smith family, due to their extreme poverty, were forced to move, first to New Hampshire in 1811, and then to Palmyra, New York, in 1816, when Joseph was about ten years old.  While in Vermont, the family lost much of their money trying to become Ginseng traders, when the middleman they had selected ran off with their earnings.  This forced the family to continue the hard-scrabble life of farming, which they did by purchasing some uncleared land just south of Palmyra.  Of his early life, his mother, Lucy remarked that he seemed a very ordinary boy accustomed to hard work and deep meditation, but not inclined to reading much.
Typhoid Fever
A remarkable incident in his childhood occurred while the family was living in Lebanon, New Hampshire, in 1811, when Joseph, among many others, contracted typhoid fever.  (Over 6,000 died in this epidemic regionally.)  The fever cleared, but the infection eventually settled in his leg.  His brother Hyrum spent weeks holding the swollen leg to relieve the pressure until a doctor could be found to treat it. Fortunately for the family, Dartmouth Medical College was nearby, and several prominent physicians came to treat Joseph.  They recommended amputation, but Lucy, Joseph's mother, refused to allow it, knowing what life on the frontier for an amputee would mean.  Instead, Dr. Nathan Smith proposed to open the leg and cut out the infected portions.  Young Joseph, then only about seven years of age, demanded that his mother leave the house and that his father hold him during the operation.  Joseph refused to take whisky, the only form of anesthesia available in those days, and bore the pain.  He nearly died in the operation, losing an immense amount of blood, but over the next few months, he recovered and retained only a slight limp for the rest of his life, though he had to walk on crutches for many months.  For a time, Joseph was sent to live with an uncle in Salem, Massachusetts, in hopes that the fresh sea air would help him heal faster.  The incident took any surplus money had by the Smith family.
Joseph Smith's Family and Religion
Joseph Smith's family was religious, but in general refrained from committing to a single denomination, as was common among frontier people in those days.  The family regularly read the Bible together, prayed together and were deeply concerned with the welfare of their souls.  This affected young Joseph Smith as well, and he later recalled that he would frequently stare up at the stars and ponder about God and his own salvation.  He said that he desired to "get religion" and be saved, but could not get the feeling as others did.  In 1816 and 1817, when Joseph was 12, a revival swept upper state New York.  This caused him great concern, and he become worried that he would not be saved.  Though the fervor of the revival ebbed in 1817, young Joseph's feelings did not.  He continued to pray and ponder about what he should do.  His family became divided as well, with his mother and some of his siblings joining the Presbyterian Church, while his father remained aloof.  Devoted to his father, Joseph remained at home with him, while the rest of the family attended church.  Over time, young Joseph became partial to the Methodist Church and even joined a debating club for young boys at that church.
Daily necessity meant, however, that Joseph Smith had no time for regular schooling or even home study.  He read from the Bible, but only had a few days of formal schooling, though his parents taught him basic reading and arithmetic.  The poverty of the family meant that the older boys, Joseph included, hired themselves out as day-laborers to neighboring farmers, and Joseph Smith Sr. occasionally ran a stand selling food and alcohol in town.  The boys were known for their hard work and industry, as can also be seen in the many acres they cleared on their property and the frame house they built, which still stands.  Toward the end of the decade and into early 1820, Joseph described being even more agitated about religion and determined to find an answer.