Joseph Smith Life
The Life of Joseph Smith, the Prophet
Joseph Smith (1805–1844), the Mormon Prophet, was born in Vermont and raised in New York.  As first Prophet and founder of the Mormon Church, he traveled the United States and Canada preaching the restored Gospel of Jesus Christ.  He organized the Mormon Church, properly known as The Church of Jesus Christ of Latter-day Saints, on April 6, 1830, and led the Church until his death at the hands of a mob on June 27, 1844.  Joseph Smith translated and published the Book of Mormon; received and published many revelations from Jesus Christ, which form the basis of the Doctrine and Covenants; translated many other ancient records; organized the various offices and councils of the Mormon Church; built the first two Mormon temples; founded cities, and gathered together over 25,000 believers in the message entrusted to him by God.  His life and teachings continue to fascinate and inspire.  The truth about Mormonism is better comprehended by understanding the life and teachings of Joseph Smith, the Prophet.
Outline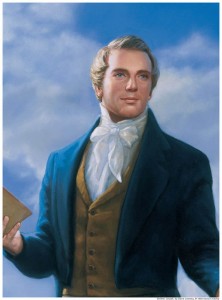 The Early Life of Joseph Smith
Birth and Childhood
Typhoid Fever
Joseph Smith's Family and Religion
Joseph Smith's First Visions
The First Vision
The Visit of the Angel Moroni
Treasure Digging and Marriage
The Coming Forth of the Book of Mormon
The Golden Plates and the Translation of the Records
The Arrival of Oliver Cowdery
The Witnesses to the Book of Mormon
Publishing the Book of Mormon
The Organization of the Mormon Church
The Restoration of the Priesthood
The Church is Organized
The Church in Kirtland
The First Gathering
Translations and Revelations
The Time of Two Church Centers
Zion's Camp
The Quorum of the Twelve and the Book of Abraham
The First Mormon Temple
The Kirtland Safety Society and the 1837 Apostasy
The Mormons in Northern Missouri
The Mormon War
The Expulsion from Missouri and Joseph's Imprisonment
Nauvoo: The City of Joseph
The Founding and Growth of Nauvoo
New Revelations and New Directions
Mormon Politics and the Kingdom of God
Joseph Smith's Last Charges and the Nauvoo Expositor
Joseph Smith's Martyrdom
The Murder of Hyrum and Joseph Smith
The Aftermath of the Martyrdom
Joseph Smith's Legacy
Summary
Article Name
Description
A brief account of the life of Joseph Smith, founder of the Mormon Church.