RLDS Conversion to The Church of Jesus Christ of Latter-day Saints
By Doris
Jeremiah Morgan was raised by a loving, single mother, in the Reorganized Church of Jesus Christ of Latter-day Saints (RLDS). This group broke off from The Church of Jesus Christ of Latter-day Saints (often misnamed the "Mormon Church") in 1860, after many of the Saints had trekked west to the Salt Lake Valley. It is now called the Community of Christ.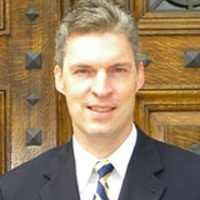 Jeremiah's mother was very devout and taught him that Joseph Smith was a prophet and that the Book of Mormon was inspired scripture. She read Jeremiah the Book of Mormon every morning and, when he was in high school, took him (albeit reluctantly on his part) on a Church history tour, where they entered the Sacred Grove (the location of Joseph Smith's First Vision). Here, he had a spiritual experience which testified to him of the reality that Joseph Smith was a true prophet.
Jeremiah Morgan's mother is the descendant of a convert baptized by Oliver Cowdery in 1831 in Lexington, Missouri, Francis Case. Case and his wife, Mary Ann, moved several times with the Saints when they were driven from state to state. However, for reasons which remain unclear, the Cases did not travel west with the rest of the Saints, and they later became part of the RLDS Church.
After Jeremiah's experience in the Sacred Grove, he began to be aware of changes within the RLDS community. Doctrines were being changed, and he felt that church leaders were beginning to deny the Book of Mormon as revealed scripture as well as retreating from the truths restored through Joseph Smith's First Vision, including that God the Father and Jesus Christ were two separate, distinct beings with bodies of flesh and bone.
These changes disturbed Jeremiah because he felt he had already learned for himself the truth of those things. He began to attend both RLDS meetings and LDS meetings each Sunday. "In the morning I would go to my RLDS church and then in the afternoon go to the LDS church and sit in the overflow. I knew right away there was a big difference. It didn't take me long to figure that out," Jeremiah said.
Although he had dated an LDS girl a few times in high school, he didn't even tell her (or anyone else) of his interest in the LDS Church. "I didn't want anybody to make up my mind for me or try to influence me," he said.
After thoroughly investigating both churches, Jeremiah made the decision to be baptized into the LDS Church. "I told my mother first that I was going to join the LDS Church, and she didn't say a word to me. She went right to the phone to let all the relatives know so they could begin working on me," said Jeremiah. Friends and family tried to discourage Jeremiah, giving him a lot of anti-Mormon literature, and his mother refused to let him be baptized until he was 18. However, "I am the kind of person that when I know, I don't turn back," Jeremiah said, and he had his witness.
Jeremiah decided to put in his papers to go on a mission for the LDS ("Mormon") Church, and his mother was also upset about that, but her wrote her faithfully each week, and as he shared stories and experiences with her (which she, in turn shared with friends), she came to terms with his conversion. Some of her friends even said, "We wouldn't mind if our sons joined the LDS Church, if they did the same thing."
Though Jeremiah's mother did not join the LDS Church, he noticed that the changes in the RLDS Church continued slowly. He compared the change to the frog that stays in the water while it is gradually heated until it is cooked alive. She changed her view of God to fit in with the Nicene Creed description, as the RLDS Church changed to that view. She also failed to see the slow abandonment of the Book of Mormon by the RLDS Church.
For Jeremiah, what he calls the RLDS apostasy is a key example of what happens without a living prophet. "They had the truth and many of their early leaders would have been priesthood holders. Look what happens in 160 to 170 years. Look what happens to a church without a living prophet. They diverge from the gospel by degrees. If you are along the path with them, you don't see it as you go. It is not evident to you."
"I love my restoration heritage," Jeremiah said, "and I love the restoration branches. There are some really great people there trying to do some great things. But when you have been given the whole truth as I finally was, where do you go from there? You don't go anywhere from there. This is Jesus Christ's church, there's no doubt about it. I was grateful that I was in a position that something could open my mind and heart that there was something else than what I had been raised to."
Additional Resources:
Former RLDS, Now a Missouri Stake President, read Jeremiah Morgan's full story